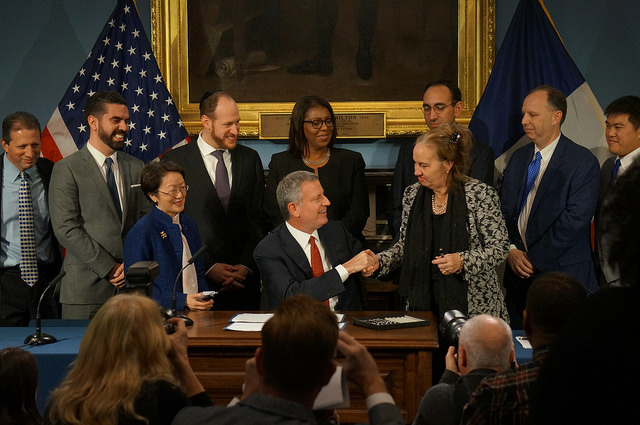 Mayor de Blasio & BP Brewer (photo: Brewer's office)
---
Manhattan Borough President Gale Brewer is forming an independent expenditure committee to try to defeat two public referenda on the November general election ballot that would impose term limits on community board members and create a new citywide civic engagement agency under the control of the mayor's office.
Last month, the charter revision commission created by Mayor Bill de Blasio approved three ballot questions to present to voters on November 6. The first would significantly reduce campaign contribution limits and make small but significant enhancements to the Campaign Finance Board's public matching funds program, which incentivizes small-dollar fundraising. Brewer has not taken a position on that proposal.
[Read: Mayoral Charter Revision Commission Puts Three Questions on November Ballot]
On the other two questions, however, the Manhattan borough president is ardently opposed, and is mobilizing people and money to persuade New York City voters to defeat them.
Question two creates a centralized Civic Engagement Commission, with a majority of members appointed by the mayor, to coordinate citywide efforts on participatory budgeting, community engagement, and to provide technical assistance to the city's 59 community boards.
Question three, the most controversial of the proposals, would limit the number of terms community board members can serve while also reforming the recruitment and appointment process that borough presidents use to fill board rosters.
Brewer insists both those questions are misguided, and is forming a committee called "Vote No on 2 & 3" to campaign against them.
"These proposals would be a real—and in some cases dangerous—disruption to the way Community Boards protect our communities," she wrote in an email blast to supporters from her personal email account, soliciting funds for the incipient committee and urging recipients to spread the word. (Elected officials are not allowed to advocate for or against ballot proposals in their official capacity under state law and per guidance from the Conflicts of Interest Board.)
Though the committee does not yet seem to be registered with the state Board of Elections, a sign-up web page declares that it is "an official NYS independent expenditure committee, made up of volunteers, some belonging to Community Boards and some not, who think Proposals 2 & 3 are bad news for neighborhoods and a giveaway to developers and City Hall." Asked for clarification, a spokesperson for the committee did not respond.
Brewer argues, as have other opponents, that community board term limits would lead to a brain drain of experienced and engaged community board members to the benefit of lobbyists and developers looking to exploit communities without facing pushback. In particular, she said, community board members with know-how on complicated land use and zoning issues would be kicked out.
"It would have the effect of allowing developers and their lawyers—who are never term limited!—to dominate development negotiations, because those long-time members will be gone," Brewer wrote. "And on long-term city projects like street redesign or sustainability, newly-appointed community board members would have little influence over long-term projects. Every Board's institutional memory would be wiped out."
In a statement, Matt Gewolb, executive director of the charter commission, emphasized the testimony received from across the five boroughs, urging the commission to make community boards more diverse, reflective of the neighborhoods they serve, and to give them additional resources. "The Commission's proposals are designed in response to this community input," he said. "As the Commission has described in its reports, the proposal seeks to strike a reasonable balance between retaining valuable institutional knowledge and providing opportunities for new voices to have a seat at the table."
Brewer, however, insisted that the proposal is "redundant" since the borough presidents and City Council members that apppoint community board members are themselves limited to serving two terms each. She also took issue with the proposed duties that the Civic Engagement Commission would have in assisting community boards, seeing it as an encroachment on the powers of the borough presidents who currently perform those roles.
The Manhattan borough president isn't alone in her opposition. Of the five borough presidents, only Brooklyn's Eric Adams has come out in support of community board term limits, which supporters say would diversify the boards, providing more representation for younger people and people of color. The other three -- Ruben Diaz Jr. in the Bronx, Melinda Katz in Queens, and Staten Island's James Oddo -- all oppose the second and third questions.
In a statement through a spokesperson, Adams said, "This is what democracy is all about. I applaud my colleague and friend Borough President Brewer for making her voice heard."
Brewer ended her appeal by urging supporters to vote against the two proposals and also to testify against them at several forums scheduled over the next week by the charter commission to educate voters. Last month, she also took her message to the 2019 charter revision commission, urging it to reverse the mayor's commission's proposals if they are approved by voters. "Community Boards are our first line of offense in promoting neighborhood planning and our first line of defense in protecting neighborhoods from developers who seek only maximum profit from their work in our communities," she said at the September 27 hearing of the commission that will put proposals on next year's general election ballot, and on which she appointed one member as part of a process created by legislation she and Public Advocate Letitia James moved through the City Council.
Asked last week about the possibility that the 2019 commission could negate the mayor's commission's work, mayoral spokesperson Seth Stein said in an email, "We're not going to predict what the Council Commission will do, and will review any proposals."
[Read: Mayoral Charter Revision Commission Puts Three Questions on November Ballot]
Note - this article has been updated.