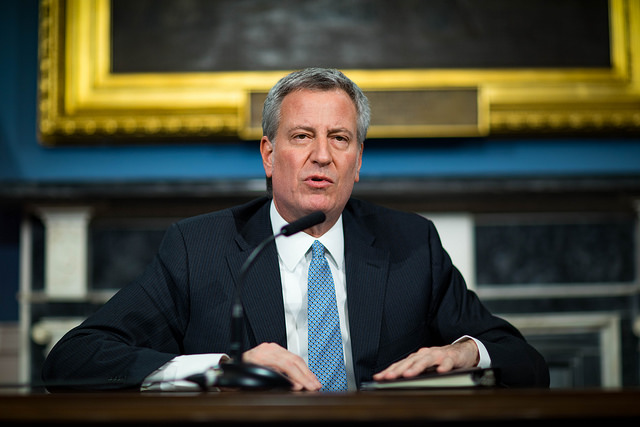 Mayor de Blasio (photo: Benjamin Kanter/Mayor's Office)
---
Mayor Bill de Blasio is seeking to make a lasting impact on city governance through a charter revision commission that would transform the city's campaign finance system, promote greater civic involvement in city affairs, and inject new blood into local community boards. But prominent elected officials, most of whom are Democrats like de Blasio, don't agree with the proposals the mayor's commission has put on the November 6 ballot and are urging New Yorkers to reject them.
The mayor's commission put three questions on the ballot for voter approval through a simple majority. The first would significantly reduce individual campaign contribution limits and expand the city's public matching funds program; the second would create a civic engagement commission with appointments mostly by the mayor to coordinate citywide participatory budgeting and other initiatives such as interpreting services at polling sites; and the third would impose term limits on community board members and alter how those members are recruited and appointed to ensure greater diversity.
Though the mayor appointed the commission and announced its areas of focus, he was not to have direct say over its final report or proposals, but he did announce support for all three and is now campaigning to see them approved by voters.
"These reforms will go a long way toward strengthening our democracy and limiting the influence of big money in our elections," he said in a September statement, when the proposals were released. "There's no doubt in my mind that these measures will help us build a more fair and equitable city." On Sunday, de Blasio spoke at two churches in Manhattan, urging congregants to flip their ballot and decide on the three questions. "[V]ote yes, yes, yes. So we can open up the doors of democracy wide and make this an even greater city," he said at Bethel Gospel Assembly.
Other elected officials, however, are not so certain, and are expressing somewhat mixed reviews, though many are opposed to community board term limits.
City Council Speaker Corey Johnson, for instance, supports lowering contribution limits and creating a civic engagement commission, but not term limits for community board members. "I don't think term limits are necessary," Johnson, a former community boar chair, said in a statement to Gotham Gazette. "These aren't lifetime appointments. They must be reappointed by elected officials who are term limited. I think that provides enough checks and balances to our community boards, while allowing us to keep the good members with experience and wisdom. It is also our job as elected officials to always be looking to appoint new civic minded leaders who are interested in serving."
It's an argument that's also been advanced by four of the five borough presidents -- only Brooklyn's Eric Adams supports the term limits question.
Manhattan Borough President Gale Brewer, in fact, led the creation of an independent expenditure committee to oppose both term limits and the civic engagement commission, an effort in which she was joined by Bronx Borough President Ruben Diaz Jr., Queens Borough President Melinda Katz, and Staten Island Borough President James Oddo (Oddo is the lone Republican in the group). "These proposals would be a real—and in some cases dangerous—disruption to the way Community Boards protect our communities," Brewer wrote in an email to supporters earlier this month, arguing that it could lead to a drain in institutional wisdom and give real estate interests and lobbyists a leg up in discussions about community development. The proposal does include a provision whereby individuals term-limited off of community boards are eligible to serve again after a one-term, two-year "cooling off period."
"Our community boards are the eyes and ears of our neighborhoods and are often the first line of defense against unwanted projects as well as the initial point of contact between city agencies and our neighbors," said Diaz Jr. "We should be working to strengthen their role, not strip them of the knowledge and historical focus that makes them so important in the first place."
Katz said the current appointment process allows "ample opportunity" to pick diverse candidates "for a dynamic mix of talent," while Oddo worried that the "one-size-fits-all solution" could have unintended consequences.
Adams, however, has argued, "While institutional knowledge is valuable, a reasonable term limit for Community Board members will allow the best of both worlds: institutional knowledge and new voices."
On expanding the campaign finance system, however, only Adams and Oddo have publicly opposed the question among the borough presidents, though for different reasons. "[Brooklyn BP Adams] opposes the campaign finance reform measure because it doesn't go far enough as he believes in 100 percent public financing," said an Adams spokesperson. Oddo, on the other hand, has been a staunch opponent of public financing and simply said, "Hell no!" about proposal one.
Spokespeople for Katz and Diaz Jr. did not respond to requests for comment about the campaign finance reform proposal.
[Read: Brewer Creates Committee to Oppose Charter Revision Proposals]
Comptroller Scott Stringer also opposes the second and third questions while supporting the first on campaign finance reform. "The City must take a serious look at our Charter — it's critical to tackling the important issues facing New Yorkers," he said in a statement. Stringer has laid out his own exhaustive plan of charter proposals to the 2019 charter commission, a separate one from the mayor's that was created through City Council legislation that is taking a far broader look at the city's governing principles.
Stringer added, "I support the first initiative because we need a campaign finance system that does everything it can to engage New Yorkers and help people run for office. I oppose proposals 2 and 3 which will weaken communities' voices in shaping their own development."
At an October 31 news conference at City Hall, Gotham Gazette asked Speaker Johnson if he would urge the 2019 commission to reverse community board term limits if they should pass. Johnson said he would not. "I think it's important to lice by the will of the voters," he said.
A spokesperson for Public Advocate Letitia James did not provide her stances despite multiple requests for comment, one of which was acknowledged.
Among a few rank-and-file City Council Members, reception of the proposals seems to be mixed. Council Member Brad Lander, a Brooklyn Democrat, for example, supports all three proposals and has in particular been advocating for the creation of the civic engagement commission -- Lander had proposed the idea through legislation and presented it to the commission.
"I truly believe these ballot proposals give us an opportunity to do something important to strengthen our local democracy: To improve our campaign finance rules. To turbo-charge civic engagement. To expand participatory budgeting city-wide," he said in an email blast to supporters, calling on New Yorkers to pledge their support.
Manhattan Council Member Ben Kallos, also a Democrat, is backing all the proposals as well. Kallos has been a staunch campaign finance reform advocate and the first question would partially achieve what he has in the past tried to do through legislation, to expand the amount of public funds given to candidates running for office. "Democracy in New York City will finally get better," he said in a September 6 statement, if the first question is passed, "reducing contribution limits and making small dollars more valuable by matching more of them with a greater multiplier."
City Council Member Jimmy Van Bramer, a Queens Democrat, is also urging a "yes" vote on all three proposals. City Council Member Jumaane Williams, a Brooklyn Democrat, has expressed support for the campaign finance proposal, but a spokesperson did not respond to a request for his positions on the other two.
On the other end, there's Council Member Helen Rosenthal, again a Manhattan Democrat, who opposes all three measures. "The spirit of the first two proposals is positive and some of the substance is even promising, but each raises significant concerns to the point where I cannot support them," she said in a statement to Gotham Gazette. Also noting a criticism that was raised when the mayor first announced his commission, she added, "Of course, all three proposals could be implemented through the current legislative process."
Even government reform groups appear somewhat split on the ballot proposals. Reinvent Albany is advocating for all three. "Reinvent Albany believes a YES vote on these ballot measures will collectively amplify the voice of everyday New Yorkers and create new opportunities for injecting fresh perspectives into the public debate over how to make our city better for everyone," the group said in an email blast on Monday.
Citizens Union, another good government advocacy organization opposes the proposal for a civic engagement commission, supports community board term limits, and has not taken a position on the campaign finance question.
Note - This article has been updated with additional comment from City Council Speaker Corey Johnson and Council Members Jimmy Van Bramer and Jumaane Williams.