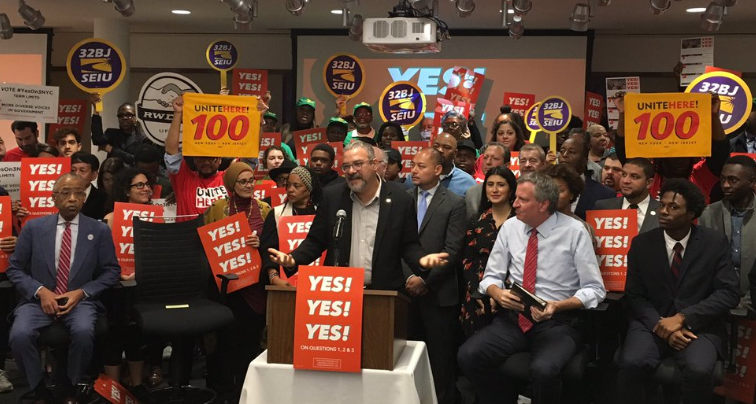 32BJ's Hector Figueroa, with Mayor de Blasio and others (photo: @32BJSEIU)
---
Mayor Bill de Blasio on Thursday continued his eleventh-hour push for the ballot proposals put forth by his Charter Revision Commission, with a rally at the headquarters of labor union 32BJ SEIU, where he was joined by other unions, elected officials, and advocates in favor of the three reforms that will appear on New York City voters' ballots on Election Day.
De Blasio, who announced the commission in his 2018 State of the City address to examine and propose revisions to the city's charter, characterizes the three proposals as ones that will strengthen democracy in New York City. Broadly speaking, though each has numerous accompanying details, the proposals are to lower individual campaign contribution limits and increase the public match ratio; create a civic engagement commission that would run a citywide participatory budgeting program and do other tasks to promote civic involvement; and, most controversially, term limits for community board members and other changes to the community board membership process.
After saying virtually nothing about them for weeks, the mayor has been on something of a last-minute whirlwind tour in favor of the proposals. On Sunday, the mayor stumped for them at two Manhattan churches. On Tuesday, he conducted a telephone town hall and published an op-ed in the Brooklyn Daily Eagle supporting the measures. He and his team have been urging allies, including Senator Bernie Sanders, to promote "yes" votes, and the mayor's social media feeds have been promoting the measures and expressions of support for them.
The Thursday rally, backed by the "Democracy Yes" coalition of unions, advocates, good government groups, and community groups that support the proposals, is the latest in de Blasio's campaign sweep through the city in favor of the charter revisions.
The mayor and the assembled crowd characterized the measures as a way to wrest control of the democratic process away from old, wealthy, white men and towards more democratic control and greater representation for young people, people of color, immigrants, and low-income people.
"If what young people hear from everyone else around them is, 'wait your turn,' that is not a way to create a healthier, stronger democracy," de Blasio said, referencing opposition to the community board term limit proposal. Critics say term limits would lead to a brain drain on community boards to the benefit of real estate developers, though the real estate lobby itself is against term limits. The proposal would limit members to four consectuve two-year terms, but those term-limited from reapplying would only have to sit out one two-year term before being eligible for reappointment by their borough president.
The borough presidents, aside from Brooklyn's Eric Adams, and Comptroller Scott Stringer (the former Manhattan borough president) have led the charge against Proposal 3.
"Our message needs to be the opposite," the mayor continued.
"Imagine if the system was not rigged against everyday people, but actually strengthened the hand of everyday New Yorkers so we could lead our own city," de Blasio said.
The Rev. Al Sharpton also spoke in favor of all three proposals, making racial justice arguments and calling the measures models for the country and bulwarks against voter suppression nationwide, invoking the memory of civil rights movement protesters.
"These measures that we're voting in New York is what they fought for to give us the right to vote," Sharpton said. "They did not fight, and some die, to give us the right to vote for only people with rich friends to be able to run for office."
The city's public campaign financing system, whereby the first or up to $175 of a donation is matched 6-to-1 by public dollars, is often considered a model for the nation for how to achieve sustainable public financing of campaigns. Proposal 1 would increase the match to 8-to-1, and match donations up to $250. It would also lower campaign contribution limits for all city offices. Advocates say that it would allow more people to run for office and lower prospective candidates' reliance on wealthy people for funding.
"When we consider running for office, we encounter barriers so difficult to overcome, many feel defeated," said Hercules Reid, the former student government president at the New York City College of Technology and current legislative director for the CUNY University Student Senate. "It is a herculean task trying to get elected in this city."
"Barriers to office are real, and a real big one is that not a lot of us know a ton of rich people," Reid continued. De Blasio later echoed this point, though the mayor has raised significant funds from large donors, both for his election campaigns and outside groups. It was fundraising for those outside groups -- nonprofit advocacy organizations -- that led to investigations of de Blasio and his associates that resulted in no criminal charges but sharp criticism from law enforcement leaders and good government advocates, among others, as well as new city laws meant to curb the type of fundraising de Blasio did.
The second ballot question would establish a "civic engagement commission" to increase participation in New York's civic life, including voting. The mayor noted improving translation services at the polls as a particularly important item for the commission to take up, while City Council Member Brad Lander discussed increasing community engagement with and knowledge of community boards, PTAs, and other institutions. The most significant job of the commission, however, would be to expand participatory budgeting citywide.
Practiced in 31 of the 51 City Council districts this year, participatory budgeting allows community residents to suggest and vote on specific projects within their districts that they would like to fund with tax dollars allocated through the local Council member's capital funds.
"A little over half the city now has it, but almost half does not, and most New Yorkers don't yet know about it, because we've not been able to invest real citywide resources in it," Lander said. "Participatory budgeting functions like a gateway drug to democracy." Some projects funded in Lander's district in the last cycle include replacing "derelict Kindergarten sinks at PS 282," replacing a broken gate at the PS 118 schoolyard to make it accessible, and building a "playground" for seniors.
Manhattan Borough President Gale Brewer and Comptroller Stringer both take issue with the civic engagement commission, which Stringer characterizes as a power grab by the mayor, who would appoint a majority of its members. Brewer, who has formed an independent expenditure committee in opposition to questions 2 and 3, asserts that the commission's outreach and assistance efforts with community boards would be an encroachment by the mayor on a duty typically performed by borough presidents.
"A 'Civic Engagement Commission' controlled by any Mayor also puts communities at a disadvantage and won't enhance democracy in our neighborhoods," Stringer said in a statement released soon after the mayor's rally. Asked for a response, de Blasio said that the commission's structure as proposed is "organized for effectiveness" but didn't elaborate, and noted that he supports a "professionalized" Board of Elections.
On the third and most controversial proposal, which is centered on term limits for community board members, the mayor and advocates claim that term limits have been successful for elected city officials, and instituting them for community boards would free up space for new voices where older and whiter ones than the communities they represent typically reign. The proposal would also require borough presidents to seek people of "diverse backgrounds" for appointments, to make the boards more accurately represent their communities, and provide more public information.
"If the door's not open, that's not democracy," de Blasio said. "Community boards have to be for everyone, every community, every background, young, old, everyone needs a chance to serve. Term limits for community boards is simply the way of saying 'let's give everyone a chance to participate.'"
Opponents of term limits, such as Brewer and Stringer, have charged that an exodus of longtime, experienced community board members would cause both a brain drain and a diminution of influence on complex land use decisions, allowing developers to run roughshod over them.
"It would have the effect of allowing developers and their lawyers—who are never term limited!—to dominate development negotiations, because those long-time members will be gone," Brewer wrote in an email to supporters in October signaling her opposition to Questions 2 and 3. "And on long-term city projects like street redesign or sustainability, newly-appointed community board members would have little influence over long-term projects. Every Board's institutional memory would be wiped out."
De Blasio did not buy the arguments. "I have term limits, my colleagues in the City Council have term limits, the President of the United States has term limits," he said. "I think there's something healthy about the notion that all public servants have an opportunity to turn over the reins once in a while."
"Let's say someone served for 20 years on their community board," he continued. "Under this ballot measure, they will get to serve another eight years, they would take a two year break, and if they wanted to come back and there was a seat, they could have that seat. I think there will be plenty of institutional knowledge preserved. But honestly, what we're missing right now is new voices, we're missing diversity, we're missing young people."
Another charter revision commission, empaneled by the City Council through legislation pushed by Brewer and Public Advocate Letitia James, started while the mayor's commission was underway and is working to produce its own ballot measures for 2019. The mayor told Gotham Gazette that the commissions are not rivaling each other, and that his office is working with the 2019 commission, on which he has several appointees.
Some issues were considered and rejected by the mayor's commission, including independent redistricting of City Council districts and ranked-choice voting. The mayor told Gotham Gazette that he hopes the 2019 commission continues looking into ranked-choice voting, in particular.
"There was a very vibrant discussion in this charter revision commission, for example, about ranked-choice voting," he said. "For me, the jury's still out on ranked-choice voting. I grew up with it, in Massachusetts. I think it has strengths and I think it has weaknesses, and I'd certainly like to see a lot more research on it. But there's a lot of people who believe it might be very beneficial in New York City. That's the kind of thing that deserves a really thorough airing of all the facts."