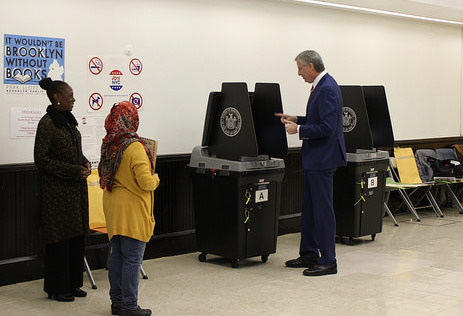 (photo: Gotham Gazette)
---
With all three of Mayor Bill de Blasio's charter revision proposals approved by voters by wide margins on Tuesday, eyes are now on the 2019 Charter Revision Commission, empaneled by the City Council and other officials, which will, in some respects, pick up where the 2018 commission left off, possibly considering issues that the mayor's commission did not act on.
Key among those is ranked-choice voting (also known as instant runoff voting), an alternative method of voting wherein voters rank their candidate preferences rather than simply voting for one. For whichever races it is applied to, if no candidate wins the required percentage of the vote on initial count, the last place candidate is eliminated, and the second preference of the eliminated candidate's voters receives those votes. This continues until one candidate secures the required percentage, often set at 50 percent.
As of now, New York City only holds runoffs for citywide positions -- mayor, public advocate, comptroller -- and if no candidate receives 40 percent of the vote. Mayor Bill de Blasio narrowly avoided a runoff in the 2013 Democratic primary for mayor, but there was one that year for public advocate.
That runoff, in the Democratic primary between eventual winner Letitia James and Daniel Squadron, led to heightened calls for ranked-choice voting, especially given the high cost of the runoff relative to the budget of the public advocate's office.
Increasing support from elected officials and among the public led to ranked-choice voting being considered and discussed by the 2018 charter commission; in its final report, the commission said that it had received a "considerable volume of public comment about ranked choice voting." In the end, the commission demurred on ranked-choice, arguing that more research and time were required and recommending that a future commission tackle the issue.
It may not take long; that commission may well end up being the 2019 commission, which has already met six times, twice in Manhattan and once each in the other boroughs, and has a much longer timeline on which to tackle issues. It is expected to continue deliberations, solicit online feedback, and hold hearings and meetings throughout the first half of next year, with its ballot proposals likely due by early September.
City Council Speaker Corey Johnson, who got to name several commissioner including the chair, Gail Benjamin, testified at a recent hearing in favor of ranked-choice voting, urging the commission to look into it. De Blasio, meanwhile, singled out ranked-choice voting when asked by Gotham Gazette at a press availability what he would like the 2019 commission to tackle, though he did not endorse the idea outright.
"There was a very vibrant discussion in this charter revision commission, for example, about ranked-choice voting," the mayor said. "For me, the jury's still out on ranked-choice voting. I grew up with it in Massachusetts. I think it has strengths and I think it has weaknesses. And I'd sure like to see a lot more research on it. But there's a lot of people who believe it might be very beneficial in New York City."
Despite not taking an affirmative stance on the issue, de Blasio's answer is a signal of his evolving position on ranked-choice, according to Alex Camarda, senior policy advisor at Reinvent Albany, a good government group that supports ranked-choice voting.
"I think it's significant," Camarda said. "I think what's telling is we've now seen, in the last few months, the mayor last week and the Council speaker at the Manhattan charter revision commission hearing, both called on the commission to consider instant runoff voting, and 'here are the different arguments for it.' And I think that's a signal to the commission that they should seriously look at this."
"I think there's a new openness to it on their parts that at least wasn't public in the past," he continued. "De Blasio in 2013 went on The Brian Lehrer Show and actually took a position against IRV, and said at the time that the starkness of two candidates in the runoff, he thought was clarifying for voters. So clearly, his position seems to have evolved."
Aside from good government groups, which almost uniformly support it, ranked choice also has the support of other prominent city elected officials: along with Johnson, support comes from Comptroller Scott Stringer and Public Advocate James, who was elected State Attorney General on Tuesday and in May called herself "the face of instant runoff" given her 2013 race. City Council Member Brad Lander has sponsored a bill to implement "instant run-off voting" (James is a co-sponsor) in the Council.
"As the upcoming Public Advocate race shows, Ranked Choice Voting is an idea whose time has come for New York City," Lander said in a statement to Gotham Gazette. "Stronger majority support, better outreach to diverse communities, less negative campaigning, and it even saves money. What's not to like?"
Advocates, including those in New York, note that ranked-choice both makes third parties more viable (by limiting the need for "strategic voting") and forces candidates to appeal beyond their base, in the hope of attracting voters as second preference. Ranked-choice would also allow city elections to avoid costly, low-turnout runoff elections when no candidate secures the required threshold of votes.
"We think that enabling voters to rank candidates creates an environment where there's more substantive policy debate, and there's less negativity in campaigning, because candidates have to appeal to second choice and even third choice votes," Camarda said.
In 2013, the runoff between James and Squadron was estimated to cost about $13 million, for a position with a $2 million budget, in an election with 6.5% turnout. In a report released the following year, the city's Campaign Finance Board recommended that New York City adopt ranked-choice voting for municipal elections.
Advocates also claim that ranked-choice increases turnout, though studies have been conflicting on the matter. Some have charged that it can be confusing to voters, decreasing turnout and the diversity of the electorate. Turnout in San Francisco, the largest American city using ranked-choice, has been generally depressed since the implementation of ranked-choice, while in Minneapolis, the results have been far more promising.
Ranked choice has taken a higher political profile after Maine voters adopted the system by referendum in 2016, after a string of gubernatorial elections going back to 2002 where no candidate received a majority of the vote. The measure survived several legal and legislative challenges and was used in this year's midterm elections; the Democratic gubernatorial candidate won an outright majority, but the race in the 2nd Congressional District is currently being decided by instant runoff.
Along with San Francisco and Minneapolis, ranked-choice is used in cities such as Oakland and Memphis, where voters approved ranked-choice in 2008 but it has not yet been implemented. On Tuesday, voters in that city rejected a ballot proposal to abandon ranked-choice, and it will be used in 2019. And de Blasio's hometown of Cambridge has used ranked-choice since the 1940s; Cambridge's system is a unique hybrid of ranked-choice and proportional representation.
This story has been updated.