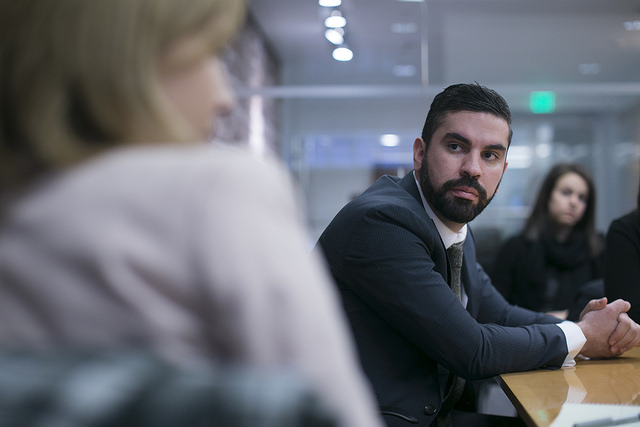 Council Member Rafael Espinal (photo: William Alatriste)
---
Letitia James' win in the race to become the next New York Attorney General means there will be a special election early in 2019 to name New York City's next Public Advocate. The candidates for what will be a roughly three-month race were just beginning to become clear when news broke of planned City Council legislation calling for the position of public advocate to be abolished, as reported by Politico.
Though the post of public advocate has had critics since it was created during a massive 1989 New York City Charter revision process, the Council bill faces an uphill path to passage, and the race to replace James as one of just three popularly-elected citywide officials will capture much of the city's political attention over the coming weeks.
The somewhat undefined and underfunded role of public advocate is largely shaped by the person who fills it. It is broadly expected that the public advocate will do as the name suggests and fight for public interests, serving as a watchdog over the rest of city government. It is also seen as a stepping stone post -- Bill de Blasio launched his successful 2013 campaign for mayor from the perch.
With James expected to win her race for attorney general since she launched her campaign several months ago, a long list of potential public advocate candidates formed. Now that Election Day is in the past, some are making it official, while others are still officially in the considering phase.
Pushing the decision-making is that organizations have begun to host candidate forums, including the first on Monday night, held in Manhattan by several progressive advocacy groups and Democratic clubs. Another will follow on Wednesday night, hosted by government reform group Citizens Union and AARP-NY. Candidates must also consider fundraising and pursuing endorsements from groups, labor unions, and high-profile individuals.
Even before James won her race, a handful of candidates declared their candidacies: City Council Member Jumaane Williams, state Assembly Members Daniel O'Donnell and Michael Blake, activist and journalist Nomiki Konst, and Columbia history professor David Eisenbach, who ran in the 2017 public advocate Democratic primary against James.
Former City Council Speaker Melissa Mark-Viverito is said to be nearing the launch of a campaign, while there have been grumblings that her predecessor in that role, Christine Quinn, may also give the race a look. There has also been some question about whether Brooklyn Borough President Eric Adams would consider it, though he has expressed his intention to run for mayor in 2021. Both Quinn and Adams appear unlikely candidates at this point.
Meanwhile, along with Williams, who just lost a bid to become the Democratic lieutenant governor nominee, current City Council Members either starting or flirting with a run for public advocate include Rafael Espinal, Ydanis Rodriguez, and Eric Ulrich, the lone Republican in the mix at this point. (Meanwhile, five of their colleagues - Kalman Yeger, Robert Holden, Ruben Diaz Sr., Mark Gjonaj, and Rtichie Torres -- announced on Monday that they are backing a new bill to eliminate the position.)
Also in the running for public advocate are Dawn Smalls, a Manhattan attorney with a background in federal government, open government advocate and Democratic Party activist Ben Yee, and systems engineer Theo Chino. Other names could easily emerge in the coming days and weeks.
Once James is officially sworn in as attorney general on January 1, Mayor de Blasio will have just a few days to call a special election, likely to take place in late February. That election will be "non-partisan," meaning there are no party primaries and each candidate must create their own ballot line through petitioning to accrue signatures from voters.
Once the special election is decided, the winner will only hold the office until the end of 2019. In the fall, there will be a "regular" election, with party primaries (as necessary) and a general election. The winner of that election will serve out the rest of James' term until the end of 2021. He or she would be eligible to run for reelection that fall and able to serve two full terms on top of the partial term, though there is of course talk that whoever holds the seat at the start of 2020 may very well run for mayor in 2021, when de Blasio is term-limited out of office.
The forum on Wednesday will be held at New York Law School starting at 6:30 p.m., participating candidates including Blake, Williams, Espinal, Ulrich, O'Donnell, Konst, and Smalls.
[Updated: Listen to the full Wednesday forum here]
Ben Max contributed to this story.
This story has been updated to indicate that City Council Member Robert Cornegy told Gotham Gazette he is not running for public advocate and that he is pursuing a run for Brooklyn borough president in 2021.