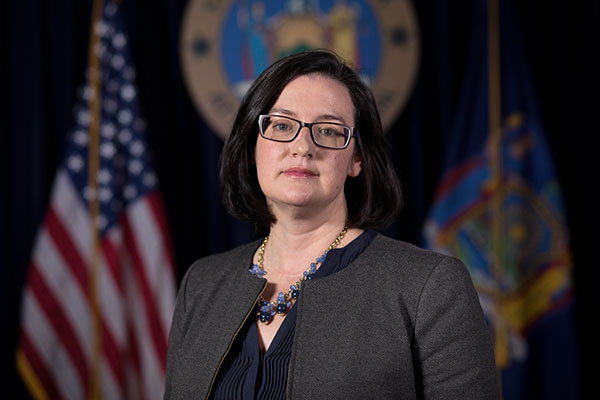 Margaret Garnett (photo via City Hall)
---
Margaret Garnett, Mayor Bill de Blasio's pick to replace recently fired Department of Investigation Commissioner Mark Peters, received praise from City Council Members and the support of City Council Speaker Corey Johnson at a Monday hearing on her nomination. Currently serving as the Executive Deputy Attorney General for Criminal Justice in the New York State Attorney General's office, Garnett's nomination hearing came amid significant controversy over de Blasio's firing of Peters, who claimed on his way out that de Blasio's behavior and motives in taking the unprecedented step of letting him go were highly questionable.
The DOI commissioner, charged with running the agency that independently investigates corruption and wrongdoing in city government, is the only mayoral department-head appointee that requires approval by the City Council. Peters, the treasurer for de Blasio's first mayoral campaign, used his position to examine systemic failings in the mayor's administration and issued several scathing reports on the public housing authority, the police department, and the children's services department, among other agencies. But Peters' work drew the ire of the mayor, who reportedly considered removing the commissioner for months.
The mayor was presented with a justifiable opportunity after an independent investigator, prosecutor James McGovern, issued a report that said Peters had exceeded his legal authority in attempting to take over an independent office that conducts oversight of the Department of Education, among other transgressions.
In responding to the report and his termination, Peters questioned the mayor's motives in a letter to City Council Speaker Corey Johnson and Council Member Ritchie Torres, who chairs the Committee on Oversight and Investigations. Peters pointed to instances where the mayor and his aides had sought to suppress critical reports by DOI and speculated that de Blasio was attempting to bring an end to potential ongoing investigations into the mayor's office. Those actions, he said, could chill the independence of the next DOI commissioner.
De Blasio responded that Peters was fired for cause and alluded to other troubling behavior not in the McGovern report, while adding that he regretted nominating Peters in the first place and saying the former prosecutor had delusions of grandeur. A BuzzFeed News report on Monday appeared to poke holes in Peters' critique of the mayor, citing unnamed former and current DOI employees who said that Peters himself quashed a report about NYPD officers who lied in official statements and were not disciplined.
Naturally, Peters' conduct and the saga around his dismissal by de Blasio formed the basis of Monday's City Council hearing, held by the Council's Committee on Rules, Elections and Privileges, chaired by City Council Member Karen Koslowitz. Council Members questioned Garnett on the approach she would take if she was confirmed to replace Peters in leading an office with dozens of investigators and the power to make arrests, and pressed her on how she would withstand influence from the administration and handle investigations, if any, that are already underway related to the mayor's office.
"To do its job, It is imperative that DOI remain independent from the entities it is obligated to monitor, including and especially the mayor," Speaker Johnson said in his opening statement. "The DOI commissioner must not be beholden to any political figure and she must be capable of withstanding political pressure that would affect the integrity of DOI's work."
Garnett emphasized her prosecutorial experience and her apolitical beliefs in her testimony. She also said that the findings of the McGovern Report, based on which Peters was fired, were "very shocking" and said she herself would expect to be terminated under those circumstances.
The Council members and Garnett seemed reconciled to a degree of professional tension between the legislative body and the independent agency. The McGovern report, Johnson said, raised the question of whether there needs to be structural changes to prevent the types of actions for which Peters was removed. "Who watches the watchman?," Johnson asked.
But Garnett seemed to reject that idea, emphasizing rather that DOI remain independent and create an internal culture of integrity to prevent even the commissioner from abusing their power. "It's very important...that prosecutors and law enforcement investigators be independent from political influence or political control, partisan concerns," Garnett said, "and in order for that independence to be effective, that often means limited oversight by elected officials and other bodies."
Garnett said she could cite "dozens of examples" from her career of withstanding political pressure into investigations, and said bluntly that if she was ever asked to end a particular inquiry or affect its outcome, "The first thing I'd do is hang up the phone."
"I'm not a political person, I have no political ambitions...I would much sooner risk being fired than risk damaging my professional reputation," she later said. Garnett is a veteran prosecutor and previously served as Assistant United States Attorney for the office of the U.S. Attorney for the Southern District of New York. She has prosecuted tax fraud, embezzlement, narcotics cases and violent crimes, supervising the Violent and Organized Crime Unit for four years. She was later appointed Chief of Appeals for the Criminal Division. In the Attorney General's office, besides heading the criminal division, Garnett oversees investigations of deaths of unarmed civilians in police interactions through the Special Investigations and Prosecution Unit.
Council members also used the hearing as an opportunity to delve further into Peters' actions as commissioner, seeking assurances from Garnett that she would not make the same missteps. Among Peters abuses of power was the firing of a whistleblower in his own department, which Johnson said, and Garnett agreed, might necessitate strengthening whistleblower protections through legislative action.
Garnett shared the Council members' apprehensions about Peters' disclosure, in his letter to the Council, of the possible existence of investigations into the mayor's office. But she also promised to look into any such investigations and said she would follow the facts and evidence without backing down as Peters' letter suggested.
"I can assure you that I will not be chilled," she said, "and to the extent that anyone, Mr. Peters or in the administration or otherwise, thinks that I will be intimidated or chilled, I think they'll be sorely disappointed."
Peters' actions also prompted Council members to seek clarity on DOI's role and authority over the NYPD inspector general, which is housed at DOI, and the Special Commissioner for Investigation at DOE, which Peters had tried to bring under his control. Garnett shared their concerns and was asked repeatedly about SCI's structure in relation to DOI, even though she said she could not adequately address the question since she had yet to examine it. Council Member Mark Treyger in particular questioned whether that structural relationship should be reimagined considering that SCI has not conducted any systematic review of DOE for years despite the agency accounting for the largest share of the city budget.
Council Member Torres, who was critical of the mayor's decision to fire Peters, said Garnett was "exceptionally qualified" to replace him. He said his "greatest frustration" with DOI was the lack of acknowledgement of the Council's requests for probes of city agencies or particular issues. Garnett made no promises about instituting a formal reporting structure, as Torres proposed, but she agreed to have conversations with members about their concerns.
Members praised Garnett's testimony and lengthy resume and, in the end, her confirmation to the post seemed assured (a vote is likely to be taken in committee then the full Council in the coming days). Shortly before departing the hearing, Johnson said he was impressed with Garnett's testimony and qualifications and would support her nomination. "I feel confident in your ability to lead this agency," he said.