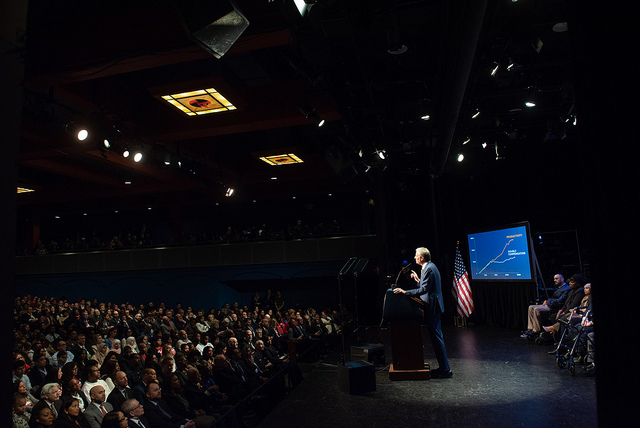 (photo: Michael Appleton/Mayoral Photography Office)
---
As Mayor Bill de Blasio touted significant accomplishments of his five years in office and laid out a new agenda for expanding his fight against inequality during his Thursday State of the City speech, he made little or no mention of a number of important challenges facing the city and his mayoralty.
It's no coincidence, of course, that the mayor barely mentioned the city's public housing, which is crumbling, mismanaged, and mired in negotiations with federal authorities over its future, or many other issues he must deal with in 2019 and beyond. De Blasio's opportunity to shape the narrative around the state of the city under his leadership was a chance for him to discuss safer streets, low crime, high employment, and the expansion of city government that he has overseen in his efforts to provide more of a safety net and greater equality. The annual event also afforded him the venue to lay out the next steps of his vision, and he certainly couldn't address every issue, but after all the tumult around NYCHA in 2018, it spoke volumes how little the mayor spoke about the city's public housing, as well as other topics of great importance.
"We're also showing public housing residents that we can begin to reverse decades of disinvestment and make their lives better," de Blasio said, at the start of his sixth year in office. "The New York City Housing Authority has a plan to bring brand new everything to 175,000 NYCHA residents, from new roofs to new kitchens and bathrooms," he added, but did not mention what is being done for the other 225,000-plus residents, or the issues of lead abatement and heat and hot water outages. He did not try to explain to or sell the city on his recently-released and controversial plan to increase the amount of new housing development on NYCHA land to bring in much-needed revenue to make repairs.
But NYCHA wasn't the only important challenge he left mostly or completely on the sideline. De Blasio made minimal mention of the city's ongoing homelessness crisis and what he's doing about it, though he did discuss plans to enhance efforts to prevent evictions.
"We still grapple with too many people in this town who need our help because they're homeless," he said, and highlighted that his administration has "moved more than 2,000 homeless New Yorkers off the streets and into a permanent situation where they can be taken care of and they can get the help they need" and that the city has closed 180 shelters. But he did not use the pulpit to reiterate his plan of opening up dozens of new shelters or to remind New Yorkers that all must work together to help those in need, including by accepting the opening of shelters in their neighborhoods.
The limited attention to what de Blasio has repeatedly said is his top failure as mayor reinforces the timidity of his goal of reducing the shelter census from roughly 62,000 to 57,500 over five years, and his refusal to adjust his affordable housing plan to provide more homes to those coming out of shelter.
De Blasio did not talk at all about increases in rape reports, failing to address the issue head on and assure New Yorkers that they should continue to report such crimes and that the city is enhancing its efforts to both prosecute offenders and help survivors. He did not mention police accountability, despite the fact that the officer whose chokehold led to Eric Garner's 2014 death is about to stand trial at the NYPD and the police commissioner has empaneled a special commission to suggest improvements to the disciplinary system that has regularly led to few, if any, consequences for officers who break the public trust. He did not discuss efforts to reduce racial disparities in law enforcement, even as he touted how arrests and the jail population are down significantly since he took office, while most major crimes are also down.
The mayor made a very brief mention of corporate giant Amazon agreeing to build a new campus in Queens, despite the fact that just two months ago he announced the deal among the city, the state, and Amazon as a major victory for the city and its residents. That deal has been the subject of intense protests from elected officials and activists, with de Blasio distancing himself from some of the subsidies involved and insisting that while it's a big net positive for New Yorkers, he'll be working with Amazon on its labor practices, relationship with federal immigration authorities, and more. De Blasio shied away from centering the Amazon deal in his argument for how New York is becoming a more fair city with opportunity for everyone.
Early on in his remarks, he said, "New York City is now one of the world's premiere tech hubs, and all those jobs are now here for the people of New York City. The major new announcements from Amazon and Google show that the world's most innovative companies want to be here, and they want to hire New Yorkers." And that was it for Amazon.
Even as he repeatedly talked about efforts to make New York "the fairest big city in the country," de Blasio made no mention of the new Fair Fares program whereby low-income New Yorkers will get reduced-priced Metrocards to more easily ride the subways and buses. The glaring omission of a program the mayor just held a mostly celebratory press conference about reinforces the notion that he has not prioritized Fair Fares, which he rolled out late and in underwhelming fashion.
De Blasio did not address the city's most-struggling schools, even as more of them face potential closure and his program to rescue them, Renewal Schools, is not showing the results that were hoped for, even promised. He announced an expanded program to get free eyeglasses to young students who need them and additional neighborhoods that will see his 3-K program for three-year-olds, and he talked up the city's graduation rate, but he did not dive into the most difficult aspects of the education system he runs, like work to integrate the city's deeply segregated schools, even as he talked about needing state government approval later this year to allow him to keep running it.
De Blasio also did not talk about impending neighborhood rezonings, where the city is aiming to add to its list of communities where it has changed land use rules in order to build more housing, some of it affordable, and make investments as part of the mayor's much-discussed housing plan.
That housing plan and some of the rezonings that have occurred have been the target of significant criticism as de Blasio has repeatedly dismissed calls for his housing plan to better serve lower-income New Yorkers and people experiencing homelessness, though he has tweaked the plan multiple times. He has also been questioned for almost exclusively upzoning low-income communities of color, as opposed to seeking more housing density, including many affordable units, in wealthier, whiter neighborhoods.
Like on other fronts, it was a missed opportunity to make a very public pitch for his plans, lay markers, and sway public opinion behind them.
While the mayor raised many eyebrows and grabbed some national headlines with something of a reinvigorated approach to his annual speech and several new and exciting proposals -- from increasing bus speeds to mandating paid vacation time, some of which, if implemented well, promise to improve people's lives -- he glossed over several significant crises facing the city, leaving others to give a more sober assessment of its state.