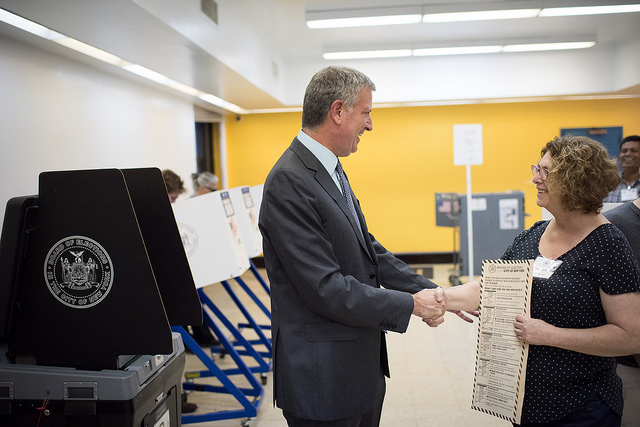 (photo: Michael Appleton/Mayoral Photography Office)
---
The February 26 special election for public advocate will see 17 candidates on the ballot after the New York City Board of Elections held a final hearing on ballot petition challenges and appeals on Tuesday. Nearly two dozen candidates had sought to get their names on the ballot but several were eliminated for either failing to collect enough petition signatures from voters or for other technical snafus that invalidated their petitions.
But of the 17 candidates that will be on the ballot, not everyone is still running to be the net Public Advocate. The 16 candidates remaining in the race are former City Council Speaker Melissa Mark-Viverito, Assemblymember Michael Blake, attorney Dawn Smalls, City Council Member Eric Ulrich, City Council Member Ydanis Rodriguez, Assemblymember Daniel O'Donnell, Assemblymember Ron Kim, City Council Member Jumaane Williams, City Council Member Rafael Espinal, activist Benjamin Yee, attorney Manny Alicandro, activist Nomiki Konst, Columbia history professor David Eisenbach, former City Council candidate Helal Sheikh, community activist Anthony Herbert, and attorney Jared Rich. The seventeenth candidate who will be on the ballot is Assemblymember Latrice Walker, who announced she is no longer seeking the position and tried to have herself removed from the ballot on Tuesday, to no avail given the election law at hand.
Like all city special elections, this one is non-partisan, meaning candidates have had to create their own ballot line names, and none will appear as Democrat or Republican or any other established political party. Whoever wins the special election will hold the office through this year, but there will be an election this fall - with party primaries as necessary - to determine who fills the post for 2020 and 2021, until the next city election cycle.
Ten candidates have officially qualified for the first televised debate in the race, scheduled for February 6. [READ: 10 Candidates Qualify for First TV Debate in Public Advocate Special Election]
The BOE ruled to remove several candidates at Tuesday's hearing, some of whom were attempting to be placed back on the ballot after having their initial petitions rejected.
Entrepreneur Theo Chino, recently seen heckling Mayor Bill de Blasio and Council Speaker Corey Johnson at a news conference, was kicked out for failing to file the requisite number of signatures. Abbey Laurel-Smith, another candidate, was also eliminated. His name did not appear on the BOE's earlier nominating petition ledgers and was kept on a reserve page as he failed to indicate key information required on his petition, including which election he was running for; the BOE rejected his petition.
Danniel Maio's signatures were far below the threshold and he remains off the ballot despite trying to plead his case before the BOE.
At least one candidate's represenative made an impassioned plea that worked. The representative for Helal Sheikh, who had been thrown off the ballot for leaving the name of the election off his certificate of acceptance, managed to convince the BOE commissioners to reinstate Sheikh's spot on the ballot. "There's no other election before the board...none other," he argued. Since a majority of commissioners did not vote to uphold the "defect" in his petition, he will appear on the ballot.
Consultant Ifeoma Ike wasn't as lucky. Ike failed to file her certificate of acceptance on time as required by the law. At Tuesday's hearing, she spoke of her status as a first-time candidate and the "confusing" pace of communication during the unprecedented citywide special election. She also cited the BOE's "cumbersome" website, where the filing calendar can be hard to find for newcomers, though she took responsibility for her own team's failure to inform her about the relevant information. After a heated debate, however, the BOE rejected her appeal.
Other candidates kicked off the ballot included Reform Party leader Michael Zumbluskas, retired professor Gary Popkin, and Walter Iwachiw, who unsuccessfully sought to be reinstated. All three failed to submit sufficient petition signatures.
In a surprising move, Walker, through a representative, attempted to have her name removed from the ballot. Her representative announced that Walker was withdrawing from the race, having failed to qualify for the first televised debate of the race and for a public funds payment from the Campaign Finance Board. But the BOE's general counsel Steve Richman pointed out that the only way she could be excluded, under state law, is if she had moved out of state, been convicted of a felony, or died.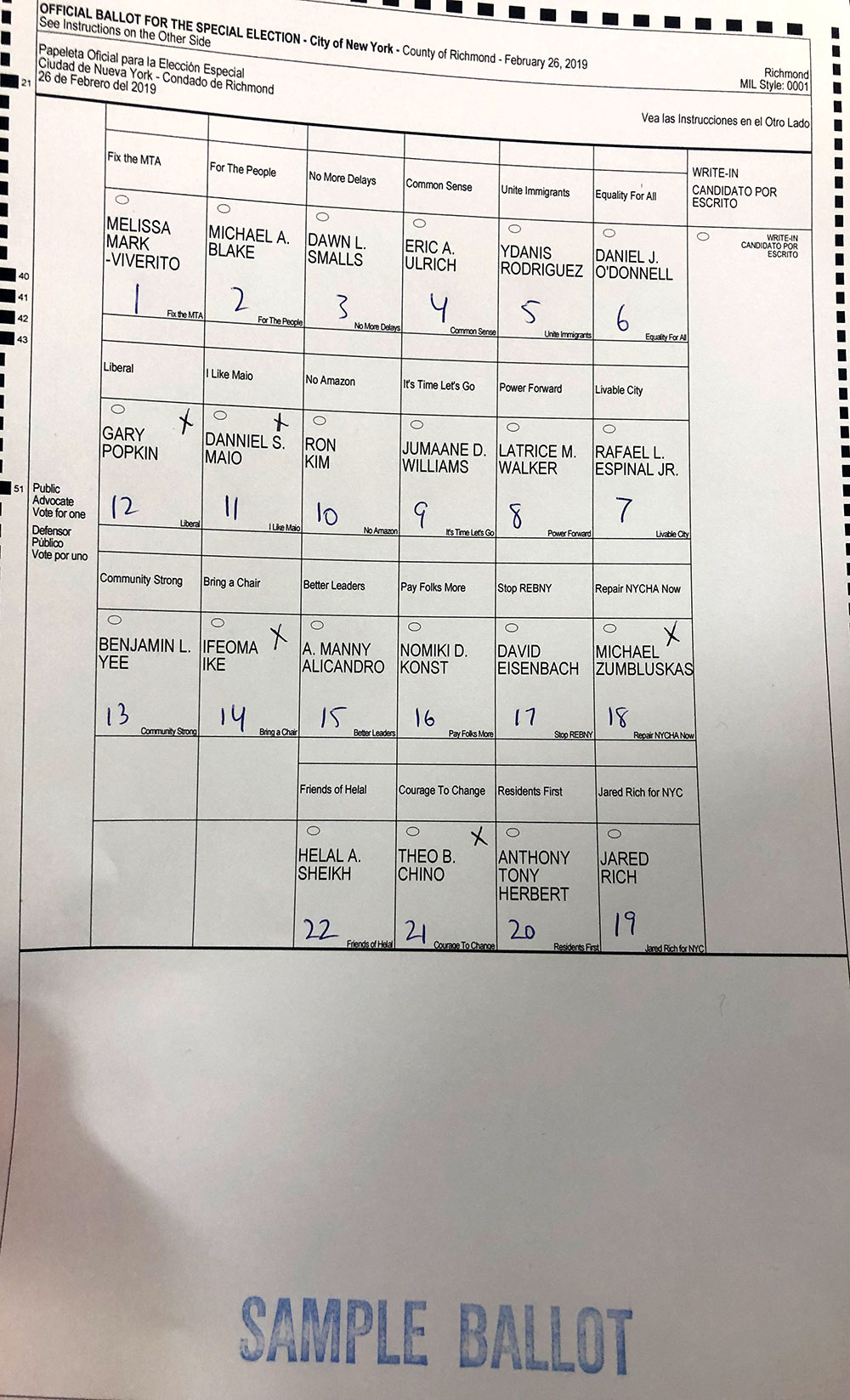 Espinal also sent a representative to argue against the design of the ballot that the BOE will use for the election. Candidates were placed in order of who filed their petitions first, but the order goes from left-to-right in the first row and then right-to-left in the second, and so on -- known as a "snake" design.
"It looks to me like the Board of Elections, which includes people who were actually appointed to their jobs by one of the Public Advocate candidates, have made some very strange decisions that aren't based on any obvious logic," Espinal said in a statement later, seemingly referring to Mark-Viverito who appointed BOE commissioners as City Council speaker. "
"The ballot positions snake down the page instead of being listed in a logical order. It makes no sense," Espinal added.
The election to succeed now-Attorney General Letitia James will be Tuesday, February 26.
Note - this article has been updated to clarify that a representative for Helal Sheikh spoke at the hearing, not Sheikh himself.