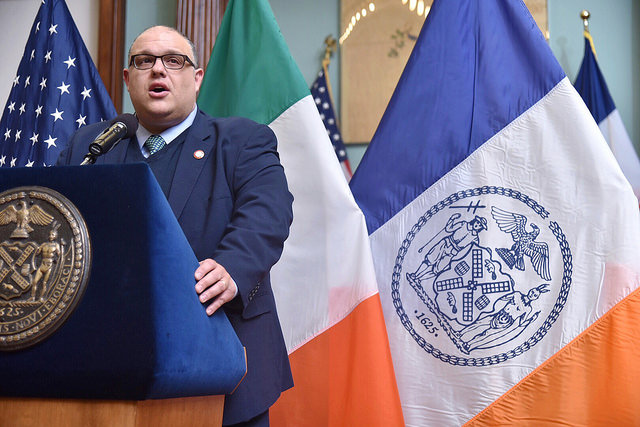 Council Member Justin Brannan (photo: John McCarten\City Council)
---
Sally Kabel was diagnosed with infant leukemia at ten months old, the treatment for which led to seizures, three broken bones, and a weak immune system. She developed epilepsy, and after her third bout of pneumonia she required continuous oxygen support. None of this stopped her from going to school more than complications with her school bus, according to her mother, Nicole Kabel.
After missing the first day at Manhattan Star Academy on the Upper West SIde because she was sick, 5-year-old Sally was ready for her own first day. But, her assigned nurse did not show up to accompany her to school. Three days later, Nicole was informed Sally's nurse had been reassigned, so Sally couldn't go to school until she had a new nurse. It took two weeks. After persistent, unfruitful calls to the Office of Pupil Transportation (OPT), a division inside the city's Department of Education (DOE) responsible for providing transportation by yellow bus and public transit for all students in New York City, Nicole found out Sally's nurse could not accompany her on the bus, as the bus was only designated for one passenger.
Nicole, who has two other children, took Sally to school herself before a bus with a nurse finally showed up. But then there was no car seat for Sally. Nicole tried calling the DOE, but there was no fix. Sally had an Individualized Education Program (IEP), a personalized plan for the education of children with special needs, which meant she had her own school bus and a supposed shortened commute time. Finally, the bus matron convinced the bus company to put a car seat on the bus, uncleared by the DOE.
"School was her happy place. Psychologically she needed it to stay positive and keep going," Nicole said during testimony at a City Council hearing of the education committee in October 2018, discussing the many challenges their family faced in trying to get Sally to school at the hearing, which was dedicated to oversight of the Office of Pupil Transportation and a suite of bills to reform it.
Throughout the entire 2017-2018 school year Nicole made consistent calls to the DOE and OPT trying to address the long commute time and the lack of car seat. Sally began at a private school that summer, but the summer bussing company would not give her a car seat as it still violated code. Nicole tried to address the issue, but in the absence of a car seat, the nurse was forced to hold up Sally's head and body to avoid breathing issues while Sally napped.
In late August 2018, Nicole attempted multiple times to contact the DOE to again address the incorrect coding and the small nurse staff. Sally didn't start school on time that year either.
"She thrived [at school], whatever pain was happening to her, she forgot about it at school," Nicole said in an email. "It was her happy place. It breaks my heart she was not able to go to school the first week of September. Her teacher whom she had previously and was going to have again texted me every day hoping busing/nursing issues would be sorted. The school missed her, and she missed them."
On September 15, 2018, four days after her sixth birthday, instead of going to school Sally was brought into the NYU Langone emergency room where she went into septic shock. She died four days later, on September 19.
"I spent countless hours and days the last month of our daughter's life battling to get her back to school where she could be happy. Those are hours wasted that should have been spent with her that we can no longer have back," said Nicole.
Nicole was among the parents and education advocates who testified at the City Council hearing last year, pushing Council members to address problems with the city's school transportation system, including more transparency from the Department of Education and more efficient bus times.
On January 9 of this year, the Council passed a series of bills designed to update the school bussing system of New York City. The package was spearheaded by Manhattan Council Member Ben Kallos and Brooklyn Council Member Mark Treyger, the chair of the Committee on Education. Legislation dealing with the city's school bussing system has been kicked around the Council for over 15 years, primarily driven by former Brooklyn Council Member Michael Nelson, who called for tracking capabilities as early as 2005 and two-way radios in buses as early as 2000, but has never made it out of committee.
Most notably in this block of bills known as the School Transportation Oversight Package (STOP) is a bill, Intro. 1099, that mandates that each school bus used to transport students to and from school must be equipped with a GPS tracking device and a two-way radio allowing communication with the operator of the school bus. Furthermore, parents must have access to the real-time location of their child's school bus.
(According to the City Council Finance Division, about 6,000 out of the approximate 10,000 school buses used for pupil transportation already have GPS technology compliant with the legislation.)
The suite of bills, which Mayor Bill de Blasio is expected to either sign or allow to age into law, also mandates that the DOE must report to the Council twice a year specific information regarding bus transportation duration times, detailed information on complaints about school bus service and ensuing investigations, as well as the number of compliant buses, vendors, and students using the system.
The DOE will have to share with parents their student's bus route, scheduled arrival and departure times, as well as a school bus ridership guide with detailed descriptions of the system and the complaint protocol process. DOE will also be required to share daily if their child's bus is late arriving or departing their school.
The ridership guide is required to be sent to authorized parents and guardians of general education and special education students.
The Department of Education and the Office of Pupil Transportation have long been criticized for complications in the complaints process and for leadership turmoil. Public criticism reached a height this past November when multiple school buses, including students with special needs, were stuck in the snow and could not deliver some students until past midnight. While getting stuck was apparently not the bus company or drivers' faults, the lack of ability to communicate with parents or for parents to track their children's whereabouts was frightening and troubling to many, including parents and City Council members.
But while the package of bills passed by the Council do a lot, they do not address all of the issues faced by Nicole and Sally Kabel, and other families with similar challenges. A new bill is in the works to more directly address those situations.
Nicole said that the doctors at NYU Memorial Sloan Kettering Hospital "gave their hearts, they gave their hours, they supported us in every way, shape, and form. And although they could not save her life, I have no anger to them whatsoever."
"I do, in fact, have anger towards the Department of Education and the Office of Pupil Transportation," she said.
Council Member Justin Brannan, whose Southern Brooklyn district the Kabels live in, said Nicole's "testimony at that hearing was just gut-wrenching. I knew the story because I had lived it with her but really hearing her lay it all out in front of everybody was really eye-opening and really moving. I wanted to become an elected official for moments like this."
"Most people would think [testifying at the Council] would be an insane thing to do after losing a child but there's so many things that are out of your control that doing something on things you can control makes me feel better," Nicole said in a phone interview.
The STOP bills most directly address the aspects of Kabel's testimony dealing with communicating with the Office of Pupil Transportation and lodging complaints against the Department of Education and the OPT. However, the bills don't really deal with issues related to how parents directly manage Individualized Education Programs and transportation.
Brannan told Gotham Gazette that as a direct result of the Kabel family's ordeal, he is currently writing legislation to address the school bussing system for students with special needs.
"I'm a big believer in the constituent marching in the office and saying there should be a law and you doing everything you can do to make a change," Brannan said in a phone interview.
"The idea that came out of her testimony was to find a way so that no other child with additional needs or an IEP has to deal with this type of insanity ever again," he said.
The Council "listened to a lot of families and have given it a lot of thought on how to make the process better," Kabel said in the interview.
Brannan's planned bill, which is being drafted by the Council's staff, would require the Department of Education to name specific caseworkers for parents and guardians of children with both an IEP and some type of special needs transportation assistance.
"One of the problems Nicole speaks about is she got someone on the phone with a heart and who cared but then was rerouted and had to tell her story again while she should have been playing in the park with her daughter who was dying of cancer," Brannan said.
Furthermore, Council Member Kallos told Kabel at the October hearing that the OPT "may need a position just focused on special education" and a way to enhance "interoperability in the DOE for the different departments and to share information," both of which could potentially be part of further legislation.
"I was so angry about the time I wasted in bureaucracy and the amount I had to do to give her a meaningful life in a world in which a child can go to school and have friends and learn," Kabel said in the interview.
She added she would still like to see the DOE implement a program to assign someone who knows the IEP, is assigned year around, and "makes sure everything is done correctly without putting it back on the parent."
"This is where bureaucratic dysfunction was impacting real lives," Brannan said. "When your daughter is sick, and her life hangs in the balance then bureaucracy isn't just frustrating, it's life affecting."
Brannan's bill will be introduced in the City Council once Council lawyers finish drafting it. He said he expects it to pass the Council quickly, becoming the next step in efforts to improve both the city's school transportation system and its services to students with special needs, and where the two meet.
"It should not be so hard to send your child to school," Kabel said.