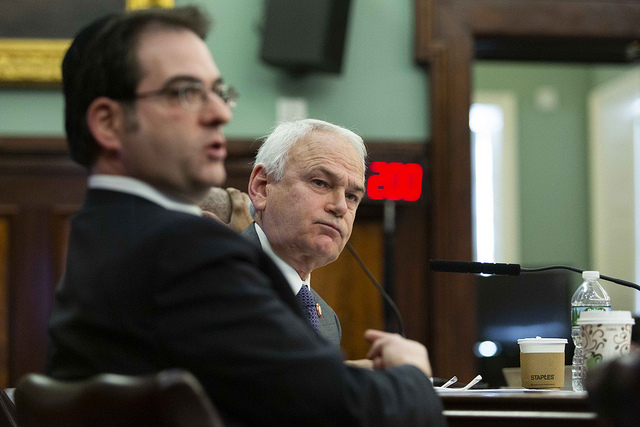 Council Members Holden, right, and Yeger (photo: Emil Cohen/City Council)
---
The City Council recently held its second in a two-part oversight hearing on the city's 311 system, the country's largest non-emergency call center. City Council Speaker Corey Johnson and City Council Member Fernando Cabrera, the chair of the governmental operations committee, led both hearings. While the first hearing focused on system upgrades to 311 that are in process and language access, the second was organized around examining responsiveness by 311 to New Yorkers' complaints and questions, often through how city agencies take up issues that come through the call center.
Cabrera stressed the importance of the second hearing, saying that "New Yorkers should be able to trust that a complaint filed with 311 will not languish in a void." Joe Morrisroe, the executive director of 311, testified at the first hearing and returned for the second. He was joined at the second hearing by officials from seven city agencies.
Johnson's primary concerns at the hearing were the quality of the data that 311 collects and transparency in regards to the status of complaints and service requests. "We see extensive data-quality issues," he said, arguing that data errors prevent the public from following the progress of complaints, and ambiguous complaint resolution descriptions create confusion over agency responses. Johnson said poor data quality meant that the Council could not determine how or if many cases were resolved. He cited the Department of Health and Mental Hygiene (DOMHM), Taxi and Limousine Commission (TLC), Department of Finance (DOF), and Department of Transportation (DOT) as city agencies with ambiguous resolution statuses.
The DOMHM and TLC each have 99% of their cases that are technically marked closed, but many also appear to be ongoing. Mark Lee, the TLC's assistant commissioner for licensing and standards, said that he needed "to look into this data further" and that TLC is "proactively communicating to complainants, but we do need to get that reflected to the public."
About 20% of rodent complaints to DOMHM were listed as resolved on a date before the complaint was filed, to which Johnson incredulously asked, "how is that possible?" Jeff Hunter, DOHMH assistant commissioner for environmental health and administration, said that this could be because multiple complaints were filed for the same location and the resolution date reflected the response to the first complaint.
The DOT and DOF had 46% and 74% of their respective complaint responses determined to be vague by the Council committee. Rebecca Zack, DOT's assistant commissioner for intergovernmental and community affairs, said that the department's vague responses directed customers to the DOT website for more information, instead of being resolved within the 311 system. Sheela Feinberg, DOF's director of intergovernmental affairs, said that the vague responses were due to the sensitive nature of DOF service requests, which include personal information, and that DOF's direct responses to complaints provide more information that what may be reflected in the Council's data.
Johnson expressed frustration at how confusing the whole thing is, labeling the agencies' differing response system to be "ad-hoc." He suggested an inter-agency working group to work with the Council to improve the whole response system, and to "stop the insanity, there needs to be a better way." He also expressed the importance of having the two hearings on 311, because "if people lose trust, they stop trying."
Another major issue that came up frequently at the hearing was how agencies decide the order in which they respond to service requests. Most of the agencies outlined an internal system of prioritization based on a request's impact on public safety. For example, Patrick Wehle, the Department of Buildings' (DOB) deputy commissioner for external affairs, said that DOB typically responds to high-priority complaints within nine hours, the next level of priority can take up to 11 days, while lowest-priority complaints sometimes take up to three months. Most of the agencies present followed a similar prioritization hierarchy, representatives said. However, there were some exceptions, such as DOT, which schedules maintenance work, such as refilling potholes, for efficiency rather than by another priority, according to Zack. Council Member Cabrera asked if the volume of calls received about a particular issue affects an agency's responsiveness. Zack said it depends on the issue, that DOT determines whether to adjust on a case-by-case basis.
The Committee on Governmental Operations also considered one bill proposal, sponsored by Council Member Robert Holden. Holden's bill would require 311 to indicate if an agency is unable to respond to a service request or complaint. Morrisroe said that his agency "cannot support the bill's intent in its current form." He explained that the bill "would drastically change 311's operations and would not allow it to fulfill its role of providing New Yorkers with the information they seek or help them submit and monitor their service request." Morrisroe asserted that providing this information would go beyond 311's "core competency" of making referrals to other city agencies. The bill was laid over by the committee, perhaps for tweaking or further consideration in the future.
Council Member Kalman Yeger voiced his frustration with the city agencies present, saying that 311 was not at fault, but the agencies are failing, calling it "a management problem at every agency." He expressed particular frustration over the fix rate for rodent problem complaints, which is currently 30%. He said rodent complaints should have a "100% success rate and a picture of the dead rat in the response." He ended his remarks (he didn't ask any questions) by telling the officials present to "go back today to the office and say 'that crazy guy from Brooklyn once again is letting loose with his microphone and maybe we could figure out a way that we don't have this again.'"
Two agencies notably not represented at the hearing were the New York Police Department (NYPD) and Department of Sanitation, a fact noted by Holden. These two agencies interact most with the public, he said, so their responses to 311 complaints need to be reviewed. "I don't think it's a coincidence," Holden said in the hearing, about the absences of the NYPD and Sanitation.
During the hearing, Johnson did say that "despite these troubling issues, we do see some very positive things," highlighting Sanitation for its clarity and responsiveness.
[Read: City's 311 Upgrade Set for Mid-Year Launch]