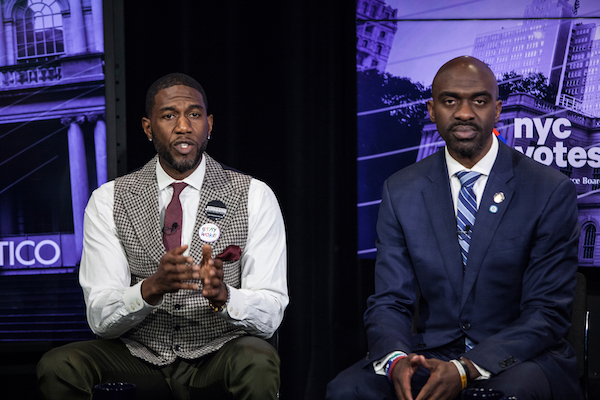 Williams, left, and Blake at the first debate (photo: Holly Pickett for The New York Times (pool))
---
Seven candidates for New York City Public Advocate will be on stage Wednesday night for the second of two official televised debates ahead of the February 26 special election. While there will be 17 names on the ballot next week and 10 candidates qualified for the first debate, held February 6, the second debate will feature a slightly more manageable group.
With the clock ticking down to the vote, which is open to all registered voters across the five boroughs, the debate promises to be an interesting exchange of ideas, stances, critiques, and promises. Candidates will be determined to set themselves apart. The winner of the election will, after all, be one of just three citywide elected officials, with major responsibilities despite a relatively small budget.
The seven candidates who again made the cut -- former City Council Speaker Melissa Mark-Viverito, attorney Dawn Smalls, activist Nomiki Konst, Assemblymembers Michael Blake and Ron Kim, and City Council Member Jumaane Williams and Rafael Espinal -- met the New York Campaign Finance Board thresholds of having a qualifying endorsement from an elected official or large group and raising and spending at least $170,813 by February 15.
The three who participated in the first debate but failed to qualify for the second are Assemblymember Daniel O'Donnell and City Council Members Ydanis Rodriguez and Eric Ulrich, who is the only Republican elected official in the race.
As the day of the vote quickly approaches, the race is intensifying, and the second televised debate, like the first, will likely feature some sharp elbows. Candidates know that it will be a low turnout affair and while there may be a clear perceived frontrunner in Williams, it could be almost anybody's election if the right pieces fall into place.
Wednesday's debate will take place at Borough of Manhattan Community College and be moderated by NY1's Errol Louis, with questions also coming from NY1's Bobby Cuza and Politico New York's Laura Nahmias. It will air 7-8:30 p.m. on NY1, NY1's website and Facebook page, and on NYC Life channels.
Here are four things to watch:
1. New Lines
The candidates are likely to have some new talking points, in terms of what they have to say about issues facing the city, policies they promise to pursue if elected, and critiques of one or more of their opposition. There could be new private polling that has come in for some campaigns that candidates are taking into account as they craft their messages or go on the attack.
It will also be important to see how closely candidates discuss their plans and priorities within the context of the actual role, powers, and responsibilities of the public advocate, which is meant to be a watchdog and ombudsperson, with the ability to introduce legislation to the City Council, that holds the rest of city government accountable.
While voters should know where candidates stand politically and on a variety of policy issues, they should also have a sense of how those who want to be public advocate would actually run the office and perform its mandated duties.
Most of the candidates have honed at least fairly clear messages at this point, and they may rely on their go-to talking points, but questions from the moderators or comments by their competitors may push them out of their comfort zones or into topics that were not explored in the first debate. Watch as candidates asked to provide their solutions to pressing problems are either able or unable to provide strong forward-looking answers.
Candidates may also come in focused on trying to drive home one or two key points about themselves or their candidacy. For example, Kim may wear defeat of the Amazon deal as a badge of honor -- he was a very early and strident opponent; Konst may try to make sure everyone knows she's calling for a $30 per hour minimum wage for many employees in the city; Mark-Viverito may return time and again to her leadership in the plan to close the Rikers Island jails and calls for more female representation in city government. Smalls may continue to focus on the issue of homelessness and her legal background, while Espinal talks a lot about environmental policy and affordable housing. Housing is also a central issue in the campaigns of Williams and Blake.
Catch up on much of what was said at the first debate before watching the second; and read our preview of the first debate to see how candidates had been pitching themselves in the race leading up to that point, much of which held true at the first debate.
2. Knives and Frontrunners
In the first debate, most of the attacks leveled by candidates targeted Mark-Viverito or Williams, two of the perceived front-runners in the race. The second debate will likely see more of the same, though Blake may see more criticism than he did in the first contest.
Along with the attacks themselves, the responses by those being attacked are telling. Do they reply with substance or attack back or dismiss criticism as invalid?
Blake may take the debate as an important opportunity to make voters question Williams, something he tried to do during the first debate, using the "cross-examination" round to ask Williams about his changing statements on women's reproductive rights, something Mark-Viverito also asked Williams about.
While there is plenty for all the Democrats on stage to disagree about, Ulrich's presence will be missed in terms of more ideological balance -- he calls himself a "moderate" or "Rockefeller" or "Bloomberg" Republican.
Konst is almost always on the attack, trying to separate herself from all the politicians in the race and make the argument that what the office needs is a true outsider watchdog. Who will she go after individually? Will other candidates have specific criticisms of her they have prepared to be able to fire back?
Will Williams act like the perceived frontrunner? Will he show any cards in terms of who he sees as his biggest threat?
How might the more mild-mannered Smalls, Espinal, and Kim assert themselves?
3. Amazon Fallout
Amazon's decision to abandon a deal to open a sprawling new Queens campus with roughly 25,000 jobs amid significant pushback from some local officials and activists -- including several running for public advocate -- will surely be a topic of discussion. Kim and Konst will celebrate the outcome. Espinal may too.
Others are likely to take a more careful tact, perhaps adjusting past sentiments. After Amazon pulled out of the deal, Blake was quick to say that he had never said he didn't want Amazon to come to the city, but that he thought the deal needed to be improved, though he was very critical of it. He's likely to take the most Amazon-friendly line. Several candidates may say it's unfortunate that the jobs and revenue aren't coming to the city, but point the finger at Amazon (and maybe Mayor de Blasio and/or Governor Cuomo) for not engaging enough with the community and labor unions, and not providing the right local investments to quiet criticism.
The only truly pro-Amazon candidate in the first debate was Ulrich, who did not meet the fundraising threshold for the second debate. He's now trying to galvanize support for his candidacy from those who wanted Amazon to come to the city. Ulrich may still get a few mentions during the Amazon discussion, and keep an eye on his Twitter account during the debate, especially this portion.
Candidates who are at the debate would be smart to have thoughts on what the city should do moving forward to attract major companies and use the site planned for the Amazon campus. They should definitely have a cogent answer for how the city is better off without Amazon than with the promised jobs and revenue.
4. The Mayoral Test
This is less about candidates' answers about possibly running for mayor and more about who appears to actually be up for the task of being the city's chief executive. The public advocate is next in line to the mayor -- if something happens where the mayor can't fill out his or her term, the public advocate takes over, at least temporarily, until a special election is called.
The candidates have often been asked about their plans to run for mayor, or not, if they win this election (and the subsequent one later this year to see who holds the office for 2020 and 2021). Most have said they won't run for mayor in 2021, though we know those promises don't mean much. Mark-Viverito has said she isn't ruling anything out and Ulrich has said he probably would run for mayor in 2021.
Regardless of those comments, an important aspect of the second debate and the election is who seems capable of running the city, especially in a moment of crisis, which would be the context if the public advocate had to take over the mayoralty.
Also important here is the fact that the next public advocate will likely run for mayor at some point down the line, whether it's 2021 or beyond. The last two public advocates are now New York City Mayor and New York State Attorney General.
And worth noting in this discussion is how the candidates talk about de Blasio in the debate. We may see candidates attempt to draw more clear lines of distinction from the mayor or outline criticisms they didn't mention in the first debate.
We could also see some discussion of the first two city public advocates: Mark Green and Betsy Gotbaum. It might be interesting to see which candidates know the history of the position they are seeking and how the people they hope will be their predecessors approached the job.
Other Notes
Keep in mind that along with those who made the first debate but not the second -- Ulrich, Rodriguez, and O'Donnell -- there are several other candidates who will be on the ballot: Benjamin Yee, Jared Rich, Tony Herbert, Manny Alicandro, David Eisenbach, Helel Sheikh, and Latrice Walker, though she has ended her campaign.
Keey an eye out for Gotham Gazette coverage of the second televised debate and the larger race. Find all our previous coverage of the race, including many interviews with candidates, here.
And don't forget to make a plan to vote on Tuesday, Feb. 26.