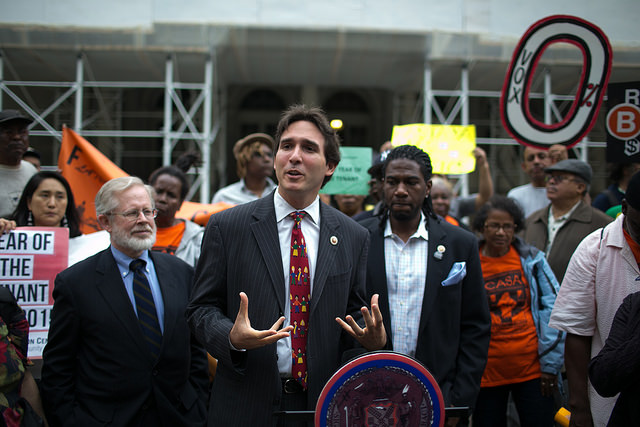 Council Member Kallos (photo: William Alatriste/City Council)
---
New York City Council Member Ben Kallos is moving forward with a bill to increase the amount of public funds a candidate running for elected office can receive from the city's campaign finance program, in order to further reduce the influence of big money donors in local political campaigns.
New York City's voluntary campaign finance program matches small dollar donations in order to afford candidates without deep pockets or wealthy donors a more level playing field in elections. In November, voters approved a ballot question that increased the matching ratio from 6-to-1 for the first $175 of a contribution to 8-to-1 for the first $250 for citywide offices ($175 for all other offices), and increased the maximum amount of public funds that could be paid out from 55% of the spending limit for an office to 75%.
The changes also reduced individual contribution limits across the board and gave candidates running in the 2021 city elections the choice to opt in to the new rules, which otherwise go into mandatory effect beginning 2022.
Following the charter change, Kallos, a Manhattan Democrat, quickly advanced legislation that Mayor Bill de Blasio signed into law to implement those rules for special elections taking place before the 2021 primaries, giving candidates the same option to choose between the old and new rules. In the February special election for public advocate, a majority of the candidates opted in to the new system and larger donations dropped.
[Read: Report: Under New Law, Small Donors Drove Public Advocate Special Election Campaigns]
Encouraged by those results, Kallos is pushing his new bill, which goes even further and would increase the maximum public funds payment from 75% to 88.8% of the spending limits for the 2021 elections, further encouraging candidates to raise $250 and below from individuals, and effectively leaving no gap for candidates to fill with larger private donations. The 2021 elections will be a massive undertaking with the mayor, comptroller, five borough presidents and about three dozen Council members, including Kallos, term limited out of office. Kallos, who is expected to run for higher office, told Gotham Gazette in an interview that his bill already has 34 sponsors, a super-majority of the 51-seat Council, and is scheduled for a committee hearing on April 15.
"It is going to do what the Charter Revision Commission should have done to begin with but couldn't," he said, noting that the bill would also place the new rules in the city's administrative code. "We're going to put things where they were supposed to be if we hadn't had to go around the City Council," he added, referring to the fact that the charter change approved by voters could have been done through City Council legislation and did not need to be made through referendum.
Mayoral spokesperson Raul Contreras said the mayor's office would have to review the bill. "The power of your voice shouldn't depend on how deep your pockets run. Public financing empowers the voices of the average New Yorker, which is a belief the majority of voters reaffirmed when they overwhelmingly voted for public financing in the 2018 general election," Contreras said in a statement.
City Council Speaker Corey Johnson's office did not return a request for comment but Johnson has previously supported a version of Kallos' bill that was introduced in the prior legislative session of the Council and that would have accomplished the same result.
Though the bill has plenty of support within the Council, Kallos nonetheless expects some opposition. Any effort to expand the public matching funds program is inevitably criticized with similar refrains about the cost to taxpayers. Public funds payments come with thresholds that candidates must meet to show that their campaigns are serious and viable, and strict penalties for the misuse of public funds.
"Candidates who are not serious would be well-advised to stay away from a full public matching system," Kallos said. "Candidates who have sought to abuse the system have found themselves fined and had to pay back the public dollars...and I think that is enough of an incentive for people to not do it."
He continued, "We want our elected officials to work for us and getting in arguments about whether or not somebody's opposition is credible, or whether they should take public dollars defeats the point that we want elected officials taking clean money from the government that is coming as a multiplier on small dollars instead of spending all of their time raising money from big donors."
After the April 15 hearing in the Council's government operations committee, of which Kallos was formerly chair and is now a member, it could be tweaked, and would need to be passed by the committee and then the full Council in order to face approval or veto by the mayor.
Note - this article has been updated.