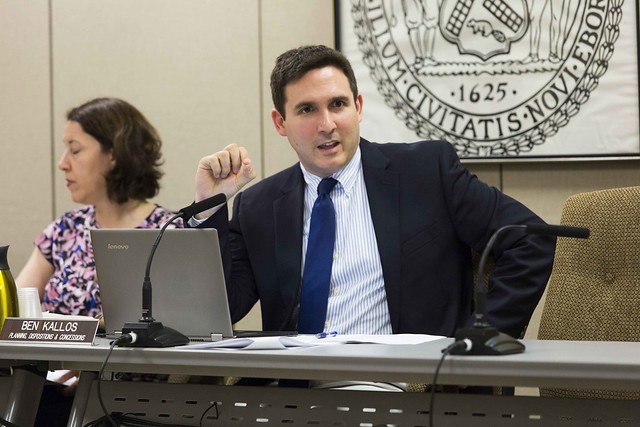 Council Member Kallos (photo: Emil Cohen/City Council)
---
The City Council's Committee on Governmental Operations heard testimony on Monday on a bill to expand the public matching funds available to candidates under the city's campaign finance program.
The campaign finance system incentivizes individuals to seek small dollar donations when running for office, matching those contributions with public funds. Under a recent city charter amendment approved by voters, a citywide candidate can receive public funds at an 8-to-1 ratio for the first $250 of each contribution (an increase from 6-to-1 for the first $175), and they can cover up to 75% of the spending limit for the office through public funds (up from 55%).
That charter change was quickly implemented through local law, sponsored by Council Member Ben Kallos, for all special elections before the 2021 general election, thus applying to multiple races this year.
Kallos, a Manhattan Democrat, has also proposed increasing the public funds cap to roughly 89% of the spending limit, effectively allowing candidates to run their campaigns entirely on small contributions and the subsequent public match, and diluting the effect of wealthier, larger donors. And he hopes to put that reform into effect for the 2021 city election cycle, which will feature a massive number of local races, from citywide and borough wide posts through the City Council. Kallos estimates it will lead to roughly $61.7 million in public funds disbursements, about $10.3 million more than if the 75% match is kept in place. His projections are based on participation rates in the 2013 election when the CFB gave about $38 million to qualifying candidates.
"I think this is a gamechanger," Kallos said at Monday's hearing, citing the recent citywide public advocate special election as proof that increasing the public funds match reduced big donations. He pointed to the latest campaign finance disclosures from all the campaigns, which showed that contributions of $250 or less made up 61% of all contributions, up from 26.3% of all contributions in the 2013 public advocate race, according to his office's analysis of the numbers.
"We have flipped how campaigns are financed, upside down," said Kallos, who is term-limited and expected to seek higher office in 2021, emphasizing that he believes the system must be expanded to fully eliminate big money donations.
[Read: Council Member Kallos Pushes Next Increase in Matching Funds Available Through Public Campaign Finance System]
Kallos' bill has the support of the committee chair, Council Member Fernando Cabrera, and City Council Speaker Corey Johnson, who is exploring a run for mayor and only taking donations of $250 and under. But other city officials seemed less sure about the exact proposal while supporting its goals more broadly.
Ayirini Fonseca-Sabune, the city's new chief democracy officer who runs Mayor Bill de Blasio's DemocracyNYC initiative, generally praised the campaign finance program and the recent improvements that were enacted within it by the charter amendment, which was set into motion by the mayor's formation of a charter revision commission.
She emphasized the need to increase public engagement in the city's democracy by increasing public trust. "Establishing this trust begins with rooting out corruption and even the perception of corruption by getting big money out of politics," she said in her testimony. But she said while the administration "support[s] the values" of Kallos' bill, there would need to be more discussion of its specifics with advocates, the Council, and the city's Campaign Finance Board (CFB), which administers the campaign finance program.
Similarly, Amy Loprest, executive director of the CFB, and Frederick Schaffer, chair of the board, said they were "supportive of the goals of this legislation" but had practical concerns about the current version. For one, Loprest noted, the recent charter amendment imposed a prohibition on early payment of public funds unless a candidate submits a Certified Statement of Need, in order to prevent unserious candidates or those without any opposition from getting public money. Kallos' bill removes that prohibition, and Loprest said it should find a way to address it.
She also pointed out that candidates who rely overwhelmingly on public funds -- which are subject to fairly strict standards for campaign use -- would lack the flexibility to spend campaign funds on expenditures that do not qualify for the public funds program. For instance, cash payments or post-election spending.
The bill has the support of Reinvent Albany, a government reform group, and Dawn Smalls, an attorney who ran for public advocate in the February special election.
Tom Speaker, a policy analyst at Reinvent Albany, pointed out that with the current 75% cap on public funds, candidates for City Council would still have to raise about $47,000 in private donations and could look to wealthy donors. '"Raising the cap can reduce that dependency and allow for more donations from small donors," he said.
Smalls, who was a first-time candidate in February, emphasized the importance of the small dollar matching program, which she said, "allowed me to communicate with voters and effectively compete in this race." She did, however, criticize the CFB's compliance regulations, which she said are "an unnecessary burden on all candidates, but one that falls excessively on candidates that may be new to the process and have less infrastructure." She emphasized her campaign's sophisticated operation and team of professionals, which she said shouldn't be necessary or reasonably expected of first-time candidates.
Not everyone in the Council is a fan of the bill, of course. Council Member Kalman Yeger, a Brooklyn Democrat and former campaign finance consultant, criticized the proposal and sought to repeatedly poke holes in the campaign finance program more broadly.
Note - This article has been updated to clarify Dawn Smalls' comments.
Note - This article has been updated with cost projections from Council Member Ben Kallos.