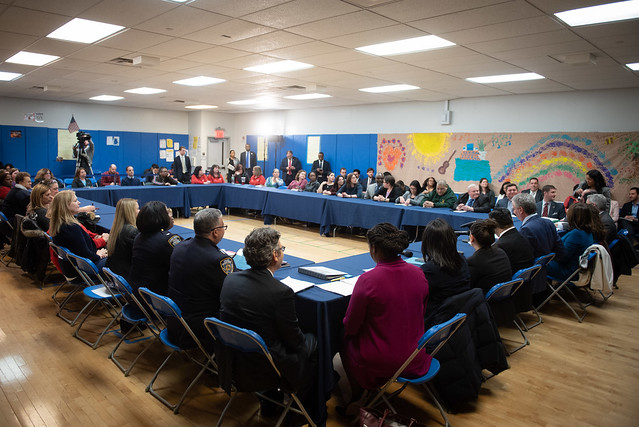 (photo: Michael Appleton/Mayoral Photography Office)
---
Mayor Bill de Blasio named his eight appointees to a new charter-mandated Civic Engagement Commission on Tuesday, weeks past the April 1 deadline for creating the commission. City Council Speaker Corey Johnson and the Bronx, Brooklyn and Queens borough presidents also announced their appointees while the other two borough presidents have yet to do so.
The 15-member commission was established in the charter through a ballot referendum approved by voters in November, one product of a charter revision commission set up by de Blasio last year. The commission is tasked broadly with increasing involvement in city civic life, and specifically with improving voter access by providing interpreters at polling sites and administering a citywide participatory budgeting program modeled on the system used by the New York City Council.
The commission is expected to hold its first public hearing within the next month and will also go on a listening tour across the city. The mayor allocated $300,000 for the commission for the current fiscal year which ends June 30, and $2.4 million for the next fiscal year, for a staff of seven people.
De Blasio's slate of appointments, six of whom were chosen through an open application process, according to the mayor's office, includes activists who advocate for immigrants, people with disabilities, and minorities, and represent a diverse range of nonprofit organizations.
The mayor's pick for chair and executive director is Dr. Sarah Sayeed, a Bronx resident who has served as senior advisor in the Mayor's Community Affairs Unit for over three years, working with the Muslim community. The chair of the civic engagement commission is the only full-time, paid member.
"Our democracy begins in communities large and small, where people come together to tackle important issues in our city," de Blasio said in a statement. "The Civic Engagement Commission will play a crucial role in strengthening this democracy, which is why our appointees have decades of experience elevating the voices of New Yorkers from all walks of life."
The mayor's other appointees are:
-Murad Awawdeh, vice president of advocacy at the New York Immigration Coalition and political director for the New York State Immigrant Action Fund.
-Holly Bonner, founder of the parenting blog Blind Motherhood, focused on families with individuals suffering from vision loss
-Amy Breedlove, a business strategist at Urban Quotient and President of the Cobble Hill Association.
-Donna Veronica Gill, a higher education officer at Hunter Bellevue School of Nursing, and advisor to the New York State Youth Leadership Council.
-José Hernandez, president of United Spinal Association's New York City chapter.
-Linda Lee, executive director of the Korean Community Services of Metropolitan New York, Inc.
-Annetta Seecharran, executive director of Chhaya CDC, a nonprofit focused on housing stability for New York's South Asian and Indo-Caribbean communities.
City Council Speaker Johnson has two appointees on the commission: Anastasia Somoza, who is the Council's first-ever liaison to the disability community, and Anthony Harmon, chief of staff for the United Federation of Teachers.
Bronx Borough President Ruben Diaz Jr. appointed Lilliam Perez, vice president of government and community relations at Montefiore Health System.
Brooklyn Borough President Eric Adams chose Eve Baron, chair of the Graduate Center for Planning and the Environment in the School of Architecture at the Pratt Institute.
Queens Borough President Melinda Katz's pick was Charles Apelian, vice chair and land use chair of Queens Community Board 7.
Staten Island Borough President James Oddo's office did not respond to a request for comment. Manhattan Borough President Gale Brewer's spokesperson said they would inquire about the status of their appointment.
The commission members will initially serve staggered terms. Three of the mayor's appointees -- Gill, Breedlove, and Lee -- will serve for two years while four others -- Awawdeh, Bonner, Hernandez, and Seecharran -- will serve for four years. Each of the borough presidents' appointees will have three-year terms, and of the City Council's two appointees one will serve a two-year term and the other a four-year term. Future appointees will serve for four years each.
Note - This article has been corrected to note that the Queens borough president has also made her appointment.
Note - This article has been updated with budget numbers for the commission.