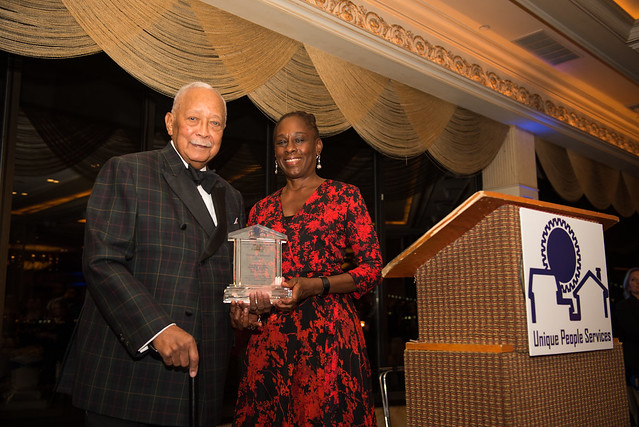 Former Mayor David Dinkins, left, with Chirlane McCray (photo: Edwin J. Torres/City Council)
---
In October 1992, amid sexual harassment scandals that rocked his administration, former Mayor David Dinkins created a task force to examine the issue of sexual harassment in city government. The task force, chaired by late Congressional Rep. Bella Abzug, who led the larger Commission on the Status of Women, submitted its report to the mayor the next year in November, recommending that the city create a Citywide Office for Sexual Harassment Prevention.
The following month, in December 1993 and just two weeks before his mayoralty ended, Dinkins heeded the recommendation and signed an executive order to establish that citywide office as a pilot for two years.
The office was to advise and counsel city employees on sexual harassment issues, as well as mediate when allegations were made. It would be mandated to investigate formal complaints of harassment and discrimination, and recommend disciplinary measures. It was to monitor how city agencies dealt with harassment, evaluate the effectiveness of harassment trainings for employees, and be required to submit quarterly reports on its work to the mayor. And it was to maintain a central repository of formal and informal sexual harassment complaints.
But as administrations switched, Dinkins' eleventh-hour executive order was lost to the pages of the municipal archives -- the Citywide Office for Sexual Harassment Prevention was never established. The Rudolph Giuliani administration does not seem to have paid any attention to the executive order, which lapsed after its two-year lifespan without being specifically rescinded.
Twenty-five years later, the #MeToo movement's focus on addressing sexual harassment triggered a cultural paradigm shift across the country and beyond. The New York City Council took stock and passed the Stop Sexual Harassment in NYC Act, a package of 11 new laws to prevent sexual harassment in the public and private sector, through a push led by Council Speaker Corey Johnson and Council Member Helen Rosenthal, chair of the Committee on Women and Gender Equity.
New York State also passed similar legislation last year to address sexual harassment, and more recently held its first public hearing on workplace harassment in nearly three decades, with additional change to the law being pushed by advocates and victims this year and another hearing scheduled for May 24.
A spokesperson for former Mayor Dinkins, who currently teaches at Columbia University, said there was insufficient time to implement the order before his term ended.
"I've never heard of it and I've been around in almost every administration since," said Dr. Lilliam Barrios-Paoli, who served as former Mayor Rudy Giuliani's director of the Department of Personnel, under whom the citywide sexual harassment prevention office would have been established under the order. "In retrospect, it would've been a wonderful thing. It's a horrible thing for any human being to go through those kinds of things."
When Giuliani came to power, Barrios-Paoli said the administration's immediate focus was civil service reform and drastically cutting down the city's workforce. "I don't recall [the sexual harassment office] ever coming up with me," she said, lamenting the lost time on addressing the issue. In city leadership, she said, "There was so little awareness of that those days. The consciousness was just not there."
"I don't think there was a woman that was exempt. We didn't think there was any recourse," she said of harassment in the workplace. "What happens in the change of administration is a lot of things fall by the wayside unless they have a champion."
The creation of Dinkins' task force led by Abzug owed largely to the efforts of former Congressional Rep. Elizabeth Holtzman, who was City Comptroller during Dinkins' term and attempted to examine sexual harassment policies in city agencies only to find a dearth of information.
Only two agencies responded to Holtzman's requests for information, the Department of Transportation and the Fire Department, and they woefully misunderstood and mishandled the issue of sexual harassment, Holtzman said in a phone interview. "Both responses showed that neither agency understood what the legal requirements were, how to enforce the law and...the people who were victimized by sexual harassment were revictimized by reporting and the people who were perpetrators were allowed to get away with, at worst, a slap on the wrist," she said.
The glaring lack of a standard across agencies should have invited "a major citywide response," she said, and Dinkins' executive order came much too late. "I'm not surprised about Mr. Giuliani's indifference to sexual harassment. We can see that from his present employment. But I am surprised that both Mayor Bloomberg and Mayor de Blasio have turned a deaf ear to it as well. It's not a good sign," Holtzman added, with reference to Giuliani's work for President Trump, who has a history of misogyny and was caught on tape bragging about sexual assault.
"It just shows how important the MeToo movement is and it shows that nobody's exempt, including the City of New York," Holtzman continued, "and even though it wants to tell the country how liberal and progressive it is, the fact of the matter is that when it comes to sexual harassment, they've got a lot to account for."
That accounting is meant to happen under the package of bills the Council passed, which include requirements for reporting on sexual harassment within city government, mandated anti-harassment trainings at city agencies and private employers, and required climate surveys and action plans from city agencies, besides strengthening existing anti-harassment protections.
Merrick Rossein, professor at CUNY School of Law, served on Dinkins' sexual harassment task force and was also a commissioner on the Equal Employment Practices Commission under both Dinkins and Giuliani. "I do not recall if the Office was functioning by the time Giuliani took office in January 1994. He was hostile to all [Equal Employment Opportunity] enforcement," Rossein said in an email.
"The City was an early leader in addressing sexual harassment, including mandating training," he added, noting that he conducted interactive sexual harassment trainings for Dinkins, his deputy mayors and the corporation counsel to show that the city was taking the issue seriously.
"The City should have followed through by establishing the recommended Citywide office. There have been too many cases of sexual harassment from that period until the #MeToo movement and the recent City Council legislation. Too many victims were harmed and tax payers were on the hook for the millions of dollars in settlements, court awards, and lost productivity caused by the disruption of failing to prevent or stop the harassment effectively. The recent legislation is helpful but still insufficient."
As Rossein noted, the citywide office would have tackled many of the issues that became apparent in city government once the #MeToo movement pushed the New York City Council and Mayor Bill de Blasio's administration to look inward at their own approach to a systemic problem.
After the passage of the Stop Sexual Harassment Act last year, the mayor released what data was available on the number of harassment complaints across city government, showing glaring discrepancies in how different agencies approached the issue. The mayor himself conceded that "what's abundantly clear is there was not a single standard for 'mayoral' and 'non-mayoral' agencies." Though de Blasio also downplayed complaints that had come through the Department of Education, remarks he later walked back, and has more recently faced intense scrutiny over his administration's handling of harassment by his former acting chief of staff.
"Mayor Dinkins was a visionary leader who understood the importance of taking a stand against sexual harassment decades before the Me Too movement, and his executive order was a prime example. The spirit of this order lives on under the de Blasio Administration," said mayoral spokesperson Marcy Miranda in a statement. "Last year, the Mayor signed the Stop Sexual Harassment Act to address and prevent sexual harassment, and we continue looking at ways the City can improve its processes to reduce sexual harassment and all forms of EEO discrimination at work."
Council Member Rosenthal, a Manhattan Democrat and chair of the Committee on Women and Gender Equity, led the way on the Stop Sexual Harassment in NYC Act and was shocked to learn that the city could have acted aggressively so long ago through Dinkins' order. "What we've learned from the MeToo movement is that with focused attention on sexual harassment and experiences of sexual harassment, we are in the midst of changing the cultural tide that allows sexual harassment to continue," she said. "I can only imagine how much farther along we would be if the...Giuliani administration would have implemented this executive order."
Dinkins created his task force soon after his own office came under scrutiny for appointing a new deputy mayor who faced allegations of sexual harassment. Dinkins later defended the deputy mayor who would then resign from his post.
Now, the City Council is preparing to hold another hearing on sexual harassment policies next month, where it will examine the implementation of the laws passed last year. Rosenthal said she is waiting to hear if the mayoral administration is "resisting or embracing" the new policies. The Council is currently dealing with sexual harassment allegations against two of its members, and held a mandatory training on Wednesday at City Hall, which was, according to the Daily News, marred by outbursts from another member, Ruben Diaz Sr., who later told the Daily News that sometimes "sexual harassment is a compliment."
Asked if a citywide office would be worth creating, she said the Council would likely receive pushback from the administration. The Equal Employment Practices Commission and the city Commission on Human Rights both currently handle enforcement of laws against sexual harassment, and it's possible a new agency would be duplicative, Rosenthal noted. But, she said, "I think we have to learn more from our reporting bills to see whether or not the administration is following through on our set of bills that we passed."
Holtzman praised Rosenthal's legislation and the overall package the Council approved, but she nonetheless believes the city needs a dedicated office to tackle sexual harassment. "It's one thing to have reports and it's another thing to have a commission that has its responsibility rooting out this problem," she said. "Unless they can show it's not a problem, why not?"
She continued, "You need to have a proper administrative structure. I remember when I was trying to deal with the problem of Nazi war criminals in America, the government had done nothing about them for more than 25 years and they were finding sanctuary in the United States. I did create an administrative structure in the Department of Justice, which had that as its mission. You have to give an agency a mission and monitor that agency to make sure it carries out that mission, and instead the message was to all city agencies, it's not a serious problem."
At the April 25, 2018 news conference when Mayor de Blasio, who worked in City Hall under Dinkins, addressed reporters' questions about sexual harassment complaints, he noted that the #MeToo movement was leading to a sea change in city government. "So one thing that has come out of this very important movement, this emerged from a social movement in this country that demanded clearer answers from every segment of this society, is we're aligning all standards on sexual harassment across all agencies," he said. "And I think that's going to make a big difference."
[LISTEN: Max & Murphy Podcast: The Long Fight for New City Sexual Harassment Laws, with Liz Holtzman and Helen Rosenthal]
Note - This article has been updated with comment from a spokesperson for Mayor Bill de Blasio.