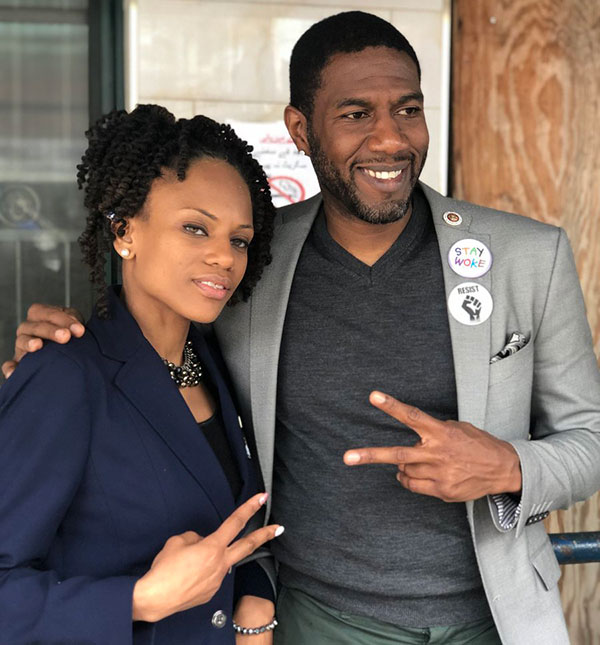 Monique Chandler-Waterman & Jumaane Williams (photo: @MoniqueForNYC)
---
The political arm of the New York City Council's Progressive Caucus is endorsing Monique Chandler-Waterman in next week's special election for the Council's District 45 seat. The district was previously represented by Public Advocate Jumaane Williams, whose own special election victory led to the vacancy being filled through a vote this coming Tuesday, May 14.
Chandler-Waterman is a community activist and founder of East Flatbush Village, a nonprofit that works with at-risk youth in the community. She is one of eight candidates vying to represent District 45, which includes the neighborhoods of Flatbush, East Flatbush, Midwood, Canarsie and Flatlands. The other candidates in the race, a nonpartisan special where there are no formal party labels, are Anthony Alexis, Victor Jordan, Jovia Radix, Xamayla Rose, Adina Sash, and L. Rickie Tulloch.
A longtime ally of Williams -- who held the seat since 2010 before being elected public advocate in February -- Chandler-Waterman served as his community outreach director for two years. Last month, Williams endorsed her over another candidate, Farah Louis, who was a staffer in his Council office for years.
The Progressive Caucus Alliance, in its announcement provided to Gotham Gazette, said it chose to endorse Chandler-Waterman "not only because of her progressive credentials but because she has shown a long history of strong resolve and concrete ability to better her communities." The Caucus Alliance includes 16 members from the 21-member Progressive Caucus within the larger 51-seat City Council. Endorsements are made by a two-thirds majority of the Alliance.
"We are confident that she will provide excellent constituent service, represent their communities with distinction, and champion legislation that helps create a more just and equal New York City - that forwards racial, gender, and social justice campaigns in the Council and beyond - which is the key mission of the Progressive Caucus," the announcement said. The Alliance plans to aid Chandler-Waterman's campaign with voter outreach along with allies in labor and the nonprofit world.
"I'm overwhelmed with excitement...The Progressive Caucus Alliance endorsement means a lot," Chandler-Waterman said in a brief phone interview, pledging to join the Progressive Caucus if she wins the election.
She said her first priority would be to push for more district engagement in the Council's legislative and budgeting processes, through monthly meetings with community members. On the policy front, she spoke of addressing the issue of recent police-involved shootings of emotionally disturbed persons in the district.
"I don't think the NYPD should be responding to those who are in crisis," she said, striking a similar note on an issue Williams has been vocal about. And, also in keeping with Williams' positions, she said she would push to overhaul the city's Mandatory Inclusionary Housing policy, which she said has failed to create enough "true affordable housing" in the community.
Notably, two organizations that are working to elect more women in local government -- Amplify Her and 21 in '21 -- have also endorsed Chandler-Waterman, though 21 in '21, in its first foray into electoral influence, issued a dual endorsement, also giving its support to Radix.
The 51-seat Council currently has only 11 women representatives, down from a high of 18 in 2009. A nonprofit, 21 in '21, aims to help elected 21 women to the Council through the upcoming 2021 city election cycle, when many Council members will be term-limited out of office. The District 45 special election offers an opportunity to get to 12.
In line with that goal, Council Member Ben Kallos, a co-chair of the Progressive Caucus, said the PCA only interviewed women candidates -- all of them were invited except Adina Sash -- in the race before making its endorsement. "We need to elect more women to the City Council," he said in a brief phone interview. "Monique has experience in the Council and the community. Whenever she's seen a problem, she's rolled up her sleeves and fixed it herself, and that's the kind of attitude we need in City Council members."
Chandler-Waterman said she looked forward to increasing the ranks of women in the Council, not only by being elected herself but "also going back and helping other women that want to be in politics and continue this movement of making sure that women's voices are at the table."
The PCA's support adds to a list of prominent endorsements that Chandler-Waterman has received, including from a variety of Brooklyn officials such as Assemblymember Nick Perry (who is also her campaign chair), state Senators Zellnor Myrie and Kevin Parker, and Council Members Laurie Cumbo and Antonio Reynoso. The Working Families Party is also supporting her campaign, as are progressive organizations like New York Communities for Change, New York Progressive Action Network, and Make the Road Action. The influential unions DC37 and 32BJ SEIU also endorsed her.
If Chandler-Waterman wins the race next week, she will hold the seat through the end of this calendar year and have to defend it later this year, first in the June 25 primary election if a challenger emerges and then in the November general election, again only if a challenger is on the ballot. The winner in November will serve the remainder of the term, which ends in 2021.
[READ: Special Election Provides Testing Ground for Push to Elect More Women to City Council]
Note - This article has been updated to note that the Progressive Caucus Alliance did not invite all the five women candidates for their endorsement interview.