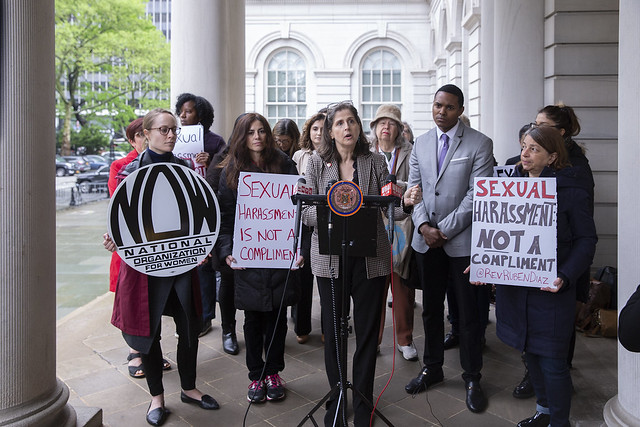 Council Member Rosenthal, center (photo: William Alatriste\New York City Council)
---
City Council Member Helen Rosenthal, a Manhattan Democrat who chairs the Committee on Women and Gender Equity, plans to introduce legislation to create an Office of Sexual Harassment Prevention within the mayor's office, she told Gotham Gazette on Monday night.
Rosenthal, who recently spearheaded passage of sweeping anti-harassment legislation, made a request to draft Office of Sexual Harassment Prevention bill following a recent Gotham Gazette report about a 1993 executive order signed by former Mayor David Dinkins that would've created such an office, but was never put into effect.
"I think it's an exciting idea," Rosenthal said. "Let's see where it would fit in to start and then what is its mission, what it would have authority over. There are a lot of important questions that have to be answered." Those answers would come in both the bill-drafting and legislative hearing and negotiation phases.
[READ: A Citywide Office for Sexual Harassment Prevention? It Almost Happened 25 Years Ago]
In 1993, Dinkins signed an executive order to create the Citywide Office of Sexual Harassment Prevention on a pilot basis for two years. The order was a response to a sexual harassment scandal that led to the resignation of a top Dinkins aide, and followed a larger push by then-Comptroller Elizabeth Holtzman to reform anti-sexual harassment policies at city agencies.
But the order was signed two weeks before Dinkins' term ended, giving him insufficient time to implement it. His successor, Mayor Rudolph Giuliani, did not put it into effect and the order lapsed.
Last year, amid the #MeToo movement, New York City officials woke to the issue of sexual harassment, and the City Council passed a slew of new bills aimed at improving how city agencies and the private sector deal with workplace harassment. Mayor Bill de Blasio signed the bills into law.
De Blasio's administration then released data on instances of sexual harassment at agencies, and admitted to flaws in the standards for reporting and assessing harassment. The latest data released by the Department of Citywide Administrative Services showed that 472 complaints of sexual harassment were filed in the 2018 fiscal year, and 243 of those were resolved (569 complaints were resolved overall in that period).
Rosenthal has asked the Council's bill drafting unit to begin creating the legislative framework for a mayoral office that would be dedicated to handling those complaints. Currently, sexual harassment falls under the purview of several agencies and commissions -- the Commission on Human Rights, the Commission on Gender Equity, the Equal Employment Practices Commission. But the CHR and the EEPC existed when Dinkins signed his executive order as well, and sexual harassment has far from ceased to be an issue despite their existence, which is why Rosenthal said a new agency or office would not be duplicative.
Rosenthal's committee is set to hold a hearing to assess how, or whether, the administration has indeed stepped up enforcement against sexual harassment. (A hearing was scheduled for Wednesday, May 22, but has since been deferred. It's unclear when it will be rescheduled.)
"I would guess the administration would say they're [enforcing] it now and then in our hearing we're gonna see whether or not they can demonstrate that," Rosenthal said.
To emphasize the need for a standalone office, she pointed to the Department of Education. Of the 472 sexual harassment complaints filed in the 2018 fiscal year, 186 complaints were at the DOE (which can in part be explained by the fact that the DOE has the largest number of city employees of any agency or department).
But, Rosenthal noted, DOE still has only one federal Title IX coordinator whose task it is to monitor complaints of discrimination based on sex, compared with a Title IX office of 20 people in Chicago, a much smaller city with a school system barely one-third the size of New York City's. "If we had an office that was only looking at sexual harassment, and had we had that for the past 25 years, we'd be in a different spot," she said.
There's a long road ahead for any legislation, Rosenthal conceded, but she's hoping she can introduce it before her committee holds its next hearing. Besides the usual delays in drafting most legislation, there's likely to be thorny issues in the possibility of creating an entirely new office with a mission that overlaps with other agencies. But Rosenthal says her effort is not merely symbolic. "I wouldn't want it to be," she said. "If all it's going to be is a symbolic gesture, then that's not meaningful."
Asked about Rosenthal's pursuit of the legislation, a spokesperson for Mayor Bill de Blasio, Marcy Miranda, said by email: "Sexual harassment has no place in the City of New York. The de Blasio Administration is committed to preventing sexual harassment – and all other forms of discrimination – inside and outside of the workplace. We look forward to reviewing the bill."
A spokesperson for City Council Speaker Corey Johnson did not provide comment for this article.
[READ: A Citywide Office for Sexual Harassment Prevention? It Almost Happened 25 Years Ago]