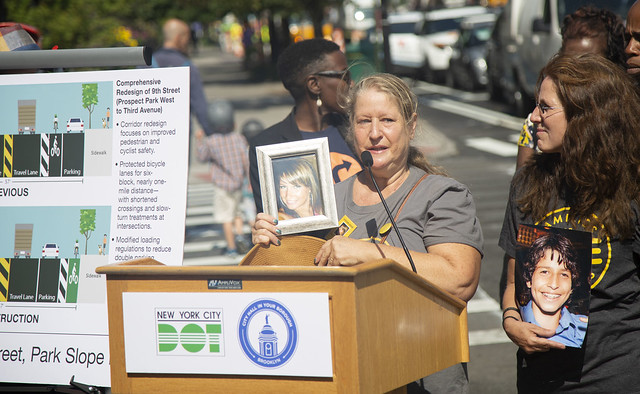 (photo: John McCarten/City Council)
---
Soon after Mayor Bill de Blasio stepped into office in 2014, he championed Vision Zero, a signature street safety program with the goal of reducing traffic-related fatalities from 297 in 2013 to zero by 2024. About halfway through that ten-year timeline, the program has become a significant de Blasio success, even as some advocates and lawmakers have said the administration could and should be moving ahead faster to protect pedestrians and bikers, and limit deference to cars.
Through increasing the number of protected bike lanes, reducing speed limits, redesigning intersections, increasing penalties for dangerous drivers, and other street safety improvements, the number of traffic fatalities fell to an all-time low of 202 last year. But the first half of this year has seen a dramatic spike.
Through June 2, the number of fatalities due to traffic crashes on city streets has risen to 82, a 26.2% increase over the same time period from the previous year, according to city statistics. Advocates and legislators alike are calling on the de Blasio administration to address the increase as an emergency and do much more to continue and accelerate the trend VIsion Zero had been following.
During a press conference last week, de Blasio said he would not stop until he had "done everything conceivable," and that is why he "takes a Vision Zero approach." Yet some view de Blasio as too timid in implementing key elements of Vision Zero. Last year, de Blasio's administration built 21 miles of new bike lanes, a decrease from 25 in 2017.
"The frustrating thing in light of this epidemic of traffic violence is that under de Blasio, even though many of these tools have been implemented, they simply have not been implemented at the pace that the crisis and the epidemic requires," Marco Conner, interim executive director of Transportation Alternatives, said during a recent appearance on the Max & Murphy podcast.
Transportation Alternatives is an advocacy group whose mission is "to reclaim New York City's streets from the automobile and advocate for better bicycling, walking, and public transit for all New Yorkers."
Conner would like to see a city less dependent on cars, he said, though he acknowledges car transportation will remain a key aspect of city transit and street use. It's the degree that matters. His comments are in line with Speaker of the City Council Corey Johnson's recently introduced legislation to mandate a "master plan for city streets" to help accomplish his goal to "break the car culture" in New York. Johnson's plan would have the city create within five years at least 150 miles of protected bus lanes, at least 1,000 intersections with signal priority for buses, at least 250 miles of protected bicycle lanes, many more pedestrian plazas, and citywide upgrades to bus stops.
Others, including Conner and Transportation Alternatives, have called for narrower vehicle lanes and more pedestrian islands to decrease crossing distance and improve pedestrian safety.
"The extent to which our streets are saturated with cars and trucks is not something that we need," Conner said. "And so the ideal New York City that I imagine is one where everyone in New York can get around without a car if they have to," he said.
De Blasio has emphasized a lower speed limit and speed cameras and appeared less enthusiastic about increasing the number of bike lanes (and though he recently took more of an interest, he's been especially slow to show much interest in speeding up the city's buses). The mayor recently announced that the city will install speed cameras in all 750 of the city's school zones by June 2020, the result of his and others' advocacy and a new state law.
"The central problem still is motor vehicles. The central problem is changing behavior, getting people to actually slow down, getting people to actually follow the laws, stop at the stoplight, stop at the stop signs, yield to pedestrians," de Blasio said on WNYC's The Brian Lehrer Show on May 31.
Many of the city's existing bike lanes leave cyclists at high risk to nearby traffic, but some still blame cyclists for creating a traffic hazard. "We also have to overcome the victim-blaming that we see, and that's something that we actually see in part with the mayor now, who has directed a crackdown against food delivery workers on e-bikes in this city," Conner said.
Johnson's proposal to create more protected bike lanes would be a "tremendous step forward," Conner said.
City Council Member Ydanis Rodriguez, chair of the Council's transportation committee, sees bike lanes as instrumental in decreasing the number of cars in the city.
"I think that our goal should be to reduce the number of New Yorkers who own vehicles, from 1.4 million car owners that we have today to 1 million by 2030. And by doing that, we have to continue building more protected bike lanes," Rodriguez said on Max & Murphy. "And I feel that when we look at protected bike lanes and see how we're building around 20 protected bike lanes last year, we could do better," he said.
Rodriguez also noted the importance of improving public transportation in "transportation deserts. We need to create jobs besides the Midtown area, Long Island City, and Brooklyn, so that people, they don't have to travel to go to work," he said.
However, Rodriguez offered only vague answers to possible costs that would come as a result of the solutions being offered by legislators like Johnson and advocates like Conner. Asked about the reduction of free on-street parking that may come from an increase in bike lanes and other measures to "break the car culture," Rodriguez said he was focusing on "how drivers are still driving over the speed limit, and how we can redesign our intersections and also how we can redesign our streets."
Rodriguez's own legislation, developed with Transportation Alternatives and others, known as the "Vision Zero Street Design Standard bill" just passed through the City Council, and is expected to become law. It mandates the city Department of Transportation "to develop a standard checklist of safety-enhancing street design elements that the department must consider for major transportation projects," according to a press release from Rodriguez's office, including things like ADA accessibility, protected bicycle lanes, dedicated unloading zones, narrow vehicle lanes, pedestrian safety islands, and more.
DOT will also "be required to post the standard checklist on its website for public access" and "to complete a checklist stating which street design elements were applied and justify which elements were not applied."
During the interview, Rodriguez also offered an ambiguous answer about what to do with the city's taxi medallion crisis, though he acknowledged that the city had failed those to whom the city marketed medallions and pledged a proposal is in the works.
"I think that we need to put together a team of individuals that brings recommendations on how to reorganize the TLC industry and how to be helpful to all sectors that interact with the Taxi & Limousine Commission," Rodriguez said. He said that he is working with Speaker Johnson and others on a plan, but did not provide specifics.
[LISTEN: Max & Murphy Podcast: Is Vision Zero Stalled?]
***
by Noah Berman
@GothamGazette
Ben Max contributed to this story.