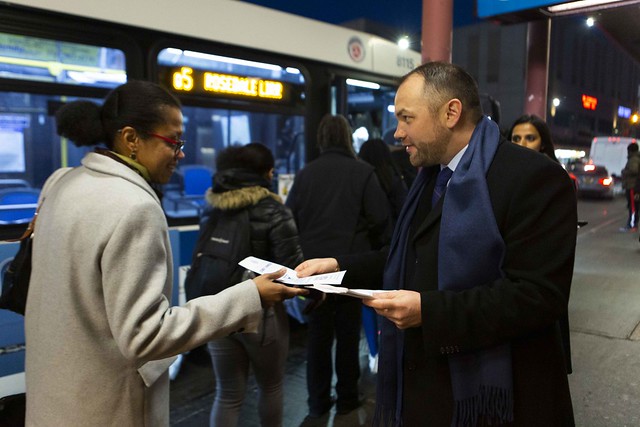 (photo: Emil Cohen/City Council)
---
[Note: this hearing was indeed held on Wednesday June 12; this article is a preview of the hearing]
On Wednesday, the New York City Council transportation committee will hold a hearing on a bill sponsored by Council Speaker Corey Johnson that would mandate the creation of a five-year "master plan" for city streets with a variety of specifications aimed at making the city more friendly to bikers and pedestrians, and less deferential to cars. If passed and implemented, the legislation would have a major impact on the physical landscape of the city and how New Yorkers, as well as visitors to the city, get around and utilize public space.
The plan, which Johnson first announced during his State of the City speech earlier this year, in which he called for municipal control of subways and buses and for 'breaking the car culture' in New York, is widely seen as a response, and complement of sorts, to Mayor Bill de Blasio's Vision Zero street safety program. It calls for substantial increases in the number of new bike and bus lanes created each year, as well as additional pedestrian plazas, and more.
De Blasio launched Vision Zeroed in his first year as mayor, 2014, with the goal of bringing the number of traffic-related fatalities to zero by 2024. While it has been successful, some, including Johnson, believe de Blasio is not moving quickly enough to make city streets safer and more welcoming to those who get around by bus, bike, and foot.
While the city has seen a significant reduction in traffic-related fatalities since the inception of Vision Zero, there's been a spike in fatalities so far this year compared to the same period last year. The uptick has prompted intensifying calls for de Blasio to do more for the initiative.
Johnson will preside over Wednesday's hearing on his bill along with City Council Member Ydanis Rodriguez, chair of the transportation committee. The committee will also hear a bill from Council Member Carlos Menchaca that would allow bicyclists to obey traffic signs and signals as if they were pedestrians instead of cars.
The speaker's master plan legislation would require the New York City Department of Transportation (DOT) to issue and implement a master plan for the use of streets, sidewalks, and pedestrian spaces every five years.
"The way we plan our streets now makes no sense and New Yorkers pay the price every day, stuck on slow buses or risking their own safety cycling without protected bike lanes," Johnson said in a statement to Gotham Gazette. "That's why I said in my State of the City speech that I want to completely revolutionize how we share our street space, and that's what this bill does. This is a roadmap to breaking the car culture in a thoughtful, comprehensive way."
Representatives from the DOT are expected to testify at the hearing, along with others from transit advocacy groups and members of the public.
"This last few months have been really tough and we – it's painful because we have had five years of steady decreases in traffic fatalities," de Blasio said during a May 10 appearance on WNYC's The Brian Lehrer Show. In 2013, the year before de Blasio took office, there were 297 traffic fatalities (among those in cars, on bikes, and on foot) in New York City. That number has fallen virtually each year since to 202 in 2018.
Under de Blasio's approach to Vision Zero, "projects are too often planned on a one-off basis, leaving the fate of their actual implementation up to the inscrutable push and pull of local politics," Families for Safe Streets co-founder Amy Cohen said in a Transportation Alternatives press release about Vision Zero. "In each case, the final outcome is too often determined by who yells the loudest, and not by what will save the most lives."
Families for Safe Streets is an advocacy group of victims of traffic violence and families whose loved ones have been killed or severely injured by aggressive or reckless driving.
"We need to think seriously about how we share space on our streets," Johnson, who does not own a car himself, said in March. "Cars cannot continue to rule the road."
Ten cyclists have been killed in crashes so far in 2019, matching the total number for all of 2018. Johnson's legislation champions cyclist and pedestrian safety, prioritizing their safety over the convenience of cars. It includes provisions to improve public transportation, especially buses, to incentivize its use.
"Giving our streets back to people is good for business, good for the environment, and good for all New Yorkers," Johnson said in March, referencing his call for more pedestrian plazas, which often shut off some ground previously open to cars.
Over the course of de Blasio's five-plus years in office, Vision Zero has continued to evolve, including several announcements this year. De Blasio and DOT Commissioner Polly Trottenberg announced a new "Vision Zero action plan" in February to "target the next wave of streets and intersections the City will make safer for pedestrians, cyclists and drivers," using crash data to target some of the most dangerous streets and intersections for alterations, including different signal timing to give pedestrians a head start before cars are able to move.
"Over the last four years, DOT's groundbreaking Borough Pedestrian Safety Plans have enabled us to target our resources where they will save the most lives," Trottenberg said in the February press release. "In these updated plans, we have used the freshest data to identify new crash-prone corridors and intersections most in need of our full menu of safety interventions."
More recently, thanks in part to new legislation in Albany, the city announced its plans to add hundreds more speed cameras near schools across the five boroughs. And on Monday, de Blasio and Trottenberg announced the formation of the "Better Buses Advisory Group," which will help the administration plan and execute the "Better Buses Action Plan" "to increase bus speeds by 25% across the five boroughs by the end of 2020." The action plan includes 300 more "Transit Signal Priority" intersections, automated camera and NYPD enforcement of bus lanes, improvement of five miles of existing bus lanes per year, installation of 10 to 15 miles of new bus lanes per year, piloting "up to two miles of physically separated bus lanes in 2019," and working with the MTA on bus network redesigns that are underway.

The Johnson bill would require DOT, which oversees Vision Zero, to achieve specific benchmarks for street redesigns, protected bus lanes, protected bicycle lanes, bicycle parking, pedestrian spaces, commercial loading zones, truck routes, and parking. DOT would be held accountable for the status of the implementation of each benchmark on an annual basis.

"Smart street design saves lives. We need to make our streets safer. We need to break the car culture. When we make our streets safer, we make our streets better. We know this, but we're moving way too slowly," Johnson said in March.

Breaking "car culture" does not mean completely stopping people from driving, said Marco Conner, interim executive director of Transportation Alternatives, an advocacy group in support of the bill. However, "the extent to which our streets are saturated with cars and trucks is not something that we need," Conner said during an appearance last week on the Max & Murphy podcast. "And so the ideal New York City that I imagine is one where everyone in New York can get around without a car if they have to."

Mayor de Blasio has not yet expressed approval of Johnson's plan, instead expressing concerns about some of the bill's "specifics." He declined to mention what specifics he found concerning.
"Now we have aggressive plans in our budget to keep changing street designs to make them safer. So I think there's a lot of agreement on the basics, some of the specifics we have to work through," de Blasio said on May 10's Brian Lehrer Show.
"We have a plan out already to aggressively continue to build out bikes lanes, and it's a very costly plan, but it's the right thing to do," de Blasio said during a question and answer session following a press conference on crime statistics. "It also takes time to do these things. So, I think the plan we have now is the right plan."
A spokesperson for the Department of Transportation declined to provide insights into how the DOT will testify at the hearing, saying the tesimony was still in process.

City Council Member Menchaca's legislation will also be heard at the hearing. His bill would establish that "bicyclists crossing a roadway at an intersection must follow pedestrian control signals when local law, rule or regulation provides that those signals supersede traffic control signals." The hearing follows a pilot run by DOT that showed significant reductions in fatalities on some of the city's most historically dangerous streets.