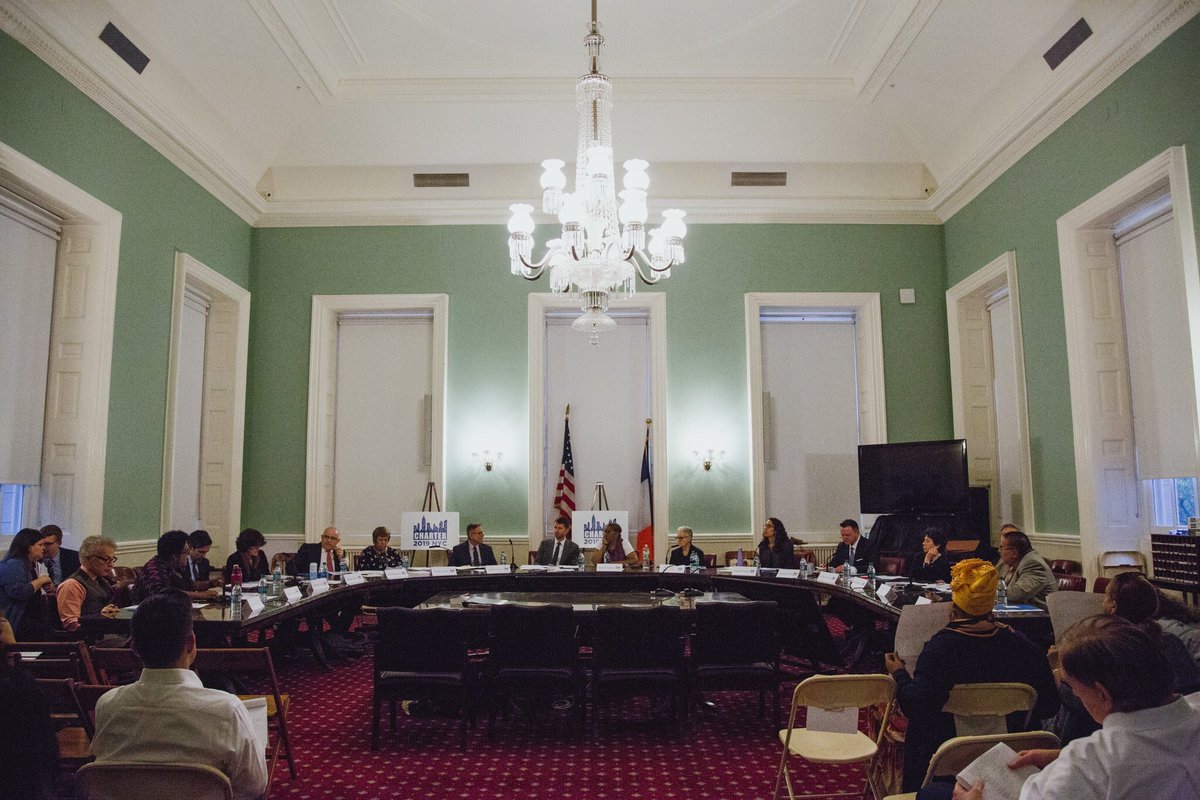 (photo: @Charter2019NYC)
---
Supporters of adding new teeth to investigations of police misconduct thought one of their priorities failed last week, when the 2019 New York City Charter Revision Commission voted down a proposal that would allow the Civilian Complaint Review Board (CCRB) to investigate potentially false statements made in the course of its investigations.
At a major hearing last week, the commission voted through 17 proposals to change city elections and governance that will be put into ballot question language and presented for approval or disapproval by voters in November. Four of those measures strengthen the CCRB, which is tasked with investigating complaints against members of the NYPD and currently consists of a board of 13 appointees.
The commission also last week didn't take up or voted down a few proposals included in its staff report that had helped guide its final deliberations. One of those was the measure to propose to voters changing the city charter to allow the CCRB to investigate potential lying during its investigations, opening up the possibility that police officers who lie to the CCRB would be punished for doing so.
But on Tuesday night, the charter commission met again to consider a few final proposals for possible inclusion in what it presents to voters and it reconsidered and passed the additional CCRB measure.
Proposal 7, as it was known, was previously considered at the June 12 meeting, where commissioners discussed and approved the 17 proposals for the November ballot. At Tuesday's meeting commissioners finalized the language on two approved proposals from the prior meeting, voted through three others, and discussed any proposals not on the previous meeting's agenda that commissioners sought to raise.
The commission ultimately decided to add three more proposals to the 17 passed at the prior meeting, including the CCRB item, as well as restricting political donations from Conflict of Interest Board members, and extending the period that prohibits elected officials from lobbying to a city government entity. The commission is made up of 15 commissioners, with four appointed by the mayor, four by the City Council, including Chair Gail Benjamin, and one each by the public advocate, comptroller, and five borough presidents.
Change of Heart on Lying to the CCRB
On the added CCRB measure, Commissioner Sateesh Nori, appointed by then-Public Advocate Letitia James, said he thought the commission should reconsider the proposal because of the importance of truth.
"I want us to hold truth and honesty as an ideal for our elected officials, for our judges, for our teachers, and maybe most importantly for our police officers," Nori said. "This isn't about being for or against cops. This is about the rule of law, about accountability, and about justice."
Commissioners who voted yes Tuesday but voted no in the June 12 meeting said talking with supporters of CCRB reform made them reconsider.
Carl Weisbrod, appointed by Mayor Bill de Blasio and one of the commissioners who voted against the proposal last week, said "representatives of the CCRB" he spoke to already thought they had the power to investigate false claims. But he said this was one reason he decided to change his vote in support of the proposal.
"I do believe that it's really important for this commission to affirm what the CCRB considers its power," he said.
He added, "I think it's really important for this commission to affirmatively assert that we won't tolerate, as a society or as a city, false official statements – especially in the times in which we are living."
Commissioner Lisette Camilo, appointed by de Blasio, said she would stick with her no vote because the measure would not necessarily change the CCRB's power. "I do not believe that passing this will largely change anything," she said. "This is more of a symbolic action."
Other Votes
Commissioners also moved ahead several other measures.
They revisited proposals 8 and 16, both previously discussed and approved in the June 12 meeting, but that approval was contingent on commission staff expanding the respective proposals' details.
Proposal 8 would create a guaranteed budget for the Civilian Complaint Review Board, requiring a CCRB budget that funds a headcount at the agency no less than 0.71% of the budgeted headcount of uniformed police officers in the NYPD. It would kick in for the 2021 fiscal year, which begins July 2020.
The amended version of the proposal allows that budget to be lower if the Mayor deems it fiscally necessary. In that case, the Mayor must provide detail for the basis of that determination and prove that cutting the CCRB budget is part of an overall plan to address financial downturn.
Similarly, proposal 16, as originally written, would create an independent or guaranteed budget for Borough Presidents and the Public Advocate and require that these respective budgets be set at or above the Fiscal Year 2019 budgets.
The amended proposal requires the budgets to be set or above the Fiscal Year 2020 budgets, adjusted moving forward by the lesser of either inflation or the percentage increase in relation to the city's total budget. Just like in the case of the CCRB budget, the budgets can be lower if the Mayor deems it fiscally necessary. In that case, the Mayor must provide detail for the basis of that determination and prove that reduction of the Public Advocate and Borough Presidents' budgets is part of an overall plan to address any financial downturn.
The commission also agreed to prohibit sitting members of the city's Conflict of Interest Board from making financial contributions to political campaigns. Opponents of this proposal said that it was a violation of board members' first amendment rights, but it was passed in an effort to reduce conflicts of interest for those tasked with ruling on conflicts of interest by elected and appointed officials.
Voters will also get to weigh in on a proposal that will extend a rule that bans elected officials from lobbying a city political entity from one to two years after leaving city government.
There were other measures raised by commissioners Tuesday that were voted down, including a proposal that would establish a "democracy voucher" system for public campaign finance in the city; a proposal that would give Borough Presidents the power to call joint-agency meetings related to land use; a proposal to clarify the bounds of the Mayor's budget impoundment power, and one to establish a commission to study the management of the city's public pension fund.
Although these measures were voted down, the commission agreed to include some language recommending further review of a few of the proposals, like the one calling for a democracy voucher system, in their final staff report. That system, pushed by Commissioner Sal Albanese, appointee of Brooklyn Borough President Eric Adams, would completely overhaul public campaign financing in New York City, eliminating all private money from campaigns and providing each voter with donation vouchers to give to their preferred candidates.
In a Wednesday statement, Adams, a likely 2021 mayoral candidate, called the disapproval of democracy vouchers a "short-sighted decision." He added, "My hope is that democracy vouchers and other transformational ideas around campaign finance reform are put directly to voters in the future, so they can decide for themselves."
While charter revision commissioners have now approved all of the proposals they plan to put on the November ballot, they will meet for a final time in July to formally adopt the final proposals with ballot language and groupings, and submit the ballot questions to the City Clerk. The commission will then begin months of public education and a push to get voters to approve all of their recommendations for charter change on November 5.
[READ: Charter Commission Approves 17 Proposals for November Ballot]