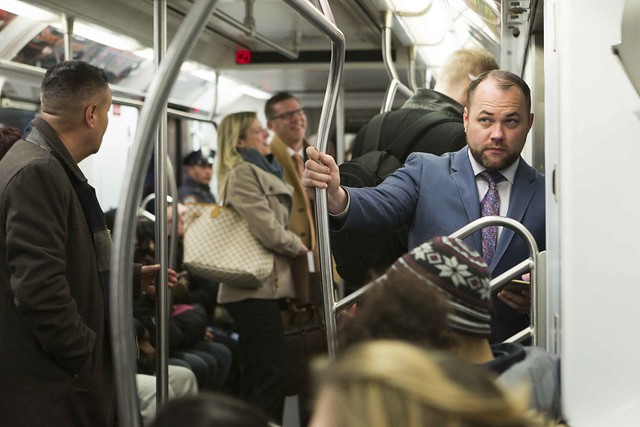 Speaker Johnson on the train (photo: City Council's office)
---
Imagine a New York where cars no longer rule the road, and pedestrians and cyclists reclaim dominance of the city's public space. While a New York where cars don't dominate the streets may seem like a fantasy, to City Council Speaker Corey Johnson, it is the future.
In recent months, Johnson -- a Manhattan Democrat in his second year leading the 51-member City Council -- has gone full bore touting the idea of "breaking car culture," or prioritizing pedestrians, cyclists, and mass transit in public policy rather than private automobiles. But what, exactly, would that look like?
Johnson, who says he's never owned a car and rides the subway all the time, has become a darling of transit advocates and experts, from his focus on the health of the subway system (and call for municipal control of it) to his pushes for congestion pricing and the "Fair Fares" Metrocard program to help low-income New Yorkers.
He's been seen as a polar opposite to Mayor Bill de Blasio, who has shown much more of a "windshield perspective" as a former everyday driver who now gets chauffeured around the city, opposed Fair Fares until Johnson prevailed in city budget negotiations, and has had reluctant overall interest in the subways and buses, not to mention biking.
Mainly, de Blasio's vision for changing the city streetscape has been aspects of his Vision Zero program to redesign intersections, reduce speed limits, and protect people from traffic crashes. While the program has been successful, helping to continue a reduction in fatalities, the mayor has not shown an interest in creative uses of the city's public space or the type of more radical thinking Johnson has professed.
Breaking the car culture is at the center of Johnson's proposed "master plan for city streets," new legislation that would require the city Department of Transportation (DOT) to improve pedestrian and cyclist access and safety by establishing benchmarks and, in five-year increments, aggressively building out a network of bike lanes, bus lanes, and pedestrian plazas that transform the city.
By 2024, the master plan would institute a connected bike network across the city, install many miles of protected bus lanes, install accessible pedestrian signals at all intersections with a pedestrian signal, redesign all intersections with a pedestrian signal according to a checklist of street design elements designed to enhance safety, and complete all these improvements within the standards for accessible design held by the Americans with Disabilities Act. The CIty Council held a hearing on the bill recently, its fate is unknown at this time.
But beyond the elements in Johnson's legislation and the policy-making lens it represents, the speaker and others looking to break the car culture in the city also point to changing the decision-making process to give DOT authority over community boards when it comes to specifics of implementation, like getting rid of parking spots and installing bike lanes.
Others advocate for expanding the subway, bus and bicycle networks, building more pedestrian plazas and parks, pedestrianizing certain streets and neighborhoods, rethinking car-focused bridges, aggressively fighting parking placard abuse, and more.
Johnson's bill comes as the city has seen an increase in traffic fatalities this year over last, despite Vision Zero and its progress over several years. During the first five months of the year, fatalities of pedestrians, bikers, and those in cars were up 21 percent over the first five months of last year.
The number of cyclist fatalities is up 66 percent over the same period, and this year has already surpassed last year's 12-month total in terms of the number of cyclists killed.
Since its launch in 2014, Vision Zero has helped decrease the number of traffic deaths in every subsequent year, but this year is on pace for an alarming regression, adding to the calls for a much more ambitious approach to street safety and undoing deference to cars.
De Blasio and his administration have been reluctant to support Johnson's "master plan," citing the improvements already made and in the works, and what it would require in terms of DOT workload and budget. But Johnson is not satisfied with the pace or scope of the city's efforts. He wants to prioritize pedestrians, cyclists, and bus riders, ultimately reducing a reliance on cars in the city -- in large part by making the alternatives more attractive.
From 2005 to 2017, the number of cars in the city increased by 15%, or 250,283 cars, to a total of 1,923,041, according to the summary of Johnson's bill.
Meanwhile, in 2017 the subways had an average weekday ridership of 5,580,845 people a day, while average weekday bus ridership that year was 1,923,993, according to MTA statistics. Bus ridership has declined every year since 2012 and subway ridership hit a four-year low in 2017, as both public transportation systems have been mired in failure. However, there have been recent attempts to reinvent the bus system and fix the subways, and the work on both is ongoing.
"Breaking the car culture means not prioritizing public policy as it relates to private automobile use and doing what we can to reprioritize pedestrians and cyclists and buses and mass transit users," Johnson told Gotham Gazette just after the Council's first hearing on his master plan legislation, held on June 12.
The City Council hearing featured testimony from DOT and advocacy groups. Johnson again touted the importance of breaking "car culture," and questioned DOT Commissioner Polly Trottenberg for nearly an hour on what the DOT could do to better manage the city's streets. Johnson lauded the DOT for the improvements it has made, but said that it could do more, especially on bike lanes, improved bus service, and accessibility.
"What this bill is about is shifting away from car culture, breaking the car culture, prioritizing people not in cars, prioritizing pedestrians, cyclists, and mass transit," Johnson said at the hearing.
He was critical of DOT for not putting enough effort into doing the same.
However, Trottenberg maintained that DOT has been prioritizing those not in cars and is moving ahead on bike lanes and bus improvements at a solid rate.
"In our designs we have tried to change that priority," Trottenberg said at the hearing. Through increasing the amount of resources dedicated to public transport, bicycles, and other alternatives, "we absolutely could accommodate people by getting rid of cars."
According to Rosalie Singerman Ray, a PhD student at Columbia University studying institutions in transportation planning, breaking car culture has two components. First, politicians and activists must name cars as the problem and come up with feasible solutions to make people less dependent on cars. Second is increasing the capacity of local agencies to enforce the new solutions, such as improving public transport and getting rid of parking spaces, among other proposals.
"That's where we're struggling," Ray said in an email to Gotham Gazette. "Unenforced, unplanned streets don't work well for anyone," she said.
Breaking the car culture in the city would not be an easy task even if it was the stated goal. Johnson's bill outlines concrete steps to make people less reliant on cars, and he tasks DOT with many of the improvements necessary to do so. While DOT is eager to continue to make improvements, it does not currently have the resources to accomplish all the initiatives in the bill, Trottenberg said. DOT is "aggressively growing," but it would need to "aggressively grow some more" to make all the changes in the bill, she said.
"I think we are a piece of it, but I don't think it's fair to say that DOT is the sole entity that is going to break the car culture in New York. To break the car culture in New York you need an incredibly robust functioning and expanding mass transit system, you need to build political consensus with players above and beyond this agency," Trottenberg said.
In an interview earlier this year on the What's The [Data] Point? podcast from Gotham Gazette and Citizens Budget Commission, Trottenberg said that the MTA, a state-run authority that controls the subways and buses with city representatives on its board, should be in the subway-building game, expanding the network like other cities are doing around the globe.
Many of the initiatives in Johnson's bill must be implemented by DOT in conjunction with the MTA and community boards, creating bureaucratic speed bumps in the bill's feasibility.
To implement a bike corral, or curbside bike storage, a private business or individual must petition DOT, which in turn must file an application before the community board, before the corral is voted on. Often these bike corrals will take the place of a parking spot.
"My feeling is that DOT regulates the curb and they should have the ability to say that parking spot for one car is going to be changed now," activist Doug Gordon said in an interview with Gotham Gazette. Gordon is a co-host of The War on Cars podcast, examining transit issues. Eliminating the process by which the city litigates every single parking spot could make the DOT more efficient and encourage biking, Gordon said.
Gordon, like many transit advocates, including Speaker Johnson, is active on Twitter and posts a lot about mobility around the city. He recently celebrated a new protected bike lane painted along 4th Avenue in Brooklyn. However, building protected bike lanes can be difficult, because they require the approval of a community board, which often boosts the voices of local residents who drive, Gordon said.
Last year, DOT constructed 21.9 miles of new protected bike lanes, falling short of its goal of 30. Johnson's plan would require the construction of 50 miles of new protected bike lanes a year. The DOT defines protected bike lanes as a lane separated from traffic by vertical delineations or a physical barrier, including parked cars.
Increasing the number of protected bike lanes can have the potential to increase ridership. According to a 2014 report by City Lab, protected bike lanes increase ridership 21 to 171 percent, with about ten percent of new rides drawn from other modes of transportation.
To build so many miles of protected bike lanes, many of the city's free public parking spots would have to be removed. For example, in its resolution to build a protected bike lane on the east side of Central Park West, Manhattan's community board 7 eliminated parking on the east side of the avenue, and with it 400 parking spots. The community pushed for the protected bike lane following the death of a 23-year-old cyclist in the current bike lane, which is unprotected.
The DOT estimates that there are 3 million free public parking spots in the city. "We have too much free parking in New York City," Trottenberg said at the Council hearing. She also agreed with Johnson that there are "too many" cars in the city.
Three million free parking spots is "an astronomical number," Johnson said. "If you tried to calculate the amount of cubic square footage that is and the amount of people and bike lanes and bus lanes that could fit in that area, you could potentially have a transformative effect on New York City if you started prioritizing breaking the car culture," he said.
De Blasio has demonstrated a reluctance to remove parking spaces, though he has backed the expansion of CitiBike bike-share, the docks for which often take away a few spots.
"There is a little bit of fear that pervades the development of these plans because there is the sense that if parking is taken there will be community pushback," Gordon said.
"We all as New Yorkers understand how to maximize the least amount of space for the most amount of good," Gordon said. "I think we need to extend that very New York point of view to the curbside," he said.
When the city repurposes parking spots, DOT considers the parking needs of the neighborhood and tries to redesign streets in a way that works for everyone, DOT official Sean Quinn said at the hearing.
Gordon and others want not only parking spaces turned over to other public uses, but also some of the land currently used for driving, such as a lane on the Brooklyn Bridge, which could be given to cyclists, thus alleviating some of the at-times dangerous overcrowding that happens on the pedestrian and bike pathway across the bridge. Gordon and others have also called for pedestrianizing Broadway from Union Square to Times Square, if not beyond, as well as much of downtown Manhattan.
"Making provisions for individuals to be allowed to drive and park wherever and whenever they want makes pretty much everything harder in New York," Ray of Columbia said in an email to Gotham Gazette.
In London and Paris, both cities that have been cited by Johnson as examples of how to break car culture, the push against car dominance began with parking and public transit investment. Both cities cleared street parking off of major avenues.
London instituted congestion pricing in February 2003, built bus lanes and invested in its bus network, and its bus system boasted a higher ridership than New York's subway system in 2010. Paris built tramways and bus lanes, putting them on the street to take the place of cars. Paris has since raised the cost of parking on the street, with parking fees higher outside of one's home neighborhood.
At the same time, both London and Paris kept costs relatively low while they implemented alternatives.
New Yorkers "don't actually know what it looks like to break car culture wallet-first," Ray said, meaning that New York's infrastructure costs are often astronomical, and the state is set to institute congestion pricing while investments in the subway and bus systems have not been clearly planned and funded, much less implemented -- though some investments have been made through the emergency Subway Action Plan and initial re-signaling of the 7-line. Still, the MTA must soon perform an authority reorganization while also designing a new five-year capital plan to outline roughly $30-60 billion in planned investments.
Part of Johnson's master plan includes getting people to rely on cars less by improving the mass transit system, especially buses.
"If the subways and buses are more reliable, if the buses are faster, if there are dedicated bus lanes, if there are more pedestrian spaces, I'm going to rely on something that is cheaper, that is more reliable, that is better for the environment, that is more affordable," Johnson told Gotham Gazette just after the hearing. There are indeed elements of public transit and space that the city has a great deal of control over, including establishment and enforcement of bus and bike lanes.
Johnson's plan calls for 30 miles of new bus lanes each year and the implementation of transit signal priority, a method used to coordinate vehicles and traffic signals to reduce the time buses are stopped at traffic lights along a corridor and therefore improve bus travel times, according to DOT.
"We need much better bus and commuter rail service," Nicole Gelinas, a Manhattan Institute fellow, said in an interview with Gotham Gazette. "We need a better bus network to take pressure off the subway as we decrease reliance on cars."
Improvements to the bus system would come at a time of decreasing ridership, as more and more New Yorkers get around in for-hire vehicle services, like Uber and Lyft. In January 2016, taxis and for-hire vehicles combined to provide 680,000 rides, according to statistics released by the city's Taxi and Limousine Commission and DOT. Today, they combine to provide over one million daily rides. From 2012 to 2017, bus ridership decreased by 12.75 percent.
To break car culture, the city would have to address the increasing number of New Yorkers who are reliant on taxis and app-based for-hire vehicles. The city recently announced a plan to extend the existing cap on fire-hire vehicle licenses another year and introduced another regulation to limit the amount of time drivers cruise, or drive without a passenger. The state also recently passed a congestion pricing program, which will begin in 2021 and charge a fee for entering Manhattan's central business district, which will add a cost on top of the other new fee recently assessed to for-hire vehicles.
Johnson said that congestion pricing is another part of breaking the car culture. Congestion pricing "will at least below 60th street reduce the number of cars that come in every day," he said.
Congestion pricing may also eliminate some effects of pollution, which could have environmental and public health benefits. Breaking the car culture could be beneficial to the health of New Yorkers and the globe. High density of cars has been linked to noise and air pollution problems, so creating an environment with fewer cars would make the area less polluted, Ray said.
"Congestion pricing in NYC can do more than address congestion—it can open the city's streets to better transportation choices and new economic prospects," former DOT Commissioner Janette Sadik-Khan wrote on Twitter. "Cities need people-friendly mobility options that reclaim streets from the damage caused by cars. Sadik-Khan spearheaded the Times Square pedestrian plaza, and under her leadership in the Bloomberg administration, the city began implementing CitiBike terminals and the transformation of approximately 180 acres of road space into pedestrian and cyclist zones.
Some advocates have called for even more pedestrian plazas and spaces in the city, such as the idea of turning Broadway into a pedestrian-only park between the Times Square pedestrian plaza and Union Square.
Breaking car culture will also require the city to become more accessible, Johnson said. The plan calls for the introduction of accessible pedestrian signals (APS), or devices fixed to pedestrian signal poles to assist the blind or low vision pedestrians crossing the street. The devices emit a sound that tells the pedestrian when to cross.
"Cities that have broken their car culture have more public space to talk and play and eat and breathe, and paradoxically, roads that work better for more people," Ray said.
Johnson noted that there are some parts of New York City that are "transit deserts," and people who live in those areas will not give up their cars unless the city provides them with an alternative. Eastern Queens and South Brooklyn both lack significant transit options, for example.
"You're never going to eradicate cars in New York City. That's just not possible. But it's about reprioritizing, giving people better options, making significant investments in things that don't relate to private automobile use," Johnson said.