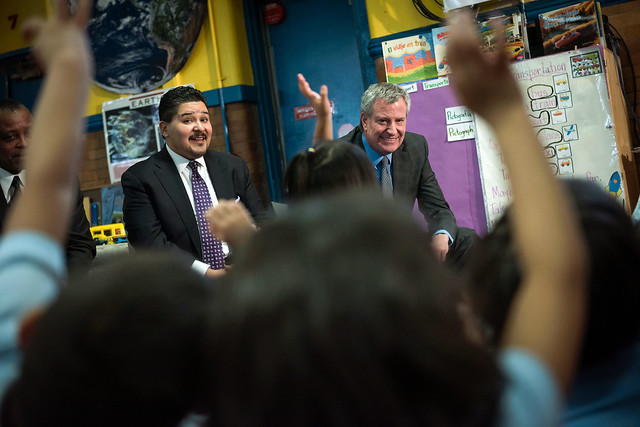 Chancellor Carranza & Mayor de Blasio (photo: Ed Reed/Mayor's Office)
---
Mayor Bill de Blasio and New York City schools Chancellor Richard Carranza announced on June 10 that the city will adopt 62 recommendations focused on diversity and integration in public schools, focusing on middle and elementary schools, from the Department of Education's School Diversity Advisory Group, a new step toward school desegregation as many students, families, educators, and others have waited years for the city to make progress.
A 2014 UCLA report said New York public schools were the most segregated in the country, but stressed that they didn't have to be. The report said a combination of demographic transformations and a lack of diversity-focused policies led to "problematic segregation patterns."
Adding metrics to an annual report to track numbers related to diversity and integration, defining a city goal to aim to have "all schools to look like the city," and investing in programs to provide more opportunities in high poverty schools are some of the recommendations that some say are the most significant. Also part of the picture is city grants to school districts that want to design their own integration plans, as a few districts have already done.
The adoption of the recommendations come after "a long period of frustration," according to City Council Member Brad Lander, a Brooklyn Democrat who has been one of the leaders in pushing school desegregation efforts in the city. Lander added that Carranza's leadership has been significant in moving the advisory group and broader conversation along. The city accepted all but five of the group's 67 recommendations, with two rejected and three are still under review.
While many say the initial slate of recommendations is a positive step, some have criticized the plan for lack of timelines for implementation and not being aggressive enough to make fast progress on school integration. Members of the group have said this report is just a start, and a second set of recommendations in July will address some of those concerns, including taking on the tough subject of high school admissions.
Some have also said the two recommendations the de Blasio administration did not select — the creation of a Chief Integration Officer position and analyzing the possibility of moving the supervision of School Safety Agents from the NYPD to the Department of Education — could have spurred more progress.
The three of the 67 from the first report that are still under review would make resources available to any district making diversity plans if the DOE receives more applications than the $2 million it already set aside can support and establish a separate set of funds for districts that have not started integration discussions yet. The third suggests developing and investing in enrichment programs in elementary schools.
Since Carranza took over as chancellor in April 2018, he has taken a much more aggressive approach to school desegregation than his predecessors, the apparent result of Mayor Bill de Blasio's new willingness to address an area of significant criticism during his first five years in office, though the mayor is still facing heat for his tepid approach to what is a civil rights and education issue with major socioeconomic and racial implications.
Carranza has implemented mandatory implicit bias trainings for all teachers, lobbied state lawmakers to drop the single entrance exam for the city's specialized high schools where few black and Hispanic students are enrolled, and eliminated the use of "limited unscreened" enrollment policies in high schools, which gave priority to applicants who attended admissions fairs to show interest and were thought to favor students with more engaged and wealthier parents.
Mayor de Blasio in 2017 had created a modest diversity plan and established the School Diversity Advisory Group, which came up with the recently-released recommendations. But, de Blasio's agenda had lacked plans on school integration until recent years. Council members as well as student and teacher advocates increasingly pressured the mayor in the years after the UCLA report. Then he appointed Carranza, who has been outspoken, at times ruffling feathers de Blasio had been loathe to disrupt, to push conversation and action around school integration.
"The chancellor's coming and embracing that advocacy and working together to build it...has been essential," said Lander, who co-sponsored a package of legislation passed in 2015 that intended to bring attention to segregation in public schools, "because we had all that organizing going on, but we did not yet have much progress."
Preliminary Movement: 62 Recommendations
The 2014 UCLA report found that of the city's 32 school districts, 19 included 10 percent or fewer white students. Additionally, it said the combination of "double segregation" by both race and socioeconomic status created more inequalities.
An updated 2019 report found that while some progress had been made, the city's schools remained largely segregated. From 2001 to 2015, the number of "intensely segregated" elementary schools in gentrifying areas declined by about 10 percent (from 91 percent in 2001 to 83 percent in 2015), those in non-gentrifying areas increased by 15 percent. Intensely segregated schools are defined as 90 to 100 percent non-white.
Maya Wiley, former counsel to Mayor de Blasio and now senior vice president for social justice at the New School and a co-chair of the School Diversity Advisory Group, said in an interview on the Brian Lehrer Show on WNYC that school integration benefits all students. She said dropout rates go down while graduate rates go up, and students do better in college.
Wiley said that the recommendation adding diversity metrics is a "game changer." She said having numbers on diversity and providing the public with the reports will help keep the city accountable.
She added that one of the recommendations, creating diversity targets in middle school admissions, is an expansion on the mayor's 2017 Diversity in Admissions program that planned for 50,000 more students to attend racially representative schools. Because some researchers noted that the goal could be met by demographic shifts alone, Wiley said the SDAG wanted to be more aggressive.
"In the short term we said schools, meaning zero to three years, schools should look like their districts. Then over five years they should look like the borough. In 10 years they should look like the city," Wiley said on WNYC. "The link to the metrics is how do you know if you're getting that done if you're not reporting?"
Two-thirds of the students in the city's school system are black and Hispanic, 15 percent are white, and 16 percent are Asian, according to DOE data. In the city overall, 33 percent are white, 26 percent are black, 24 percent are Hispanic, and 13 percent are Asian.
Clara Hemphill, the director of education policy and editor at the New School's Center for New York City Affairs' project InsideSchools, said the recommendations serve as a guide for how the city can move forward with integration on the district level.
The recommendations encourage districts to develop their own diversity plans similar to the one in Brooklyn's District 15, part of Lander's Council district, which eliminated the use of screens in middle school admissions and committed 52 percent of seats to students who are low-income, learning English as a new language, or are homeless.
The city announced that five districts will receive $200,000 in grants to increase their schools' diversity, and one recommendation from the advisory group encourages nine more districts to develop integration plans. Another recommendation outlines that the DOE will "support and encourage" districts to examine new middle school admissions policies, while another urges districts to be transparent about their integration processes to ensure progress.
However, Hemphill said for a borough like the Bronx, whose population is largely black and Latino, there is not going to be integration of different races and income levels at most schools in those districts. She added, though, that the recommendations do layout an answer to help those schools: providing more and encouraging the recruitment of diverse faculty create ways to improve the schools' quality.
"At neighborhoods where you can't have racial integration of students, you can still make schools that have plenty of resources and represent the kids," Hemphill said.
The mayor's approach to school desegregation so far has been to encourage districts to pursue their own integration plans with assistance from the DOE, which has happened with success through parent-led efforts in Districts 15 and 3. De Blasio regularly says he believes it must be a bottom-up, not top-down effort to integrate city schools.
City Council Member Daneek Miller said at a June 19 press conference that there is a consensus from the members of the Black, Latino and Asian Caucus as well as the Progressive Caucus that the recommendations are necessary to address school segregation problems. He added, though, that "these 62 points don't necessarily address everything."
Perceived Shortcomings
Critics have said the recommendations lack specific timelines for implementation and fail to address greater issues of enrollment screens and district segregation.
David Bloomfield, an education professor at Brooklyn College and CUNY Graduate Center, said because the recommendations focus on district plans rather than a city-wide plan, not much progress can be made on desegregating schools. The district lines are ethnically and racially drawn, so desegregation efforts need to happen across districts rather than within districts, he said.
Bloomfield added that one of the rejected recommendations, the creation of a Chief Integration Officer, was a "major mistake" because someone in that position could have focused on the city as a whole rather than the individual districts.
"[A city-wide plan] does require imagination and professional staff," Bloomfield said. "That seems to be lacking in how the mayor sees desegregation efforts. In some ways it's a plan for a plan, and it's too late to be going so slow."
Carranza has said that in his role as chancellor, he is the Chief Integration Officer.
Of the other of two recommendations the city did not adopt, that of moving the supervision of the School Safety Agents to the DOE from the NYPD, would have been beneficial in decreasing police presence in schools and students getting caught up in the criminal justice system as opposed to having more issues handled at their schools. Not long after the de Blasio administration announced it was accepting the 62 of 67 recommendations from the advisory group, it announced a new school discipline code and new agreement between the NYPD and DOE to lighten how students are policed in schools — the first update to that memorandum of understanding in about 20 years.
Given the lack of timelines for implementation, the advisory group recommendations form a "roadmap" for what the city wants to do rather than a plan with deadlines, Hemphill said.
The recommendations also did not take on high schools and screened admissions policies.
Lander said while some of the recommendations are significant and are an overall positive step, they tackle the "lower hanging fruit." He said there is room for the city to make changes in the admissions processes of high schools that use academic screens, which does not require changes in state law and is a "more thoughtful" approach to integration.
The student advocacy group Teens Take Charge, which held a rally at the steps of the Tweed Courthouse, home to the DOE, calling for a high school integration plan four days before de Blasio announced the adoption of the recommendations, echoed Lander's sentiment.
Soknadiarra Ndiaye, the chief operations officer of Teens Take Charge, said the group hopes the next set of recommendations due next month will deal with enrollment processes and high schools. The group set a June 26 deadline, the last day of school, for de Blasio to announce a comprehensive high school integration plan, and held a sit-in at City Hall when no such plan was announced.
The Teens Take Charge campaign calls for the city to promote academic, racial, and socioeconomic integration at high schools by setting diversity thresholds in the admissions process that all high schools would have to meet.
"When it comes to high school, one of the reasons why our high school system is so segregated is because of enrollment," Ndiaye said. "So we're hoping that [the city] will either adopt our policy or something similar to it."
City Council Member Mark Treyger, the chair of the Council's education committee, said making changes to admissions processes is one way for the Department of Education to take steps forward on school integration without needing state lawmakers to change state law, which is necessary for tackling issues related to the three (of the eight) marquee specialized high schools and the SHSAT used for admissions (the state legislative session just ended with no movement on reforming the specialized schools' admissions).
De Blasio has said he does not think it is wise to change the process at the five specialized high schools the city controls, pushing for state law changes to scrap the test in favor of multiple measures and criteria that would diversify the schools, home to high percentages of white and Asian students.
Treyger said he is "pleased" that the recommendations signal the city is moving forward on the issue, but added that "time is of the essence."
"Every school year delayed is justice delayed and these are precious years that our students can never get back," Treyger said. "There needs to be a real effort underway, not just to simply form another working group or have another study, but to really find ways to implement strategies right now that we know work."
Matt Gonzales, school diversity director at the nonprofit New York Appleseed and also a member of the city's SDAG, said SDAG is writing the second report, which he said will take on high school policy and enrollment issues. He added that the group did not design the first set of recommendations to be the only plan they propose.
"I guess there's a distrust that the advisory group isn't going to follow through," Gonzales said. "There was never an intention just to lay out this first report and wipe our hands."
The City's Slow Progression
School integration was not on de Blasio's platform when he ran for mayor in 2013, nor was it included in his "Equity and Excellence" education speech in 2015, though he discussed a number of education initiatives. Those programs, like Algebra for All and Computer Science for All and AP for All, are virtually all aimed at enhancing schools as they are currently constituted, while ignoring racial segregation, an approach some have called de Blasio's version of 'separate but equal.'
Pushed on not moving to desegregate city schools, de Blasio repeatedly said he had put a great deal in motion to improve schools. He also pointed to the historical constructs and sources of segregated schools and neighborhoods, and to the fact that many New Yorkers had made major life decisions, like buying homes, with the current school districts in mind. Those comments received significant criticism.
Bloomfield said de Blaiso started to tackle the issue after years of increasing pressure from the public, advocates, and other city leaders. He added that the timing of the city moving forward also coincides with the arrival of Carranza, who prioritized the issue, as well as de Blasio's reelection.
"He felt that he could risk some political capital on this initiative," Bloomfield said of the Democratic mayor, now in his second and final term (and running for president).
The City Council, however, began to address school segregation issues in 2014, just after the UCLA report. In October of that year, Council Members Lander, Ritchie Torres, and Inez Barron introduced a package of legislation to draw attention to the lack of racial and socioeconomic diversity in schools. The Council has no power to change admissions processes or school district lines, policies that are set by the mayoral-controlled Department of Education, technically a state entity, local parent education councils, and the city's Panel for Educational Policy, which is mostly run by mayoral appointees.
Lander's portion of the legislation included requiring the Department of Education to publicly report diversity metrics. Torres and Barron both introduced nonbinding resolutions that sought to officially declare diversity one of the Department of Education's goals and to rewrite the law requiring the city's specialized high schools to admit students based on an entrance exam.
The Council passed the legislation, and in 2015 passed the School Diversity Accountability Act, which requires the Department of Education to annually report on steps they are taking to address school segregation. The Council has also held several hearings on the issue, including one in May.
"We have been pushing for integration efforts for quite some time," Treyger said. "And the City Council is limited in terms of its legislative authority in terms of DOE policies, but we do have oversight power. We've used it and we'll use it again to hold the DOE accountable."
Districts themselves have also implemented their own integration plans, with District 15 in Brooklyn and District 3 in Manhattan both enacting more inclusive admissions practices in their middle schools.
No action was taken to further school integration by either the Department of Education or the mayor's office until 2017, when de Blasio established the SDAG and set goals for more diverse schools.
The 2017 diversity plan outlined diversity as a priority for the Department of Education and included short-term goals such as decreasing the number of economically stratified schools by 10 percent and increasing the number of schools that serve English Language Learners and students with disabilities.
"It was very weak tea," Lander said. "I mean, it was better than nothing, but the goals were very modest. And there was no reason to believe that the School Diversity Advisory Group would be real, would be meaningful would be independent with recommendations."
Lander said Carranza was key in giving the SDAG confidence to be bolder and move forward with proposing the recommendations in February 2019.
Treyger said after some months had passed, he wanted to hold a hearing to find out where the administration stood on the recommendations. He said he, Speaker Corey Johnson, and other Council members were "frustrated" that the city was not ready to publicly weigh in yet.
At the hearing held in May, Carranza testified that he needed to further discuss the recommendations with the SDAG before making a public announcement on which ones the DOE would adopt. A month later, the city announced the adoption of most of the recommendations.
Lander emphasized that this action comes after years of waiting, but the recommendations signal an intention that there will be more progress on the issue.
"I'm glad we're moving now," Lander said. "I wish we started earlier."
Bloomfield said after the second report comes out in July, there could be months of waiting for the mayor to decide which portions of the proposal he wants to adopt. Though he said the progress that has been made now will make it more difficult for the city to stop the movement.
"The significance is that it's now squarely part of the city's agenda," Bloomfield said. "A new mayor will have a harder time putting the genie back in the bottle."
'A Witch Hunt'
Carranza has come under fire from some parents and City Council members following a lawsuit filed by three white veteran Department of Education administrators who claimed they were demoted because of their race, as well as anti-bias trainings that have become the subject of ire from some officials, the New York Post, and others.
A Post columnist, Bob McManus, wrote that Carranza's agenda is all about "racial division" and that the anti-bias trainings are "white-bashing" sessions that have inflamed rather than eased race relations." The Post editorial board has written several pieces critical of Carranza in recent months.
In a letter dated June 15, seven City Council members and two state Assembly members sent a letter to de Blasio saying if Carranza continues to "divide the city" then the mayor should replace him. Eight of the nine signers were white, and Council Member Robert Holden of Queens spearheaded the action. The other signator, Council Member Peter Koo, is Asian, and representative of a community that has taken issue with Carranza and de Blasio seeking to overhaul admissions to the specialized high schools, where Asian students are far overrepresented compared to their population in the city or larger school system.
For Council Member Daniel Dromm, a former teacher and former chair of the Council's education committee, the situation was "almost predictable."
"As soon as you start to talk about implicit bias or culturally responsive education, you could've put money on it that you're going to get this kind of backlash," Dromm said during a June 19 press conference held by both the Council's Black, Latino and Asian Caucus and its Progressive Caucus. "Which is why no other chancellor would go near the issue to begin with."
In response to the letter, the Mayor de Blasio has said the chancellor is not going anywhere. He said on NY1's Inside City Hall that the Council members "should have known better."
"[Carranza] is doing a great job," de Blasio said. "I think a lot of people in this city really look up to him and are depending on him."
Several other Council members also released statements of support for Carranza. Lander said the New York Post is leading a "witch hunt" against the chancellor.
Others have echoed Dromm's sentiment that much of the backlash Carranza has received is a nature of his progressive agenda. Gonzales said the New York Post is trying to "discredit" the chancellor as he pushes a progressive agenda.
"Everything that's been happening in response, I don't think now that any of this was a response to any particular one thing," Gonzales said. 'It's just a response to who he is, and how bold he has been about identity, how that informs the work he does, and the prioritization of a racial justice agenda."
Carranza, who is of Mexican descent, said on WNYC's The Brian Lehrer Show on June 11 that the letter is "just a distraction." He said he will continue to work on making sure all students have access to the same opportunities, a goal outlined in the 62 recommendations the city accepted.
"It's always often kind of rich when there are inequities happening in a system and the minute you start pointing out those inequities and actually working to change those inequities it becomes divisive," Carranza said on the show. "I've never seen how you can improve a system without identifying what the issues are in the system, and you can't fix the inequities without talking about them."