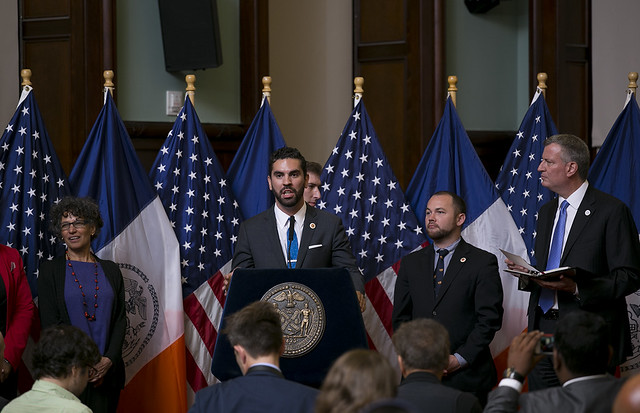 CM Espinal, center, with Speaker Johnson (photo: William Alatriste/City Council)
---
When Corey Johnson took over as Speaker of the New York City Council last year, he quickly took steps to shake up the way the legislative body does business. He created new issue-focused committees and leadership positions, including naming Council Member Rafael Espinal the new Deputy Leader for Digital Communication.
The position was intended to create a more coherent public face for the Council, easing communication with constituents, modernizing the Council's digital operations, and spreading the gospel of legislative progress to all New Yorkers.
Espinal and Johnson quickly set about overhauling the Council's digital communications, bringing in a new digital director and consolidating a separate public tech team -- created by the prior Council speaker, Melissa Mark-Viverito, and reporting directly to her -- into the communications umbrella. In an interview earlier this year, Espinal boasted of the progress made in the first year, though it appears he's no longer overseeing those efforts.
Over the course of a few weeks early in 2018, Johnson changed the structure and personnel of the Council's communications team, bringing his own people in, and putting the imprint of his hyperkinetic style across the board.
Johnson and his team, headed by communications director Jennifer Fermino, took an active interest in cultivating the Council's online presence, through social media, digital campaigns, and data analysis projects aimed at improving how New Yorkers access and interact with the City Council. They flooded the market with Johnson's busy activities and outgoing personality.
Despite Espinal's title, which doesn't appear on his Council member page, he seems to have effectively ceded the role to Fermino, who oversees all aspects of the Council's central communications. (Fermino was hired after Espinal was named to the position.)
In the 18 months since Johnson took the helm, the Council's Instagram account has nearly doubled its followers to more than 5,200, the Council gained 13,000 new followers on Twitter, and the speaker's own newly-created account has almost 18,000 followers. "The Council is proud of the work it has done to digitally reach New Yorkers and educate the public on what we are doing," Fermino said in an email.
Early on, Johnson faced criticism when he fired several staffers from the Council's public tech division, created by Mark-Viverito and headed by Erica Gonzalez, a Latina emblematic of Mark-Viverito's efforts to make the Council more representative of and able to communicate with New Yorkers. The unit led communication efforts directed at communities of color, spreading the first Latina speaker's message and Council's work to a broader audience.
In April 2015, Mark-Viverito launched her own precursor effort to improve digital engagement, under a plan called Council 2.0. The Council partnered with Civic Hall, a civic tech business and venue, and redesigned its website, launched a new legislative tracking portal, and an initiative called 'Council Labs' meant to test new ideas. "The council must grow into a digitally agile institution that can easily adapt to emerging technology while remaining grounded in our communities," Mark-Viverito said at the time.
During his tenure, Johnson has moved that work along, launching new interactive tools, including maps, and surveys.
A few months into his term, Johnson displayed an ability to use social media to help get things done, launching an online campaign to push for funding the Fair Fares program, which provides half-priced MetroCards for low-income New Yorkers. Johnson and his fellow Council members hit the streets to talk to commuters outside subway stations, shooting videos and straight-to-camera testimonials to post to the Council's Twitter account. Mayor Bill de Blasio, initially hesitant to pony up the funds for the program, eventually relented, giving Johnson an early legacy-making victory.
The Council also took a data-analytic approach to its website, looking at the pages that New Yorkers tend to visit the most and highlighting them on the homepage, including links to city budget documents, hearing schedules and livestreams, and Council members' individual pages. The Council central staff has also trained Council members to use Facebook, particularly those who don't have staff running social media.
In an interview earlier this year, Espinal said he had pushed to create the digital communications position, working with Digital Director Kevin Groh to focus on the entire City Council membership rather than just the Speaker. (Somewhat ironically, Espinal also introduced a bill last year that would limit employers' digital communications with employees after work hours).
"It was a new position that I wanted to create because I think now more than ever, it's important for New Yorkers to be able to connect with local government," Espinal said, citing his own proclivity for social media.
In line with that effort, the Council's communications team made tweaks and enhancements to all digital outreach. Every video posted to social media is now captioned and images are posted with alt-text, to make them more accessible to people with disabilities.
"Now members feel as if they're a part of the City Council digital communications outreach team," Espinal said. "There have been more videos made of Council members in specific districts, videos focused on legislation that they're working on or passing."
Council members' work is now highlighted on the Council's website, linking to albums on the Council's Flickr account.
But the digital efforts go beyond fun and interesting photos, they're used to inform policy, help people understand its effects, and move New Yorkers to get involved, as in the Fair Fares campaign. When tech giant Amazon was attempting to locate a major campus in the city, the Council wanted to know more about its plans and how it would affect the communities in Long Island City, Queens, and beyond.
Prior to holding hearings where Amazon executives testified, the Council solicited questions from the public through the hashtag #AmazonAnswersNYC on Twitter. Johnson posed some of those questions at the hearings, which were particularly tense, and later used Twitter to highlight key testimony. "Real New Yorkers are tweeting questions using #AmazonAnswersNYC and top Amazon executives are answering those questions right now at the @NYCCouncil. That's accessible and modern government," Groh tweeted at the first hearing in December.
There's also a new Data Operations Unit, housed under the legislative division, which creates graphics and charts to make policy proposals more interesting and accessible, and which explores issues empirically to craft bills. A central dashboard of data, for instance, allows New Yorkers to delve into the number and type of 311 call requests made in each Council district.
The Council has also used data to map out the misuse of city-issued parking placards, complete with 311 complaints, responses, and the bills under consideration to tackle it. They compiled data on lead paint in homes across the city, mapping violations and listing litigation and legislation related to it. When considering a bill to give the Parks Department authority over Hart Island, the potter's field where the city's indigent are buried, the data unit laid out its background, the age and location of death of people buried there since 1977, and, of course, the legislative package under discussion.
One can also find data and charts on city schools, school bus delays, physical education in schools, immigrant resources, and the Council's participatory budgeting program.
"The overall aim and goal here was to make our social media presence a lot easier to digest, to access," Espinal said, "and also to highlight Council members and make sure that members' work is being recognized by New Yorkers but also folks like you in the press."