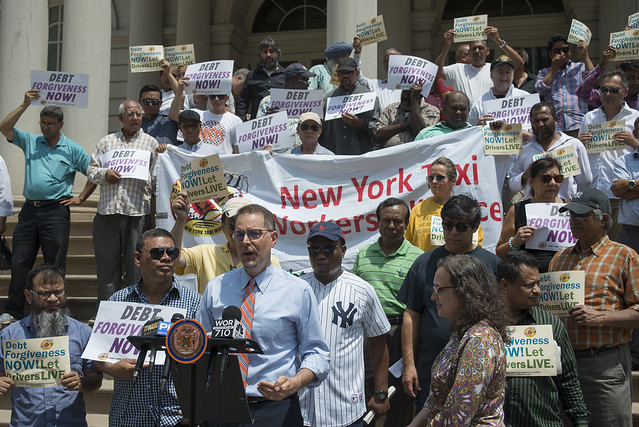 Council Members Levine & Rivera & drivers rally at City Hall (photo: Jeff Reed)
---
City Council Speaker Corey Johnson asked what sounded like a simple question: should the Taxi & Limousine Commission apologize for its role in the taxi medallion debt crisis, in which thousands of taxi owner-drivers have been trapped in predatory loans unchecked by city and state watchdogs?
Jeffrey Roth, nominated by Mayor Bill de Blasio to lead the TLC, failed to give a direct "yes" or "no." Johnson asked again, to which Roth said, "whether or not the TLC leadership there should apologize, I don't know." Visibly frustrated, Johnson moved on to a new question.
The exchange took place at a July 18 hearing to discuss Roth's nomination for TLC Commissioner – a nomination that has since been temporarily withdrawn in part due to Roth's performance at the hearing.
Roth's evasiveness on the apology questions and others, and Johnson's resulting exasperation highlighted a growing debate over the culpability of city government in facilitating the medallion crisis. As a New York Times two-part investigation published in May revealed, the TLC ignored warning signs of a highly inflated medallion market (the city sells taxi medallions and sets baseline prices for auction) and risky lending practices, leaving many medallion owner stranded in colossal debt when the market collapsed. A wave of suicides among driver-owners, along with the Times' series, has elevated the discussion to emergency status.
But, as policymakers, drivers, and others have been asking, should the city itself be responsible for forgiving the debt? What is the best path for helping driver-owners get out from under their loans?
For the Taxi Workers Alliance, the most prominent organization representing for-hire vehicle drivers, the answer is a resounding yes: New York City government should prepare a bailout. But Mayor de Blasio has repeatedly said a bailout would be both out of the city's purview and too costly to the city's budget. On the other hand, several City Council Members, including Speaker Johnson, have expressed some initial support for the idea of a partial bailout of driver-owners.
Bhairavi Desai, the head of the union since its inception in 1998, has called for a city-run program to determine the current market value of medallions, then buying out and forgiving loans down to that value. At the height of the market in 2014, medallions were going for more than $1 million, compared to a $200,000 price tag a decade earlier.
The TWA has calculated that, based on a current medallion market value of $150,000 and an average owner-driver debt of $600,000, the program would cost between $1.6 and $2.4 billion – an increase from the $1 billion the TWA estimates that the city made from inflated prices at medallion auctions.
City Council Member Mark Levine, who represents Upper Manhattan and has long been one of the TWA's strongest allies in government, claimed at a July 11 rally outside City Hall that a clear precedent for a city-run bailout exists.
"During the housing mortgage bubble, an entity here called the Center for New York City Neighborhoods did exactly that for New Yorkers with underwater housing mortgages," he said alongside Desai and dozens of assembled owner-drivers. "The fact is, there is a myriad of precedents for this here in New York City, and it's simply inexcusable to say this isn't possible when we have done projects like this in the past."
Levine is not alone in his support for the TWA's proposal. Council Member Carlina Rivera of Lower Manhattan appeared at the same rally to call for loan forgiveness; City Comptroller Scott Stringer and Council Member Ritchie Torres, among others, have also expressed some measure of support for city-financed debt relief. Because bailout legislation has yet to be introduced to the City Council, it is difficult to gauge how broad the proposal's support is.
Desai and the TWA have also called for a cap on medallion mortgage payments at $900 per month (compared to an average of $3,000 a month currently) and the creation of a retirement fund for drivers, among other things. But with chants of "Loan forgiveness now!" and pre-printed signs calling for "Debt Forgiveness NOW!" at the July 11 rally, owner-drivers have made their first priority clear.
On the other hand, de Blasio, as well as officials in the TLC, have expressed skepticism about, even dismissal of such an idea. Their preferred plan of action is for the city to instead pressure the private banking lenders to downsize loans, without the city itself directly buying or bailing out anything.
De Blasio, in a June interview on WNYC's The Brian Lehrer Show, said that he would "absolutely pressure banks and lenders to be fair to these drivers, we'll do that." But he rejected the possibility of a city bailout, saying the city "doesn't directly fund the drivers…There's some things the City of New York simply has limits on." He has indicated on multiple occasions that the city simply doesn't have the billions of dollars that would be needed for a bailout, that it would be too costly of a one-time expense.
Meera Joshi, formerly the commissioner of the TLC, listed in an email to Gotham Gazette several proposals to address the crisis, all of which involve the city leaning on banks to modify loans so that they match drivers' income. "State and city officials should publicly name those that refuse to work with borrowers," she suggested, "much like the 100 worst landlords list. Publicity about their inflexibility will go a long way in making a change, and will achieve change quickly."
Two other possibilities Joshi mentioned involve conditioning medallion ownership on viable financing, thus causing "banks that do not modify loans within a prescribed period [to] lose the medallion as an asset," and "chang[ing] state tax law to ensure that forgiven loans are not considered taxable income for individuals below a certain income level."
When asked directly about the possibility of direct loan forgiveness by the city, Joshi stated that she supports "all real assistance, but prioritizes what can realistically happen, affects the largest group, and most of all happens quickly, which is pressuring banks to restructure loans."
Current Acting TLC Commissioner Bill Heinzen, during a June 24 City Council oversight hearing on the crisis, expanded on this assessment, saying that "the people who have the power and money here are the banks and the credit unions that hold those loans, and they should be the ones who should be forced to write down those loans to something that is human and possible to pay."
And Roth, responding to pointed questioning from Johnson, said that he thinks "there are measures short of financial bailout...that might be sufficient and not excessive."
Writing in a City & State op-ed column the day after the July 11 rally, Nicole Gelinas argued that the roughly $2 billion required for a bailout of many owner-drivers would make a significant, arguably unfair dent in the city's budget. "The city must follow only public need," she wrote, "not the extraordinary circumstances of one industry." Others, including Roth, have pointed out that a city-financed bailout might inadvertently reward lenders for their predatory behavior.
While she echoed some of the other ideas that have been offered for alleviating the crisis, another of Gelinas' proposed fixes involves city- and state-level regulation, without either funding a bailout. "The city," she wrote, "should make it much clearer whether it is giving up on the medallion system or not, guiding both lenders and borrowers on underlying value, and allowing lenders to keep an interest in the future, possibly higher value of a medallion in exchange for debt relief."
For their part, the TWA and its Council allies have also called on the city to lean on lenders to forgive debt and ease burdens on owner-drivers. Levine noted that, if the city can successfully push lenders to downsize loans, then the pricetag the city pays for a bailout decreases and becomes more politically feasible.
But some who support a city forgiveness program worry that the focus on outside forces like credit unions makes concrete solutions harder. Council Member Brad Lander, at the June 24 oversight hearing, said he worries "that if we only focus on accountability, we will fail to come up with a real approach to relief...We must find a way to do both."
A spokesperson for the City Council said in a brief Thursday statement to Gotham Gazette that "Speaker Johnson and the council are committed to helping drivers, and the newly appointed task force is exploring a variety of ways to help including various forms of a bailout."
Appearing on Thursday evening's Inside City Hall on NY1, Johnson was asked by host Errol Louis about what he thinks should be done for the medallion owners. "I think the mayor is right in one aspect," Johnson said after disagreeing with the mayor's claim that if a cap on new for-hire vehicle licenses had been instituted in 2015 much would have been different, while also reiterating his regret for not supporting the cap back then, "which is $17 billion for a full bailout is not realistic, and it would be inappropriate and disingenuous for me to say that's what we can do. But there has been a proposal -- Council Members Levin and Levine and Lander have been talking about doing a partial bailout for some of the medallion owners who are under water, maybe at $100,000 or $200,000, to get them out of debt in a way where they're not as under water. It's something we need to look at."
Underlying the debate over debt forgiveness is a deeper question over who, exactly, bears the blame for the crisis to begin with. Mayor de Blasio has called the crisis a "private market reality," and the TLC released an investigation it conducted laying the responsibility on lenders and the National Credit Union Association while insisting that "TLC and the City have no regulatory oversight or control over lending practices."
Additionally, Roth, Heinzen, and Joshi – the prospective, current, and former TLC commissioners, respectively – all pointed to the specific ways in which the TLC worked to mitigate the crisis, including loosening restrictions and reducing taxes on drivers. The cap on vehicle hailing apps such as Uber and Lyft has also been highlighted as a measure that the city took to help owner-drivers (de Blasio has repeatedly said he wishes the City Council had gone along with his 2015 push for a FHV cap, rather than stalling for several more years until its passage in 2018).
For many, however, these measures were too little and too late. Though the city was not directly responsible for reckless lending practices that may have helped thrust owner-drivers into severe debt, Levine and others claim it still has a "moral debt" to pay for its lack of oversight. Levine charged that "the city itself was asleep as thousands of drivers entered into a world of financial hell."
Council Member Torres, who co-chaired the oversight hearing with Council Member Ydanis Rodriguez, said that the TLC "is inclined to scapegoat everyone except itself."
The TLC, as many debt-relief proponents have pointed out, was not just a regulator asleep at the wheel. Faced with a $3.8 billion budget deficit early in his administration, Mayor Michael Bloomberg and his TLC commissioner, Matthew Daus, advertised the medallion market as a stable, "once-in-a-lifetime" opportunity in order to increase city revenue. In 2011, Andrew Murstein, the former president of a prominent medallion lender, called the city his "partner," because "they want to see prices go as high as possible."
Debt relief, either from the city or from lenders, is not the only measure being discussed to address the medallion crisis. At the June 24 oversight hearing, four bills were proposed that would increase accountability at the TLC, with the goal of preventing future crises.
Additionally, Council Member Rodriguez, who chairs the Transportation Committee, has proposed a bill that would exempt taxi drivers from congestion pricing. The TWA held a rally on July 18 demanding that the cap on for-hire vehicles be extended, which would continue to restrain competition to the taxi industry. And, as Roth mentioned in the July 18 committee hearing, the TLC plans to set up a driver assistance unit to provide drivers with financial and mental health services.
But, as these legislative proposals' backers have attested to, such fixes are not enough to help those already in massive debt. Regardless of who bears the blame for the crisis and who needs to pay for it, thousands of drivers remain in dire straits. "This may have taken years in the making; it cannot take years more in the fixing," said Desai at the July 11 rally.
"Otherwise," she said, "thousands of families are going to simply break."