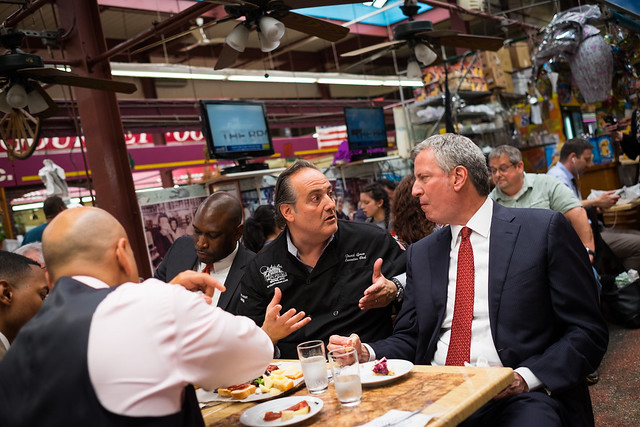 (photo: Edwin J. Torres. Mayoral Photo Office)
---
The City Council took steps Tuesday aimed at addressing what some have described as a crisis of small business closures across the city.
Passing a package of bills that now head to Mayor Bill de Blasio for approval or veto, the Council is seeking to mandate more city outreach to small business and studies of business closures. The legislation does not, however, directly address concerns expressed by members of the business community about over-regulation.
Under de Blasio and two different City Council classes, several major new mandates on businesses have been passed, with another sweeping measure -- two weeks of mandated paid personal time off -- now on the table, with de Blasio promising passage by year's end and vocal opposition from small business owners.
The Council on Tuesday passed Intro. 1471, a bill sponsored by Council Member Helen Rosenthal that requires the Department of Small Business Services (SBS) to provide training and education for small businesses; Intro. 1472, also sponsored by Council Member Rosenthal, requires the Department of Finance to collect and publish data related to leases and vacancies on the city's commercial properties; and Intro. 1049, sponsored by Council Member Carlina Rivera, requires SBS to, every three years, complete an assessment of the state of storefront businesses in at least 20 of the city's community districts in what some say would be the city's first real survey of storefronts, as well as a national first.
One of the other bills passed, Intro. 1467, would mandate creation of a website that provides businesses with information about applicable laws and regulations.
"To be quite frank, if it's not available for them in an easy to read and follow format, it's going to be very difficult for our small businesses to comply with the city's rules and regulations," said City Council Member Mark Gjonaj, lead sponsor of 1467, during the bill's committee vote on Monday. "It's not that they don't want to comply, it's that they don't know. Basically, the way most of our small businesses find out about rules and regulations are through violations, through a gotcha scenario. And that's not right."
Small business advocates said that the legislation passed this week is positive, but doesn't accomplish enough, and doesn't address the main issue emanating from City Hall: overly-burdensome mandates.
"The passage of today's small business bills is a step in the right direction, but let's be crystal clear, these bills are not the regulatory reforms our city's small business owners desperately need," Andrew Rigie, executive director of the New York City Hospitality Alliance, said in an email. "And while we urge Mayor de Blasio to sign them into law, their passage must not be used by the Mayor and the City Council as evidence they support small business, so they can enact the Mayor's proposed paid vacation bill and more policies that will further harm small businesses. We still need real, comprehensive regulatory reform."
Much of the current dissatisfaction with the mayor and Council's business reform policies centers around de Blasio announcing support during his State of the City address earlier this year for legislation to mandate two weeks of paid personal time for every employee each year.
"Workers across the nation have been working too hard without enough time to rest and recharge or enough time for family and important life events. Every other major nation recognizes the necessity of Paid Personal Time. We as a country must get there, and New York City will lead the way," de Blasio said in a statement announcing his support for the proposal, a Public Advocate Jumaane Williams-sponsored bill that had been sitting unmoved in the Council for several years, but got a jumpstart when the mayor decided he wants to see it passed. "To be the fairest big city in America, New Yorkers can't be forced to choose between bringing home a paycheck and taking time off to just disconnect or spend time with loved ones – that choice ends with Paid Personal Time."
According to a June survey of 1,471 small business owners, conducted by various organizations and chambers of commerce across the city, 80 percent of small business owners are concerned that they will have to make significant operational changes, including letting workers go, if their business is required to provide two weeks of paid vacation to each employee. The mayor has pledged to pass the requirement this year, working with the City Council, which would add to a slew of policies that de Blasio and city legislators have advanced over the past five-plus years since the mayor took office promising to reduce inequality.
There has been significant attention in recent years to the struggles of small businesses -- de Blasio ran in part on a promise to reduce city fines on them and help them meet regulatory requirements without financial punishment, while he also pledged to do more for workers, like extending paid sick leave. Many news reports have outlined what some call an epidemic of storefront closures, not to mention the demise of "mom and pop" stores that are at times replaced by big banks and pharmacies that have proliferated.
Manhattan Borough President Gale Brewer counted 188 vacant storefronts along Broadway alone in a 2017 study and small business owners say that number will only increase with de Blasio's proposals.
Small business leaders and advocates say that the various measures (including some passed at the state level like a significant increase to the minimum wage, now $15 per hour in the city) negatively impact business, and in some cases, force businesses to close.
The local legislative efforts, which Democratic officials say are to provide workers with a better standard of living and create a more fair economy, include requiring fast food employers to create predictable schedules, expanding rights for freelancers, and paid sick leave for most workers. To help provide some Manhattan business owners with relief, de Blasio agreed to a push by Brewer and then-City Council Member Dan Garodnick to reform the commercial rent tax.
Not all fingers have been pointed at city government -- some have called for a city tax on big landlords who leave storefronts vacant for an extended period of time. Often what drives small businesses under is excessive rent payments, which can jump quickly based on landlords' desires for bigger paydays from large chain stores. There has been a decades-long movement to get the city to pass one version or another of the Small Business Jobs Survival Act, which in its latest form would institute not commercial rent control exactly, but several lease renewal regulations that would benefit commercial tenants.
The results of the June survey cited by small business owners and advocates contrast with a 2016 report from CUNY's Murphy Institute, cited by the de Blasio administration, which found that 85 percent of employers experienced no changes in costs due to paid sick and safe leave, which allows employees to take paid leave if they are victims of or threatened with domestic violence, human trafficking, or unwanted sexual contact.
"I speak with small business owners around the city day in and day out and not once have I been told by a small business owner that the paid sick leave law has had no impact," Rigie said in a July 18 interview with Gotham Gazette.
Prior to releasing the survey, on June 26 – the same day de Blasio took the stage at his first debate as a presidential candidate – small business owners rallied at City Hall against regulations coming from de Blasio and the Council, in an effort to push back against the likely passage of the paid vacation mandate.
"Businesses are really struggling, and business people have families too, and they have kids," Rigie told Gotham Gazette after the rally. "So, when everyone says we need to support working people – guess what – small business owners are working people. We need to stop getting the language out of City Hall that is setting up us against them. We're all New Yorkers. We're in this together, and we need fair and equitable regulation."
Small business owners also expressed frustrations with city fines for minor violations and what they described as overly-aggressive inspections by city agencies. According to a 2017 report from the de Blasio administration, fines on small businesses had dropped by 40 percent over the first three years of the mayor's first term, saving small businesses an estimated $6 million. But frustrations with fines clearly persist, and worries about additional regulations and expensive mandates like paid personal time are top of mind for many business owners.
"Paid Personal Time should be a right, not a privilege. New Yorkers work hard and deserve a break without fear of losing a paycheck, or worse, their job," Melissa Barosy, press secretary of the city's Department of Consumer Affairs, said in an email. "We understand the concerns from small businesses and by requiring it of all businesses, we are leveling the playing field. We heard the same concerns when we mandated sick leave in 2014 but jobs are at a record high across all five boroughs and our city has a thriving economy. I know most of our businesses want to treat their employees right and to provide their workers with time off so they can be more productive—with the City and business owners working together, we can make sure businesses thrive too."
Nallely de Jesus, a small business owner and board member of the National Supermarket Association, said on June 26 that small businesses want to be able to pay for paid vacation time, but they can't.
"The proposed 10-day vacation from Mayor Bill de Blasio will affect our stores. And it's not that we don't want to pay them," de Jesus said. "The point is that we can't afford to pay them. We're asking that if the city funds it at 100%, then we will back it up at 100%."
Other small business advocates echoed de Jesus' sentiment that they would support the mandates if the city paid for them.
"If you need paid vacation, then the mayor should help fund it, but let's change the conversation," Rigie said on June 26. "We need to have a comprehensive save-our-storefronts, support-our-small-businesses plan. If there's a Green New Deal, there should be a Support Small Business Deal."
In terms of what governmental action they are seeking, business leaders stressed things like allowing additional warnings and cure periods for minor infractions, preserving the restaurant industry tip credit, giving tax credits on property taxes that commercial tenants pay, and eliminating the commercial rent tax on businesses south of 96th Street.
They added that being included in negotiations is an important step in creating appropriate regulations.
"We want to help shape policies that make sense, we agree there needs to be a real comprehensive review of regulations in the city that are affecting businesses, particularly small businesses, because there are many that have been on the books for a very long time that just don't make sense anymore with the way that people do business," Samara Karasyk, interim president of the Brooklyn Chamber of Commerce, said in an interview with Gotham Gazette on July 18. "So, that's one thing. And then the second is, we really want to engage with our policymakers in a productive way to help businesses and workers together."