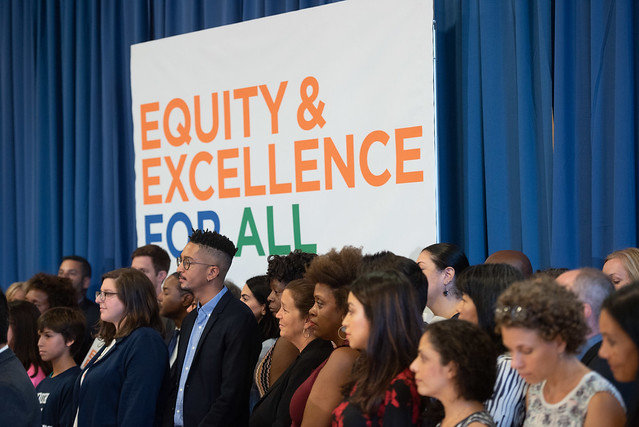 (photo: Michael Appleton/Mayor's Office)
---
Earlier this week, the School Diversity Advisory Group (SDAG) released its second and final set of recommendations to integrate city schools, a significant development in the current chapter of the city's response to deep racial and economic segregation in its school system, which is the largest in the country and home to 1.1 million students.
This chapter began in 2014, 60 years after Brown v. Board of Education and Bill de Blasio's first year as Mayor, when a report published by the UCLA Civil Rights Project showed that New York's was one of the least integrated school systems in the country -- the worst state in terms of white-black segregation and among the bottom three for Latino-white segregation. Much of that segregation was due to the facts on the ground in the country's largest city.
De Blasio and his administration have been forced to acknowledge that dismal reality in the years since, at first looking to largely sidestep the issue, then beginning with modest proposals to improve diversity in schools and ultimately creating the SDAG at the end of 2017. The administration's focus on school segregation did not happen immediately following the March 2014 UCLA report, released just three months into de Blasio's tenure as mayor, and not without pressure from grassroots advocates, students, families, and local elected officials at various stages during the last five years.
The SDAG's two sets of recommendations, some of which are especially controversial, on top of de Blasio's previous proposal to take aggressive measures to integrate the city's eight prestigious specialized high schools, have set off something of a firestorm. They set the stage for challenging decisions that de Blasio will soon make about which recommendations to pursue, including, perhaps, a sweeping overhaul of the city's "gifted and talented" programs and selective admissions to middle schools. Following will likely be years more of debate about how to desegregate city schools while also improving the quality of education hundreds of thousands of students receive.
Before the next chapter begins, how did we get here?
2012-2013
Some would say the recent history of New York City's school desegregation debate begins, before the 2014 UCLA report, with a districting proposal that illustrated the complex factors the city would later need to address.
In the fall of 2012, the District 15 Community Education Council approved a school district rezoning proposed by the Department of Education (DOE) under Mayor Michael Bloomberg that would shrink the geographic districts of two popular but overcrowded schools in Park Slope, Brooklyn, and open a new school to serve some of the students who would be cut out. At the same time, the DOE was rebuilding a predominantly African-American 300-seat school in neighboring Community School District 13. For a period of time, both the District 13 and District 15 schools were housed in the same building.
"That sounded sensible, except what they were really saying was, 'We're gonna build a building with two doors; into one door will go 300 black kids, and to the other door will go 600 mostly white kids," said Brad Lander, a City Council member representing parts of both school districts, in an interview with Gotham Gazette.
"That was enough for people to wake up in this district and say, 'That is insane. We will not allow that level of school segregation,'" recalled Lander, who succeeded then-Public Advocate Bill de Blasio in the City Council.
After a prolonged battle with the Bloomberg administration, local elected officials, parents, and advocates, the DOE agreed to create a single 900-seat school -- P.S. 133 -- open to students from both districts with a model for inclusive admissions, becoming the first school with enrollment set-asides to increase diversity, according to Lander.
2014-2015
In 2014, six decades after the U.S. Supreme Court ruled racial segregation in schools unconstitutional, the UCLA Civil Rights Project published its report, with research led by Dr. John Kucsera and Dr. Gary Orfield, which stated New York State had "the most segregated schools in the country," largely due to inequality in the city's school system.
The report found roughly 66 percent of black students and 57 percent of Latino students attended schools where less than 10 percent of students were white. Some of the worst segregation was in the Bronx, where not a single school's student body was more than 10 percent white.
"For New York to have a favorable multiracial future both socially and economically, it is absolutely urgent that its leaders and citizens understand both the values of diversity and the harms of inequality," the report reads.
When asked about the report and the city's segregated schools, de Blasio initially and for years mostly had a three-pronged answer: one, that school segregation is the result of hundreds of years of history and broader "structural racism" in society; two, that his education programming was focused on improving all schools and thus helping foster integration and reduce the need for desegregation; and three, that if local communities wanted to pursue solutions to desegregate nearby schools, they had his blessing.
He also noted on multiple occasions that families make major decisions and investments based on schools, and indicated he needed to be cautious about more drastic measures that might alter school zoning, enrollment or admissions policies. And, the mayor repeatedly mentioned that in part because of housing segregation, there are many geographic areas of the city home to residents of limited diversity, making local school integration especially challenging without a choice he was not willing to pursue: the New York City equivalent of busing students to achieve integrated schools.
"The reason we have segregation in our society is about structural racism, is about 400 years of American history and a lot of things that should have been done differently in American history," de Blasio said later, in 2018. "It's about economics first and foremost and the fact that economic opportunity is still not open and consistent across different racial groups and ethnic groups and that's the first problem. That leads to housing segregation and that in turn leads to a situation where our classrooms are not diverse."
In November 2014, prompted by the UCLA report and the 60th anniversary of the landmark Brown decision, the City Council held its first public hearing on school segregation in decades, and led to the passage in 2015 of three pieces of legislation sponsored by Council Members Inez Barron, Brad Lander, and Ritchie Torres, known as the School Diversity Accountability Act.
The UCLA report and the anniversary year "presented an occasion to renew our city and our country's commitment to desegregation," Torres, who represents parts of the Bronx, said in an interview. "The fact is that we have the most segregated school system in the country. We have a school system more segregated than the vestiges of Jim Crow in the South."
The package required the DOE to report annually on demographic data that could be used to evaluate segregation and diversity, and report on what steps the DOE is taking to address those issues. The City Council cannot mandate the DOE adopt specific policies, so Torres sponsored a resolution in the package calling on DOE to develop a plan to combat school segregation.
"In some ways that call is what SDAG is now, many years later, answering," said Lander.
"This is a step further in our efforts to ensure that our schools are as diverse as our city and people of all communities live, learn, work together," de Blasio said in June 2015 when signing the legislative package.
In 2014 and 2015, grassroots advocates, parents, and educators in Community School Districts 1, 3, 13, and 15 became more active organizing around school-by-school, as well as district-level, integration plans. Some of the most vocal desegregation activists, like those in IntegrateNYC, a student-led advocacy group, formed during this period.
They "saw a historic opportunity to renew the campaign to desegregate our school system. It was driven not primarily by elected officials but by grassroots activists, especially students," Torres recalled.
Activism, panel discussions, and other conversation around school desegregation continued.
In 2015, the DOE took its first steps toward establishing the Diversity in Admissions pilot program, a school-by-school approach modeled on the types of inclusive admissions policies P.S. 133 was employing. The city designated seven schools to participate in the program that year, according to Lander, "and since we have 1,700, that was pretty modest...It was the first official step of them doing anything [but] it was not yet a serious effort to confront segregation across the school system."
"We were able to create admissions policies that promote diversity and respect the needs of the community. I'm hopeful that these changes will help serve as a model for schools across the City," said then-Schools Chancellor Carmen Fariña in a press release, without explicitly mentioning the issue of segregation.
When Gotham Gazette asked the mayor in November 2015 why he wasn't taking more aggressive measures to integrate city schools, de Blasio's response made waves. "You have to also respect families who have made a decision to live in a certain area oftentimes because of a specific school," de Blasio said.
By this point, the advocacy around the issue was well underway and gaining steam, and the DOE was submitting its first reports required under the School Diversity Accountability Act.
2016
In 2016, much of the public attention and advocacy was focused on district-level plans, where changes could be made on a small scale and tested, especially in areas that resemble a microcosm of the city's school demographics.
Questions still hovered around whether de Blasio, who ran for mayor on a progressive platform focused on equity -- including bridging racial, educational, and socioeconomic gaps -- would make the issue a priority. (School segregation was not a high-profile issue during the 2013 election, and his campaign did not address it other than de Blasio calling for greater diversity at the city's eight specialized high schools.)
A "controlled choice" admissions policy -- in which parent/student school choices are balanced with goals of socioeconomic integration -- was proposed in District 1 in the Lower East Side. (In October 2017, District 1 became the first district to push for and win a district-wide model for school integration.)
Asked about pursuing greater desegregation measures and specifically a broader controlled-choice admissions policy during a June 2016 appearance on WNYC's The Brian Lehrer Show, de Blasio demurred.
"We believe there is a lot more to be done in terms of fully integrating our schools, but I do want to say, right now we are seeing some real success with models that are being used right now in our school system that are starting to be very, very effective in terms of bringing in a better mix of kids into some of our schools. I think the pre-K program has also been an example of an initiative that has had a really good impact in terms of diversity. So, we're looking at a lot of options. I'm committed to it."
Pushed a bit further, de Blasio said, "There's different models that we have some real hope in. But let's be clear...this is also the result of decades, in fact hundreds of years, of segregation in our nation. And a lot of that goes back to economics and housing. Our affordable housing plan, also, we believe, creates more diversity in neighborhoods, and that's really, obviously, the root of the situation. If we can create more diversity through housing and development, that is another way to get at the schools issue."
In September 2016, de Blasio was asked by a reporter about pushing more desegregation measures, and said, in part: "[W]e've already foreshadowed we're going to have a bigger vision that we'll put forward about how we can do diversification work for our schools – something we believe in. But we also want to be clear about the limits of it, and I'm going to be very explicit about this as we present that vision. The problem is not an education problem, the problem is an American history problem. It's the problem of structural racism. It's a problem of housing segregation."
He continued: "Let's not ask the schools to address all those problems simultaneously – that's not viable. But there's ways that we can do better through our schools. And, I certainly think if you talk to parents about pre-K and what it's done for their kids, it's been a success. So, we have to – the first mission is always to make the education system work for the kids to achieve onto itself equity and excellence. And it's crucial distinction – if we want a more just city and a more just nation, then let's get our school system to live up to a notion of equity and excellence. Separately, we have to do a lot in our society writ large to create more diversity and more opportunity across the board."
2017-2018
One indication from de Blasio that he would pursue a broader integration plan came with the launch of Equity and Excellence for All in June 2017, which led to the School Diversity Advisory Group (SDAG) that would explore solutions for city-wide desegregation, according to Council Member Lander.
The vision's main focus, however, was expanding course options and resources in underserved (and heavily segregated) schools and districts. The program included initiatives like "Algebra for All" and "AP for All" and other planks of a platform de Blasio said would help improve learning opportunities for students wherever they may attend a city school.
The framework also provided for the DOE to support school districts in developing diversity plans to achieve greater integration, without ever making explicit mention of segregation, according to Lander.
All the while, de Blasio maintained that through his universal pre-Kindergarten initiative, Renewal School turnaround program, and Equity and Excellence initiatives, he was ensuring there would be "no bad schools," which would make racial segregation less of a concern and improve the chances of integrated schools.
During a June 2017 appearance on WNYC's The Brian Lehrer Show, de Blasio defended himself against the notion that he was not being bold enough on school desegregation. He said, in part, "Here's what troubles me when people put the question of diversification ahead of the question of immediate efforts, toward better schools and more equal schools. We've got kids right now -- a generation of children right now who need our help. By doing things like Pre-K for All, Advanced Placement courses in all high schools, including ones that never had any – getting kids on grade-level reading by third grade. These are things that got ignored for many, many years...And so, bluntly, inequality grew and grew and grew. I have the tools right now to start addressing this, with the geographical realities and demographic realities we face. That is how we address equity right now while building towards a more diverse and integrated society. But, we've got to help kids now."
In Fall 2018, District 15 in Park Slope, where Lander, Council Member Carlos Menchaca, and Parents for Middle School Equity had been working to change screening policy in middle school admissions, became one of the first districts to be approved and receive funding for integration planning.
"We eliminated screening in the District 15 middle schools. In some ways that is the proposal SDAG is making, to take that to a broader level," Lander told Gotham Gazette, referring to the recommendations released this week that call for sweeping changes to admissions processes and investments in new enrichment programming.
The SDAG, a group of civil rights activists, students, parents, educators, and other experts appointed by the mayor as he sought reelection, held its first meeting on December 11, 2017. The same month, New York City Schools Chancellor Carmen Fariña announced she was stepping down from the post.
At the December 22, 2017 press conference announcing Fariña's retirement, Gotham Gazette asked her if she regretted not taking on school desegregation more aggressively.
"No," she said, "I think we've done some really good work. There's always more than can be done on any initiative, but I'm going back to what I said before – you could mandate some things, but having a lot more conversations with people, which is what we've been doing...And I think convincing people to come to the table to want to do the right thing for the right reasons is a lot more important, and I think that's what we've been doing."
She continued; "I certainly feel that our new diversity committee that we just put in place – they just met, I think, last week – has gotten some great suggestions because this is not just us coming with ideas, but what does the community think?"
After a few other thoughts, she concluded: "So you can always do things better. I agree with the Mayor that in our Equity and Excellence the next chancellor should be thinking about going deeper and deeper, but I think we're on the right path."
2018
In March 2018, Miami-Dade County Superintendent Alberto Carvalho very publicly announced he would not become the new Schools Chancellor a day after accepting the job. That week Mayor de Blasio hired Richard Carranza, a superintendent in Houston and San Francisco schools, to be the next schools chancellor.
"The equity agenda championed by our mayor is my equity agenda," Carranza said at the City Hall press conference announcing he would be taking the position. Within a month, Carranza was discussing school desegregation explicitly, breaking from de Blasio's and Fariña's practice of avoiding the term in favor of the far less defined and loaded concept of "diversity."
"Without that [shift] we would not be anywhere close to where we are. He has been much more enthusiastic about this issue than the mayor," Lander said, responding to a recent New York Times article that describes Carranza in his second year as trying to "reset expectations" about the prospect of integration.
In June 2018, two months after Carranza started, he and the mayor announced a proposal to improve diversity at the city's selective specialized high schools, where enrollment of black and Hispanic students has declined precipitously in the last four decades. The plan included scrapping over three years the Specialized High School Admissions Test (SHSAT), which is seen as a critical factor in the predominant enrollment of white and Asian students.
The fate of the SHSAT for the three most prestigious of the eight specialized schools is controlled by the state, not the city, and many saw it as a way for de Blasio to take up the issue of school segregation without implicating his administration's own responsibility in addressing it. That plan faced severe backlash from many parents and students who were eager to keep the rules the same, and was criticized for not having enough community input. It did not advance in Albany in 2018.
2019
A year later, the SHSAT is still the single admissions test for enrollment in eight of the city's nine specialized high schools (the ninth is a performing arts school). In March, it was reported that only 7 out of 895 seats in Stuyvesant High School's next freshman class would go to black students. Later that month, as he was considering a presidential run on a progressive platform, de Blasio used the word "segregation" to describe New York's school system for the first time, according to Chalkbeat.
Discussing specialized high schools during an appearance on WNYC radio, de Blasio told host Brian Lehrer, "We're saying we're not going to live by this old system that has perpetuated massive segregation, not just segregation – massive segregation."
Meanwhile, in February, the School Diversity Advisory Group released its first of two sets of recommendations for the city to improve school integration. The recommendations include adding metrics on diversity and integration to mandated reporting, creating a "General Assembly" of high school reps to assist in crafting a citywide agenda, and monitoring discrepancies in school discipline. Other suggestions dealt with improving culturally-relevant education and engaging communities through local partnerships.
"Although we applaud SDAG's reference to more ambitious short, medium and long term integration goals by requiring district, borough and then city-wide integration plans, these will only be effective if the City develops powerful metrics for defining integration," wrote the Alliance for School Integration and Desegregation, a coalition of recently-formed and longstanding civil rights groups, in a statement following the report.
Asked about taking on segregated schools during a February 26 press conference on the "record high" number of city students taking Advanced Placement course, de Blasio said, "[T]here is a much bigger discussion that we will have in this city and we've put forward some pieces of it, and there is a lot more to come, on how to make sure our children learn with each other and how to have the most diverse classrooms that we can have. But that should not be mistaken for the primary way or the only way to ensure that kids get a great education. We have kids in every kind of community who are ready to achieve their potential. They need investment. They need high quality teachers. They need the best possible principals. This is the path forward, first and foremost, that's what Equity and Excellences is all about."
In June, de Blasio announced the city would be adopting 62 of the initial 67 recommendations. At the time, the report was criticized for not dealing with gifted and talented programs for elementary school children and selective admissions screenings for higher grades, which are seen as among the greatest barriers to integration.
"I wish the focus could largely be kept on reforming admissions. For me enrollment policy is, beyond housing, the root cause of a heavily segregated school system," Council Member Torres told Gotham Gazette, saying the administration's preoccupation with specialized high schools diverts attention and political capital from more fundamental issues.
On Tuesday, SDAG released its second and final report, which among other things recommended the city eliminate its gifted and talented elementary school programs and admissions screenings for middle schools, while adding new enrichment programs to all schools that need them to serve all learners. The new recommendations fell short of proposing admissions policy for high schools be changed, even as they called for other selective admissions practices to be reformed, instead suggesting study down the line after other changes are adopted.
Now it is up to Carranza, and ultimately the mayor, to act on the group's recommendations. At a press conference Tuesday, Carranza indicated he was eager to review the report, and de Blasio also said he would review it but made no commitment to acting on the recommendations.
SDAG has left the ball in the mayor's court.
"We have decided not to be very prescriptive in terms of the recommendations, in part in recognition that New York City is so large, districts differ greatly in terms of their demographics and their needs," said Amy Hsin, a sociologist at Queens College and a member of the SDAG executive committee, in an interview with Gotham Gazette.
"So we feel that the DOE needs to work with communities to co-develop an integration plan where communities are stakeholders," she added. "That's what we are trying to push the city to do in our reports."
How de Blasio responds will pose a major test in the final years of his mayoralty, and may significantly shape public discourse during the upcoming race to replace him.
Ben Max contributed to this story.