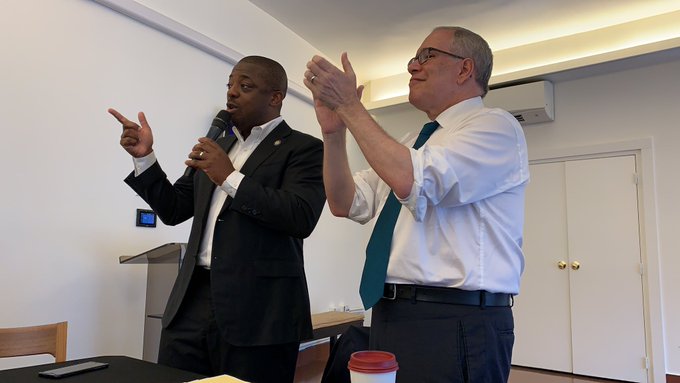 State Senator Brian Benjamin, left, with Comptroller Scott Stringer (photo: @NYSenBenjamin)
---
The 2021 primary for New York City Comptroller may be 21 months away, but there are already three declared Democratic candidates in the race, and another has now indicated he's exploring a run. State Senator Brian Benjamin, who represents Upper Manhattan, announced on Thursday that he is testing the waters for a potential bid for comptroller and said he would explore over the next year, including a 2020 Senate reelection campaign, to see if his candidacy is viable.
"I believe that the decisions I have made over my life have really set me up to be uniquely qualified to serve in this role," Benjamin said in a phone interview with Gotham Gazette, citing his work as an affordable housing developer, an investment advisor, and Harvard Business School graduate.
Should he choose to run, Benjamin would likely face New York City Council Members Brad Lander and Helen Rosenthal and Assemblymember David Weprin, as well as others who may enter the field ahead of the June 2021 primary, which is likely to be decisive in the overwhelmingly Democratic city. Incumbent Comptroller Scott Stringer will be term-limited out of office in 2021 and is running for mayor.
Benjamin, whose district includes Harlem, the Upper West Side, Washington Heights, Hamilton Heights and Morningside Heights, said he will begin to raise funds and drum up support, setting a deadline of November 2020, after he likely earns another two-year legislative term and the presidential election has wrapped up, to make his ultimate decision. "I think a year is enough time to see how it's going," he said. "Have I raised sufficient resources? Am I getting support of people thinking that I would be a good candidate in that role?"
The comptroller serves as the city's top fiscal officer, overseeing how city agencies expend resources and auditing their performance, reviewing and approving city contracts, monitoring the city budget, and enforcing the living wage and prevailing wage laws. The comptroller also acts as the fiduciary to the city's pension funds, worth more than $200 billion. That's a role that Benjamin says he takes very seriously, particularly as the son of two union workers.
"I've actually done this in the private sector before being a senator," he said of his investment management experience on Wall Street. He said he could use the pension funds to finance the creation of affordable housing and stem the city's homelessness crisis. And he proposed creating a public bank to provide loans to affordable housing developers. "A public pension fund has to be mindful of the needs of its constituency," he said.
He also emphasized that his finance background positions him well to oversee city spending. "It's not my decision as the comptroller to determine where the resources go," he said. "That's the mayor's job, the City Council's job. I do believe there's a role for someone to be the chief financial officer to say, 'Okay, wait a second. Let's evaluate the decisions that have been made, and provide some analysis around whether or not it has accomplished the things that you expected to accomplish when you made the investment.'"
"There is a real role for someone to not be the decider, but to be an analyzer, to be an accountability person," he added.
Benjamin did praise Stringer's work in the office and said he would build on it. Two entities he said he would focus on closely are the New York City Housing Authority (NYCHA) and the Department of Education.
Along with the other candidates, Benjamin said he would also participate in the city's public matching funds program, which matches qualifying small dollar donations at an 8-to-1 or 6-to-1 ratio, depending on which of two programs candidates choose for the 2021 cycle. Benjamin said he would aim for the higher match, which comes with lower contribution limits, and also said he would refuse all contributions from individuals who have business with the city.
"I believe very strongly that anybody running should be able to convince ordinary everyday citizens that they are the right person for the job," he said. Benjamin has over $280,000 in his state campaign account, though it's unlikely he'd be able to transfer all of it to a city account.
Lander leads the early race in fundraising by a wide margin and has been the most active in working to secure allies and endorsements. He has about $204,000 in his campaign coffers; Rosenthal has about $67,000; Weprin has just under $50,000 but also owes the Campaign Finance Board nearly $320,000 in public funds repayments from his race for comptroller in 2009.
Next year, Benjamin will be up for reelection to his Senate seat but he doesn't believe his eye on the comptroller's race will distract him from his work. Even if it prompts primary challenges, he welcomes them. "Anyone who believes they will be a better senator than me, they should put themselves forward," he said. "I'm not one of those people who believe in being fearful of whether someone runs against you or not."