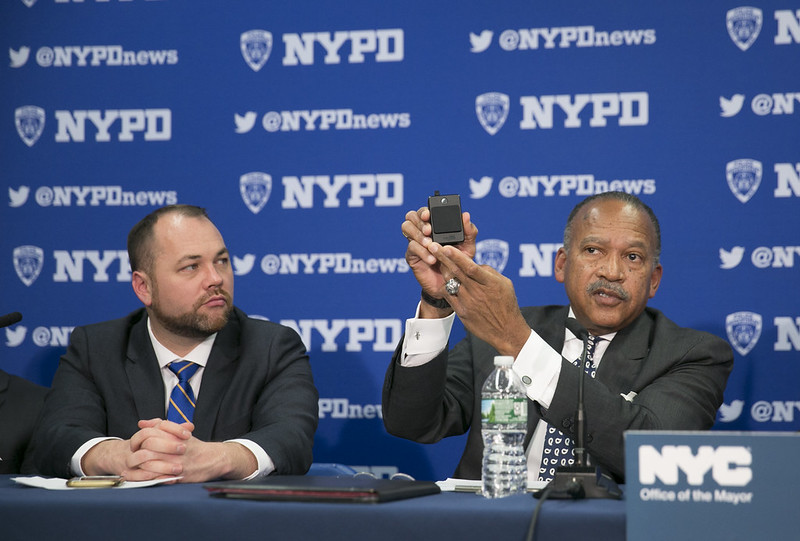 (photo: William Alatriste/City Council)
---
One of the most visible changes to American policing in the wake of the controversial 2014 killings of Michael Brown and Eric Garner, two unarmed black men, by law enforcement, is the proliferation of body-worn cameras. But as the cameras become a larger part of the police oversight constellation in New York City, the NYPD has been slow to release footage to the very agency meant to investigate alleged officer misconduct, including excessive, even deadly, force.
When Mayor Bill de Blasio announced the launch of phase one of the body-worn camera (BWC) program in 2017, it was billed as a transparency measure aimed at reducing "mistrust between police and community." But the purported effort to improve police accountability has been more focused on producing evidence in criminal cases — where discovery laws now require it — and less on supporting misconduct investigations by the Civilian Complaint Review Board (CCRB), the main agency tasked with carrying them out.
When an arrest is made, the arresting officer sends complete BWC footage of the event to prosecutors almost immediately and in raw, unedited form, according to spokespeople from several New York City district attorneys' offices. But the NYPD has been delayed or completely delinquent in providing footage to the CCRB in roughly a third of the Board's open cases — cases raised by civilians against police officers, including ones that may not have involved an arrest.
The CCRB is a civilian body separate from the police department and district attorneys, with jurisdiction over claims of excessive force, abuse of authority, discourtesy, and offensive language. Its Board members are appointed by the mayor in conjunction with the City Council and police commissioner, and it is led by an executive director supervising roughly 180 employees. Under a 2012 agreement with the NYPD, the Board can prosecute allegations it substantiates in an administrative trial setting. Such a trial led outgoing Police Commissioner James O'Neill to fire Daniel Pantaleo this summer for misconduct during Garner's fatal arrest.
The de Blasio administration announced the completed roll-out of roughly 20,000 BWCs to all uniformed police officers in March, after two years piloting the program. Another 4,000 cameras have since been deployed to members of specialized NYPD units.
Month-to-month data published by the CCRB in October shows that since the full implementation of body cameras was announced, between 29 and 37 percent of its open investigations have footage requests pending with the NYPD. Prosecutors, on the other hand, have received hundreds of thousands of BWC videos since the technology was adopted, and in most cases the footage is transmitted automatically following an arrest.
Police officers are required to turn body cameras on during arrests, incidents where force is used, as well as certain stops and searches, patrols, and interactions with the public. The NYPD Patrol Guide also requires cameras be turned on during "potential crime-in-progress assignments," including investigations into a "suspicious person" and any incident involving a weapon.
As body cameras have proliferated across New York, they have become increasingly essential to the work of the Civilian Complaint Review Board, according to officials who say the evidence is "crucial" in investigating alleged misconduct -- the CCRB can only open a case when a civilian complaint is lodged.
They are also used by prosecutors in nearly every criminal case and the footage now falls under the state's discovery laws, which lawmakers overhauled this year.
According to the communications director for Brooklyn District Attorney Eric Gonzalez, Oren Yaniv, Gonzalez's office has accessed over 140,000 body worn camera videos since 2018. Other district attorney offices also reported receiving thousands of BWC videos.
Spokespeople for New York City district attorneys described a proprietary management system used by the NYPD that automatically transmits footage once an officer plugs their camera into a docking station and registers an arrest. "The NYPD system does not allow deleting, editing or altering the videos," Yaniv wrote in an email.
Cooperating with the CCRB
The CCRB's requests are handled differently. The results can mean censored and incomplete footage and significant delays in responding to investigators, who are operating under a statute of limitations.
Video footage, whether from a body-worn device, cell phone, or security camera, has become instrumental to CCRB investigations. In September, the CCRB substantiated 38 percent of misconduct allegations where video of the incident was available, compared with just 11 percent of cases where no video was available, according to an analysis released by the agency.
"The reality of policing in New York City is that Eric Garner's death in 2014 is not the only instance of police misconduct captured on video," said CCRB Chair Fred Davie, at the agency's September Board meeting.
Body-worn cameras help the CCRB make conclusive determinations, "but we can do so only if we receive that body-worn camera footage and receive it from the NYPD in a timely fashion," Davie said.
Under the City Charter, the police department has a legal obligation to provide BWC video and other evidence to the CCRB, according to a CCRB representative. But, unlike prosecutors collecting evidence related to an arrest, the CCRB's requests are subject to redaction and censorship, as well as delay.
Before sending footage to the CCRB, the NYPD is legally required to "pixelate-out" people's faces under certain circumstances captured on film, according to Al Baker, director of media relations at the police department. "For example, potential medical treatment (protected under federal law) or other prisoners in a cell whose arrest may be sealed," he wrote in an email.
"Also, we withhold the sex-crimes videos in their entirety, pursuant to CRL 50-b [part of the state's civil rights statute], unless a waiver is provided by the victim of the sex crime. This is a meticulous process that is necessary before release," he added.
Baker said the department has a dedicated body-worn camera unit for processing requests, which he says has received additional personnel to address the "backlog."
CCRB officials are indeed concerned that "unless there is a significant change, the backlog of CCRB requests for video evidence will continue to increase and impair the CCRB's ability to complete investigations within the 18-month statute of limitations," according to a September tweet from the Board's account.
"With all of its resources and technical expertise, the NYPD can and must produce body-camera footage much more quickly," wrote Christopher Dunn, Legal Director of the New York Civil Liberties Union, in an email to Gotham Gazette.
From January 2018 to November 7, 2019, the CCRB requested body camera footage in 5,149 investigations, according to data shared with Gotham Gazette. Throughout 2019, the number of requests has been between 300 and 400 per month, with two exceptions. The first month that the number of active body camera-involved cases reached 300 was in October 2018, five months before City Hall announced the full rollout of the cameras.
But it wasn't until the complete implementation in March of this year that the NYPD's response rate precipitously fell. Between January 2018 and February 2019, the portion of CCRB cases awaiting NYPD body camera footage hovered between just 1 and 17 percent. Since March, that range has lept to between 29 and 37 percent.
Footage in about 43 percent of requests is turned over by the NYPD to the CCRB within 30 days, and another 35 percent take between 30 and 60 days. In about 13 percent of footage requests by the CCRB — 79 cases as of the end of September — the calls have gone unanswered by the NYPD for more than 90 days.
"Even now, there is one case in particular — an allegation of excessive force and a civilian experiencing several broken bones and brain hemorrhaging — for which our investigators per the NYPD cannot access the body-worn camera footage related to that case," Davie said at the September Board meeting. The police department, he said, had denied the request in order to protect the privacy of a minor who was present in the relevant footage.
Asked about the CCRB's trouble getting police body camera footage, the mayor's office said it is under review. "We are reviewing these reports, and we will work with PD and CCRB on next steps," wrote Olivia Lapeyrolerie, a spokesperson for Mayor de Blasio, in an October email to Gotham Gazette.
The City Council Committee on Public Safety plans to hold an oversight hearing on Monday, November 18 to examine the police department's implementation of the cameras. The committee will discuss a bill introduced by Public Advocate Jumaane Williams that would require the NYPD to report information on the BWC program, including each incident where an officer uses their camera.
Baker noted that the NYPD this year has the largest deployment of body cameras in the nation, "therefore, we need to locate all BWC footage from any responding officer to a particular scene and make sure it goes through that rigorous process before being released."
Even the process of releasing footage to the CCRB and the public has been opaque since the city's rollout of BWCs, and remains so for the CCRB.
The police department recently published a two-page policy, an "operations order" within the department, for release of body camera footage of what it calls "critical incidents" — cases of death or serious injury because of police force — to the public, seven months since full implementation of the cameras was announced.
But while it discusses release of body camera footage to prosecutors and the public, the policy makes no explicit mention of footage capturing other potential misconduct that would fall under the CCRB's jurisdiction. An NYPD spokesperson confirmed by phone that dealing with CCRB requests falls outside the newly-published policy.
When asked if any written procedure exists, Baker wrote in an email, "That practice is constantly being fine-tuned to offer even faster turnarounds considering that a single request from the CCRB, about a single policing encounter, can mean that lengthy videos from dozens of officers must be carefully reviewed and possibly redacted."