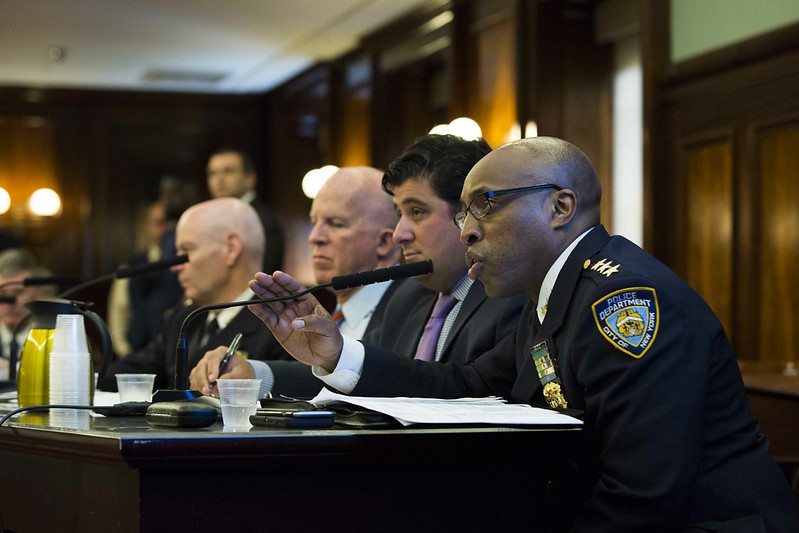 (photo: Emil Cohen/City Council)
---
The NYPD's body-worn camera policies are a "work in progress," a police official said at a hearing of the New York City Council's public safety committee on Monday, seeking to allay concerns expressed by Council members about the program that now includes more than 20,000 uniformed officers. At the hearing, Council members had questions and criticisms about transparency and accountability taking a back seat to surveillance and police authority, particularly with regard to the NYPD's control over body camera footage.
The NYPD rolled out cameras to every uniformed patrol officer by March of this year and more recently completed equipping 4,000 specialized team officers with cameras as well. It's a major potential step towards transparency and accountability for a department that has not had a reputation for either. But the implementation of the program has been accompanied by a slew of questions about the footage collected and when, and in what manner, it is released to the public, press, prosecutors, and external watchdogs.
The department only published its "operations order" on public release of footage last month, and that too without a public announcement (Gotham Gazette first reported the order's existence after repeatedly checking in with the NYPD until a link was provided). The order shows how much sway over the footage the NYPD is retaining, providing several sources of criticism for Council members and other stakeholders.
The policy also makes no reference to releasing footage to the Civilian Complaint Review Board, which investigates police misconduct and abuse of power complaints. CCRB requests for footage are often delayed, some for months at a time. Meanwhile, the department turns unedited footage of all arrests over to district attorney offices almost immediately.
"Basic transparency requires someone other than the NYPD to be the gatekeeper of this footage when a member of the public makes a complaint," said Council Member Donovan Richards, chair of the public safety committee, in his opening statement. "When an oversight agency is dependent on the discretion of the very agency it is overseeing, what you end up with is the wolf guarding the henhouse. We need to do better."
Richards, a Queens Democrat, is also troubled by the amount of discretion built into the policy on public release, which allows the police commissioner to decide within 30 days to release footage of "critical incidents" when an individual may be killed or severely injured by a police officer, or other incidents of intense public interest.
"The policy reads as a series of vague considerations, not a standard for the commissioner to follow," he said. "The result is that many people are rightly concerned that the department can decide to release footage only when it looks good for them, and that body worn cameras are in fact being used as another surveillance tool, rather than for the purpose they were intended: for accountability, transparency, and to encourage civil interactions between officers and members of the public."
Richards' worries were echoed by several Council members as they peppered NYPD Assistant Deputy Commissioner of Legal Matters Oleg Chernyavsky and Assistant Chief Matthew Pontillo to clarify and improve the department's body-worn camera policies.
"It's a work in progress," Chernyavsky said. "We're always learning. I mean, the idea here is to be transparent, and to give the public this vital information with as little delay as possible. If there's ways to do it better, we're certainly open to that."
Pontillo said body camera policies have been routinely adjusted since the first pilot program in 2015, and they continue to change. "We anticipate in the near future, we will revise the policy again. We'll probably add a couple of more categories of events that police officers get involved in, like responding to disputes," he said. "Department policies are always under review. No policy is ever written with the idea that it will exist in perpetuity, but rather, it's an evolution and this whole thing has been an evolution since early 2014 when we began the research."
Chernyavsky detailed the department's efforts to balance transparency with privacy as it faces a deluge of requests for footage. Since the launch of body cameras, the department has collected about 8 million videos, he said. On average, each video is about 8 minutes long and 130,000 new videos are uploaded to the department's cloud video storage each week. These are then accessible to prosecutors automatically.
For the CCRB's disciplinary investigations, however, the department edits and redacts videos as it deems necessary under state laws. This year, the CCRB has made about 3,700 requests, which generated almost 14,500 responsive videos, Chernyavsky said, up from 2,080 requests in 2018, which led to 6,134 responsive videos. Another 870 request for footage were made this year under the Freedom of Information Law, with roughly 3,000 videos provided in response.
He also emphasized the department's internal quality control and random auditing process, and said the most recent 28-day audit showed 92% compliance by officers with guidelines in the NYPD Patrol Guide, which include when to turn the cameras on and off.
Another topic of discussion at the hearing was a bill proposed by Public Advocate Jumaane Williams that would place detailed reporting requirements for the NYPD's body-camera program. Though Chernyavsky said the department was open to collaborating with the City Council to create some form of reporting mechanism, he said Williams' bill as written was far too onerous.
"The bill would require us to report on data which could not be captured without a trained analyst watching and listening to every recording in its entirety, then conducting an investigation to gather additional data points," he said in his testimony, noting that the department would need to hire and train about 800 new analysts and investigators to meet that need.
Richards pointed out, as Gotham Gazette has reported, that the CCRB experiences delays in receiving footage, which can be heavily edited, and sometimes has its requests denied outright. "Why do you have to be the gatekeeper? Can't you just give access to the CCRB so they can look for the footage they need to investigate their cases?" he asked.
But Chernyavsky argued that the CCRB does not have the same authority as district attorneys and so is subject to certain restrictions that stem from state laws on privacy. He did say the department is trying to reduce delays as far as possible. "We've been working collaboratively with [the CCRB] to streamline the process even further, and to reduce the turnaround times even more, and we're anticipating that will be able to do that, especially in the near future to hopefully almost eliminate any kind of delay and turnaround time," he said.
That explanation wasn't adequate for Council Member Rory Lancman, another Queens Democrat and a longtime critic of certain NYPD practices, who questioned why the operations order on public release did not include a time-bound mechanism for releasing footage to the CCRB. "It's very disturbing to me that this order lacks a clear mechanism for getting BWC footage to the CCRB in a timely manner," he said.
He also pointed out, as did Council Member Brad Lander after him, that the operation order merely says the commissioner will decide within 30 days whether to release footage of a critical incident to the public. It does not seem to mandate the release, Lancman said. He also questioned whether the policy's stated guidelines on releasing representative samples of footage would allow the NYPD to create a narrative of incidents that would protect its officers rather than reveal the truth.
Pontillo and Chernyavsky, however, sought to reassure him. "This procedure creates a presumption of release," Pontillo said. Chernyavsky said representative samples are part of a common sense policy. "What we are striving to do is to give this type of sample, where possible to attach a more comprehensive video to it, when you have a situation where there is just so much video footage that it's not feasible to turn it around that quickly," he said. "You may have a situation where we're putting out something of great public interest rather than simply being silent for an extended amount of time."
Several Council members also pushed the police officials to commit to ensuring that body camera footage is released immediately or is at least allowed to be reviewed by the family members of individuals killed in police-involved shootings. They cited two recent examples: the fatal police shooting of Kawaski Trawick in the Bronx in April and the September incident where officers shot one of their own, Brian Mulkeen, and a civilian, Antonio Williams, in a hail of bullets. In both cases, neither Trawick's nor Williams' families have been allowed access to footage from officers on the scene. "I do think just families should have access sooner than everybody else," Public Advocate Williams said. "That seems to make sense to me."
But the operations order notes that families of those involved would be notified and shown footage only before it is publicly released, as has been the department's practice. Families do not receive immediate access when they demand it.
Civil rights and police reform advocates who spoke at the hearing in support of Williams' bill expressed additional criticisms of the overall body-camera program.
Jacqueline Caruana, senior trial attorney at the criminal defense practice at Brooklyn Defender Services, said the program is currently being used to the NYPD's advantage rather than for transparency. "Any legislation that establishes reporting requirements for body-worn camera usage will likely be ineffectual if it does not also impose a consequence for failure to follow them, and if the department itself remains generally unwilling to penalize offices for misconduct," she said.
Michael Sisitzky of the New York Civil Liberties Union said the NYPD's total control over cameras and footage undermines the goals of the program. "If it becomes apparent that these cameras are primarily focused on surveillance and tool for prosecution, New York City must be open to reconsidering whether the substantial sums currently spent on this NYPD program could be better invested in our communities," he said in written testimony.
Lenora Easter, team leader of the early defense team at the criminal defense practice of The Bronx Defenders, urged the Council to close a loophole that allows officers discretion to not turn on their cameras in exigent circumstances. She also pushed for increasing the "buffering period" on officer cameras – the two types of cameras currently used will save 30 seconds and 1 minute of footage prior to a camera being turned on. That extra buffer provides added context to an incident but recorded without audio.
Laura Hecht-Felella, legal fellow at the Brennan Center for Justice, said Williams' bill should be passed alongside the Public Oversight of Surveillance Technology (POST) Act, a bill introduced by Council Member Vanessa Gibson to mandate the NYPD disclose information about the surveillance tools it uses. The NYPD has vehemently opposed that bill over the course of two Council sessions.