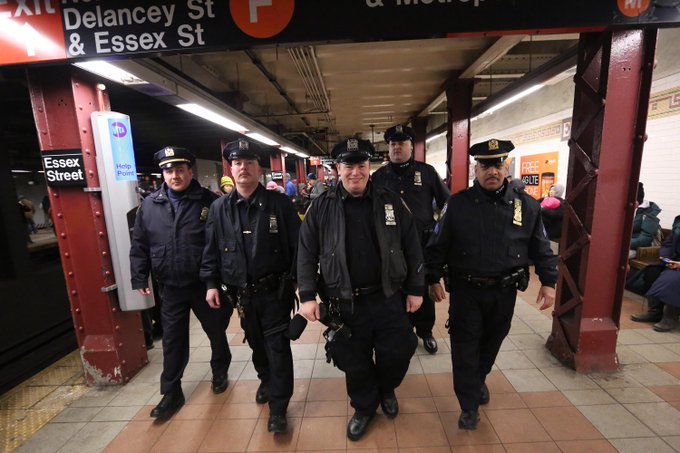 (photo: NYPD)
---
The MTA's crackdown on fare evasion and homelessness in the city's subway system, at the behest of Governor Andrew Cuomo and with support from Mayor Bill de Blasio, is facing a chorus of criticism over the criminalization of poverty and targeting largely of New Yorkers of color. Rather than a police response, these issues can be better handled by stronger safety net programs, including discounted Metrocards, and outreach from social workers, some critics say, while others also point out the MTA is in no fiscal position to hire the planned 500 new transit police officers ordered by the governor.
On Tuesday, Community Board 11 in Manhattan expressed its displeasure with the plan by passing a resolution calling for the subway policing plan to be scrapped and for funds to be redirected to communities in need, including $40 million pledged toward hiring police officers by District Attorney Cyrus Vance.
In September, Cuomo pushed the MTA to hire 500 more police officers to address so-called quality of life issues that he said were plaguing the subways. The governor, who has not ridden the subway since December 2016, and only then in a ceremonial journey to open the new Second Avenue line stops, repeatedly insisted that major crime was up on the subway, despite NYPD data showing the opposite, and said more officers were necessary to deal with increasing numbers of individuals experiencing homelessness and finding refuge underground.
Those 500 officers, estimated to cost $56 million in the first year and about $260 million by 2023, were in addition to 500 officers that had already been diverted by the governor and mayor to reduce fare evasion, supported with the $40-million infusion from Vance, whose policy of not prosecuting most fare-evaders had come under scrutiny from Cuomo and others who started to redirect ire over subway performance toward those who evade the fare.
As general criticism was expressed by many, a series of high-profile incidents of aggressive arrests, as well as the handcuffing of two women selling churros in the subway, were captured on video and led to additional public outcry. Just last week in East Harlem, a young black man was tackled to the ground by four police officers for illegally selling candy on a subway platform. The arrest was criticized by State Senator Brian Benjamin and Assembly Member Robert Rodriguez on Twitter.
East Harlem, along with Randall's Island and Ward's Island, makes of the core of Manhattan's Community Board 11. This past Thursday, every member of CB11's executive committee – except for Jose Altamirano, chair of its public safety and transportation committee – voted to adopt a resolution that calls on Cuomo to claw back the plan to hire the 500 new MTA officers and to reinvest funds into improving public transit. It also calls on DA Vance to divert the $40 million to reentry programs for formerly incarcerated individuals.
"Governor Cuomo's explicit purpose in hiring 500 additional MTA cops is to police fare evasion, homelessness, and so-called quality of life issues. This is not about public safety," said Jason Wu, the CB11 member who drafted the resolution, in an email. "When 89% of fare evasion arrests are of people of color and a third of East Harlem residents lives below the federal poverty line, we are talking about a policy that reinforces systemic racism and criminalizing poverty."
The full community board voted on the resolution Tuesday evening, passing it with an overwhelming majority. Ahead of the vote, several elected officials and their representatives came out in opposition to the MTA's plan. The resolution notes that the annual median household income in East Harlem is far lower than the median citywide annual income, that a third of families there live under the federal poverty line and that incarceration rates in the community are among the highest in the city. It's the kind of neighborhood that would be particularly impacted by the type of crackdown envisioned by Cuomo and the MTA, and in some ways already underway via apparent efforts by the MTA and NYPD. De Blasio has expressed support for the additional 500 MTA police officers, while other top city officials have expressed skepticism or criticism about the plans or the recent subway policing incidents.
"Our elected officials cannot remain silent," Wu said, promising to push local and state elected officials to similarly reject the governor's plan. "We need our leaders to defend our community members from police violence and abuse, and if they won't lead on this issue, then the Community Board must."
As Gotham Gazette reported, earlier in the week, 24 City Council Members wrote a letter to MTA Chair and CEO Pat Foye to push for a different approach to fare evasion that does not lead to overpolicing of communities of color.
Note - this article has been updated to note that the MTA plan to hire 500 new officers will cost $260 million in total by 2023, not annually.
Note - This article was updated on Nov. 22 to reflect that the resolution was approved by the Community Board.