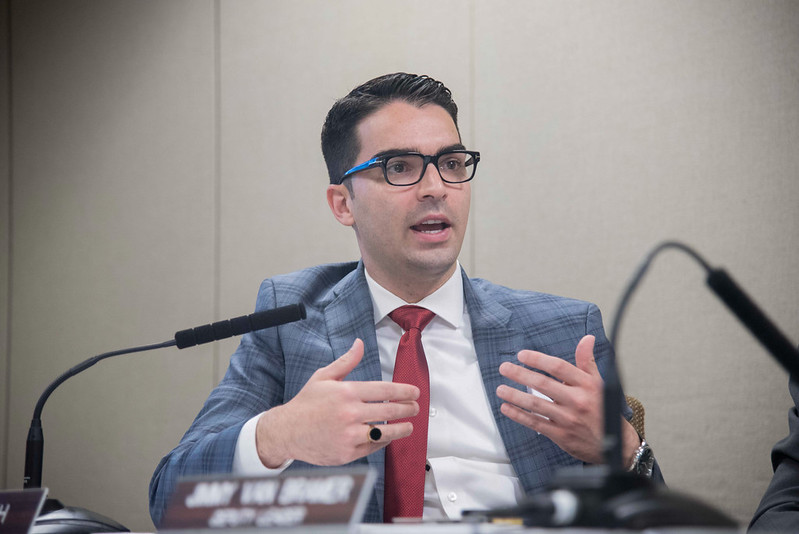 Council Member Eric Ulrich (photo: John McCarten/City Council)
---
With 2019 voting in the books and a major election year on the horizon, a behind-the-scenes effort is underway to replace the executive director of the New York City Board of Elections, a quasi-city agency with a reputation for mismanagement and political patronage. City Council Member Eric Ulrich, a Queens Republican, is expressing interest in the position and says he may soon have the support necessary to be appointed by the board's commissioners.
The BOE is essentially a state entity but is funded in the city budget. The board itself is composed of ten commissioners, two from each borough, with one Democrat and one Republican as nominated by the local party leaders. The commissioners then appoint an executive director to handle the day-to-day operations of the agency and its staff. Ryan, an attorney from Staten Island, has served in that position since 2013, but like his predecessors he has struggled to professionalize the agency and has faced calls for his resignation.
As this year's election season, the first with early voting and other recent reforms in place, is wrapping up with final votes counted and results certified, legislative bodies at the city and state levels have been taking stock of the BOE's performance. And while Ryan and the agency have received some praise for the inaugural early voting period, long-standing interest in him being replaced has led to a new flurry of activity, Gotham Gazette has learned. That activity includes Ulrich's pursuit of the position, he said during a Friday interview.
While the City Council does have the power to confirm BOE nominees put forth by the borough leaders of the two political parties, the BOE's structure under the law means that the Council can scrutinize the agency's performance in oversight hearings, but cannot mandate any reforms. That has proven to be a constant source of frustration after repeated instances of failures by the BOE to conduct efficient elections.
For instance, after the 2016 presidential primary, it emerged that thousands of voters had been improperly purged from the voter rolls, prompting a $20-million offer from Mayor Bill de Blasio to make much needed improvements, which the board rejected. The board later conceded that it violated state and federal laws for the voter purge. During elections, long lines at the polls and broken-down voting machines are common sources of frustration. The board has also been criticized for failing to inform voters when their poll sites are moved, among other complaints.
Government reform groups and elected officials have sought to pressure the BOE to improve, criticizing its hiring, often based on political patronage, and contracting processes. The BOE, however, has been resistant to those external calls. Ryan, as the face of the board, has borne the brunt of the criticism and has been the cause of it as well.
Last year, just weeks after an abysmally managed Election Day, NY1 reported that Ryan had accepted paid trips from a voting machine manufacturer that supplies the city and stands to gain further from Ryan's sway and insights. The mismanagement of the election and the subsequent conflict of interest allegation prompted wide calls for Ryan's resignation, including from City Council Speaker Corey Johnson, City Comptroller Scott Stringer, and other elected officials and good government groups.
Though the BOE did receive some praise for this most recent election, it will have its work cut out in 2020. There are three major election events next year – the presidential primary in April, state and congressional primary in June, and the general election in November. Turnout will also be much higher than in 2019, which saw few competitive races across the city.
"We've seen long-standing issues with the executive director of the [BOE]," said Susan Lerner, executive director of Common Cause New York, a government reform advocacy group, specifically citing the conflict of interest issues, which led Ryan to announce changes to his behavior. "He has been leading the board in a direction which is very disquieting, where the business plan of the vendor seems to be taking precedence over the needs of the voter."
Lerner emphasized the need to professionalize the ranks of the BOE and, to the extent possible short of state law change, move it in a nonpartisan direction.
That's a task that's easier said than done. The nominations of BOE commissioners by the county party bosses are rarely contested, particularly considering that they are approved by their allies in the Council. Lerner said the process should be more public facing. "Voters and the public interest must be first and foremost as we go into the 2020 election," she said. "Voters seem to have no role in our election and election administration process. It's just backwards. We have an antiquated 19th-century approach to election administration."
She added, "If there's going to be a change, it should be made now, because there's a lot that needs to be done to gear up for 2020, including getting procedures in place, locations and procedures for early voting, we need more professional staff and quickly, and to run it all effectively."
Council Member Ulrich, who is term-limited from running for his current seat again in 2021, the next city election cycle, told Gotham Gazette he has had conversations in recent weeks with county leaders from both parties about the job. "I'm very interested in going into the Board of Elections and turning that place around," he said in a phone interview.
"The Board of Elections is in dire need of reform. It has been, for a very long time, a dysfunctional place and I would say most New Yorkers lost confidence in the board's ability to conduct efficient elections a long time ago," Ulrich said. "And the board hasn't done a very good job of restoring the public trust or confidence in how the Board of Elections actually carries out the election."
Ulrich, one of three Republicans in the 51-member City Council, is not a partisan hardliner and is far more moderate than most members of his own party, often finding common ground with Democrats on legislation. He regularly argues in support of campaign finance and voting reforms that are opposed by most Republicans, but he is also not closely aligned with any Democratic power-brokers.
"I don't have the same political constraints that someone else might have," he said. "I would really be able to go in there and truly be independent and manage the agency more effectively than it is currently being managed." Acknowledging the major task at hand with both reforming the operations of the BOE and implementing the elections of 2020 (and beyond), Ulrich said he would aggressively act to clean up the agency and that he has enough familiarity with its operations to be able to hit the ground running.
In order to be appointed executive director, Ulrich would need the votes of six commissioners on the board. He said he's counting on affirmative votes from the four Republican commissioners – there is a vacancy for the Republican commissioner from the Bronx – and said that he has spoken with Democratic county leaders to court their support. He said, though that only certain Democratic leaders appear open to his candidacy.
Ulrich said that commissioners appointed by the more powerful Queens and Bronx Democratic county machines are "very much opposed" to him replacing Ryan. The Queens and Bronx Democrats helped elect Johnson as speaker of the Council. It's unclear what role Johnson or those two county parties are playing in the process of possibly replacing Ryan in leading the BOE.
"There are some county leaders in the city of New York who like the status quo, who like the patronage jobs, and who don't want anything to change," Ulrich said. "And that is to be expected. I don't expect to win over their support. But I think that there is definitely momentum for changing the leadership of the Board of Elections, and there's frustration on the part of some others who feel like the places is operating, not in the 21st century."
"It doesn't take a political scientist or rocket scientist to know that the Board of Elections desperately needs...an extreme makeover," he added.
Neither Johnson's nor de Blasio's office provided Gotham Gazette with comment for this article.
A source familiar with the backroom negotiations told Gotham Gazette that Ulrich is currently close to securing five votes, indicating that at least one Democratic commissioner is willing to back him as he pursues a sixth and decisive vote. Ryan is a Staten Island Democrat himself, adding complication to how the borough's leadership may act; Brooklyn Democratic leadership has often acted in opposition to that of Queens and the Bronx, and Manhattan Democrats are the most open to various compromises.
Lerner, for one, said she would support Ulrich to be the next executive director. "To the extent that there's an ongoing desire to replace the executive director with someone who is reform-minded and has a good track record of working with people across the political spectrum, Eric would be a good choice," she said when asked about his candidacy. "Replacing Mike Ryan with another person whose primary focus is on keeping the political leadership happy would be a tragic misstep as we go into 2020."
Ben Max contributed to this article.