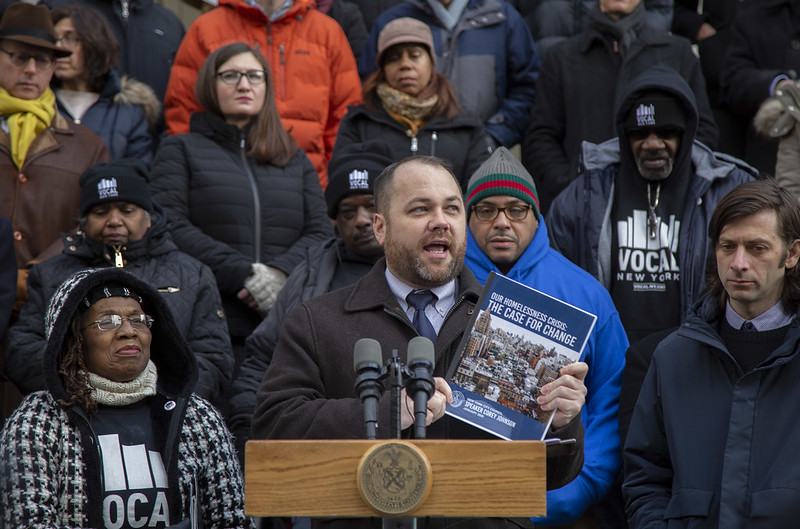 (photo: John McCarten/City Council)
---
New York City Council Speaker Corey Johnson on Thursday released a plan that he said takes a "smarter, more strategic, holistic, long-term" approach to addressing the city's homelessness crisis, seeking to end what he called the siloed policies of Mayor Bill de Blasio's administration and calling for more funding from the city and state to both help homeless individuals find permanent housing and prevent people from becoming homeless in the first place.
"This is, without exaggeration, a humanitarian crisis in the wealthiest city in the United States of America, and the time has come for urgent action," Johnson said at the steps of City Hall, standing with advocates from non-profit organizations that provide services to the homeless and Council Member Stephen Levin, who chairs the Council's General Welfare Committee with oversight of homelessness.
There are roughly 80,000 individuals living in New York City homeless shelters or on the street, while tens of thousands of others are living doubled up with friends or relatives. Of that number, about 20,000 are children under the age of 18. De Blasio has released various homelessness plans and instituted many relevant programs, but the issue remains one of his main challenges. While the administration has been successful in slowing the growth of homelessness through rental subsidies, eviction protections, and new housing, over more than six years it has not been able to reduce the city's homeless population.
"We know what we need to do. We know the policies that need to happen to make sure that we are doing the historic work to bring down our shelter census, to reduce the length of stay [in a shelter]," Levin said, noting that the average length of stay is 400 days.
He added, "Just think for a second about what it's like to be a three-year-old child, spending half of your life living in a hotel room without a refrigerator, without a kitchen, no place to do your homework, no place for recreation, limited opportunities for after school or any types of enrichment. What kind of stress that has on that child, what kind of stress that has on that family. Multiply that by 20,000. That's what we're facing."
The Council's plan released on Thursday is a 200-plus page document that has been in the works for 18 months, Johnson said, and would fundamentally rework the city's current approach to homelessness that has shown limited results despite a massive increase in city spending.
The plan is extensive, with 90 policy recommendations under six umbrellas – preventing homelessness, increasing access to permanent affordable housing, increasing support for unsheltered homeless people, improving services for the sheltered population, consolidating housing and homelessness policy, and creating a long-term approach to the issue instead of "lurching from crisis to crisis," Johnson said.
De Blasio has released different iterations of plans to fight homelessness. Most recently, in 2017, he announced a plan to build 90 new homeless shelters while closing down troubled cluster sites and inadequate hotels contracted by the city to temporarily house homeless people. In December 2019, he announced a new plan to end long-term street homelessness by enhancing outreach, opening more "safe haven" beds, and dedicating more city-subsidized apartments to those coming out of homelessness.
But while he gave the mayor some credit, Johnson critiqued the de Blasio administration for effectively siloing homelessness from housing and not offering an overall plan to meet the real needs of the city's most vulnerable. "That makes no sense," he said, emphasizing that housing and homelessness are two sides of the same coin and proposing that the city create a new position of deputy mayor for homelessness and affordable housing (there is currently a deputy mayor for housing and economic development while the deputy mayor for health and human services oversees much of the approach to addressing homelessness).
"All of us know what ultimately solves homelessness is simple. It is housing," said Nathylin Flowers, a homeless activist who said she will turn 74 in March and will have spent five years living in shelter. Flowers famously confronted de Blasio over his housing policies in 2018 while he was working out at the Prospect Park Y.M.C.A., to which he was dismissive. "That's all we need, housing," she said.
Johnson noted that the city has massively increased spending on homelessness – the first budget passed under Mayor de Blasio spent $954 million on the Department of Homeless Services, while the mayor's latest budget proposal for the 2021 fiscal year allocates more than $2.1 billion towards the agency. "Blind spending will not solve the homelessness crisis," Johnson said.
One of the major steps Johnson said would immediately reduce the homeless population would be to increase the value of rental subsidy vouchers for those experiencing or at risk of homelessness from the current maximum of $1,580 to a fair market rate of up to $1,951. He largely placed responsibility for this measure on the state, calling on the Legislature to establish the Home Stability Support program proposed by Assemblymember Andrew Hevesi of Queens. The program would create a new statewide rental subsidy, but has so far been opposed by Governor Andrew Cuomo.
But Johnson also said the city should pitch in more funding if the state fails to act. According to estimates from the Council, increasing rental subsidies to fair market rate would cost about $236 million over five years, but simultaneously would help reduce spending on cluster sites and commercial hotels by about $400 million.
Johnson also said the city should prioritize increasing the number of safe haven beds and supportive housing for the chronically street homeless. "These are not just aspirational goals that are in this 200-plus page report," Johnson said. "These are feasible policies that will work to help prevent homelessness, increase pathways to permanent housing, and support our neighbors who are currently experiencing homelessness."
In response to Johnson's press conference and plan, de Blasio's office noted that the mayor still has two years left to address the homelessness crisis and that while he has admitted he should have done more earlier in his term, he has put a lot in place over the last few years. "Through unprecedented investments in legal services and housing resources, we've helped more than 140,000 New Yorkers secure permanent affordable homes, all while driving down evictions by over a third and overhauling our shelter system," said Avery Cohen, a de Blasio spokesperson, in a statement. "With our Journey Home Plan, we'll be taking this progress even further—pledging to bring every last person experiencing long-term homelessness off our streets over the next five years. We look forward to continuing our collaboration with the Council as we do everything we can to bring more people home."
Advocates and organizers heaped praise on the Council report at the news conference on Thursday. "It's not going to be one thing, and if it was, we would have solved it. It's many things done to scale that will help turn this crisis around," said Catherine Trapani, executive director of Homeless Services United. "And that's what this report calls for."
Johnson said at the press conference that the Council is also working on a housing plan, which will work in tandem with the homelessness plan to accomplish what the speaker stressed as an essential combination. It didn't go unnoticed that Johnson's announcement came the day after his likely 2021 Democratic mayoral primary opponent Comptroller Scott Stringer released a new affordable housing plan, which also assailed de Blasio for how he has approached that issue. Johnson stressed that, like Stringer's, his was a government announcement, and that the Council had been working on the plan for well over a year, but also said that he expects housing and homelessness to be key pieces of the conversation in the mayoral race.
Note - this article has been updated with comment from Council Member Levin and from de Blasio's office.