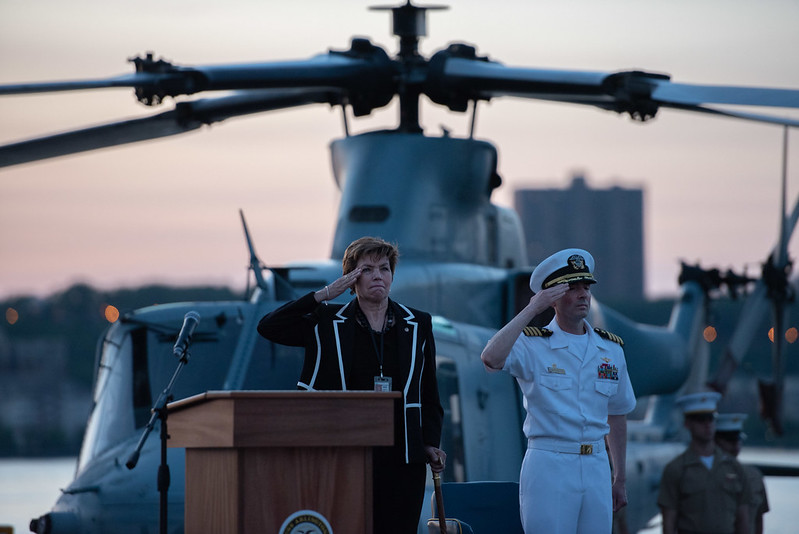 Former veterans commissioner Loree Sutton (photo: Michael Appleton/Mayor's Office)
---
Loree Sutton knows Mayor Bill de Blasio well, having been hired by him as commissioner of the New York City Department of Veterans' Services, and she's now running to succeed him on a platform of bringing a very different leadership style atop city government.
"I saw things to continue to deteriorate in our city, the quality of life and all that we see around us in the city, I kept looking for who is the common-sense candidate, the passionate pragmatist, the person that is going to be able to draw energy and ideas and insights from both sides of the political spectrum and forge common-sense solutions going forward," Sutton explained about her decision to run for mayor during a recent appearance on the Max & Murphy podcast. "I didn't see it. I saw politics as fear. I saw career politicians who were rushing for the far left. I saw industry, real estate, being demonized. We are so much better than this."
A 30-year veteran who retired as a Brigadier General and top Army psychiatrist, Sutton was de Blasio's first veterans affairs commissioner and announced her plan to run for mayor in the 2021 race soon after leaving the administration last year. Sutton plans to compete in the June 2021 Democratic primary as a moderate alternative to candidates she believes are mostly running too far to the left and on a platform of consensus-building leadership, with a focus on delivering city services as "the quality-of-life" mayor, as she put it on the podcast.
"New Yorkers are hungry for a different kind of leader and a different kind of leadership and that's what I bring," she said.
Though Sutton had little background in or ties to New York City before moving here just before de Blasio was first elected mayor in 2013, she believes her work in city government, her military service, and her ability to build relationships will help her compete with several expected candidates who currently hold elected office or worked in city and federal government for many years. Those likely or possible Democratic competitors include Comptroller Scott Stringer, Brooklyn Borough President Eric Adams, City Council Speaker Corey Johnson, and former Bloomberg and Obama aide Shaun Donovan. Nonprofit executive Dianne Morales is also seeking the nomination, and others may jump into the race.
Sutton has been critical of de Blasio's leadership, including his struggles to forge strong working relationships with Governor Andrew Cuomo and others. She cited the "Amazon debacle" and pointed to the departure of Andy Byford from the MTA, and sounded the alarm about what she sees as a deteriorating sense of law and order on city streets.
"So much boils down to relationships," she said when asked to explain what she sees as deteriorating in the city under de Blasio. "We've seen the fractured relationship between the mayor and the governor which hasn't served us well. The one project they collaborated on over these last few years was the Amazon debacle. We saw how that went, political malpractice at all levels."
"I'm a general officer, I'm a proven leader -- I know how to get stuff done," she said. "I'm a psychiatrist; relationships matter to me. I want to bring our city together and relationships are the key to that success. We can form the kinds of partnerships and restore trust, credibility, and pride to our city."
She wants what she describes as an "L-train solutions" in all areas of policy, referring to Cuomo's effort to overrule long-established plans for something seen as less disruptive to commuters by bringing in outside experts for a fresh perspective and thinking outside the box. She cited both the L-train repairs and the 14th Street busway as good examples where creative solutions have been sought and found.
"When I first moved here to New York, I heard about this L-train looming disaster and then, lo and behold, when the governor brought in some engineers that looked at this, they said 'we don't have to close the whole train down, we can reimagine this and do things a different way,'" she explained.
One of Sutton's main areas of focus in her campaign is mental health care, and fixing a system that she and other critics believe de Blasio has designed poorly in attempts, spearheaded by First Lady Chirlane McCray, to take on the issue.
"You've gotta go where the seriously mentally ill are," Sutton said. "They tend to be in our jails, in our shelters, in our hospitals and emergency rooms. We have to have community resources whether it be secure diversion programs, that seriously mentally ill who are arrested that they can enroll in those programs on a voluntary or involuntary programs up to one to two years."
She emphasized the need for a system-level approach, that there's no "one size fits all" answer to mental health programming in the city, and did say some kind words about the de Blasio/McCray ThriveNYC program. Sutton helped run some mental health programming through the Department of Veterans' Services, saying, "It depends upon us working across the entire spectrum of mental health issues, which I think the Thrive program was designed to do. Now they're working hard to extend that across the spectrum of mental illness and I applaud that. I think the credibility, the accessibility, the transparency, the oversight that is now starting to take root, is very heartening."
About 16 months from the primary, Sutton does not appear to have outlined key policy proposals or platform focus areas, but indicated they will come in due time. At this point she appears mostly trying to establish her candidacy around her leadership style, including in juxtaposition to de Blasio's, and pitching herself to New Yorkers as a sensible, center-left Democrat who wants to run city government well. She criticizes those of her competitors who are eschewing the real estate industry and its plentiful campaign donations, crediting it for important contributions to the city and saying that it is divisive to cast out all the people in a large, essential industry.
Asked about what other policy areas she wants to tackle and de Blasio programs she would undo or alter, Sutton said, "I think it's important for communities to be able to come together and get beyond the debate between charter schools and regular public schools and be able to focus on school as community centers." She praised the de Blasio administration's community schools program and said she wants to "double and triple down that investment so that there is year-round programming at schools."
"We can engage with parents, as well as students and really open up and ensure a range of options for our students to ensure not just their success in careers but in life, in citizenship and in service," she continued. "I think it's important to establish apprenticeships to be able to introduce our students to all kinds of different roles in the world."
While she was critical of de Blasio's relationship-building capabilities, Sutton was sure to say that he was "absolutely right" on his approach to the policing tactic of stop-and-frisk, the use of which his police department has significantly decreased after a great deal of controversy during Mayor Michael Bloomberg's tenure and de Blasio's 2013 campaign focus on the issue (stop-and-frisks dropped dramatically in Bloomberg's final years as he faced a federal lawsuit and a great deal of criticism).
But, Sutton stressed, the next mayor must address a "growing sense of disrespect and lawlessness" she says is happening in New York City, "that I do think is tied to backing away from the kind of quality of life offenses, broken-windows policing methods that have worked so well in the past minus the overuse of stop-and-frisk."
"I think that this next mayor is going to have to move from a tale of two cities to become a mayor of one city and quality-of-life resides at the very heart of that," Sutton said. "It's about education. It's about safety. It's about partnerships. It's about the environment. It's about community and those relationships. It's about transit. That's what I bring to the table."
[Listen to Sutton's full appearance on the Max & Murphy podcast]
Ben Max contributed to this article.