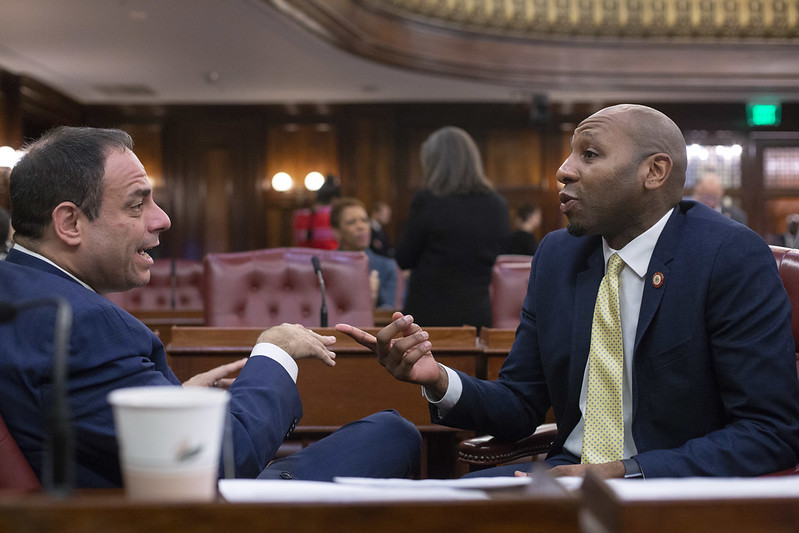 Council Members Constantinides, left, & Richards (photo: John McCarten/City Council)
---
As the number of confirmed coronavirus cases skyrocketed in the city this month, Mayor Bill de Blasio decided to cancel the special election for Queens Borough President that was scheduled to conclude March 24.
Early voting had already begun in the special election to fill a vacancy that was created when the former officeholder, Melinda Katz, was elected Queens District Attorney. A spokesperson for the mayor said that "pending state approval," the city will reschedule the election – along with another special election for the City Council's District 37 seat, which was set for late April, – for June 23, when state and congressional primaries are slated to take place.
The winning candidate in each of the two special elections would serve the remainder of the term, through December 2021, rather than having to run for reelection in a primary and general this year, as had been required before the coronavirus outbreak.
On Saturday, Governor Andrew Cuomo announced that he is postponing the April 28 presidential primary election and special elections set for that date, including the Council District 37 election, to all coincide with the June 23 primaries, though the executive order did not mention the Queens Borough President election. Then on Sunday, Cuomo signed another executive order moving the Queens Borough President special eleciton to June 23 as well, and clarifying candidate eligibility.
"The special election in the City of New York to fill the vacancy in the Office of Borough President of Queens is rescheduled for June 23, 2020," the executive order states. "Only candidates who were eligible to appear on the ballot for the March 24, 2020 special election shall appear on the ballot for the June 23, 2020 special election."
Like other elections set for June 23, there will be an early voting period from Saturday June 13 through Sunday June 21, with a day of no voting on Monday June 22, followed by the election day of June 23. There is some discussion in Albany of allowing all voters to vote by mail, but nothing has advanced yet. But there's a catch: as of now, on those same June dates, there will be both the special election for Queens Borough President to see who holds the seat for the rest of 2020 and the party primaries to nominate candidates for the November general election that will determine the officeholder for 2021.
The Queens Borough President Race
The election is a six-way contest among sitting City Council Members Donovan Richards and Costa Constantinides; former City Council Member Elizabeth Crowley; retired NYPD Sergeant and police reform advocate Anthony Miranda; former Queens Assistant District Attorney Jim Quinn; and Dao Yin, a community activist with corporate experience.
The special election scheduled for March was to be nonpartisan, with any registered voter in the borough able to cast a ballot; candidates were not running on established party lines and each created their own party name to appear on the ballot. Whichever candidate received the most votes was to win, no matter the percentage -- there is no run-off and ranked-choice voting, which was approved by voters by ballot referenda last year, does not go into effect until 2021.
These rules will be recreated for June, so all Queens voters would be able to participate in the borough president special election. But if officials keep the party primaries for Queens Borough President at the same time, only party-affiliated voters will be able to participate in that one of the two concurrent borough president elections.
One factor that none of the candidates could have accounted for is the disruption currently rippling across the city because of the coronavirus pandemic. Before the election was suspended, candidates were already reeling and drastically altering their campaigning strategies. On March 14, Governor Cuomo did sign an executive order suspending the ballot petitioning process while also cutting the signature requirement to 30% of the threshold.
The six candidates in the special election are seeking to represent a borough of more than 2 million people, nearly half of whom were born outside the United States. Gotham Gazette interviewed five of the six candidates over the phone – Dao Yin's campaign did not respond to inquiries – and they mostly agreed that the main issues that Queens voters care about are affordable housing, transit, environmental protection, public safety and criminal justice, and job growth.
Queens, as is the case with the entire city, is struggling with an affordability crisis that threatens to drive out low-income residents, particularly in communities of color, as gentrification continues in a number of neighborhoods. About 85% of the borough has limited if any access to subway lines, with large portions considered public transit deserts. Parts of the borough continue to feel the devastating impact of 2012's Hurricane Sandy, with homeowners facing rising ocean water and flood insurance rates. The borough will also eventually house a new jail, approved as part of the Rikers Island closure plan, which was part of what brought criminal justice and pre-trial justice issues to the forefront in last year's Queens District Attorney race. The massive Sunnyside Yard development plan is beginning to gain steam and will be a key project for the next borough president to monitor and influence.
The borough president does not hold the same power as an elected legislator on all those issues but the office offers a prominent bully pulpit, depending on how it's wielded, among other defined and fungible resources. Borough presidents play a significant role in influencing land use decisions but do not have a binding vote. They control millions of dollars in capital funding every year for infrastructure projects like schools, parks, libraries, and bike lanes. They appoint members of community boards, who also play an advisory role in local land use decisions. And they have the ability to sponsor legislation before the City Council, though they cannot vote on that either. The borough president sits on the Pension Board of Trustees and appoints a member to the citywide Panel for Educational Policy, as well as members to local Community Education Councils and a member to the City Planning Commission. Mostly, the borough president is the borough's community liaison, advocate, defender, ombudsperson, and cheerleader, all wrapped in one.
The candidates Gotham Gazette spoke with -- interviews that occurred just before the coronavirus outbreak took over the city and postponed the special election -- outlined different visions for the role and how they'd use it to help Queens residents.
Richards: "I've led on each one of these issues."
Though there's been no public polling in the race, some consider City Council Member Richards the frontrunner after he was endorsed by the Queens County Democratic Party and many Queens elected officials at various levels of government. He has since been backed by leaders of the Brooklyn Democratic Party as well and prominent unions including the United Federation of Teachers and the Hotel Trades Council.
Richards has represented District 31, which covers Southeast Queens and Far Rockaway, in the Council since 2013. His borough president campaign pitch is not so much about what he would do for the borough but rather what he has already done as a member of the City Council.
In his seven years in the Council, he has served as chair of the environmental protection committee, the zoning and franchises committee, and the public safety committee. "Everybody will talk about climate change. They'll talk about the need for housing, they talk about safety. And over the course of the last six years, I've led on each one of these issues," he said. He ticked off pieces of his record: helping coauthor the city's OneNYC sustainability plan to fight climate change, spearheading the Downtown Far Rockaway rezoning, which he worked with the de Blasio administration on and is already bearing fruit, and the Peninsula Hospital rezoning (a private plan yet to be approved), and securing $2 billion in funding for infrastructure in his community.
"We've shown over the course of the last six years that we are ready to make sure every corner of Queens feels represented," he said.
Richards prides himself on being able to meet people in the middle on issues. It's what defines his approach to public safety and policing. He's played a prominent role in the Council's efforts to reform the NYPD and drastically reduce marijuana summonses, while also negotiating with the administration to build a new $94 million police precinct in his district. He asks pointed questions of NYPD officials while chairing oversight and legislative hearings, but always appears ready to find common ground with department leaders. At the same time, he has been outspoken about wanting to see more accountability for officers who unjustly harm civilians, particularly in instances where black men have been killed or injured by police.
Somewhat controversially, Richards hasn't shied away from real estate donations, which some of the other candidates have eschewed as have progressive Democrats more broadly in recent elections. He insists that real estate developers need to be at the table as the city seeks to build more affordable housing. He also noted that he's been a strong supporter of Mandatory Inclusionary Housing, the change in land use policy that mandated that developers create affordable housing when they receive allowances from the city to build more densely. Richards says he'd never be beholden to campaign contributions and pointed out that he's the only candidate who turned in people who actually tried to bribe him. "We can't be bought," he said.
"My integrity can never be compromised. Every developer knows when they come to my desk that we're going to drive a hard bargain," he added.
With land use being one of the main areas where the borough president can play a prominent role, Richards says he will create a zoning task force and ramp up the land use division at Queens Borough Hall to look at corridors of the borough to create more density, infrastructure, retail development, and wraparound services. "One of the things that's held city planning back from moving more aggressively is the belief of community opposition everywhere. So if the community comes up with the plan...we can lead the conversation," he said.
Richards is also among the candidates who lament the failure of the short-lived deal to bring an Amazon satellite campus and a promised 25,000 jobs to Queens. The deal caused a rift among elected officials and among labor unions – those who supported it pointed to the jobs and revenue it would have created, while those that opposed it criticized the billions in subsidies offered by the city and state and Amazon's anti-union record, among other things. "The subsidy is a hook for accountability," Richards said. "It's no different than when we do affordable housing and a developer comes and says I want a 40-year tax abatement. That's a hook. They need my approval."
Constantinides: "I really believe that we can transform how the borough president can interact with the residents of Queens."
City Council Member Constantinides represents District 22, which includes Astoria, East Elmhurst, Jackson Heights, and Woodside.
Environmental issues are top of mind for Constantinides, who has been the chair of the Council's environmental protection committee since 2015. He has sponsored and passed 35 environmental protection bills in six years, a record that earned him the endorsement of the Sunrise Movement NYC. His achievements include the landmark Climate Mobilization Act, a version of a "Green New Deal" for New York City, passed by the City Council and signed by the mayor last year, that mandates massive greenhouse gas emissions reductions, particularly from the largest buildings that contribute about 70% of all emissions in the city, and retrofitting for environmentally-friendly energy use.
His borough president platform reflects that priority – he has proposed a "Green New Queens" plan that would create 50,000 new green jobs and double green spaces in ten years; utilize capital funding to install green roofs and solar panels on city buildings; close dirty power plants in the borough by 2025; and also appoint a resiliency czar as a new Deputy Borough President for Sustainability.
He also wants to transform Rikers Island into a "renewable energy island" as the city debates uses for the site after the jail complex eventually shuts down. As a supporter of the state's recent criminal justice reforms (limiting cash bail, enhancing speedy trial, and discovery reforms), he also linked the closure of Rikers to the plague of environmental injustice. "The same communities that have been over-policed have also had power plants put in their backyard," he said, noting that fixing one would help to fix the other.
Constantinides wants to expand the borough president's constituent reach by following Manhattan Borough President Gale Brewer's lead in reforming the community board appointments process and creating satellite offices across the borough. "We're the largest borough and yet we are still using an antiquated system to appoint our community board members and an antiquated system to reach out by only having one office of 60 employees on Queens Boulevard. We could look to Gale Brewer's model as a better one," he said.
Constantinides' support for organized labor – he said he would oppose any land use application that lacks a union labor component – is among the reasons he opposed the Amazon deal. "I believe Amazon was a bad deal, from start to finish," he said. "They tried to come in by not using ULURP. They tried to come in and not have any of their employees unionized. They tried to come in and overwhelm our transit system and gentrify our families out of our neighborhoods. They came with no plan for resiliency." The powerful Retail, Wholesale and Department Store Union, which had similarly opposed Amazon, endorsed Constantinides for borough president.
Though he insisted he was not criticizing Melinda Katz's record as borough president, he said the office has too often taken a "backseat" on land use issues. In particular, though he was one of the Council members to approve the de Blasio administration rent-restricted housing policies (mandatory inclusionary housing), he was critical of how MIH has played out.
"I voted for MIH and I believed at the time that MIH was going to be a good step forward. But in practice, it hasn't worked," he said, noting that the policy gives City Council members the ability to choose one of three affordable housing options and that it hamstrings them from making harder bargains with developers. "It's definitely a plan that needs to be tweaked," he said. Of note, he has rejected donations from the real estate industry and he also supports Public Advocate Jumaane Williams' proposal to mandate a racial impact study of proposed rezonings.
Constantinides has proposed giving each of the five borough presidents an appointment on the MTA Board, to vociferously advocate for the borough's transit needs. His opponents have embraced the idea and, shortly after he proposed it, Queens Assemblymember Aravella Simotas and Brooklyn State Senator Andrew Gounardes introduced a bill to that effect before the state Legislature.
Crowley: "Queens needs a borough president who fights for the borough's fair share, and that's something I've been doing my whole life."
In 2009, Elizabeth Crowley became the first woman and first Democrat to represent City Council District 30, which includes the neighborhoods of Glendale, Maspeth, Middle Village, Ridgewood, Woodhaven, and Woodside. She served for nine years on the Council, and was chair of the Committee on Fire and Criminal Justice Services and co-chair of the Women's Caucus. In 2017, she narrowly lost her seat to Bob Holden, a registered Democrat who unsuccessfully challenged her in the Democratic primary and then defeated her in the general election running on the Republican line.
Crowley's top campaign priority has been advocating for improving the city's mass transit system. She's among the many elected officials to oppose the Queens bus network overhaul that the MTA has proposed (and said it is going back to the drawing board to redo). "Queens, if it was its own city, would be the fourth largest city in the country and we are growing fast, and that infrastructure need has not been met with the growth," she said. Crowley is advocating for a new commuter train line on the existing freight routes running through Glendale and Maspeth, and wants to expand ferry service to Northeast Queens. Her advocacy for transit was behind the endorsement she received from the Transport Workers Union Local 100.
She also promises to extend that advocacy to land use. The city needs to pursue "transit-oriented development," which she said was missing from the Downtown Far Rockaway rezoning. "That area of Queens is completely underserved, no transit improvements were [made] with this development," she said. Crowley's refused donations from real estate developers, though she has accepted them from members of construction unions. "I'm a trades person first. I was a union member," she said, referring to her time as a member of D.C. 9 International Union of Painters and Allied Trades.
As a City Council member, Crowley repeatedly and successfully fought back the closure of firehouses in the borough. She's also promised to create an anti-Semitism task force to tackle rising hate crimes in the borough. She's been endorsed by uniformed workers unions including the Uniformed Firefighters Association, the Uniformed Fire Officers Association, and the Patrolmen's Benevolent Association of the NYPD, among others.
But that doesn't mean she has a more moderate stance on criminal justice – she supported the closure of the Rikers jails and reopening the Queens House of Detention; she was also a proponent for raising the age of adult criminal responsibility to 18 years old, to prevent 16- and 17-year-olds from being jailed at Rikers and other outcomes.
Since leaving the Council, Crowley has helped lead the 21 in '21 initiative, which aims to elect 21 women to the City Council in the 2021 elections, when the entire elected city government will be on the ballot and dozens of Council members are facing term limits, thus opening up their seats. There are currently 12 women in the Council, down from 18 in 2009, and that number could fall even further. There are also no citywide positions held by women; and of the five borough presidents, Gale Brewer also can't run for reelection (though she plans to pursue her old City Council seat, currently held by Helen Rosenthal, who is running for Comptroller).
That underrepresentation also exists in Queens community boards, an issue that Crowley pledges to fix. "Here we are in the most progressive city, at least we like to think that, in the entire country, and when it comes to women's representation on community boards and legislative bodies, we don't even have a critical mass...Our most local level of government is not reflective of the population it represents," she said.
As with other candidates, Crowley said she would use the borough president's pulpit to advocate for more capital dollars to invest in resiliency infrastructure, besides using the funds at her disposal to make improvements to city buildings. "We can be the first county in the state to go carbon neutral...We also need to be more proactive about protecting our shorelines and greening our infrastructure that is already built," she said.
She added, "I think that there's only $60 million, roughly, in the borough president's budget and if you want to make a larger impact with climate, then you have to partner with the mayor and the governor to bring back sizable resources."
One issue that other candidates besides Crowley seem to have overlooked is veterans affairs. Queens is home to 58,815 veterans, the most of any borough, and Crowley believes the city has failed them. "The city's not doing enough and our veterans are suffering," she said. If elected, she intends to re-appoint a veterans' affairs liaison at Borough Hall to expand access to services. She'll also factor in veteran status when making community board appointments, she has pledged.
Crowley was also a supporter of the Amazon deal, though she did concede that the company should have worked harder to engage with community residents before attempting to plant its flag in Queens.
Miranda: "I'm the only independent candidate that's not county-run. I'm not compromised by any special interest."
"I'm running for Queens Borough President to be able to change the conversation," said Miranda, a retired NYPD sergeant who is founder and chair of the National Latino Officers Association.
Miranda's could easily be described as an anti-establishment campaign. "I believe that most of Queens' residents are fed up with politics as usual," he said. He emphasized that problems that plague Queens aren't new and that they can't be solved by the very people in office who have overseen them for years. "Everything you look at has been an ongoing problem," he said, whether it's the lack of affordable housing, a dysfunctional transit system or an unequal criminal justice system. But his biggest gripe was that Queens residents are being left out of the key discussions about their borough on everything, from housing to transit, public safety, criminal justice, and more.
"The borough president is one of the most vocal positions that you can have. You represent all of Queens. You can hold public hearings, you can bring attention to issues, you can organize around issues, so you don't have to be left out of the conversation," he said.
On the major issues that Queens has faced in the last few years, he said the de Blasio administration and local electeds have ignored the desires of the community while failing to fix the problems that already exist, whether it concerns the borough-based jails plan, the Rockaway rezoning, the Sunnyside Yards proposal, or the Amazon deal.
"We have current crises in all of our borough but we have proposals for billion-dollar projects without fixing the basic things that are still broken," he said.
He said the Far Rockaway rezoning didn't do enough to address resiliency infrastructure or transit. "We're going to build the Downtown Rockaway area and then have the rest of the homes float away? We still have families that have not been back in their home since the hurricane. How is that possible? We still have houses that get flooded every time there's a significant rainfall in Far Rockaway. How is that not fixable? We still have transportation deserts where the buses or trains don't even get to. How was that not part of our plan, but we're gonna invest millions in downtown?"
His critical stance on the "luxury development" rampant across the borough, exacerbating the existing displacement pressures that Queens residents feel, is why he is refusing donations from the real estate industry as well. "I think every average person will know that there's a conflict of interest in that kind of taking of money," he said.
And he criticized the elected officials that approved the mayor's housing program and have facilitated, in his opinion, the overdevelopment of Queens. "Everybody running for office right now, the elected officials running for office were the cause of the problem," he said. "Many of them speak to little projects that they did in their communities, in their particular districts, but they're the same people that signed off and approved all the other displacement that's going on, the disenfranchisement, the gentrification of the communities that are all over Queens."
Quinn: "The prime concern of any public official in New York City should be the safety of the citizens of New York City."
It's not surprising that for Quinn public safety is the prime issue in the borough president race. Quinn is the former senior executive assistant district attorney in the Queens DA's office, where he was second-in-command to the late DA Richard Brown. After Brown's death, Quinn led the office in the interim.
Quinn separates himself from the field by his positions on criminal justice. A "tough-on-crime" prosecutor, he was the chief spokesperson for the DA's office in opposing the "terrible idea" to close Rikers Island jails and replace them with borough-based jails – as borough president, he's vowed to fight "tooth and nail" to try and halt that plan in Queens. Instead, he would like to see the Rikers facilities reformed and rebuilt.
"They could have started this three years ago and rebuilt all the jails on Rikers Island and they'd be done by now," he said. "Because they don't have to fight communities. They don't have to fight the community boards. They don't have to go through the ULURP system. They don't have to go through all these other machinations that they now have to do." Quinn has also advocated against what he calls the recent "irresponsible and reckless" criminal justice reforms adopted by the state, like on bail.
"I decided to run because I wanted to make a difference in this race and I wanted to make sure that these issues were addressed, and that they're addressed intelligently, not just in chants and slogans," he said.
He cited the uptick in crime numbers reported by the NYPD early this year after the state's bail reform took effect as a major cause of concern. However, there has been some debate about whether the numbers can be fairly judged in such a short time frame. Quinn brushed that aside. "There was no debate about the numbers when it showed crime going down," he said.
Though he is a registered Democrat, he has been endorsed by the Queens County Republican Party and the Conservative Party. The New York City Correction Officers Benevolent Association backed him, as did the aforementioned City Council Member Holden, who unseated Crowley in 2017.
Whether on housing, transit, or economic development, Quinn said the conversations tend to be derailed by politicians pandering to interest groups and by a lack of reasonable debate. "I don't think we have realistic, rational discussions about issues in New York City anymore. It's all fighting and yelling at one another," he said.
One example he cited is the Amazon deal, which he supported. "New York City and that raucous, loud group was able to drive out a business that would have created 25,000 high-paying jobs," he said, referring to the elected officials, community groups, and advocates who opposed the proposed campus.
Though he said a key role of the borough president is to convene public hearings on everything from the proposed development of Sunnyside Yard or the MTA's bus redesign proposal, he argued the limits of the office in effecting broader change, on climate change, for instance. "The notion that the Queen's County Borough President is going to have a substantial effect on climate change is fanciful to put it mildly," he said.
Yin
A former robotics company executive and community activist, Yin worked as a corporate comptroller for 11 years for two fortune 500 companies, according to his campaign website.
Yin's platform is focused on creating jobs for the borough, while preparing Queens residents for the future of employment. "Technology jobs play a larger role in our lives but maintaining an educated and trained workforce outside of the Technology Industry will be just as important," his website reads. "We need to plan for the future of work and jobs, and we need a borough led effort to respond to advancements, in a way that protects and honors the role of workers within the work they do."
Citing the rising costs of living in Queens, Yin pledges to work for the improvement of working families in the borough. He particularly noted that the loss of the 25,000 jobs that the Amazon deal would have brought with it "should not have happened."
"Dao Yin is determined to work with the large corporations to bring back those jobs to Queens by working with its communities and showing its residents how they would benefit from such windfalls. Dao believes that if the public understands the benefit they would support the job creation," his platform reads.
He also says he tackle the borough's transit and homelessness issues, though he seems more focused on so-called "quality of life" problems. "Quality of Life issues should take precedence and homeless people living on our streets and corners should not be an issue that residents should have to settle for in their everyday lives," his platform states. He would push for a 10% City Rent Tax Credit for households under a certain income threshold and promote homeownership programs.
He would also push for improvement to the borough's bus and subway systems, and supports the proposed LaGuardia AirTrain project as a key job creator.
This article has been updated to reflect the June election set by the governor.