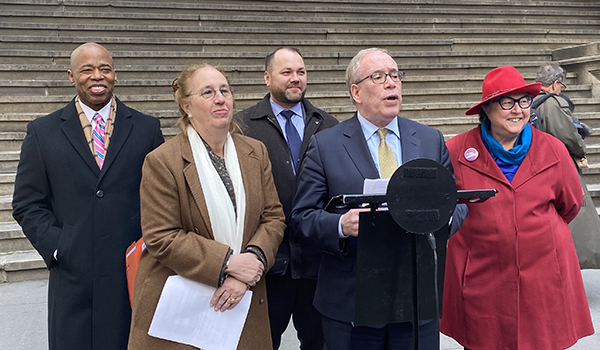 Three of the leading 2021 mayoral candidates (photo: Gotham Gazette)
---
It took merely three weeks from the first case of the coronavirus being confirmed in the city to thousands of New Yorkers testing positive for the virus. The scale of the outbreak has presented an emergency of a scope that the city has perhaps never before faced. The aftermath of the crisis will be felt well into the future and in 2022, the effects it will have on the city's people, its economy, and its politics will be inherited by whoever takes the helm at City Hall.
Next year, Mayor Bill de Blasio will in all likelihood be finishing his second and final term, attempting to heal the city and seal his legacy as a field of candidates runs to replace him. Among many other issues, it now appears that the coronavirus outbreak and its aftermath will be central to the race to be the next mayor, shifting the dynamics of a race already in its early stages.
Those considered the top contenders are already enmeshed in city government – City Council Speaker Corey Johnson, Comptroller Scott Stringer, and Brooklyn Borough President Eric Adams. The three have played different roles as the coronavirus outbreak has gripped the city, and while none has the awesome responsibilities of mayor, in their responses they may be giving some indication of how they would approach such a seismic event if elected the city's leader.
Other exploring or declared candidates include Loree Sutton, a retired Army Brigadier General and former commissioner of the city's Department of Veterans' Services; Dianne Morales, a nonprofit executive in the Bronx; and Shaun Donovan, a former high-level aide to President Barack Obama and Mayor Michael Bloomberg. All three shared thoughts about the coronavirus crisis with Gotham Gazette.
As coronavirus was confirmed to have landed in New York City and as the fallout unfolded, there's been some early criticism, or at least difference of opinion, between Mayor de Blasio and those who seek to replace him on how the city should have reacted and how it continues to operate in the face of the deadly pandemic.
Some of the candidates have proposed their own plans to save the city and its people from the outbreak's devastation, which may not be political maneuvers but may serve that purpose when the campaigns relaunch after the crisis has subsided.
Understandably, the candidates -- all of whom are Democrats like de Blasio -- have been reluctant to critique the mayor amid a public health, social, and economic crisis of this scale. But that doesn't mean they all agree with everything he has done or don't have their own ideas for other actions to take.
Corey Johnson
Before the city at large grasped how acute the spread of coronavirus had become, elected officials at all levels were urging calm. Johnson was with Mayor de Blasio at early news conferences on the coronavirus, such as on March 2, after the administration held its second "tabletop exercise" to prepare for what may come.
"I want the public to continue to practice common sense and base decisions on science and public health information, not fear," Johnson said, while maintaining that people who were not sick did not need to stay at home, echoing messages from the mayor and top city health officials. "We should be taking basic precautions...that means doing the things we know but not avoiding public places," he said.
At another briefing on March 5, Johnson continued with his sanguine message. "As the mayor has done consistently, I think it is important that we urge the public to be guided by fact and not by misinformation, not by fiction. You can still ride the subway...you can still go to school...you can still go to work...and you can still go and enjoy a concert or a basketball game," he said, noting that he'd ridden the subway earlier. The mayor, to drive the message home, took a rare subway ride himself that day.
Things would soon escalate quickly, and everything changed.
As the outbreak progressed, however, and the mayor hesitated to close the school system amid increasing public pressure, Johnson was among those who pressed him to take the major step (Stringer quickly followed suit, while then calling for a near-shutdown of the city shortly before de Blasio or Johnson did). The speaker's plan to enforce social distancing is also more restrictive than what the mayor has pursued so far.
[Read: Mayor and Council Speaker Differ on Creating Open Space, Enforcing Social Distancing Amid Coronavirus Shutdown]
On March 5, days after the first positive case of coronavirus was confirmed in Manhattan, the Council quickly convened an oversight hearing to examine the administration's preparedness for a larger outbreak. As the crisis escalated, Johnson chose to indefinitely postpone his State of the City speech scheduled for March 11.
On that day, March 11, days before the mayor, under pressure from Governor Andrew Cuomo, announced the closure of schools, and restrictions on bars and restaurants to takeout/delivery only, Johnson called for "limits on non-essential large gatherings."
"I am not calling for New York City to be shut down. This is a balancing act. Children should continue going to school. The subways should remain in operation. Healthy New Yorkers should continue working, shopping at local businesses and taking part in city life," he said at the time. Large gatherings were restricted by the mayor the next day.
On March 13, Johnson changed his tune and said schools should close. After resistance, deliberation, and pressure from Johnson, Cuomo, and others, the mayor announced on March 15 that schools would be shuttered starting the next day.
Just like de Blasio, Johnson has also been making regular appearances on TV and radio news shows. And he's continued to advocate for policy decisions that will matter both during and after the crisis. He called on the NYPD to stop making arrests for low-level offenses, pushed the state Department of Corrections and Community Supervision to stop jailing individuals for technical parole violations, and urged district attorneys to ask for bail or remand only when absolutely necessary, among other criminal justice-related proposals.
Most notably, on March 19 Johnson released a $12 billion plan to provide relief to businesses and workers affected by the coronavirus. Though he said the federal government should pay for it, he also noted that the city could fund it through bonds if its request is refused. His plan would include one-time city payments of $550 for each adult and $275 for each child, on top of any relief funds given by the federal government. It also called for expanding unemployment insurance to freelance and gig workers, and for increasing benefits by 30%.
The speaker proposed deferring sales and use taxes, and the commercial rent tax and business taxes, called for deferring collection of city fees without penalties, and expanding the city's small business loan programs with no-interest loans and possible loan forgiveness. "This is a crisis unlike any we've ever seen. However, the tools that have helped us in the past can be utilized again," he said in a statement. "The difficult steps we've taken to protect ourselves and others are necessary, including social distancing and mandatory closures, but they are devastating our businesses and workers in every corner of the city...This plan will provide relief not just for our economy, but also for the small businesses and workers that are the heart and soul of New York City."
This week, Johnson also joined with other elected officials and advocacy organizations to call for an immediate plan to house the city's 80,000 homeless people, along with several proposals to provide them with sanitation equipment, food, and clothing, and to end sweeps of homeless people by the police.
On Friday, as part of budget negotiations with the de Blasio administration, Johnson and the Council called for $50 million for emergency food assistance programs.
In the last two weeks, Johnson has been making remote media appearances as he shelters indoors, at times using his active social media accounts to discuss the experience, and has not been appearing as he was earlier with the mayor at his regular briefings on the outbreak.
Scott Stringer
Comptroller Stringer was also pushing for a "city shutdown" of all except essential services prior to the mayor's announcement, including schools. Prior to that, on March 12, he announced that all employees in his office, numbering several hundred, would begin working from home the next day.
After Johnson, following the lead of the Council's education committee chair, Mark Treyger, had said schools should close on March 13, Stringer said similarly. "Many difficult decisions have to be made that have serious implications for our city, including the closure of schools. At this time I think the question is not if, but how, public schools should close," Stringer said that day. He made his plea for a full shutdown on the morning of March 15 – later that day, the mayor announced closures of schools, bars and restaurants.
Prior to that, the comptroller issued new guidance that allowed schools to purchase tablets with capital funds in order to facilitate remote learning.
As would be expected, his office quickly examined how the outbreak would hurt the city's economy, putting initial estimates at $3.2 billion in lost revenue over six months (which even he acknowledged is a conservative figure at best). In his analysis, he pushed the mayor to find savings in city agency operations (except at social service and health agencies) to prevent disruption of services for the most vulnerable New Yorkers. The mayor has since instituted a Program to Eliminate the Gap to cut about $1.3 billion in spending by agencies, and has said there's more that will be needed as he prepares his executive budget plan for next fiscal year, which begins July 1.
"This is an unprecedented public health emergency, and we need all hands on deck at every level of government to tackle this crisis," Stringer said in a statement to Gotham Gazette. "My office is doing everything in our power to support workers, help small businesses, secure the fiscal health of our city, and above all, protect the health and safety of New Yorkers. When we look back at this time, I want to be able to say that our city government stood up for our city, marshaled all resources at our disposal, and did everything we could to save lives. I am fully committed to assisting and supporting the pandemic response in every way I can."
Stringer's office has been busy approving hundreds of emergency contracts and monitoring how the tumult in the financial markets is affecting the city's pension system.
He also had several policy prescriptions to offer. Like Johnson, he called for deferring sales tax collections and for expanded services and assistance for small businesses. Instead of deferring fines and fees, he suggested they be waived entirely. He also pushed for the city to give contractual relief to those city-contracted nonprofits that provide human services but cannot meet their obligations under the current situation, which it did.
Stringer also urged the federal government and private sector to take steps to mitigate the fallout of the coronavirus. He pushed for extending the in-person counting phase of the decennial census. He called on credit bureaus to put a moratorium on negative credit reporting and for the federal government to pass legislation to protect people's credit scores. He also urged third-party food delivery companies to cap commissions at 10%.
Eric Adams
Though lacking the citywide purview that Johnson and Stringer hold, Brooklyn Borough President Adams has nonetheless been busy with his own borough-based response to the virus, including his typical focus on personal wellness.
Following the first case of coronavirus being confirmed in Brooklyn, Adams held an emergency briefing at Brooklyn Borough Hall on March 9, with Department of Health and Mental Hygiene Deputy Commissioner Daniel Stephens, and clergy and union leaders. He held a news conference right after to talk about best practices to deal with the outbreak, dispelling misinformation and urging against xenophobic reactions against the Chinese community.
Adams did come under some criticism for continuing to require Borough Hall employees to commute to work through at least March 18.
Adams wasn't as ready as others to call for school closures and released a statement that hedged on the issue. "Our citywide leaders must be speaking in one voice at this time. I would support a call for citywide school closure that is unified, a unified plan of action for our healthcare and education professionals alongside our local and state leaders," he said in a statement on March 15. "I would support a similar call for broader citywide closures in unison with our business community."
Adams has called for a three-month universal moratorium on rent and utility payments, noting that the governor had already suspended mortgage payments for those affected by the outbreak. The borough president is a landlord himself and he acknowledged how a rent moratorium would affect him personally. "Though I have no illusions that this adjustment will be easy, I am confident it is the right thing to do given the current circumstances. No New Yorker should be at risk of losing their home while we contend with a public health emergency," he said.
He also pushed for the mortgage payment freeze to apply universally to all rental properties – it was only given to single and two-family homes. He also called on the mayor to extend the city's quarterly property tax deadline from April 1 to June 1. "It would be a cruel April Fool's Day joke to ask struggling New Yorkers to meet this looming deadline in the face of such uncertainty," he said. The mayor did not heed that call.
He was also among the proponents of a plan to help New Yorkers cover their rent in April. He joined with Manhattan Borough President Gale Brewer, City Council Members Robert Cornegy and Keith Powers, and CEO of Kairos, Ankur Jain, in releasing the $8 billion Renter's Choice plan, which would require landlords to allow renters to use security deposits for their rent.
On March 22, Adams joined a number of local businesses and nonprofits to host a "Feed First Responders" initiative, personally distributing food to hospital workers at Maimonides Medical Center, and NYPD and FDNY members. Adams, who touts the benefits of healthy eating and living, even sought to allay people's mental anxiety by inviting them to join him in remote guided meditation routines on Youtube. He's also been posting videos making healthy meals at home and working out, doing jumping jacks, push ups, and pull ups.
After Dez-Ann Romain, a principal at Brooklyn Democracy Academy, passed away from the coronavirus, Adams hosted a videoconference candlelight vigil on Zoom on March 26.
On Wednesday, April 1, taking note of the increasing numbers of NYPD officers becoming ill with the coronavirus, Adams called on the mayor to unify all the city's law enforcement agencies under the central command of Police Commissioner Dermot Shea.
Loree Sutton
As a retired Army Brigadier General who was the Army's highest-ranking psychiatrist, Loree Sutton looked at the current outbreak and the official response to it, and likened it to nothing less than a war, language that has also been used by her former boss, Mayor de Blasio, among others.
"These are the times that test each of us as leaders, test our character, test our competence, test our ability to communicate and to even console and collaborate," she said in a phone interview. "So it's also not the time during a situation like this to look backwards or to critique what's been done in the moment."
In a March 20 op-ed in the New York Daily News, Sutton wrote on a suppression strategy to flatten the rising curve of coronavirus infections, utilizing the resources of the United States military. At the time, the U.S. Navy hospital ship USNS Comfort had been dispatched to the city by President Trump – the ship arrived on Monday.
"While President Trump is now embracing an 'all of country' approach by mobilizing military and other essential resources, this effort alone will be insufficient. We also need to mobilize an 'all of community' campaign," Sutton wrote. She called for the creation of Health Safety Hubs in underutilized community facilities to test and monitor those who cannot safely quarantine at home and ease the burden on the hospital system. "Additional benefit would be derived from mobilizing medically screened community resources, including transportation assets, restaurant delivery, hospitality and entertainment services, volunteer opportunities and faith-based community support," she wrote.
Sutton said in the phone interview that she's advanced her idea to the governor's team through General Patrick Murphy, who previously led the New York National Guard and who was a "battle buddy" of Sutton's.
Sutton insisted that she was not second-guessing the decisions made by the city's and state's leadership, though she did say that the crisis has highlighted the "fractious" relationship that Mayor de Blasio and Governor Cuomo have had for years. (In the early months of her campaign, Sutton has repeatedly criticized de Blasio's leadership of the city, regularly citing the feud with Cuomo.)
"In the military, when we're in the midst of combat, in the midst of action, there's a saying. We don't take the time to critique at that moment we 'save it for the hot wash,'" she said. "So that's what I'll say...There has to be a hot wash and the next mayor of New York City will be in a position to lead that hot wash and to just fearlessly and clear-mindedly and with open eyes, view all that has gone well, all that needs to be repaired and all that needs to be planned for so that we will never ever be in this position again."
But Sutton did say the city should take "extreme measures" to enforce social distancing, which the de Blasio administration has slowly come to embrace. While took pains not to criticize the mayor, she did mention his trip to the gym prior to when city-imposed restrictions were set to go into effect. "I would assume that if the mayor were reviewing that set of actions, I think he was trying to evoke in his own way, a sense of calm and routine and sort of 'life goes on.' But that's not what the situation is. That's not what it calls for. And we know that now," she said.
Dianne Morales
Of all the candidates, Dianne Morales was particularly critical of the city's slow movement towards stricter social distancing and the delay in closing schools and establishments where large crowds could gather. "I think that we should have actually had a much more aggressive response sooner," she said. "I think we had the heads up in terms of what happened in China and in Europe. And I think that there was more that we could have done to prepare, including closing the schools sooner."
"The leadership of the city and the state and definitely the country, we're walking this fine line between trying to maintain public calm and conveying the appropriate level of urgency around the situation," she added. "And I think that they erred too much on the side of downplaying the imminent threat."
She specifically criticized the fact that parks and playgrounds remain open, and that the city has chosen to close even a few streets to vehicular traffic in order to give people more space. "I think that there's a tension and a contradiction between opening streets for pedestrians and also telling people to shelter in place. I think those two things are not in alignment with each other. I understand that people need to be able to access fresh air but I think also right now we need to prioritize the safety of the city," she said.
In terms of her own campaign, as a (recently-departed to campaign full-time) nonprofit executive involved in providing human services at the community level, Morales quickly pivoted her campaign infrastructure to work on direct assistance efforts, she said.
Shaun Donovan
Shaun Donovan has yet to launch his campaign and has not yet put out any public statements or materials. Asked for comment, Rick Fromberg, senior advisor to Donovan's campaign, said in an email, "Shaun Donovan was a key member of President Obama's Ebola and Zika response teams and fully believes in following the direction of public health officials. He also played leading roles in guiding recovery from Sandy, Katrina, and the mortgage crisis. During the ongoing COVID-19 crisis, he has worked extensively to share his experience and expertise with leaders in New York and across the nation. He remains inspired by the bravery of our healthcare and other frontline workers fighting to keep us safe in the midst of this crisis."