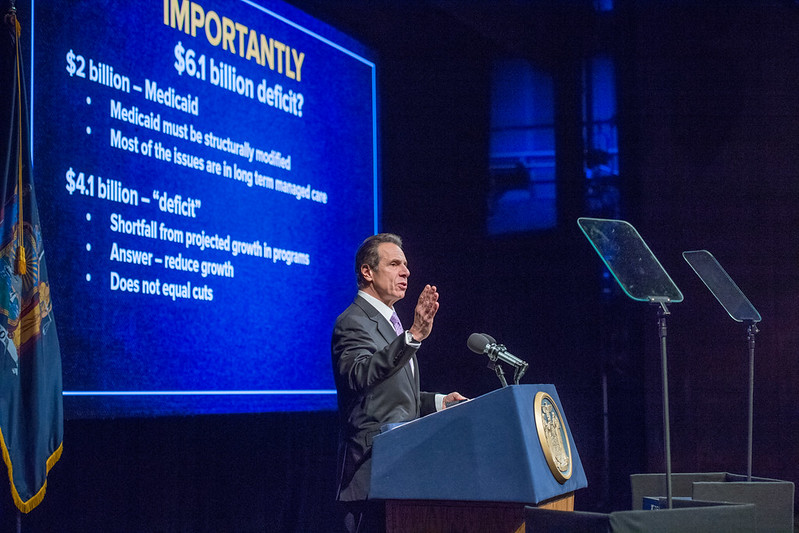 Gov. Cuomo's budget presentation (photo: Darren McGee/Governor's Office)
---
Governor Andrew Cuomo and the state Legislature came to an agreement this past week on a $177 billion budget for the 2021 fiscal year, amid uncertainty about the state's economy that has been devastated by the coronavirus outbreak.
The slightly late budget was given final approval by legislators in the early hours of Friday morning, a couple of days after the April 1 start of the fiscal year, and Cuomo signed the pieces he needed to by end of day Friday. And though the final spending plan is only $1 billion below what the governor proposed in his January executive budget, it also envisions state revenues decreasing by $10 billion during the fiscal year, which will have to be largely compensated for with emergency federal funds and short-term state borrowing.
The state also has a reserve of about $2 billion set aside for a fiscal crunch, and the budget gives the governor the ability to periodically adjust spending, though the Legislature would have 10 days to override him and pass its own plan in such instances.
As is the case each year, the state budget is not just a revenue and expenditure plan. It includes various policies related to criminal justice, reproductive rights, public health laws, environmental preservation, campaign finance reform, and more.
"This is a moment in history unlike any other, and government needs to function and deliver results for the people of this state now more than ever — and that's exactly what we did with this budget," Cuomo said in a statement on Thursday.
Despite the fact that various priorities fell by the wayside – chiefly, legalizing adult use of marijuana – and, among other things, changes to the state Medicaid program were broadly critiqued, the governor nonetheless claimed victory. "It would have been very easy to say, 'Oh, this is an extraordinary year; let's just do the bare minimum and go home.' We did the opposite. We said there is a lot of need and there are a lot of issues that need to be addressed, and we stepped up to the plate and we got it done," he said.
Electric bikes and scooters were legalized, as were gestational surrogacy agreements; bail reforms passed last year were altered to ensure more defendants are jailed pre-trial; a new state campaign finance system with public matching funds was passed; a $3 billion environmental bond act was approved to go before voters; prevailing wage requirements on many construction projects receiving public funding were expanded; and much more.
Even before the coronavirus wreaked havoc on the state's finances, New York City was bracing for an estimated $1.4 billion in cuts and cost-shifts, chiefly from the redesign of the state Medicaid program, though there was some disagreement on the exact value of the governor's plan. Mayor Bill de Blasio had warned that the fiscal hit exacted by the state would eclipse the cumulative cuts and cost shifts from the previous six years combined.
On Thursday, the mayor reiterated some of his concerns about the state budget agreement at his regular coronavirus briefing. "I have been worried about that and I was worried about that obviously in normal times and we're not in normal times," he said, noting that the state had been able to "tide itself over" with support from the federal government.
He continued, "Look there are some cuts in there I don't like one bit. We're still totaling them up, but you know, we don't have another $100 million to give, for example, to Access-a-Ride. And I've expressed real concerns about how that program is managed. I would like to have clearer goals for reform of that program before we ended up being put in a situation where we have to spend a lot of money. But, you know, the Governor and the Legislature, in their wisdom, did what they did. We will deal with it. I think in a perfect world it would have been, you know, the State holding the City harmless. We were not held harmless, but we will live to fight another day. That's the way I look at it."
Medicaid Overhaul
Prior to the coronavirus outbreak, the state was already facing a $6.1 billion budget gap, of which $4 billion stemmed from growth in Medicaid costs. In order to close that gap, the governor convened a new Medicaid Redesign Team to overhaul the state's program and find billions in annual savings. Though it was tasked with finding at least $2.5 billion in annual savings, it ended up instead finding closer to $1.6 billion for the 2021 fiscal year, with more outlined for out-years -- though the state may not implement the recommendations right away in order to access billions in newly-available federal money.
The Medicaid redesign plan includes $400 million in cuts to hospital spending that was approved in the budget, though the governor did report that Medicaid spending is set to still increase 3%, or about $500 million overall, in the new fiscal year (he had said 3% annual growth was the new goal, not the 6% or more that had exploded in recent years and needed to be reined in) and stressed that emergency coronavirus relief funds are earmarked to go to hospitals.
New York City is being raided for about $200 million in sales tax to cover some Medicaid costs, according to a New York Daily News report citing the Cuomo administration.
Cuomo had originally threatened to reject $6.7 billion in federal Medicaid funds, which would have preempted changes to the state's Medicaid program and cost shifts to localities. Instead, it appears the state will delay the cost shifts so it can access the emergency funding.
Education Funding
New York City officials and education advocates have long argued that the state does not live up to its obligations under the Campaign for Fiscal Equity supreme court decision, which would require billions more in state foundation aid to the poorest schools across the state. The governor has repeatedly said that the state has indeed met its obligations and pushed for a new funding formula that he insists would be more equitable.
While there may have been some chance of changes to the state's education aid formulas before the coronavirus crisis, that discussion disappeared and the new state budget is a close extension of the prior year's, albeit with the major caveat that aid could change throughout the year if state revenue continues to fall short.
The budget includes $1.4 billion more in total education funding to localities (after warnings from the governor that he may have to make severe cuts), while foundation aid remained flat. This means New York City could face a roughly $136 million shortfall for its school aid target, according to de Blasio's projections from February when he testified before the state Legislature.
The city is slated to receive roughly $11.3 billion from the state in education aid, which will account for about 41.5% of the city's education spending, depending on the details of the upcoming city budget, which must be decided by July 1.
Other Funding Issues
The budget also commits the city to provide $3 billion in capital funding for the MTA, equal to the state's $3 billion share, for the $51.5 billion 2020-2024 capital program, which Mayor de Blasio had repeatedly opposed. It also mandates that the city cover 50% of the operating expenses for Access-A-Ride, the MTA's paratransit program, with its share not exceeding $215 million in 2020. The program's costs have been rising over the years and the budget significantly increases the city's obligations.
A variety of other funding details and potential cuts or reductions in aid from the state to the city are still being assessed -- the mayor's office has yet to put out an analysis of the adopted state budget.
Bail Reform Changes
In January, a spate of criminal justice reform went into effect, including a massive change to the state's bail system that eliminated cash bail for most nonviolent felonies and misdemeanors. But, after an uproar from law enforcement officials, police unions, and elected officials, including Mayor de Blasio (based on a small sample of data indicating some crimes increasing), the governor and state Senate Democrats agreed to revisit the law.
While Assembly Democrats resisted changes, in the final budget agreement a compromise was struck to alter the law, making many more crimes bail eligible. Examples include felonies such as sex trafficking, money laundering for terrorism, vehicular assault in the first degree, failure to register as a sex offender, to name a few.
Notably, adding more judicial discretion to consider defedants' alleged "dangerousness," as backed by de Blasio, Cuomo, and many others, was not added to the law.
The budget also extended deadlines for discovery (from 15 days to 20 if a defendant is in jail and 35 if they are not), whereby prosecutors must turn over evidence to defendants, another reform that was part of the criminal justice package last year. And funding will be provided to prosecutors to help with added discovery burdens from money to now be taken by law from Manhattan District Attorney Cy Vance's pot of settlement funds.
The bail reforms passed last year were considered essential to the city's plan to close the Rikers Island jail complex, and would have led to a more rapid decrease of the detainee population. But with the rollback, it's unclear whether that plan will be delayed or may prompt a reconfiguration of the plan to meet the current closure timeline and its projected number of jail beds.
Campaign Finance Reform and Party Ballot Thresholds
The budget creates a new statewide campaign finance system, with a voluntary public matching program that encourages candidates to raise small-dollar donations. The system had first been established on the recommendations of a state-created commission in December but was subsequently struck down by a state Supreme Court decision in mid-March.
Under the new system, which begins for the 2024 legislative cycle, candidates will have to abide by drastically lower contribution limits (though New York's will remain comparatively high to other states).
It also significantly raised the thresholds for automatic ballot access for political parties and the number of petition signatures required for candidates to get on the ballot. [Read more about the new campaign finance system and ballot threshold requirements.]
E-bikes and E-scooters Legalized
The budget legalized the operation of electronic bikes and scooters, a proposal that had languished for years despite criticism that criminalizing their use was adversely harming delivery workers, who tend to be low-income immigrants of color, and that delaying their use slows attempts to relieve pressure on mass transit and provide eco-friendly travel options.
The legislation establishes three categories of e-bikes with caps on speed – the maximum is 25 miles per hour for Class 3 – and helmet requirements and authorizes municipalities to create rules regarding their use. E-bike riders will also face penalties for riding while intoxicated. E-scooters are capped at 15 miles per hour.
Prevailing Wage Expansion
The budget establishes a prevailing wage requirement for workers on private development projects worth more than $5 million where 30% of funding comes from public subsidies such as grants and tax credits.
The new measure could have a significant impact on New York City's housing program, which utilizes massive city subsidies to incentivize affordable housing development. However, it includes exemptions for some categories of affordable housing projects, including smaller, nonprofit developments and those that receive the state's 421a tax benefit.
Hate Crimes and 'Domestic Terrorism'
The budget creates a new class of felony for "domestic act of terrorism motivated by hate," which was a response led by Cuomo to skyrocketing hate crimes in the state last year, many of them anti-Semitic. The law was named the Josef Neumann Hate Crimes Domestic Terrorism Act, as a tribute to the rabbi who was one of the victims of a mass stabbing attack in Monsey during a Hannukah celebration. Rabbi Neumann passed away April 29 from his wounds.
The law is also particularly poignant during the coronavirus pandemic as there's been an uptick in hate crimes against Asians.
Repeat Sex Offenders Banned from Mass Transit
The budget includes a measure that would allow judges to ban individuals from the city's subways, buses, and rail systems for three years for repeated unlawful sexual conduct. It also allows judges to impose that punishment against anyone who assaults an MTA employee.
NYPD Manhattan Tow Pound Part of Hudson River Park
Cuomo pushed through a measure in the budget that gives the Hudson River Park Trust control over the NYPD's 250,000 square-foot Pier 76 tow pound, to "integrate into the park complex, maximizing green space, recreation and community access and market potential."
The NYPD has to vacate the tow pound by the end of the year, short of which the city will face a $15 million fine, followed by additional $3 million fines each month that the tow pound remains there. Cuomo first announced the proposal as part of his 2020 agenda in January, noting the limited amount of green space on the west side. The pier was meant to be transferred to the Hudson River Park Trust 20 years ago, a deal that was never completed. Mayor de Blasio and NYPD officials, however, pushed back against the governor's "unrealistic" deadline, considering the lengthy land use process required in finding a replacement site in the city.
Suicide Prevention for Law Enforcement and Veterans
The budget allocates $1 million to suicide prevention initiatives for law enforcement officials, first responders and veterans. The funding was likely a response to a spate of suicides by NYPD officers over the last year, with the most recent occurring just three weeks ago. The budget also mandates a state campaign against the stigma around mental illness.
Other
There was also a slew of legislation in the budget that will have a statewide impact including the legalization of gestational surrogacy, closure of a loophole that allowed an individual to get a gun license even if they committed a serious offense in another state, significant new restrictions on e-cigarettes and vaping products, a prohibition against gender-based pricing discrimination (the so-called "pink tax"), a ban on single-use Styrofoam food containers and packing peanuts, and more.