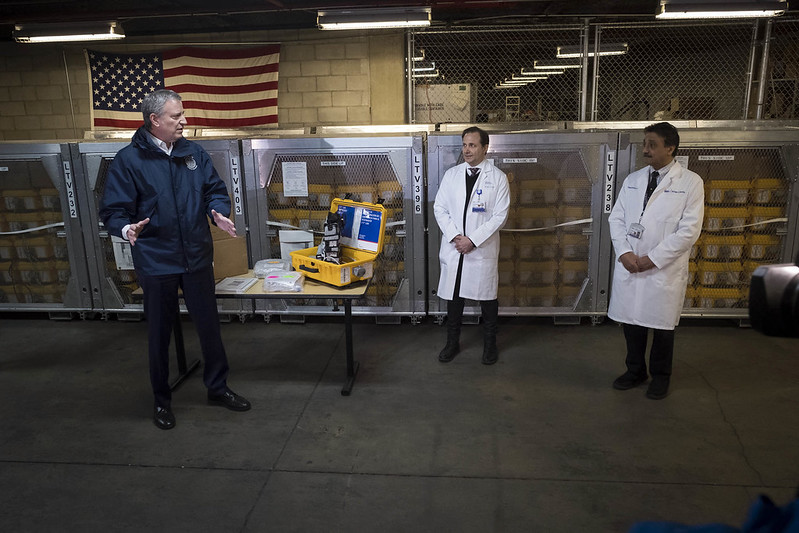 Mayor de Blasio, a ventilator, and two doctors (photo: Ed Reed/Mayor's Office)
---
As government officials anticipate a wave of coronavirus patients overwhelming the New York City hospital system within days or weeks, the question of how racial disparities in health care will impact who dies of COVID-19 and the disaster's long-term public health fallout loom large and, as yet, unaddressed.
Differences in access to quality care for African-Americans and other people of color are well-documented in virtually all aspects of the health-care system. With the apex of the COVID-19 outbreak approaching, experts fear structural inequality and implicit racial bias are impacting who receives critical treatment in a hospital, a chilling prospect in a scenario where survival will likely depend on the allocation of scarce medical resources.
Beleaguered emergency rooms -- serving both as the first site of care for many underserved communities and, now, as the epicenter of coronavirus management -- are a particular vector for differential treatment.
"I don't think we fully yet have a grasp as to the nature of the human rights tragedy that is about to unfold, particularly in spaces like New York City," said Lurie Daniel Favors, executive director of the Center for Law and Social Justice at Medgar Evers College in Brooklyn.
The extent to which the city's communities of color bear the weight of the coronavirus death toll and collateral health consequences will be influenced by two now-magnified factors directly related to hospital capacity. One is how doctors' and nurses' implicit biases manifest in decisions to allocate limited hospital space and other resources (explored in part one of this two-part series). The other is the disproportionate number of people of color, particularly black and Latino New Yorkers, who rely on emergency rooms as their primary source of medical treatment and whose access to sufficient care during the health crisis is severely limited (discussed in part two).
"This is going to be a long day and it's going to be a hard day, and it's going to be an ugly day, and it's going to be a sad day," Governor Andrew Cuomo said at a March 27 press briefing from the Javits Convention Center in Hell's Kitchen, which has been turned into a temporary hospital by the Army Corp of Engineers.
"The rescue mission is to save lives and, as hard as we work, we're not going to be able to save everyone," he said. Last week, the governor cited a projection from the Institute for Health Metrics and Evaluation predicting 16,000 people would die in New York State (as of April 6 it projected roughly 15,600 deaths in New York).
There have already been reports of city hospitals being overrun and turning people away. EMS workers, fielding record-high call volume, are being forced to make decisions about who to leave behind. As the outbreak rages, experts say biases are likely to factor into decisions, not only about who receives a life-saving ventilator in an Intensive Care Unit (ICU), but who is even admitted to the hospital.
"We just need to be very aware of the fact that biasing is going to happen right at the door," said Dr. Alison Bateman-House, a professor in the Division of Medical Ethics at NYU School of Medicine, which is part of the NYU Langone Health hospital network.
In numerous studies of differential treatment, black patients waited longer to be seen in the ER than white patients, and were less likely to be admitted. There is already evidence to suggest the coronavirus outbreak is having a disproportionate impact on communities of color, though city and state officials have not released racial or ethnic demographic data on positive cases, hospitalizations, intubations, or deaths.
There is "a striking overlap of where this virus is doing the most damage and where we've had historic health care disparities – a very, very strong overlap," Mayor Bill de Blasio said Sunday in response to a reporter's question about when the city would release a racial breakdown of cases and fatalities. "That overlaps also with where our public hospitals are in particular."
The neighborhoods with the highest rates of positive coronavirus tests largely coincide with zip codes with greater black and Latino populations, particularly in the Bronx, Queens, and Brooklyn.
In response to Gotham Gazette inquiries, officials at the state Department of Health, city Department of Health and Mental Hygiene, and New York City Health + Hospitals -- the city's network of public hospitals and other health care facilities -- each said "equity" was part of their mission to provide care, but did not answer specific questions on hospital safeguards against differential treatment based on race.
As of Monday, 16,837 people were hospitalized for COVID-19 and 4,758 had died statewide; with 2,738 of those fatalities in New York City. Over 4,500 people were in Intensive Care Unit (ICU) beds across the state, usually attached to scarce ventilators to breathe. Gaps in city and state reporting make it impossible to know the racial and ethnic breakdown of those patients, including those who have died.
In Michigan, which has released racial demographic data, at least 40 percent of the people killed by the new coronavirus have been black, despite making up only 14 percent of the population and 35 percent of positive cases.
Cuomo is attempting to rapidly expand hospital capacity to accommodate up to 140,000 patients, expected by mid-April, and 40,000 ICU beds, based on the most cautious estimates. The city and state are desperately trying to acquire 30,000 to 40,000 ventilators, the most essential piece of life-saving equipment, as the state moves toward an imminent shortfall. At a March 26 press briefing, de Blasio said the need for medical supplies "is going to be a day-to-day, hour-to-hour reality," as the city attempts to triple its hospital capacity and add the reserve workforce to staff it.
But officials have not yet given an answer to how they will save the most lives now of people whose health needs have never been adequately served, in a crisis where the reality of mass loss of life has already been acknowledged and begun to take place.
Implicit Bias in Medical Care
The problem of racism, both interpersonal and systemic, in United States health care long predates the new coronavirus. Falsehoods, dating to slavery and the Middle Passage, about the physiology of black bodies -- that black people experience less pain than white people, for example, or that they have lower lung-capacities -- and racial stereotypes -- that white people make "better," more cooperative patients, or that black people are less equipped to make decisions about their care or less prone to telling the truth about their conditions -- are pervasive. While explicit racial discrimination is now condemned in mainstream medicine, studies show a huge number of dangerous misconceptions and prejudices persist in the implicit biases held by health care professionals.
Those biases can lead to lower quality care and have the potential to be pushed to extremes in an overwhelmed medical system like New York City's is now. During a crisis compounded by scarcity, lower quality care could mean no care at all.
"When you're talking about access to medical resources, particularly when you're in a situation of scarcity there are always fears that there is going to be preferential allocation given to certain groups [over] other groups," said Bateman-House of NYU School of Medicine. "You're going to see a lot of judgments of relative value made."
Bateman-House said the way a patient looks or speaks, their perceived communicativeness and satisfaction, all impact clinical assessments. Studies have shown that assumptions that black patients may abuse care or squander treatment options impact doctors' decisions.
Much public attention has been focused on the difficult life-and-death decisions that doctors or government officials will have to make as hospitals begin running out of ventilators. But the impact of racial bias may be most acute at the front door as crowded emergency rooms become increasingly inundated with the sick and dying.
"I think...it feels more sort of poignant to think about two patients in the ICU ward and you have one ventilator...but you don't even get to that point until you get into the hospital," Bateman-House said. "Biasing has happened long before that choice about a ventilator happens."
Black patients are already less likely to be admitted as inpatients in the ER. One 2015 study published in the journal Medical Care found that black patients with severe abdominal pain were admitted 11 percent of the time, while white people expressing the same symptoms were admitted 17 percent of the time. Hispanic people were admitted in only 10 percent of such cases. The study also found the same black and Hispanic patients waited longer in the ER before being seen: 31 percent had a "prolonged" ER visit, defined as over six hours, compared with 23 percent of white patients who waited that long.
Unlike explicit racial bias, implicit bias is often unconscious and unintentional. In clinical studies, it is measured through an Implicit Association Test, in which doctors and nurses are asked to do word association pairings with black and white faces in a matter of milliseconds. Studies show doctors with higher implicit bias spend less time and are less communicative with black patients than white ones. Others show that racial biases can influence diagnoses and treatments in even the most serious circumstances, like for patients at risk of contracting HIV or people with heart disease in need of anti-clotting drugs.
Bateman-House said assessments of relative human value, inhumane as they are, have already played out publicly during the early stages of the current crisis. When people ignore guidelines out of a belief that only the elderly and people with pre-existing conditions are susceptible to the virus, "and hence [that it is] sort of more permissible for it to be a potentially deadly disease, you can see the sort of bias right there," she said.
In The Emergency Room
Under normal circumstances in the ER, patients are typically first seen by a triage nurse who assesses their condition and what level of care may be appropriate, according to Bateman-House. Right now, with hospitals overflowing, triage in many ERs may be limited to assessing who is likely to need intubation or to rapidly decline.
New York City Health + Hospitals, the city's network of 11 public hospitals, did not respond to requests for information about how triage procedures have changed during the outbreak.
While the profession requires adept practitioners of life-saving judgement, Bateman-House says, racial bias may be a persistent problem among triage personnel who are already in the position of turning people away.
According to the U.S. Department of Health and Human Services, black patients receive lower quality care than white patients in 40 percent of over 250 measures (the greatest disparity of any of the racial/ethnic groups analyzed). Hundreds of other studies over the last two decades show similar inequities in every setting from routine visits to palliative care.
Differential treatment finds a fertile home in the emergency room, where doctors and nurses are trained to make snap judgements and where continuity of care is by definition truncated.
The 2015 study also showed race was a factor in whether patients would be given pain medication. Another study from 2008 found ER doctors had a lower probability of ordering lab tests for acute coronary syndrome when black patients presented with chest pain than when white patients did.
Often treatments are rationed or withheld from black patients that are routinely given to white patients. Disparities like this exist even when factors like structural differences in access to care are controlled.
Research suggests implicit bias is heightened when doctors are under pressure, stress, or fatigue, or lack contextual information -- conditions found in abundance in ERs across the city today. (An executive order recently signed by the governor removed limits on working hours for physicians and trainees.)
"Both on the level of trying to decide who is in enough of a crisis to be admitted into the emergency room and then in terms of monitoring how a patient is doing, only so much of that is done on the interpretation of clinical signs," Bateman-House, the medical ethicist, said.
The ER at Elmhurst Hospital in Queens is already seeing thousands of people seeking care for flu-like symptoms every week, many times what it sees typically this time of year, as The City recently reported. Citywide, doctors, nurses, and paramedics are now working around the clock to see patients, and the state and city are seeking more surge personnel to support them. Last week, the city took steps to relieve Elmhurst, part of Health + Hospitals, with a "surge" of medical supplies and personnel.
The magnitude and urgency of life-saving decisions is astronomical. Mayor de Blasio said Sunday that citywide between 200 and 300 new patients are being intubated daily. He said the city has 135 ventilators remaining in reserves and needs to secure another 1,000-1,500 ventilators by next Sunday in order to meet the projected demand. The situation is most dire in public hospitals, where resources have always been spread more thin and which serve especially at-risk populations who do not have other access to healthcare.
"That level of discretion about who is owed care is being rolled out under these types of stressful circumstances, when the healthcare system is already going to be overburdened," said Daniel Favors of the Center for Law and Social Justice, referring to the life-and-death consequences of denying or limiting care for coronavirus. "We know that black and brown people are going to be the ones that bear the brunt of that."
The Official Response
Public officials have been silent on the issue of implicit bias and have barely acknowledged the potential for disproportionate mortality rates because of unequal medical attention or access.
City and state officials did not respond directly to questions about protections against bias and discrimination in coronavirus treatment, or to how city and state governments plan to mitigate the impact of historically disparate access to care. As Gotham Gazette first reported, neither the city nor state has adopted official policies for ventilator triage, and there is no indication that officials plan to.
In an emailed statement, a spokesperson from the New York State Department of Health said its primary focus was expanding hospital capacity statewide by ending elective procedures, reducing the current inpatient population, and building more bed space. "This will allow for all populations to be cared for eqitably [sic], irrespective of economic, social or demographic characteristics," the statement read.
"At NYC Health + Hospitals our patients will receive the care necessary to their diagnosis," an Health + Hospitals representative wrote in a statement. "We are committed to our mission to care for all New Yorkers regardless of immigration status and ability to pay, and are focused on keeping all our patients and staff safe."
"Equity is a foundational principle at the NYC Health Department and it is embedded in every guidance, strategy and decision we make as an agency," wrote Michael Lanza, spokesperson for the city's Department of Health and Mental Hygiene. "We are in the midst of an unprecedented health crisis and remain committed to treating every New Yorker equally."
NYU Langone Health has given ER doctors sole discretion around ventilator allocation in its emergency departments, the Wall Street Journal reported last week. But it is not clear there is an official city- or state-wide policy about who will have the authority to make decisions about life-saving care, either in terms of hospital admission or ventilator allocation. Officials did not answer questions about whether and how those decisions would be monitored.
Suspended Regulations
The mandate to expand New York's hospital bed space comes with a need to staff tens or even hundreds of thousands of new positions. As of Saturday, April 4, Cuomo reported the state had a volunteer hospital surge force of 85,000, including many recent med school graduates and retirees. To help get there, Cuomo signed a series of executive orders suspending dozens of laws and regulations around who is legally able to provide medical care and in what settings.
The orders relax a host of requirements related to licensure and registration for doctors, nurses, nurse practitioners, physician assistants, radiologists, respiratory therapists, pharmacy technicians, and medical students. They allow students who graduated from foreign medical schools to practice in New York hospitals without licensure. They also allow for "abbreviated medication administration training" in state-licensed facilities for people with developmental disabilities. The latest order, signed Saturday, allows medical students to practice medicine if they are set to graduate.
Meanwhile, the state has moved from regulating to underwriting the decisions of medical professionals.
Apparently anticipating a deluge at hospitals, one order removes important oversight and record-keeping requirements to allow more flexibility in providing rapid treatment, and eliminates certain civil and criminal liabilities for healthcare providers.
Registered nurses and physician assistants can now perform certain new functions without a supervising physician. As the death toll inevitably rises, doctors, nurses, and physician assistants will be immune from civil liability for any injury or death "sustained directly as a result of an act or omission" in the course of providing COVID treatment. This was largely codified in the Emergency Disaster Treatment Protection Act, which was passed Thursday in the state budget. The law extends liability protections to administrators and leaders of medical facilities.
To what extent safeguards against bias and differential treatment have been suspended under the lax regulations is not yet known.
The same order that loosens oversight also removes civil liabilities if a provider fails to comply with medical record-keeping requirements. Quality record-keeping is essential for maintaining adequate care and helps hold physicians accountable. The Department of Health's Office of Professional Medical Conduct, which oversees physician misconduct and discipline in New York State, publishes the outcomes of all adjudicated misconduct charges on its website including a boiler-plate description of the infraction. Clicking through the first 100 profiles shows a majority of doctors who were disciplined for misconduct that included failing "to maintain accurate medical records."
A state Department of Health spokesperson said they could only comment on fully adjudicated matters, not general complaints, and did not respond to a request for information on adjudicated charges related to racial bias.
The U.S.N.S Comfort
In many ways, the possibility of a disproportionate death toll in communities of color is a question of how ongoing inequities in medical care are reregistered at each joint of the enormous web of hospital infrastructure that has begun to solidify in recent days.
With city and state governments desperately trying to manage the growing demand for medical attention, Cuomo announced on March 30 an unprecedented new network of resource-sharing among all hospitals, public and private, throughout the entire state. The plan, coordinated by the state Department of Health, involves transferring patients, as well as supplies and personnel, from one hospital to another as facilities reach capacity.
The statewide distribution system mirrors a strategy that New York's public health officials have been pursuing for weeks: Cuomo, with the help of the federal government and local partners, is trying to rapidly find, build, and import space for additional hospital beds to serve as a release valve on the city's swelling system.
A key component of Cuomo's "rescue mission" is the U.S.N.S. Comfort, a 1,000-bed Navy hospital ship with a dozen operating rooms, which has been deployed to war zones and the sites of natural disasters. The Comfort arrived in New York Harbor on Monday and docked off of Manhattan's West Side. Along with the Javits Center, it makes up a bulk of the city's 2,500 new hospital beds.
The Comfort, until Monday, had not been authorized to receive COVID-19 patients. But even among non-COVID patients, federal officials had set up broad restrictions on who it will accept for treatment and had only admitted 20 patients as of last Thursday, according to a New York Times report.
The ship's promise has been squandered in the past, due in large part to the tangle of bureaucracy that can arise when multiple levels of government must respond to a disaster. In that scenario implicit and explicit bias were part of its failures.
During the 53 days that the Comfort was deployed to Puerto Rico in the aftermath of Hurricane Maria, which decimated the island's health system in 2017, it admitted only 290 patients (an average of six per day), the New York Times reported at the time -- due largely to the hurdles involved in transferring patients from the island's hospitals. In a discussion of the vessel's limitations, the Times reported one ship doctor was heard complaining about "social cases," which typically refers to patients who have no home or caregiver to be discharged to.
While the island's conditions posed different challenges, the episode gives a clue about how people can be denied care when a crisis obliterates health care infrastructure. And it speaks to the human element involved in that process, especially when the health care system can no longer attempt to provide the secondary supports, like locally-based discharge workers, that usually accompany hospital treatment in the United States.
In January 2010, the U.S.N.S. Comfort arrived in Port-au-Prince, Haiti, after an earthquake killed hundreds of thousands of people and crumbled the nation's roads and hospitals. Admission to the ship was coordinated largely by the American military, including the 82nd Airborne Division of the U.S. Army, first from the lawn of the National Palace and later from a site further inland. Images captured at the time show humvees and helicopters full of people on stretchers with head wounds and badly damaged limbs filing toward the ship.
One photograph taken by Getty Images photographer Joe Raedle in the ship's staging area near the Palace shows a young girl, not more than ten, in a hospital gown, lying on a stretcher, with braided hair and a laceration around one eye. Stuck onto her forehead is a piece of transparent tape with the word "Ship" written on it.
Christina Sharpe, a scholar of Black Diaspora Studies at York University, in her 2016 book In the Wake: On Blackness and Being notes that the tape could signal "medical necessity." It is hard to ignore the "imperative" of the piece of tape, and what she calls its "expedien[cy]." But the tape is also dehumanizing, which seems antithetical to the concept of a rescue mission, and Sharpe questions "the violence of someone placing the word Ship on the forehead of a young Black girl."
***This was part one of a two-part series. Read part two: A 'Human Rights Tragedy' Unfolding - Part II: The ER Was Their Only Source of Care Before the Pandemic Hit***