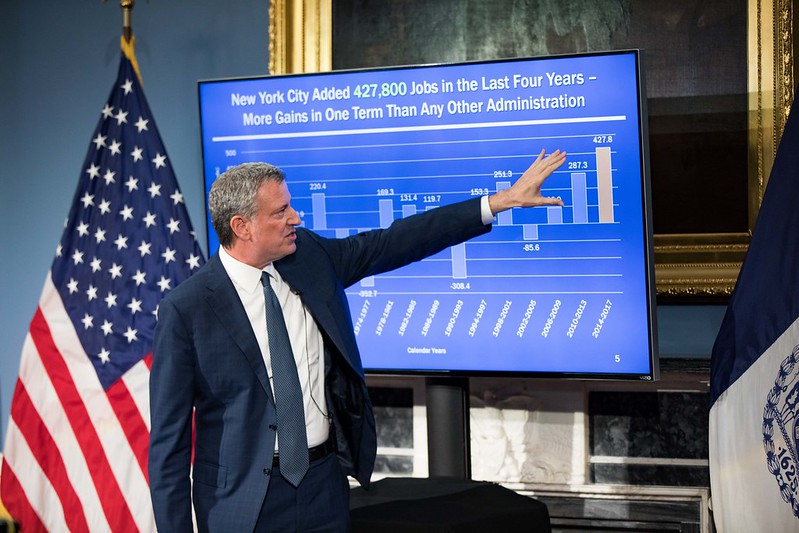 Mayor de Blasio at a prior budget briefing (photo: Benjamin Kanter/Mayoral Photo Office)
---
With the sobering reality presented by the coronavirus pandemic that has shut down major sectors of New York City's economy, Mayor Bill de Blasio on Thursday released a significantly pared down $89.3 billion executive budget proposal for the 2021 fiscal year, a staggering $6 billion drop from his preliminary budget plan put forth in January. To do so, the mayor identified dozens of cuts and spending reassessments across city agencies, from modifying school programs to keeping the city's public pools closed for the upcoming season.
Given steep revenue shortfalls in the current year projected to extend into next, the mayor said his budgeting relies on using about $4 billion of the roughly $6 billion the city has in reserves, though he repeatedly stressed that the federal government should pass a rescue package that fills the city's growing hole.
The coronavirus has been nothing short of devastating, with the city reporting 10,899 deaths caused by the outbreak as of Wednesday. Entire industries have come to a near-standstill as people shelter at home. Unemployment has hit record highs, and there is no end in sight.
Suffice it to say, it has quickly become the most challenging budget de Blasio has had to create since he took office in 2014. A new city budget, with agreement from the mayor and City Council, is due by the July 1 start to the new fiscal year.
"There are four things that we will focus on, four things that I care about profoundly as we fight this battle, four things that we will prioritize in the way we spend our resources," de Blasio said in his budget presentation, live-streamed from City Hall. "First of all, keeping New Yorkers healthy...Second, keeping you safe. Third, making sure there's food on your table. Fourth, keeping a roof over your head. These are the basics. These are just fundamental basics."
For nearly a decade, the city had benefited from constant economic growth that allowed the mayor and Council to increase spending by nearly $20 billion while growing the size of city government to unprecedented levels. Despite cost-shifts from the state and growing concerns about an economic slowdown, the city budget was on track to grow again this year. But the coronavirus has changed everything.
"Things that might have been a priority two months ago, three months ago, can't be a priority right now," the mayor said. "Things that we would love to focus on in peacetime, we don't get to focus on in wartime and this, in effect, is wartime."
De Blasio said the city expects revenue to fall by $7.4 billion across the current fiscal year, ending June 30, and through the next because of decreased collections of sales and hotel taxes, personal income tax, and business taxes. According to an Independent Budget Office estimate released Wednesday, that shortfall could be even worse, which the mayor acknowledged when asked by a reporter during the virtual question-and-answer session after the mayor's initial presentation. "It could grow by a little. It could grow by a lot. It could grow by billions even," de Blasio said. "But right now this is based on the facts as we know it."
[Read: New Reports Paint Bleak Picture of New York City Economy, Budget]
Some of the city's pain comes from the recently-approved state budget, which, according to the mayor, forced $800 million in costs onto the city including $360 million in education aid, $123 million for the Temporary Assistance for Needy Families program, and $63 million for the MTA's Access-a-Ride program. The state budget also allows the state to intercept sales tax proceeds from the city to fund distressed hospitals, which would cost $250 million.
The state toll may also not be final since Governor Andrew Cuomo has the ability to adjust spending periodically if the state's revenues fall short of the projections used to craft its budget, and cuts could come in the form of reduced aid to localities. The federal government's role remains the wild card, with both de Blasio and Cuomo repeatedly calling on President Donald Trump and Congress to pass another rescue package that directly addressed state and local government need.
Last June, the city adopted a $92.8 billion budget and in January of this year the mayor had proposed increasing spending to $95.3 billion for next fiscal year. Instead, he has been forced to significantly reduce spending and institute a PEG (Program to Eliminate the Gap) to find savings and efficiencies at city agencies.
Across the 2020 and 2021 fiscal years, the administration found $2.1 billion in PEG savings and another $600 million in savings on citywide spending, for a total of $2.7 billion. Of the total, however, only $820 million constituted recurring savings that can be replicated each year.
The administration also had to fall back on its rainy day reserves, which had been built up to nearly $6 billion under de Blasio, well short of what budget watchdogs have called for given the immense increases in city spending.
"We got much more than a rainy day, we got a pandemic. We got something unimaginable," the mayor said. The executive budget would leave the reserves at about $2.18 billion in fiscal year 2021, after the city drew $900 million from the general reserve, $250 million from the capital stabilization fund, and $2.6 billion from the Retiree Health Benefits Trust fund (which would have $2.08 billion left).
The direct costs of battling coronavirus have been immense. The mayor said the city has already spent $700 million fighting the outbreak, and expects to spend $3.5 billion in total by the end of 2020. Included in that is $170 million on providing food to hungry New Yorkers, $100 million to bolster staffing at the municipal hospital system, $200 million to purchase Personal Protective Equipment for medical and other emergency personnel, and $50 million for grants and loans to small businesses.
De Blasio repeatedly emphasized that the only way the city would be able to restart its economy and ensure that basic services continue to be met is if the federal government provides adequate emergency relief directly to the city in the latest round of stimulus being negotiated in Washington. "If we can't provide the basics for our people. then you can kiss your recovery goodbye," he said bluntly.
Without federal funds, the city may have to eventually consider layoffs, de Blasio said, though he insisted that it was the "last resort."
"We must have that stimulus money, or else we're gonna have to make horrible choices going forward," he said. Under his tenure, the city has added more than 33,000 full-time and full-time equivalent employees to the municipal workforce, a trend that budget watchdogs have long said is unsustainable even during times of positive economic growth.
"When you look at the impact here, anybody with a heart would recognize the federal government has to come to the rescue," he added. He noted that the federal government was quick to bail out major banks and the auto industry during the Great Recession, and that the $2.2 trillion stimulus package approved in the current crisis has provided only $1.4 billion in direct aid to New York City while giving $58 billion to the airline industry alone.
"How about bailing out the nation's largest city? How about bailing out the epicenter of this crisis where people have been suffering?," de Blasio said. "That is what our federal government should do, for every reason, morally, practically, as any question of fairness, as any question of how we move forward. And we're still waiting."
If push comes to shove, the mayor has said the city may have to ask the state Legislature to authorize city borrowing to pay costs. Currently, state law requires the city's budget to be balanced each year so it can only spend what revenues it has at its disposal. "We have not yet activated or worked to activate new borrowing capacity," de Blasio said on Thursday. "It's certainly a conversation we will have going forward, the possibility of doing some kind of long-term borrowing that is fiscally smart."
The reductions and savings that the administration made cut across education, social services, law enforcement, transportation, infrastructure, housing, parks, sanitation, administrative costs, and other areas. A sampling includes:
– $100 million reduction in fair student funding in FY21
–$100 million saved because of school closures in the current fiscal year
–$124 million from suspending the Summer Youth Employment Program over FY20-21
–$65.5 million in reduced spending in FY20 on the Fair Fares program, because of the drop in subway ridership caused by the coronavirus
–$128 million cash infusion from the Water Authority in FY20
–$55 million in reduced spending on snow removal operations in FY20
–$106 million in savings from a hiring freeze and vacancy reductions
The City Council was forced to suspend hearings on the preliminary budget because of the outbreak but is expected to resume them, albeit remotely, for the executive budget. The Council and administration must then come to an agreement before the July 1 start of the next fiscal year.
In a joint statement, Council Speaker Corey Johnson, Council Finance Committee Chair Daniel Dromm and Capital Budget Subcommittee Chair Vanessa Gibson acknowledged that they will have "tough decisions" to make. "Our guiding principal will be to ensure that the most vulnerable New Yorkers are protected and that we keep providing critical social services," they said. "We will use our upcoming budget process, which will be done remotely for the first time in Council history, to determine the best ways to deal with the extreme economic challenges we are facing as a City."