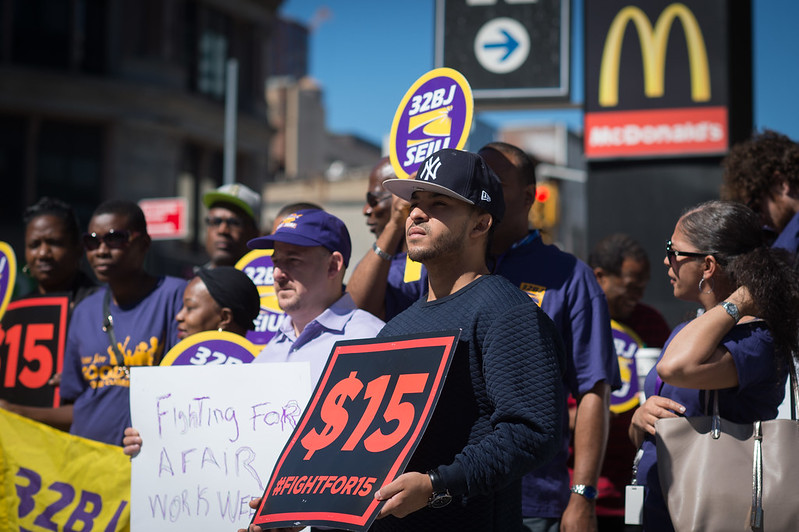 Workers are at the forefront of a new effort (photo: Michael Appleton/Mayor's Office)
---
New York's economy will likely take years to recover from the devastation wrought by the coronavirus pandemic, with millions of people unemployed and billions of dollars in lost revenue. A group of experts from the public and private sectors is hoping to create a roadmap to recovery that will help the state emerge stronger from the most challenging socio-economic crisis it has faced in modern times.
The pandemic has forced the closure of entire industries in New York, with mass layoffs and furloughs ravaging the workforce. The hardest hit sectors include retail, hotels and restaurants, arts, entertainment, and recreation. As of April 18, more than 1.4 million people had filed for unemployment insurance with the state Department of Labor. In New York City, the epicenter of the outbreak, the effects have been dire. By some estimates, the city has already lost 1.2 million jobs and will lose another 475,000 over the next year.
[Read: New Reports Paint Bleak Picture of New York City Economy, Budget]
But the 51-member NY Workforce Recovery Strategy Group, announced this past week, is already planning the way ahead. The group includes representatives from business coalitions, nonprofits, labor groups, policy think tanks, and academia.
"We all recognize that we're all dealing with this firsthand, that there are a lot of issues that need to be triaged and dealt with in the very immediate future," said Jose Ortiz, Jr., executive director of the NYC Employment & Training Coalition and a member of the new Workforce Recovery Strategy Group. "But we also thought it was important that organizations that were across the different sectors of work and employment came together to start to think about what a strategy would look like for redeploying the workforce, for strengthening the business community, and for ensuring that there was equitable access to a post-COVID economy over the coming months."
Other organizations participating in the new strategy group include all five borough chambers of commerce; consulting firms; social service organizations; advocacy groups and coalitions; and others, with names including the New York Immigration Coalition; Google; the New York City Hospitality Alliance; and many others.
As Ortiz noted during the Friday interview, it's understandable that the city, state, and federal governments have been laser-focused on stemming the tide of the coronavirus public health crisis, and have taken limited steps to keep workers and businesses afloat. Federal stimulus dollars have gone to some nonprofits and businesses to maintain their payroll while many individual taxpayers are receiving direct relief funds. Small business loan programs at the federal and local levels were quickly tapped out, though, with efforts to replenish the federal program in motion.
As governments take insufficient, stop-gap measures to tackle the current crisis, the NY Workforce group aims to find specific long-term solutions to future problems, focusing on four key areas: supporting small business and entrepreneurship with grants, loans and workforce development programs; identifying large-scale public works projects that can put large numbers of people back to work; maintaining the educational and job training ecosystem for youth and adult learners; promoting equity for the most marginalized workers and providing them with individual relief.
"I think there are things that we do genuinely have to be concerned about," said Ortiz, noting that some of the issues facing the state's workforce existed well before the pandemic. "What does the future of work look like over the next 10 years? How is the economy changing? What are the needs in talent specifically that are associated with those employment needs? And...how do we best support the employers and business groups in delivering that type of talent?"
Concerns about workforce development have been particularly raised in New York City, which saw a strong and sustained recovery from the Great Recession but one that was marked by inequity. The job landscape diversified outside of Wall Street, but most of the new jobs created were in low-paying sectors. Wages went up but did not keep pace with the inflating cost of living. Jobs with better pay required greater education or more skill development, lacked by those who desperately needed those jobs. Roughly 18.9% -- or 1.6 million people -- of New York City residents were living in poverty as of July 1, 2019, according to U.S. Census Bureau data.
As Mayor Bill de Blasio touted the city's success and pushed for creating "good-paying jobs" that pay at least $50,000 a year, experts and advocates like Ortiz noted that the city's residents may not be the ones filling those jobs -- a debate that raged as the Amazon 'HQ2' deal came and went.
"What has become evidently clear during this crisis is that the slow reconstruction of jobs or even elimination of some of those jobs over the next 10 years essentially happened overnight," Ortiz said.
On Sunday, Governor Andrew Cuomo and Mayor Bill de Blasio separately announced plans to slowly reopen the state's and city's economies. Cuomo's plan envisions a phased-in regional approach, beginning with construction and manufacturing. De Blasio created several task forces to ensure that efforts at promoting economic growth focus on minimizing the inequities, particularly racial disparities, that already exist in the city and have been exacerbated by the pandemic.
"This crisis is not only about a virus; it's about the fallout from hundreds of thousands of our neighbors losing their jobs and struggling to provide for their families. It's about the outsized devastation communities of color are facing across the country," the mayor said in a statement. "I am not only calling on New Yorkers from all walks of life to help us get our city back on its feet – I am calling on them to join me in the fight ahead for a fair recovery."
As Ortiz noted, economic recovery takes longer for the most vulnerable workers and they are more adversely affected by each subsequent crisis. In the midst of this pandemic, they also make up a large proportion of the essential workforce that is keeping the city and state's systems running. "We really need to value people not just in the way of basic essential services, but we need to provide stronger futures for them that includes a strong pathway to employment," he said.
The 51 initial organizations in the NY Workforce Recovery Strategy Group are Association for a Better New York, Bedford Stuyvesant Restoration Corporation, Bronx Chamber of Commerce, Brooklyn Chamber of Commerce, Brooklyn Navy Yard Corporation, Brooklyn Workforce Innovations, Center for an Urban Future, Children's Aid, Chinese-American Planning Council, City University of New York, Civic Hall @ Union Square, Cognizant, Company, Consortium for Worker Educational, DC37, Downtown Brooklyn Partnership, Goodwill Industries of Greater New York and Northern New Jersey, Google, Greater Jamaica Development Corporation, Henry Street Settlement, HERE to HERE, Hispanic Federation, HR&A Advisors, Human Services Council of New York, JobsFirstNYC, L&M Development Partners, Long Island City Partnership, Lutheran Social Services of New York, Manhattan Chamber of Commerce, New York Association of Training and Employment Professionals, New York City Employment & Training Coalition, New York City Hospitality Alliance, New York Immigration Coalition, Nonprofit New York, Northern Manhattan Improvement Corporation, Opportunities for a Better Tomorrow, Partnership for New York City, Per Scholas, PHI, Phipps Houses and Neighborhoods, Queens Chamber of Commerce, Regional Plan Association, School of International and Public Affairs at Columbia University, Stanley M. Isaacs Neighborhood Center, Staten Island Chamber of Commerce, STRIVE NY, Tech:NYC, The Bronx Private Industry Council, The Fortune Society, The HOPE Program and Sustainable South Bronx, and Workforce Professionals Training Institute.