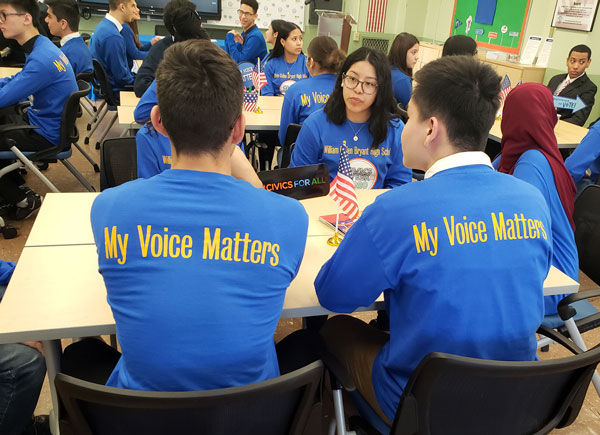 Students participating in Civics Week (Mayor's Office)
---
In March, before the coronavirus pandemic hit, New York City held its second annual "Civics Week," which sought to pre-register and register high school and college students to vote.
Given the law passed last year by the State Legislature and signed by Governor Andrew Cuomo, 16- and 17-year-olds are now allowed to pre-register to vote, with their registration kicking in as soon as they turn the voting age of 18 and making high schools more ripe for registration efforts.
Gotham Gazette reported on this year's efforts at the time, but the city had yet to tabulate all the registration information from the many participating schools, and the coronavirus outbreak then complicated everything. But the city has now shared that during its 2020 Civics Week, 29,642 students were registered or pre-registered to vote. In 2019, 18,233 students were registered, making for a 60% increase this year.
According to the city, hundreds of volunteers from city agencies, community groups and nonprofits, and the offices of more than 40 elected officials were out in hundreds of high school and college classrooms helping students register.
Civics Week was introduced by Mayor Bill de Blasio as a collaboration among his new DemocracyNYC initiative, the mayor's Public Engagement Unit, and the Department of Education, among others, according to Lindsay Acker, Field Director for DemocracyNYC and the Public Engagement Unit. The week is "dedicated to giving our students the tools they need to be active, productive participants not just in our economy, but in our democracy," according to the city website.
"Civic engagement is important now more than ever. I was proud to help pass New York State's law allowing 16- and 17-year-olds to pre-register to vote because we must empower and encourage our youth to register to vote and be active in our democracy," said Brooklyn Assembly Member Joe Lentol, in a statement to Gotham Gazette. "Their voices will determine the laws of tomorrow. The success of the student voter registration drive highlights the importance of this program and that of participation in our democracy."
Laura Wood, Senior Advisor and General Counsel for DemocracyNYC, called the Civics Week student voter registration drive "a great opportunity to empower youth" and credited the big jump in registrations through a "tremendous city-wide coordination and outreach effort" with partnership among City Hall, the DOE, elected officials, community-based organizations, and also the city's Campaign Finance Board, which runs a robust voter outreach effort called NYC Votes.
For those eligible to vote this year, their registration comes just in time to participate in the 2020 presidential election, as well as other general election races for Congress and the State Legislature happening this fall. And many may be eligible to vote in party primaries set for June, depending on their party registration and relevant races in their home districts.
According to the state bill that made 16- and 17-year-old pre-registration law, "age 16 is a sensible time for the DMV and high schools to collect information for voter pre-registration, as it is the time when a significant amount of people have their first interaction with the DMV, and it is an age where school is still compulsory in New York. Pre-registration allows this information to be collected at a convenient time for the individual rather than making them return to the boards of elections or a state agency when they reach eligible voting age."
"It cannot be overstated how vital it is to our democracy that young New Yorkers make their voices heard," said Manhattan City Council Member Helen Rosenthal, in a statement to Gotham Gazette. "Five years ago, my office launched Student Voter Registration Day, and thanks to Mayor de Blasio's DemocracyNYC initiative, opportunities for youth civic engagement only continue to grow."
The COVID-19 pandemic has changed the way New Yorkers are participating in democracy. Several elections, including the state's presidential primary, were originally postponed from April to June, then canceled, while many elections remain on the ballot, including congressional and state legislative primaries, as well as a primary for Queens Borough President and a vacant City Council District 37 seat in Brooklyn.
The Democratic presidential primary was controversially canceled after all candidates conceded to former Vice President Joe Biden and state lawmakers included language in a state budget bill allowing the Board of Elections to cancel it, citing the pandemic, though the decision is being challenged in court. The Republican presidential primary had already been canceled after no challengers to President Donald Trump made the New York ballot.
Governor Cuomo has now ordered that all eligible voters be offered the chance to vote absentee in the June primaries, while poll sites will be open in some capacity. Other changes are being debated.
"The coronavirus pandemic has transformed every facet of American life," said Wood. "The 2020 elections are no exception - from registering to vote to election day. The crisis means that moving to an online voter registration system is sensible and timely, and we hope that the city Board of Elections moves quickly to adopt the Campaign Finance Board's system."