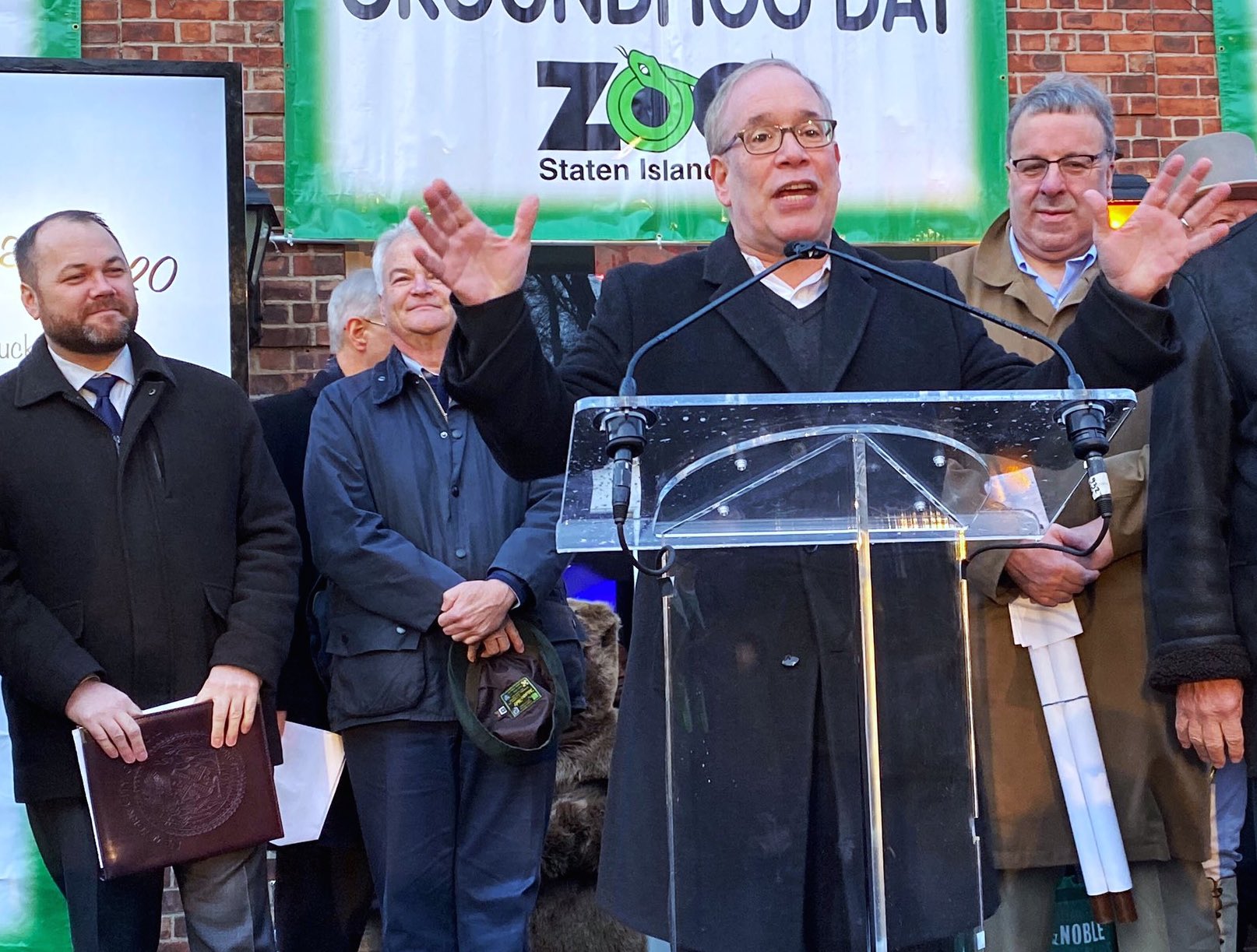 Scott Stringer, center, with Corey Johnson, left (photo: @NYCComptroller)
(photo below: John McCarten/City Council)
---
With just over a year until the 2021 Democratic primary that will likely decide who becomes New York City's next mayor, one of the leading contenders, Comptroller Scott Stringer, in a recent interview took an unmistakable jab at another, City Council Speaker Corey Johnson, while previewing his argument that he is best suited for the job.
Stringer has had his eye on the mayoralty for years and is finally making his run, with Johnson, who recently emerged at the top tier of city politics, seen as an especially challenging competitor given the two white Manhattan liberals are no doubt seeking many of the same voters.
After launching a brief mayoral run in 2013, eyeing a challenge to Mayor Bill de Blasio in 2017, winning two citywide elections, and more than six years as a citywide official, Stringer has honed his campaign pitch. He made it evident again in a recent interview on Arena Talks, a podcast hosted by Ravi Gupta, co-founder and managing partner of Arena, a national progressive organization that assists and trains left-leaning Democratic candidates, campaign operatives, and government aides, while also take a shot at Johnson.
When Gupta asked Stringer what he would tell voters who might have lost faith in the progressive vision that de Blasio offered for years but in many ways failed to provide, Stringer offered some praise for the mayor's accomplishments and his "heartfelt" focus on income inequality, while also offering a typically harsh critique. But he also had veiled criticism for Johnson, whom Stringer has mostly not publicly attacked as the two, among others, are on their collision course.
"But we now have to, I think, have a progressive administration that knows how to govern, especially in these very difficult times. We need a progressive who has real on-the-job experience because you can't leave it to chance. This is not about speechifying, I don't know, dancing around," Stringer said, with apparent reference to Johnson's penchant for public dancing, which has often garnered attention at parades across the city.
Stringer continued, "This is about thinking strategically about the economy we want for younger people, [we] want to make sure that we can safely open our schools and our colleges. We have to make sure that the people who are in the gig economy and the frontline workers, in particular the doctors and the nurses, the people who are today's heroes, we need to get them the resources they need. I mean I love parades, I love ticker-tape parades but man, Ravi, hook up the people who every day go to work not knowing that they're going to ever see their child again."
Stringer's comments may seem anodyne but, for those familiar with the City Council speaker, it was a thinly-veiled back-handed critique. Johnson, the first openly gay and openly HIV-positive speaker of the Council, is known to some for his outgoing, affable personality, and his dance moves, which he has shown off at several parades, including, for example, the Brooklyn Pride Parade of the last two years, where's he's led a Council pack along 5th Avenue, as he has at other parades in other parts of the city since being elected speaker by his Council colleagues. Some of those dance moves have become sensations on social media, where Johnson has also repeatedly posted himself lip-syncing to pop music and dancing in other venues. At a September news conference when he released a comprehensive plan to combat homelessness, Johnson spoke of his mother, who works with the homeless in his home state of Massachusetts, and how she does a happy dance when she finds a home for one of her clients. Johnson then danced with a reporter.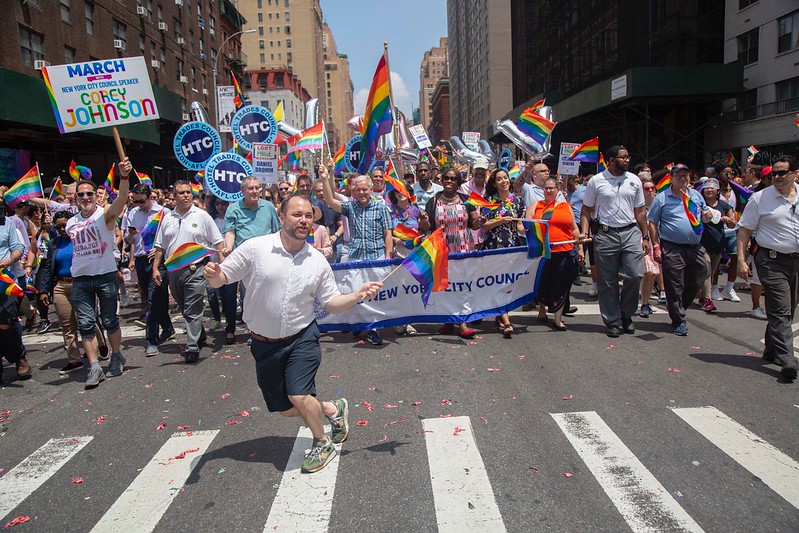 Stringer's ticker-tape comment was a more obvious dig at de Blasio, whose early promise to hold one for first responders and health care workers after the pandemic has passed prompted widespread criticism and ridicule. "I want to guarantee you one thing, that when that day comes that I can restart the vibrant beautiful life of this city again, the first thing we will do is have a ticker-tape parade down the Canyon of Heroes for our health care workers and our first responders," de Blasio said at an April 21 media briefing.
Stringer did go on to say in the Arena interview that he was "not thinking about" the mayoral race. A campaign spokesperson said the same when Gotham Gazette asked whether Stringer's "dancing around" comment was meant for Johnson. "There are almost 200,000 confirmed cases of COVID-19 in New York City. We've lost 15,000 of our fellow New Yorkers. The Comptroller is singularly focused on providing oversight and leadership to help New Yorkers get through this crisis. Everything else is just noise," said Jennifer Galvin, a spokesperson for Stringer's campaign, in an email.
Jennifer Fermino, a spokesperson for Johnson's campaign, said, "The Speaker is focused on the City Council and providing relief to tenants, small businesses, and essential workers during this crisis."
A Democratic consultant who asked to remain anonymous to speak freely and who is not involved in any 2021 campaigns at this time said there was no predicting how the 2021 race will shape up after the pandemic, but voters will definitely yearn for "competent, steady leadership."
"The case that Stringer can make to people is that he has worked his way through the rungs of government, that as the comptroller he understands the fiscal side of the city perhaps better than anyone else, and he's been a legislator and he's been a borough president. So he's got a good grasp of how the different pieces of this all fit," the consultant said. "Clearly, he's making the case that whoever the next mayor is, they need to be someone who has the experience at all these levels of government, and can corral the city's bureaucracy while at the same time projecting a steady hand."

The consultant said Stringer was making a contrast with Johnson, "who has made a brand of cheerleading for New York, of being an unapologetic New York 'nationalist,' someone who wears New York on his sleeve. And there's definitely a need for that."
The consultant said the goodwill Johnson has experienced may evaporate at some point. "Corey has had a pretty good run of noncritical press for a long time now and as the campaign eventually heats up, that's gonna go away," the consultant said.
Though the coronavirus has upended New York City politics, subsuming focus on future elections, the June 2021 primary nonetheless looms large over the city. Every seat in municipal government will be on the ballot, and the mayor, comptroller, four borough presidents, and dozens of City Council members face term limits disallowing them to run again and provoking additional competition. In a heavily Democratic city, the winner of that primary is all but assured to win the general election for almost every seat.
Stringer abandoned a short-lived bid for the mayoralty in the 2013 election that saw de Blasio win the first of two terms as Mayor. Stringer instead successfully ran for comptroller, winning reelection in 2017.
Before that reelection run, Stringer eyed a run for mayor in 2017, when de Blasio faced dual ethics investigations by federal and state prosecutors over his fundraising activities and relationships with donors. But Stringer again demurred when the investigations closed and no charges were filed.
Now Stringer finds himself in the top tier of candidates seeking to become the city's chief executive, alongside Johnson and Brooklyn Borough President Eric Adams, another two-term Democrat. All three, along with de Blasio, are term-limited from running again for their current seats. Several other candidates are also in the running or exploring a mayoral run, including Loree Sutton, a retired Army Brigadier General and former commissioner of the city's Department of Veterans' Services; Dianne Morales, a nonprofit executive in the Bronx; and Shaun Donovan, a former high-level aide to President Barack Obama and Mayor Michael Bloomberg.