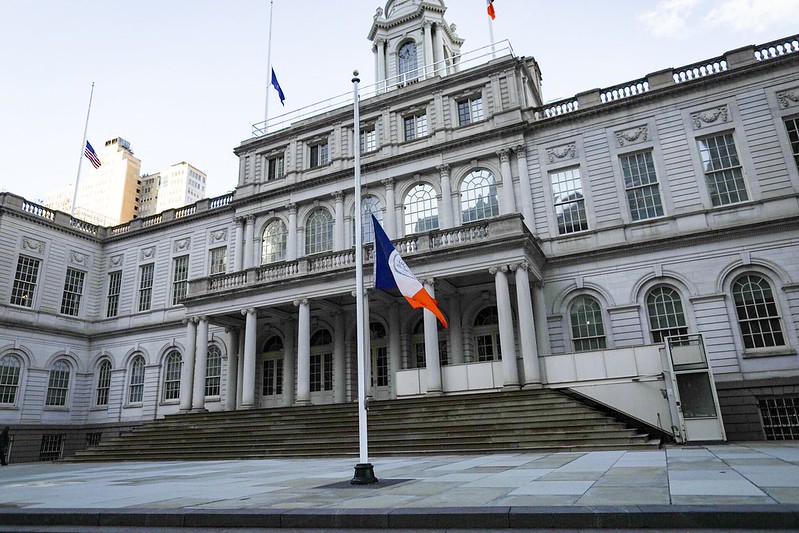 New York City Hall (photo: Benjamin Kanter/Mayor's Office)
---
New York City has slowly turned the tide of the COVID-19 pandemic and has just begun the first phase of reopening its economy. But despite the last few weeks of success in curtailing the public health crisis, Mayor Bill de Blasio's leadership has left many frustrated and looking elsewhere. He has been criticized for providing too little clarity and few plans to the public about various health, social, and economic pieces of the city's larger recovery puzzle, often proving reactive rather than proactive and being outpaced by other officials.
And the second-term, term-limited Democratic mayor's struggles have been additionally apparent when it comes to the recent protests against police brutality, during which he imposed a much-opposed curfew and appeared largely satisfied as NYPD officers used harsh, often violent, tactics to disrupt the demonstrations, which have been largely peaceful.
As de Blasio has faltered in handling both crises, alternative approaches have been offered by those seeking to replace him when his term is up at the end of next year. Contenders to be the next mayor, particularly those who currently hold elected office, have sought to fill the leadership gap, seizing on mayoral missteps and crafting their own images of resolve amid crisis.
There are several Democrats who have declared a run for mayor in 2021, and with Democratic voters outnumbering Republican voters seven-to-one, the winner of the June 2021 primary election is likely to go on to win the general next November. The declared and exploring candidates include City Council Speaker Corey Johnson; Comptroller Scott Stringer; Brooklyn Borough President Eric Adams; Loree Sutton, a retired Army Brigadier General and former commissioner of the city's Department of Veterans' Services; Dianne Morales, a former nonprofit executive; and Shaun Donovan, a former high-level aide to President Barack Obama and Mayor Michael Bloomberg.
Coronavirus Crisis
Besides making regular television and radio appearances, Johnson, Stringer, and Adams have each been playing their respective roles in government during this crisis, while also staying true to their personal styles, and to varying extents hosting and attending virtual town halls, roundtables, and face-mask and food distribution events.
As Speaker of the Council, Johnson has been leading budget negotiations with the de Blasio administration for the next fiscal year, which begins July 1, while also ushering through legislation aimed at providing relief to city residents and businesses.
Johnson has questioned the mayor's priorities in planned funding cuts from education, youth employment, and after-school programs as the city faces a $9 billion budget gap by the end of the next fiscal year. In particular, the speaker and his colleagues have called for between 5-7% of savings at each agency that has not been included in the mayor's Program to Eliminate the Gap (PEG).
Besides holding budget hearings specific to city agencies, in April the Council introduced a package of 11 crisis-relief bills. They included worker protections, pay bonuses for hourly workers, fines against landlords, expansion of paid leave to independent contractors, and providing homeless people with hotel rooms, among other things.
The Council has since passed four of those bills – providing a waiver and refund of sidewalk cafe fees; preventing landlord harassment based on a person having been impacted by COVID-19; similarly preventing harassment of commercial tenants; and prohibiting the enforcement of personal liability clauses in commercial leases.
Several other pieces of legislation have also been approved that, though not included in the package, deal with issues arising from the pandemic. They include additional reporting on the city's contact-tracing program, reporting on health conditions in correctional facilities and limits on fees charged by third-party food-delivery apps.
Johnson and the Council have also been scrutinizing the mayor's response to the pandemic, criticizing racial disparities in NYPD enforcement for social distancing violations and pushing the administration to release more data on enforcement. The Council also held an oversight hearing in May to examine how the administration handled the first months of the crisis.
In May, when the state allowed beaches to reopen but, in an apparent attempt to avoid crowding, de Blasio refused to allow swimming at city beaches, Johnson and the Council offered their own alternative ten-point beach plan. The Council's plan, released two days after Stringer presented a beach and pool plan of his own, would allow swimming, let beach-adjacent restaurants reopen, provide lifeguards with personal protective equipment, and increase transit options, among other measures. But weeks later nothing has moved on the beach front.
In preparation for phase 2 of the city's reopening, which could happen as soon as June 22, and as the mayor again moved slowly, the Council also took the lead on expanding outdoor dining space and easing the permitting process for sidewalk cafes. A bill was introduced by Johnson and Council Member Antonio Reynoso and was heard before the Council days before the de Blasio administration released its own plan for outdoor dining.
Stringer, in his role as the city's chief fiscal officer, has continued to audit city agencies with a particular eye on issues related to the pandemic.
In early April, Stringer called on the mayor to release demographic data on the impact of COVID-19, as it increasingly became apparent that low-income New Yorkers of color were more likely to die from the novel coronavirus. He later pushed for a release of antibody data as well to glean more clarity on the impact in those communities.
He launched an online workshop series to inform small businesses and minority- and women-owned businesses about financial resources to help them survive the crisis.
Stringer has also been hitting the administration hard on its budgetary decisions, particularly those impacting nonprofit providers that are contracted by the city.
Focusing on the adverse consequences the pandemic has had on the city's most vulnerable populations, Stringer released a report with a slew of recommended measures to house homeless people, expand public space in overcrowded communities, provide PPE to landlords and building service workers, expand support for remote learning, expand access to public benefits, and more. He has also called for the creation of a federal COVID-19 Victims Fund to provide benefits to the families of frontline workers.
In mid-May, Stringer also launched an investigation into the administration's preparedness and response to the pandemic. "Every single New Yorker deserves to know what City government did to prepare and prevent the worst," he said in a statement at the time.. "All New Yorkers have been touched by the devastating fallout of COVID-19. As the City's independent fiscal and oversight officer, I am determined to examine what we knew, when we knew it, and what we did about it."
Stringer proposed his plan for reopening city beaches and pools ahead of Memorial Day, recommending capacity limits, reservations through lotteries, and reduced access to facilities where people would be in close quarters, among other things. (Johnson's plan included a transit element that Stringer's did not.)
Stringer also weighed in on the NYPD's social distancing enforcement, noting in an analysis of 311 calls that a greater share of enforcement was occurring in low-income communities of color.
Borough President Adams has been heading up his response to the pandemic from Borough Hall, where he has been living for the last two months, and taking a much more on-the-ground approach than his competitors. He has been raising donations to purchase personal protective equipment, delivering food and PPE across the borough, and even supporting local Census outreach efforts.
As a former NYPD officer, Adams has taken a "first responder" type approach, he has said, but has also drawn on his experience to criticize the police department's social distancing enforcement, which he noted, as did many others, was reminiscent of other NYPD tactics that disproportionately target people of color. "This is a moment of 're-culturing,'" he said, calling for the NYPD to be removed from the role, which de Blasio soon did, publicly giving credit to Adams and two other Brooklyn elected officials, Assemblymember Tremaine Wright and Rep. Yvette Clarke, for swaying his thinking.
In May, when it emerged that a new COVID-related inflammatory syndrome was affecting children, Adams called on the Department of Education to spread awareness to parents through remote teaching.
The borough president has been doing his part to boost local charitable efforts and to help people and businesses suffering during the pandemic. He partnered with actor Jeffrey Wright and the Brooklyn for Life campaign to raise funds for small businesses feeding first responders. His office is also collaborating with Fresh Direct to deliver food to people who need it across Brooklyn. He even offered to be a co-applicant for restaurants that are seeking rezonings that would make them eligible for sidewalk cafe licenses.
He regularly hosts virtual meditation events, held a blood drive with the New York Blood Center, launched an online dance series with the Dwana Smallwood Performing Arts Center to promote health and wellness, and has hosted several virtual vigils for Brooklynites killed by COVID-19.
As the city tries to feed hundreds of thousands of hungry New Yorkers, with a target of more than a million free meals each day, Adams introduced legislation with City Council Member Ben Kallos that would mandate nutritional standards for city-funded meals and snacks.
With Council Member Mark Treyger, Adams also released a "Brooklyn Beaches plan" that would allow New Yorkers to use the city's beaches while following strict social distancing rules. He also hosted a socially-distanced guided-meditation for veterans and first responders at Coney Island Beach.
As the mayor dithered on providing a plan for mass transit once the city reopens, Adams joined with three other borough presidents and transit advocates to call on him to expand bus lanes and alternative modes of transportation.
The three other candidates have understandably had a less visible presence considering they work outside of government.
Once the pandemic hit, Dianne Morales largely gave up campaigning and has been working with Bed-Stuy Strong, a mutual aid network that sprung up to help the residents of Bedford-Stuyvesant in Central Brooklyn. Morales has revamped her campaign towards community resources, reaching out to supporters not for their votes but to conduct wellness checks and provide aid where it's required.
In more recent days and weeks, she's resumed some campaign-focused activities, holding digital sessions to discuss her vision for the city.
Loree Sutton similarly abandoned campaigning and has been working to help set up care services for military veterans. Throughout April, she posted almost daily 2-minute videos on her campaign's YouTube page and Twitter feed, speaking "1 on 1" on the issues of the day and providing words of reassurance as the city continued to deal with the pandemic. Drawing inspiration from Project Liberty, the combined public health response program after 9/11, she announced a campaign for "Project Grit," which she said would be grounded in "growth, resilience, integrity and teamwork."
Rick Fromberg, a senior advisor to Shaun Donovan, said in an email, "During these ongoing months of crisis, Shaun's focus has been on supporting the communities most disproportionately impacted by COVID and police brutality. Shaun has brought his expertise in confronting crises--honed by working with President Obama to address the housing crash, Hurricane Sandy rebuild, and ebola--to his efforts to provide food to underserved populations and his outreach to leaders of struggling communities across the city. That is why New York City and national leaders have sought his counsel to help shape funding and programs here and across the nation. As voters tune into the race, they will see clearly that Shaun is the potential candidate who has an unprecedented track record of bringing people together to get things done and rebuild stronger in the wake of crisis."
Protests Against Police Brutality and Racism
If there was any initial reluctance from the candidates to criticize the mayor amidst the COVID-19 crisis, that has since evaporated as they have taken stock of his response to the protests ignited by the police killing of George Floyd in Minneapolis. Almost all the candidates have publicly called out the mayor for his lack of leadership and for allowing the NYPD to run roughshod over the rights of protesters.
During initial nights of protest, which also saw some store looting and attacks on police officers and vehicles, both Stringer and Johnson took to social media to question de Blasio's leadership, asking "Where's the mayor?"
The NYPD's severe crackdown on protests has prompted broad calls for reform and to cut funding from the department's $6 billion budget and reinvest the funds into communities of color. Elected officials have also pushed for repealing Section 50-a of the state civil rights code which shields police officers' disciplinary records from the public. De Blasio has supported significantly amending the law, but stopped short of advocating the full repeal that is happening in Albany this week, arguing that officers' personal information, like home address, should continue to be kept from the public.
Adams has been a prominent critic of the NYPD in the last week. The borough president, who was arrested and beaten by police when he was 15 years old before going on to a 22-year career in the police department, has been making regular media appearances to push for greater accountability and transparency within the NYPD, though he is often sympathetic to police officers as well. Adams marched with Black Lives Matters protesters last week and has called for cutting the NYPD budget, and significantly boosting implicit bias training and de-escalation training for officers.
Stringer's and Johnson's response to the protests and the NYPD's actions have been similar. Even before the protests began, the City Council had been calling for cuts to NYPD funding, noting that the mayor's latest budget proposal only reduced the department's funding by less than 1% cut while cutting 32% of the Department of Youth and Community Development budget. In the last ten days, the Council's demands have become more vociferous with several Council members threatening to vote against the budget if it does not significantly reduce the NYPD's allocation.
Stringer has proposed slashing the police department's funding by $1.1 billion over four years, and putting those funds towards communities that have been most impacted by over-policing and systemic structural racism.
Reversing course this past weekend, de Blasio announced he would be diverting some yet-to-be-identified funding from the NYPD to youth and social services. The amount will be determined in negotiations with Johnson and the Council, the mayor said, as the new city budget is due by July 1.
In light of repeated instances of police officers harassing reporters during the protests and threatening to confiscate their press badges, both Johnson and Stringer said the NYPD should no longer be in charge of credentialing reporters. (The NYPD had suspended new press card applications during the protests, but the mayor recently ordered the department to reopen the process.)
The backlash against the NYPD has already prompted action by the mayor. De Blasio announced on May 31 that the city's Corporation Counsel Jim Johnson and Department of Investigation Commissioner Margaret Garnett would lead an investigation into the NYPD's handling of the protests.
The Council has not been satisfied by those steps, however. On June 1, Johnson and Council Member Ritchie Torres, who chairs the Council's oversight and investigations committee, wrote to Garnett directing her to conduct an investigation independent of the corporation counsel, who is the city's top lawyer and represents its interests in court. Garnett holds the only commissioner position that has required Council approval of the mayor's nominee (though a voter-approved City Charter amendment just extended that to corporation counsel as well).
Johnson and Torres also called for scrutiny of the police department's protocols regarding mass demonstrations.
The Council is also moving ahead on several police accountability bills, including one that would criminalize the use of chokeholds and other forms of deadly restraint by police officers. Currently, chokeholds are banned by department policy but do not lead to criminal penalties. De Blasio has pushed back against the bill, but it has enough sponsors to override a mayoral veto and the mayor has signaled willingness to compromise. A second bill, creating a disciplinary matrix to standardize disciplinary action for officer misconduct, is also expected to be amended and considered. The NYPD had agreed to create such a matrix in lieu of legislation last year, but it has yet to be established.
On Sunday, the mayor lifted the citywide curfew and announced another set of reforms. He announced the intention to shift funds from the NYPD to youth and social services and also said the NYPD would no longer be in charge of street vendor enforcement, which will be handled by a civilian agency, and that the police department will hire civilian "community ambassadors" to bring neighborhood concerns to the police. Additionally, the mayor's Task Force on Racial Equity and Inclusion will examine other areas where NYPD enforcement may no longer be required.
In a statement to Gotham Gazette, Donovan condemned the NYPD suppression of the protests. "The violent actions taken by the NYPD this past week have no place in our city," he said. "There can be no rationale for such aggressive posturing and harassment from our police force at any time, but it is even more inappropriate given the circumstances and purpose of the protests. New York City is the front door to the world; if we cannot guard the rights of our residents seeking to make their voices heard peacefully, how can we simultaneously hold ourselves up as a beacon of liberty?"
He also pointed to the pandemic's disproportionate impact on communities as a symptom of systemic racism. "The coronavirus pandemic has laid bare once again that communities of color bear the lion's share of any misfortune that befalls America," Donovan said. "This is not the mark of a civilized country, and the conclusion of this crisis cannot simply be a return to the status quo. Black and brown New Yorkers deserve a city that doesn't treat them as second class citizens."
On Tuesday Donovan tweeted a photo of himself at a rally and march led by Public Advocate Jumaane Williams (who has thus far pledged not to run for mayor in 2021) and personal reflections on policing and racism.
Morales has been actively participating in protests over the last week. She launched a resource page on her website to encourage donations to charitable bail funds, memorial funds for George Floyd, and to boost black-owned businesses and organizations fighting for police reform across the country. The page also includes links for mental health resources, legal resources for protesters, anti-racism educational material and information on voting. On Saturday, her campaign hosted a virtual community forum.