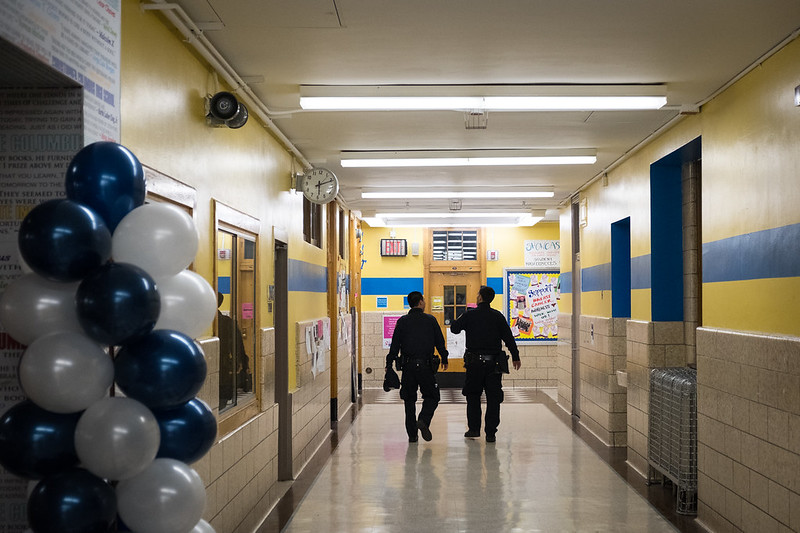 Police in schools (photo: Edwin J. Torres/Mayor's Office)
---
As the City Council is pushing to cut $1 billion from the NYPD's $6 billion budget for next fiscal year, City Council Members Mark Treyger and Donovan Richards have proposed revoking the police's role in school safety and restoring it to the Department of Education. The proposal has been a top priority for some police reform and education activists for years and has taken on renewed urgency in the wake of the countrywide protests following the police killing of George Floyd in Minneapolis.
Though Mayor Bill de Blasio may be hesitant to support it, several candidates running for mayor in 2021 say it's high time that the city remove police officers from schools.
Treyger, who chairs the education committee, and Richards, who chairs the public safety committee, are not among those mayoral candidates, though Richards is currently running for Queens Borough President in a primary this month. The Council members released their proposal on Monday, decrying "zero tolerance" discipline policies that have created a school-to-prison pipeline that disproportionately harms black and brown students and those receiving special education services. While most schools in the city don't have "zero tolerance" policies, the presence of police officers in schools has led to many more arrests of students than would otherwise occur, reform advocates point out.
Though the Council has over the years sought to make changes to the NYPD's role in schools, it has only so much power over the police department or education department. The Council has passed reporting bills requiring greater disclosure but the police department has always been reluctant to abide by those measures. The Treyger-Richards proposal constitutes a much broader move, removing the Division of School Safety from the NYPD's purview and returning it to the Department of Education, where it was originally headquartered before being relocated by Mayor Rudolph Giuliani in 1998.
"Enough is enough. Incremental reforms to a system that does not want to be reformed are futile. We need nothing short of structural change," Treyger and Richards said in a joint statement.
They pointed out that the city spends more money on school safety agents than it does on counselors, social workers, and psychologists all together. But those roughly 5,000 school safety agents are not accountable to school principals.
"At a time when students are experiencing more trauma than ever, we need to make sure that our approach to school safety is aligned to meet the holistic needs of children. School Safety Agents, most of whom are doing their best to keep kids safe within a broken system, are too-often called upon to intervene in behavioral crises because the vestiges of Zero Tolerance prioritize punitive interventions over social emotional supports," Treyger and Richards wrote.
"A seven-year-old having a bad day in a school without a social worker is not an NYPD issue," they added.
The call for removing police from schools has been championed by groups like Dignity in Schools, which coordinates efforts by several local groups to advocate against the school-to-prison pipeline.
The NYPD's budget allocates as much as $331 million to school safety, which would make up a significant chunk of the $1 billion that the Council wants to cut from the police department's funding. The Council is also looking at reducing the overall headcount of the NYPD, cutting overtime costs and shifting other duties away from the department, among other measures.
Mayor de Blasio has pushed back against both removing school safety from the NYPD and cuts of that scope to the police department budget, though he did recently announce he is ready to move some NYPD funding to reinvest it in youth and social services. He has not offered a dollar amount, but said it would be part of negotiations with the Council as the two sides must craft a new city budget by July 1.
Council Speaker Corey Johnson, among the most prominent likely candidates in the 2021 mayoral race, is backing the contents of the Treyger-Richards letter.
"I've said repeatedly that we need to reimagine policing in New York City, and this is one way to do that," Johnson said in a statement to Gotham Gazette, when asked about the letter from two of his members. "I've also said I will listen to communities most impacted by over policing, and this is one of their big concerns. I want to thank Council Members Treyger and Richards for their advocacy, and I look forward to working with them to convince the de Blasio administration that this is both urgent and necessary. We need big changes, and we need them now."
[Read: 'Defund the NYPD'? What's Really in the New York City Police Department Budget]
Johnson is among the top contenders seeking the Democratic nomination for mayor in 2021, along with Brooklyn Borough President Eric Adams and Comptroller Scott Stringer. Other candidates include Dianne Morales, a former nonprofit executive in the Bronx; Loree Sutton, former commissioner of the city's Department of Veterans' Services; and Shaun Donovan, a former aide to President Barack Obama and Mayor Michael Bloomberg.
Though Adams and Stringer are not as intimately involved in the budget process as Johnson, both have also been vocal about the need for police reform, and Stringer released his own plan for shifting NYPD funds about eight days before Johnson and other Council leaders called for the $1 billion NYPD cut in the coming fiscal year.
On June 4, Stringer proposed a $1.1 billion cut to the NYPD over four years, largely through a headcount reduction by attrition, and cuts to overtime and ancillary expenses. On the issue of the NYPD handling school safety, Stringer called for 'rethinking' the paradigm, but did not make his position fully clear.
"As we reimagine policing in our city, we must rethink the role of NYPD in our schools," he said in a statement to Gotham Gazette. "For too long, our city has over-invested in punitive policing - while systemically disinvesting in programs and services that can actually address the poverty, trauma and structural racism that impact Black and Brown communities and complicate the trajectories of children of color. It is not enough to shift the budgetary line item from one agency to another. Real school safety goes hand in hand with transformative investments in the social-emotional health of schools - including in social workers, school psychologists and other mental health professionals, guidance counselors, restorative justice coordinators, and regular training for all school staff to support a school climate that is welcoming and safe for all students."
Borough President Adams, a former NYPD officer and captain, did not return a request for comment for this article and his position on the role of the NYPD in school safety.
In an op-ed on Monday in the Daily News, Morales called on the city to reprioritize how financial resources are distributed. "The next step in addressing the problem of policing should pursue a harm reduction approach that removes police from schools and disrupts the school-to-prison pipeline that criminalizes student's behaviors and puts them into contact with law enforcement," she wrote. "Those resources should instead be directed toward educational supports, mental health services and other needs that must be addressed in order for students to succeed in schools."
Donovon, in a statement to Gotham Gazette, also said the city needs to end the school-to-prison pipeline and reevaluate whether certain roles of the police could be given to other agencies that are more suited to handle them "without the use of force and without overly punitive repercussions."
"School safety is just one such area," he said, applauding Treyger and Richards' proposal. "An investment is urgently needed in intervention programs that are educationally oriented. We know that the consequences rendered by police enforcement are disproportionate relative to the severity of the infractions of young students, and disproportionately applied to Black students and students of color."
Sutton was the outlier among the mayoral candidates who have made their positions at least somewhat clear, expressing wariness of the proposal to remove school safety from the NYPD's domain.
"This proposal strikes me as a superficial hasty move which risks further polarization during this highly charged period marked by community distrust, civic unrest and pandemic-related public health concerns," Sutton said in an email to Gotham Gazette. "The task of restoring trust and building community partnerships is paramount and will not be achieved through reactive proposals, however well-intended. Leadership is needed to engage all stakeholders -- families, neighborhoods, community-based organizations, schools, law enforcement, academic institutions, essential workers, small business and corporate leaders, as well as elected and civic officials. This thoughtful process should explore a variety of options, shared values, conflicting opinions, desired outcomes and potential unintended consequences as a vital means for informing and strengthening the decision-making process. All voices matter. What NYC needs is a new way of thinking about policing, not a rushed maneuver to move budgets."
The proposal, and Johnson in particular, came under fire from Gregory Floyd, president of Teamsters Local 237, which represents 5,000 school safety agents, most of whom are black or Hispanic. "If this was a union with a white labor leader and with a mostly white membership, Speaker Corey Johnson would have called me to discuss his plan," said Floyd, according to a New York Post report. Floyd singled out Johnson for the plan and called him "a racist" for supporting it. In a letter to Johnson and other Council leaders, Floyd said that "The inconvenient truth is that there are New York City school children who seek to harm their classmates and school staff. And is is the enormous responsibility of...school safety agents to protect New York City's 1.1 million school children and 135,000 school staff members from that harm."
In response to Floyd's comments, the Urban Youth Collaborative, a coalition of youth-led organizations in the city, issued its own retort. "Let's be serious: Maintaining a system designed to criminalize Black and Brown youth is racist. Finally heeding the calls of Black and Brown youth, clamoring to dismantle this system, is not," the statement reads. "The evidence shows that no matter how interactions with police change, Black and Latinx students are disproportionately criminalized and harmed by School Safety Agents. We are sick and tired of Black and Latinx students being criminalized for being children and adolescents. We demand police-free schools."