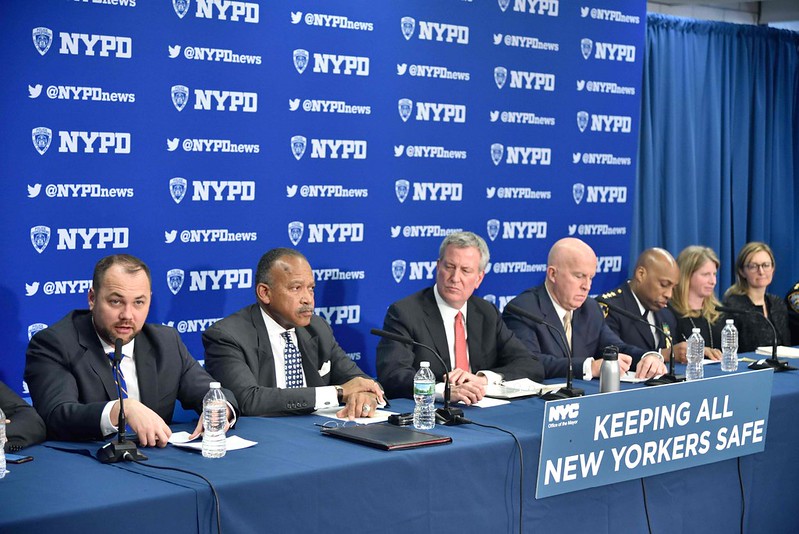 The Mayor and Speaker at an NYPD press conference (photo: John McCarten/City Council)
---
Update
As pressure mounted on the city to drastically reduce spending on policing in the budget that is due before Wednesday, Mayor Bill de Blasio and the City Council reached a tentative agreement on Monday to cut $1 billion from the NYPD and to reinvest funds in youth and social services. Nearly half the reduction, however, involves shfiting spending on school safety to the Department of Education rather than actual cuts.
The agreement would reduce the NYPD's uniformed headcount by canceling an incoming class of 1,163 cadets. It also includes about $350 million in cuts to overtime spending and various other cuts to traffic enforcement, vehicle purchases, contracts, and more. All those cuts total about $512 million. Shifting school safety and school crossing guards out of the NYPD's purview together account for $483 million in the $1 billion deal.
---
On Monday morning, de Blasio announced that he proposed a plan to the City Council that would reduce the NYPD's annual operating budget by $1 billion while also shifting another $500 million in capital spending from the police department to other agencies.
A document obtained by Gotham Gazette showed that reduction would mostly be achieved by moving school safety out of the NYPD's purview and will not be accompanied by a significant reduction in the department's headcount. As the mayor stressed Monday, all plans and details remain tentative given that de Blasio and the City Council continue to negotiate the full terms of the new city budget. Council Speaker Corey Johnson has not indicated that he and de Blasio are in agreement on what de Blasio announced, and the document obtained by Gotham Gazette shows the two sides' different proposals for NYPD budget shifts.
The push to "Defund the NYPD" has emerged as the central point of tension in this year's budget negotiations. It is being led by activists protesting both police brutality after the killing of Minneapolis man George Floyd last month and the NYPD's harsh crackdown against protesters in the wake of Floyd's death, as well as the long history of racially disparate treatment by extremely well-resourced police departments.
Activists have called for cutting $1 billion from the police department's $5.9 billion operating budget, a call that has been supported by the City Council and prominent elected officials including Public Advocate Jumaane Williams. Comptroller Scott Stringer proposed a four-year plan to reduce NYPD spending by $1.1 billion.
The Council proposed a $1 billion cut through various means – shifting responsibilities from the NYPD to other agencies, reducing the 36,000-officer headcount through attrition, and cutting overtime spending.
De Blasio, on Monday, said his administration presented a plan to the Council over the weekend that would "achieve a billion dollars in savings for the NYPD and shift resources to young people, to communities, in a way that would help address a lot of the underlying issues that we know are the cause of so many problems in our society."
"I am excited to say that we have a plan that can achieve real reform that can achieve real redistribution, and at the same time, ensure that we keep our city safe," he said. He promised that an additional half-billion dollars would be taken out of the capital budget for the police and used to build youth recreation centers and to invest in public housing at the New York City Housing Authority (NYCHA).
In April the mayor proposed an $89.3 billion budget for the next fiscal year, which includes about $5.9 billion in direct operational funds for the NYPD. However, the city spends closer to $11.5 billion in police-related costs in a year. Fringe benefits and pension contributions add another $5 billion to spending. Hundreds of millions are also spent through the capital budget – on police infrastructure – and to pay down debt incurred from those projects, an annual expense attributed to debt service not the police department. There is just over $400 million in NYPD capital spending planned for next fiscal year and just over $200 million in debt service expense spending budgeted.
['Defund the NYPD'? What's Really in the New York City Police Department Budget]
The Council had been pushing for cuts to the NYPD even before the recent protests, noting that when the mayor cut his initial proposed budget (which was $95.3 billion in January) because of the economic fallout from the pandemic, the police department was largely untouched.
A spreadsheet obtained from a Council source shows a gulf between how the Council and mayor have intended on achieving the $1 billion reduction.
The Council proposed cutting $747 million from the department's expense budget and another $329 million in accompanying fringe costs, for a total of $1.076 billion. In the Council proposal reviewed by Gotham Gazette, the capital budget was not addressed.
The operating shift proposed included moving school safety and school crossing guards out of the NYPD, which would cut $374 million in direct funds and $159 million in fringe spending, for a total of $533 million reduction from the NYPD. It's not clear if these expenses would simply be made up for at the amount under other agencies.
Reducing the uniformed headcount and lowering the "budgeted peak headcount" under the Council plan would together save another $176 million in operational funds and $169 million in fringe benefits, totalling $345 million. Savings in overtime (cutting spending, capping uniformed overtime and savings cancelled events) would amount to $140 million. The Council also proposed canceling an incoming cadet class, and cutting spending on contracts, vehicles and other miscellaneous expenses.
The mayor's proposal falls short of those demands in certain areas while proposing other changes that the Council did not put forward. He proposed $533 million in expense cuts, saving $177 million in fringe costs for a total of $731 million. It's unclear how the mayor's proposal will reach the $1 billion mark he announced Monday.
The mayor's school safety and crossing guard cuts total $506 million -- and the document also does not indicate if these costs are simply recreated under other departments. As he's made clear a number of times, de Blasio is less willing to cut the department's headcount, only proposing a $55 million cut, which will save another $26 million in fringe benefits, for a total of $81 million. His proposal would not reduce the peak budgeted headcount. And he proposed $50 million in overtime cuts (overtime spending routinely outpaces what is budgeted; the NYPD has spent as much as $728 million on overtime in the 2019 fiscal year after budgeting $600 million) and $13 million in cuts to contracts and other expenses.
He did propose $76 million in savings through other measures the Council did not consider, including $14 million in reducing school safety overtime, a $42 million reduction in traffic enforcement revenue, and $5 million each from a delay in purchasing vehicles, cuts to traffic enforcement, a hiring freeze for certain civilian positions, and from shifting homeless engagement to the Department of Homeless Services.
The mayor also proposed a $516 million shift in capital funds originally intended for a property clerk facility and the new 116th precinct in southeast Queens.
Reactions have been predictably split. Several Council Members, including Republican Joe Borelli and conservative Democrats Bob Holden and Ruben Diaz Sr., have criticized the move to cut the NYPD's budget, particularly noting that crime has been increasing in the last few months.
Meanwhile, police reform advocates and some elected officials have largely been dissatisfied with what the mayor and Council have proposed so far as too little, warning that they are playing three-card monte with NYPD funds without addressing their core demands.
"Mayor de Blasio and Speaker Johnson are using funny math and budget tricks to try to mislead New Yorkers into thinking that they plan to meet the movement's demands for at least $1 billion in direct cuts to the NYPD's almost $6B FY21 expense budget and reinvestments of over $1 billion to communities," said Anthonine Pierre, a spokesperson for Communities United for Police Reform, an advocacy coalition, in a statement on Monday. "This is a lie and the movement isn't falling for de Blasio and Johnson's budget tricks that are protecting and giving special treatment to the NYPD, refusing to even institute a full hiring freeze on NYPD uniformed officers - all while continuing to decimate the social safety net, threaten future layoffs that are not police, cutting non-police hate violence prevention initiatives, and refusing to take care of elders, youth, Black and other communities of color most devastated by the pandemic and ongoing police violence."
Note - this article has been updated.