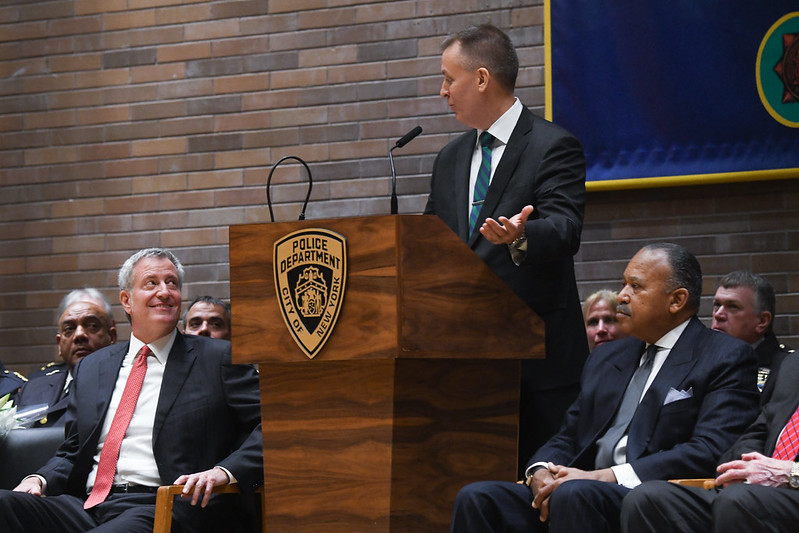 (photo: Michael Appleton/Mayoral Photography Office)
---
Police Commissioner Dermot Shea had strong words Tuesday about the City Council's recently-passed bill banning police chokeholds, which he said went much further than the state's new ban and ignored input from law enforcement.
Despite Mayor Bill de Blasio having expressed support for the bill, Shea called it "incredibly reckless" in a videoconference with interfaith leaders, hosted by the New York Board of Rabbis. The comments are the latest example of Shea and other NYPD leaders publicly breaking with their boss, the mayor, over major police reforms that have cascaded out of City Hall and Albany in the weeks since protests against police brutality and racism began.
The legislation passed the City Council on June 18, as part of a package of NYPD reforms pushed through in the wake of George Floyd's killing by Minneapolis police and the national unrest that followed. Just before the Council passed the bill de Blasio indicated he would sign it, saying he had consulted with Shea, and the mayor has scheduled a required public hearing on the bill for July 7.
"I've worked on this closely in the last few days and been in constant touch with our police commissioner and I'm now convinced this is the right legislation to move forward with and I will sign it," de Blasio told reporters hours before the Council voted through the bill.
But in the video conference Tuesday, Shea told religious leaders, "Now you have a law passed by this City Council that I think is incredibly reckless. And I'm speaking about -- again I'm going to have my opinion -- I'm speaking about the chokehold ban that was passed in the City Council."
The problem with the bill he said, is that, unlike the state chokehold prohibition, which Governor Andrew Cuomo signed into law in mid-June, the Council's bill not only makes it a misdemeanor for a police officer to compress an individual's windpipe, it also outlaws "sitting, kneeling, or standing on the chest or back in a manner that compresses the diaphragm."
"The diaphragm opens up the front stomach area or above the stomach, the back of somebody," Shea said. The bill says, "during the arrest you should not sit -- I agree with that -- stand -- I agree with that -- or kneel -- and that's where we have a problem."
"When you look at the police officers now, and again I'm being honest," Shea continued, "they are going to make a mental calculation: 'am I making the arrest here, what am I doing, do I engage here, am I going to be supported, and what if it goes wrong am I going to be arrested?'"
He said the breadth of the prohibition could make even small or accidental pressure on a person's stomach or back -- what he said is a frequent occurrence in "fluid" arrests -- a criminal offense.
Police chokeholds have particular resonance in New York City, where Eric Garner was killed in one by Daniel Pantaleo during a 2014 arrest, despite being banned in NYPD rules since the 1990s. While the state law makes police using a chokehold a criminal offense, a statement from the City Council said it did not go far enough because it only applied to cases that lead to serious injury or death. The Council legislation also expands the prohibition to include kneeling on a person, as Derek Chauvin of the Minneapolis Police Department did to kill George Floyd. Both men, before dying, uttered the words "I can't breathe," a phrase that has helped give voice to the Black Lives Matter movement.
"Today the Council does what the NYPD has failed to do: police the police by making it an actual crime for a cop to put someone in a chokehold or to sit, kneel, or stand on them so they can't breathe," wrote Council Member Rory Lancman, a Queens Democrat and the bill's sponsor, in a statement when it passed. Lancman introduced the bill shortly after Garner's 2014 death.
The same day the city legislation passed, the Council also passed a resolution in support of related legislation in Congress called the "Eric Garner Excessive Use of Force Prevention Act of 2019", sponsored by Brooklyn and Queens Rep. Hakeem Jeffries, which would make police chokeholds a civil rights violation. That bill only deals with pressure to the throat.
Commissioner Shea said part of the problem was the bill-making process. On the state law, sponsored by State Senator Brian Benjamin, a Manhattan Democrat, NYPD representatives had consulted on the bill and were comfortable with the outcome, Shea said. But the police department was not as successful with the diaphragm provision in the Council bill, which he said was added in a later draft.
"We worked strenuously behind the scenes, and said we would support that law but just take out that piece of it and it fell on deaf ears," he told the religious leaders, who included Rev. Dr. A.R. Bernard of Christian Cultural Center, Rev. Dr. Que English of Bronx Christian Fellowship Church, and Rabbi Joseph Potasnik of the New York Board of Rabbis.
"There were requested changes, those changes were not taken, and we're proud of the bill that we're voting on today," Council Speaker Corey Johnson told reporters before the bill passed.
The bill has been in the City Council for years but the body had not moved it and de Blasio had not previously supported it, citing concerns that it doesn't protect officers in life or death situations.
"Looking back, I now see that, honestly, the information I had at the time, I don't think was the whole truth," he told reporters the day after it passed. "I now believe, based on consultation with some additional lawyers, that there are those protections embodied in state law.
This is not the first time NYPD officials have publicly opposed one of the reforms recently embraced by the mayor.
Another piece of the police reform package passed by the Council in mid-June was the Public Oversight of Surveillance Technology (POST) Act, which would require the NYPD to publish information on the types of surveillance equipment it uses and the rules governing its uses. Proponents say more transparency is needed to ensure New Yorkers' civil liberties are protected. De Blasio has long opposed it because of counterterrorism, undercover, and public safety considerations. But in June, after almost three weeks of demonstrations for broad changes to policing, his tune changed.
"I am convinced that the wording of the act is appropriate, is balanced, so I'm comfortable supporting it," he said at a news conference the day before it passed.
But the following day, in response to a Gotham Gazette inquiry, a police spokesperson wrote: "The NYPD cannot support a law that seems to be designed to help criminals and terrorists thwart efforts to stop them and endanger brave officers."
That afternoon the NYPD's Guardian Association President Felicia Richards and Hispanic Society President Larry Fuchs, wrote an op-ed in the Daily News saying the legislation should have a provision exempting technology used by undercover agents and informants if that disclosure would jeopardize their life. The NYPD promoted the piece on social media.
On Tuesday morning, Shea went against the administration's position on another matter, this time on the controversial subject of defunding the NYPD, which has taken center stage amid claims of over-policing in Black and Latino communities. On Monday, de Blasio and Council Speaker Corey Johnson reached a tentative agreement to cut the police department's budget by hundreds of millions of dollars. The deal includes reducing the NYPD headcount by about 1,160 officers, reductions to planned overtime spending, and shifts of personnel from the police department to the education department and other agencies. De Blasio also announced plans to shift hundreds of millions in capital funds from the NYPD to youth and public housing projects.
"I am excited to say that we have a plan that can achieve real reform, that can achieve real redistribution, and at the same time ensure that we keep our city safe," de Blasio said Monday.
The plan balances the call to reform while "mak[ing] sure that our officers are on patrol where we need them around this city," he said.
But on PIX 11 the next morning, shortly before his conversation with faith leaders, Shea said, "Cutting overtime, cutting head strength at a time of rising crime is going to be an extreme challenge for the men and women of this department." (Gun violence and burglaries have increased this month, according to police reports.)
"It's going to impact our patrol strength, it's going to impact our training, and the sad part is," he said, "it's probably going to impact people of color more than anybody else."
"It's well-documented where most of the violent crime occurs and where most of our resources are as we try to police this city," he added.