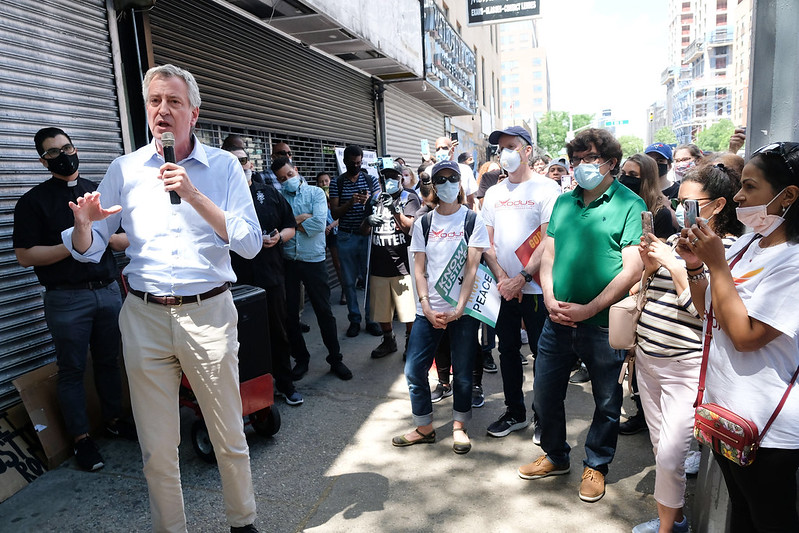 The mayor is behind on a plan for disconnected youth (photo: Ed Reed/Mayor's Office)
---
A city task force meant to address the needs of out-of-school, out-of-work youth in the city, who pre-pandemic numbered at over 118,000 in New York City, has not yet released its report, over two years after it was due. Now, with over 35% of young adults in the city unemployed and gun violence increasing, advocates like Marjorie Parker of JobsFirstNYC, an advocacy group that was a driving force behind the task force, say that Mayor Bill de Blasio has no real plan for the young people who need it most.
"The mayor has had no plan for this significant group of Black and brown kids," Parker said in an interview. "For a progressive mayor who got such support from Black and brown groups and came into office with such high expectations, his response to this particular population has been disappointing."
The Disconnected Youth Task Force was created by City Council legislation in 2017 and championed by Council Member Mathieu Eugene, a Brooklyn Democrat who was then chair of the Council's Youth Services Committee. The task force was meant to bring together city agencies and outsider partners to "examine the obstacles to education and employment for disconnected youth and to make recommendations regarding measures to improve outcomes for disconnected youth."
The Disconnected Youth Task Force was formed with 20 members, including 10 city officials, eight nonprofit leaders, a CUNY representative, and a youth representative. The city officials include representatives from the Departments of Education, Homeless Services, Youth and Community Development, and Health and Mental Hygiene, as well as the Administration for Child Services, and several mayoral offices. Besides JobsFirstNYC, other nonprofits represented on the task force include the Fortune Society and the Young Men's Initiative.
Deputy Mayor Phillip Thompson, who hosted the task force's first meeting in February 2019, said at the time, "The de Blasio administration is implementing a comprehensive strategy that involves working more closely with industries and companies to create relationships and partnerships that help move at-risk people into long-term careers."
Since then, the task force has rarely met, according to Parker, and blown past its deadlines. The original Council legislation set a March 2018 deadline for its initial report. More than two years later, no report has been published. Both Parker and a spokesperson for the mayor's office say a draft is circulating.
In JobsFirstNYC's testimony before the City Council's Youth Services Committee, at a June 23 hearing focused on youth services nonprofit contracting during the pandemic, the organization expressed its displeasure with the Council's "lack of leadership" on the issue. JobsFirstNYC has also criticized de Blasio for not including a working group specifically focused on young adults as part of his "infrastructure of recovery" advisory councils in wake of the coronavirus pandemic. De Blasio has appointed several advisory councils, including on both labor and workforce development and education and vocational training.
According to Parker, the Disconnected Youth Task Force began circulating a draft report among its members a few days after the committee hearing, but this meager progress still comes over two years after the report was due. "There has not been a plan at the city level around how to comprehensively address this group," Parker told Gotham Gazette. "The mayor has not paid any attention to this particular group of young people."
A nonprofit that focuses on what it terms a crisis of disengaged and disconnected teenagers and young adults in the city, JobsFirstNYC has completed research finding that this group is concentrated in 18 neighborhoods in the city, all but one of which is predominantly populated by people of color.
Now, young adults are one of the groups in the city's workforce hit hardest by the pandemic's economic fallout, with City Comptroller Scott Stringer estimating that the unemployment rate for young adults was 35% in June. Parker says this costs the city "immeasurably." In one measure, her organization has found that the city's economy "loses almost $400,000" for each out-of-school, out-of-work young adult, given that unemployed youth aren't able to contribute tax revenue or to the city's economic activity.
JobsFirstNYC has advocated that New York City adopt a "single system strategy" for addressing disconnected youth, as other cities such as Los Angeles have done, where "there is no wrong point of entry for a young person into the system" and "it's built in a way that young people cannot get lost in the system. Wherever they show up they can get reconnected to the person who was their original point of entry into the system. It's very comprehensive and responsive."
The organization outlined what it would like to see in a policy paper offered to guide the task force. With such a strategy, city government and nonprofit partners would share data with each other, coordinate funding strategies, enable easier access for young people to enter the system, and be more responsive to individual needs such as housing, food, mental health care, and job training. Goals include ensuring that there is no "wrong" entry point for an out-of-school, out-of-work young person to start in the system and minimal opportunities for them to fall through the cracks through greater coordination between the city and its partners.
"I don't think this mayor has a very good understanding about how all those systems connect," Parker told Gotham Gazette. "The Mayor has never shown any particular interest in this group," referring to out-of-school, out-of-work young adults, and that "this group has never been a priority for him."
"We want the city to produce a plan and put resources behind it," she said, while emphasizing the role of nonprofits, many of whom receive funding from the city that is imperiled due to budget cuts.
Parker also says the City Council can and should do more, saying it "needs to be pressing the mayor to invest in youth workforce development starting in the fall." While Council Member Eugene and his colleagues pushed through the legislation to create the task force, there's been virtually no urgency from Eugene or other Council members, including current youth services committee chair Council Member Deborah Rose, to get its work to conclusion.
Rose, a Staten Island Democrat, has made the Summer Youth Employment Program (SYEP) a major focus, and helped lead the Council effort to resuscitate it in the adopted budget passed last after a deal with the mayor, who had cut the program when presenting his executive budget earlier this year. That will provide paid work opportunities for more than 100,000 young people this summer.
But Parker noted that the city has never had a plan for what to do with its young workers once summer ends, which risks many out-of-school, out-of-work youth falling through the cracks. Furthermore, Parker does not believe a more recent mayoral effort, CareerReadyNYC, properly attends to the needs of out-of-school, out-of-work young adults. CareerReadyNYC, with the goal of preparing young New Yorkers for stable careers, focuses on young people who are already in work or school, but who are "not on pathways to upward mobility."
De Blasio's office says the Disconnected Youth Task Force is finally nearing completion of its report. "The final report is being reviewed by Task Force members and is expected to be released in the coming months," according to a spokesperson for the mayor, who did not provide a more specific estimate of the report's release.
Meanwhile, at a press conference on Monday, de Blasio addressed the recent rise in gun violence, blaming the "many issues underlying this challenge" including that "the court system is not working, the economy's not working, [and] people have been pent up for months and months."
"[W]e have to think about all of the tools we can bring to bear here, including how we deploy our police and the approaches they take, how we focus on young people and make sure we pull them away from the influences that are negative around them," de Blasio said. "We have a lot to do."
Advocates like Parker worry that young adults are currently in a desperately precarious position and at risk of being left behind.
"JobsFirstNYC remains concerned that because this effort is three years behind schedule, the city lacks the necessary resources and infrastructure to respond to the crisis situation young adults are faced with in the midst of a pandemic," according to JobsFirstNYC spokesperson Kevin Stump.
"Any forthcoming report should include how much money the city will invest and should have a clear set of goals with timelines and who is accountable as well as a way to measure progress against those goals."