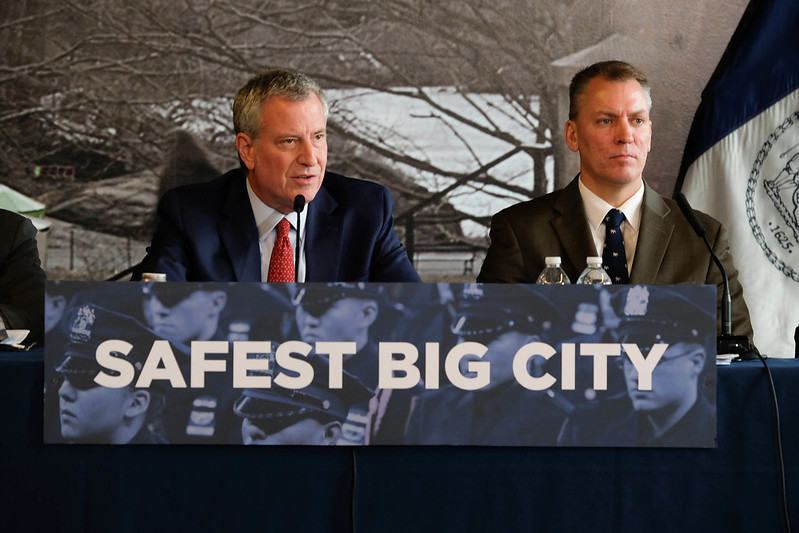 Mayor de Blasio & Commissioner Shea (photo: Ed Reed/Mayor's Office)
---
Mayor Bill de Blasio condemned the tactics and the timing of the police officers who dragged a protester alleged to have damaged several police cameras into an unmarked van on Tuesday. But the mayor did not say Thursday whether his police commissioner, Dermot Shea, felt the same way despite reporting having had two separate conversations on the subject.
In an incident that was caught on camera and quickly went viral Tuesday evening, plainclothes officers leapt out of a grey van before a crowd of peaceful demonstrators in the Kips Bay section of Manhattan, and arrested and drove off with Nikki Stone, a protester who police said they had been looking for in connection with multiple alleged incidents of vandalism. The arrest has drawn scrutiny for its apparent similarities to Portland, Oregon, where for several nights federal agents have detained protesters in unmarked vehicles as demonstrations continue in the wake of the murder of George Floyd in May.
De Blasio has said publicly that making the arrest at a peaceful demonstration was wrong and suggested similar strategies could have a chilling effect on free speech. The morning after the arrest, the mayor told reporters the place to make the arrest "was clearly not in the middle of an ongoing protest," and said the department would review the tactic.
"I'll talk to the Commissioner about this more today, but I think there is a better way to get that done," he said Wednesday morning, without indicating what Shea had said about the arrest other than why Stone was a suspect.
De Blasio said he didn't think it was "a matter of discipline" for the officers involved but that he wanted NYPD personnel to be more sensitive to the context of the arrest and make "better choices about how to deal with things in this moment of history."
At his Thursday morning press briefing, de Blasio was evasive when asked whether or not Shea agreed the arrest should have been handled differently.
"I spoke with Commissioner Shea about an hour after I think the video came out originally the other night, and then I spoke to him again yesterday," de Blasio said. "Look, I think it's clear, again, it was not the right time and place, and we have got to work to make sure people always know that the right to protest is protected in New York City."
"When they vandalize public property," the mayor continued, referring to the charges against Stone, "there will be a consequence, but it was not done the right way. I certainly expressed that to [Shea] and we're going to work on trying to find a better way going forward."
But the mayor didn't elaborate on what the "better way" could or should have been, what Shea actually said during their conversations, or whether there is an internal NYPD review of the incident underway.
Since June, de Blasio and Shea have repeatedly disagreed publicly over a host of recent policing and criminal justice reforms, including changes to controversial arrest tactics.
Stone received a desk appearance ticket for criminal mischief and graffiti charges stemming from five separate incidents in June and July, according to an NYPD spokesperson. In at least three of them, officials say a person identified as Stone obscured NYPD security cameras with paint in the area around the encampment of demonstrators at City Hall, which coalesced in late June after weeks of marches against police brutality.
In an interview Wednesday on WABC radio, Chief of Department Terence Monahan, the NYPD's highest-ranking uniformed officer, said the Warrant Squad officers assigned to make the arrest had acted above board and in line with departmental protocols. Monahan said the Warrant Squad arrived after being informed (it is unclear by whom) of Stone's presence at the march, and the arrest was made after Stone identified the unmarked van as a police vehicle.
"At that point there was nothing else to be done, she approached them," he said.
Available footage of the incident is limited to what was captured by bystanders and posted to social media, making it difficult to confirm Monahan's account.
Asked if the officers should have acted differently, Monahan only said that he would like to see them maintain their cover for longer. "We would have liked her not to be able to identify them, she was able to pick them up as a cop car. It would have been better if they could have been a little less transparent while they were doing the observations on her."
During a Wednesday press conference call, Governor Andrew Cuomo weighed in on the incident unprompted by reporters, and called the Warrant Squad arrest "obnoxious." Like the mayor, Cuomo said its timing at a demonstration so close to the unrest in Portland sent the wrong message. "It was wholly insensitive to everything that's going on. It was threatening," he said.
That morning, City Council Speaker Corey Johnson also criticized the NYPD's handling of the arrest. "It is totally unacceptable that an arrest for minor property crimes was carried out in such an aggressive and disturbing manner," he wrote in a Twitter post.
Monahan wouldn't opine on critiques from New York's political class in the interview Wednesday. "I'm not going to get into the politics, I'm giving you the facts of what happened, you can judge by the facts," he said.
When asked Thursday if the NYPD could clarify Commissioner Shea's position on the incident, a department spokesperson referred Gotham Gazette to Monahan's WABC interview.