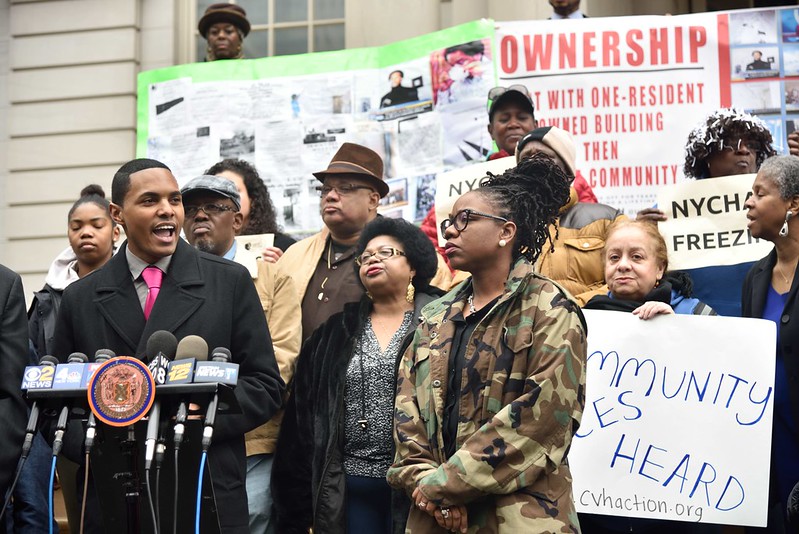 Council Member Ritchie Torres (photo: John McCarten/City Council)
---
With City Council Member Ritchie Torres declaring victory in the Bronx's 15th Congressional District Democratic primary and all but assured to advance to Congress at the start of next year, a special election to replace Torres in the City Council's own District 15 looks likely for sometime in February or March of 2021. The race in the heavily-Democratic Council district is already shaping up to be hotly-contested, with community leaders, the son of a state senator, and at least one member of the New York City Democratic Socialists of America (NYC-DSA) all jumping into the race.
Since Torres, who declined an interview request for this story, was term-limited from seeking another Council term in the regularly-scheduled 2021 city elections, candidates had already started running to replace him. His presumed victory only moves up their election date by about four months, though even with a special election early in the year to see who finishes out the last year of the four-year term, there will be a primary in June 2021 and a general election that fall to see who will represent the district as of January 2022.
The special election will also likely mark the first use of ranked-choice voting in New York City, probably along with a special election in Queens' District 31, where Council Member Donovan Richards is on his way to becoming Queens Borough President. The new voting system approved by voters in 2019 is mandated to go into effect at the beginning of 2021 for all special elections and party primary elections for city government positions.
Council District 15 straddles Fordham Road, which is frequently used to demarcate the northern boundary of the South Bronx, and encompasses the neighborhoods of Belmont, Fordham, Tremont, Norwood, Parkchester, West Farms, and Williamsbridge, as well as some of the largest greenspaces in the city (the New York Botanical Garden, the Bronx Zoo, and Crotona Park), Fordham University, and Arthur Avenue. It is also home to St. Barnabas Hospital, which was one of the most inundated medical facilities during the worst of the COVID-19 outbreak in New York City.
According to the 2010 Census, the district is 66% Hispanic, 25% Black, and 5% white, with 63% of adults under the age of 45. District 15 is also among the poorest in the city with a poverty rate of 38.5% in 2014, which was third-highest among City Council districts. Torres earned an upset win in a competitive 2013 Democratic primary then cruised to reelection in 2017. He made public housing and oversight of the de Blasio administration main priorities during his tenure.
Candidates & Possible Candidates
Four candidates are now running to succeed Torres: Ischia Bravo, district manager for the Bronx's Community Board 7; Elisa Crespo, an education liaison for Borough President Ruben Diaz Jr.; Oswald Feliz, a district leader and housing lawyer; and, Julian Sepúlveda, who works in intergovernmental affairs for the city's Department of Education.
Bravo challenged longtime Bronx Assemblymember Jose Rivera in a 2016 Democratic primary, but prior to that spent seven years as executive director of the Bronx Democratic County Committee. Crespo, who is seeking to become the city's first Council member of trans experience, is a member of the Bronx/Upper Manhattan branch of the NYC-DSA and a board member of the Stonewall Democrats. Feliz has worked in State Senator Gustavo Rivera's office and for Congressional Rep. Adriano Espaillat's campaign, with both of those districts partially overlapping with Council District 15. Sepúlveda, who is the son of Bronx State Senator Luis Sepúlveda, announced his candidacy within the last week.
Additionally, John Sanchez, district manager for Bronx Community Board 6, told Gotham Gazette that he is "seriously considering running for the seat" after "being approached by community members and community leaders" about a potential candidacy. He does not currently have a campaign committee open and would be a first-time candidate for elected office, but said he would be making a decision "shortly." However, he has recently advertised for intern positions for a Council campaign, so an announcement appears imminent.
There has been speculation that Samelys López or another candidate from the left would enter the race. While there is already one DSA member in the race in Crespo, López received a great deal of support from progressive groups and elected officials in the congressional primary won by Torres, where she received a little over 13% of the vote in a crowded field (coming in 4th, after Torres, Michael Blake, and Ruben Diaz Sr.), leading several people Gotham Gazette spoke with to wonder if she'll run for the Council. López, who was endorsed by NYC-DSA, Rep. Alexandria Ocasio-Cortez, and others in the congressional primary, did not respond to requests for comment for this story.
There's also always the possibility of other candidates entering the race.
"I'm a true-blue Democrat, but I'm willing to work with any group that has the best intentions for the Bronx. If that means working with DSA or incumbents, then so be it," Bravo told Gotham Gazette.
"Our campaign is trying to build the broadest coalition possible that is representative of our community and our borough," said Crespo, who says she will pursue the endorsements of the DSA and Working Families Party, as well as the Bronx Democratic Party.
"The DSA has done some amazing work in the city, particularly with the election of Rep. Alexandria Ocasio-Cortez," said Julian Sepúlveda, "and I'm going to try to get support from as many advocacy groups as I can. What's going to matter in this election is candidates' ability to speak to voters and build grassroots support."
Fundraising & Ranked-Choice Voting
As one of roughly 35 upcoming City Council races without an incumbent, the race for District 15 is likely to be very competitive. Two candidates, Bravo and Crespo, are neck-in-neck in terms of initial fundraising, with $17,546 and $16,707 raised, respectively, as of the July disclosure reports.Crespo has narrowly more total donors, with 296 to Bravo's 283.
"Most of my money mostly came from hard-working people in the Bronx who are dedicated to seeing someone who is unbought and unbossed," Bravo told Gotham Gazette.
Feliz has raised $4,747 so far, but he said he is confident that he can make up ground in campaign cash, noting that most of his fundraising was done within the last few weeks of the filing deadline. Three-quarters of his donations came in the month preceding the July 11 filing deadline, according to disclosures to the city's Campaign Finance Board, while 76% of Bravo's and 61% of Crespo's donations came in that same timespan.
"I intend to fundraise as strongly as I can and I'm pretty confident in my ability to fundraise," Sepúlveda told Gotham Gazette, noting that fundraising is not his focus at the moment as he had just officially announced his candidacy.
Candidates and organizers have expressed concern over the uncertainty regarding the implementation of ranked-choice voting, which is mandated to go in effect at the beginning of 2021 per the 2019 City Charter revision. The New York City Board of Elections has not returned Gotham Gazette's request for comment about implementing ranked-choice voting early next year, and has already missed a deadline set by the City Council for a plan. Ranked-choice voting, also known as instant-runoff voting, allows voters to rank up to five candidates in order of preference, and if no candidate wins a majority on the initial count of first-choice votes, there are ensuing rounds of eliminating the lowest-vote getter and reapportioning their voters based on those voters' next choices until a candidate hits 50%.
"You never saw elected officials come or show their faces," Bravo recalled of her childhood living in public housing, "too often we don't see ourselves reflected in our elected officials. We need to make sure that we have someone like myself who knows the district and doesn't need to take a full term to get to know the local issues."
"The lens of mothers on the City Council is something that's been missing," Bravo, who is the mother of two school-aged children, told Gotham Gazette. For example, she said, "I rely heavily on my in-laws and my grandmother to watch my kids" and that will be difficult during the school year with a return to in-person learning and concerns about spreading the virus from kids to more vulnerable older relatives.
"Those who have struggled, and been marginalized, and been oppressed should be the ones who should be making the decisions," said Crespo, who is 29 years old and would likely be one of the youngest, if not the youngest, Council members. "My generation, for the first time, is not going to be better off than the generation before us. We've lived through multiple economic disasters and I strongly believe that it's going to take a new generation of bold progressive leaders to bring systemic change.
"I've spent my entire adult career working in municipal government," Sepúlveda said in an interview. "I want to be able to make a difference with the knowledge I've acquired. I want to amplify the voices of those who I think have been underrepresented in New York City policy and government."
Budget Equity
The Bronx has historically been underfunded as a borough when it comes to the city and state budgets, particularly when it comes to education funding. Feliz said that the district needs "a strong negotiator," not "an elected official who's simply going to vote yes or no," to bring much needed funding to the Bronx, pointing to his record advocating for tenants against landlords as evidence of his negotiating skills.
"The Bronx has been short-changed for far too long and covid exposed the ugly truth of what was happening in our borough," Bravo said. She hopes that the Bronx's relatively high rate of 2020 Census returns will help remedy this.
"There's lots of development happening in the district but not enough schools that are being built to accommodate the new families coming in," Crespo said. "We need to make sure each public school gets the same amount of funding, but schools in underserved areas probably need a little more."
Covid-19 & Recovery
The coronavirus pandemic and its socioeconomic consequences are at the forefront of candidates' and voters' minds in Council District 15. Bronx residents have been twice as likely to die from coronavirus as other New York City residents, despite the borough having a number of infections proportional to its share of the city's population. Public health experts say this elevated fatality rate is caused by the high rates of diabetes, asthma, and other chronic health conditions.
Bravo was critical of Mayor de Blasio's school reopening plan, saying that "a staggered schedule is not something that's feasible for working parents like myself. I don't care how affordable the mayor thinks he can make child-care for us. My rent is too high."
"The Bronx is going to be dealing with a different set of problems related to covid than the wealthy parts of Manhattan," Sepúlveda said. "Health care is a right, not a privilege, and we're going to have a mental health crisis so we need to be able to support our community emotionally."
Feliz is proposing that the city should construct a deck and greenspace over the Cross-Bronx Expressway, the most congested roadway in the nation. That would absorb the air pollution that disperses into Bronx neighborhoods. A similar proposal has also been put forward for the Brooklyn-Queens Expressway renovation.
Housing
Affordable housing was another issue raised by all the declared candidates, although there were some differences in how each would approach the issue. As Bravo pointed out, the 10453 zip code (Bedford Park) had an eviction rate of nearly 21% in 2019, the third-highest in the city. Several other zip codes that overlap with District 15 were also in the top twenty.
"This has been a burden for quite some time," Bravo said, pointing to rising rents in the Bronx.
She said "we need affordable housing that's also sustainable housing, not with the bare minimum materials, and that it's part of a new green infrastructure." She added that impact studies should be expanded earlier in the process "so we know what services will be needed to go along with housing growth."
Crespo said that Community Land Trusts could potentially "remove some of the speculation from the housing market. That would do well to serve Bronxites to make sure that housing is affordable and reflect the actual median income of Bronxites." She added that "we need to modernize our land use process and be thinking five to ten years in advance."
Sepúlveda supports an increase to housing subsidies in the city's budget to make affordable housing available to more New Yorkers. "I think Speaker Johnson had a solid plan on rental subsidies," he said. "The City Council has a deep role in investing in affordable housing. The housing crisis entrenches poverty and worsens police problems. All of these problems are related."
Feliz believes that the eviction moratorium should be extended "for the duration of the pandemic" and that "if the state doesn't do that, the city should." He said that "no one should be evicted due to the fact that we're in the middle of a pandemic and our society is economically unstable."
Public Safety
With the protests in the aftermath of George Floyd's killing by police in Minneapolis, activists and protesters in New York City have called for funding to be reallocated away from the police budget towards other youth and social services, under the slogan "Defund the NYPD." The candidates currently running in Council District 15 said they are largely supportive of those proposals.
"The NYPD has an inherent culture of feeling above the law and some of them have lost track of what they were assigned to do, which is to protect and serve," Crespo said. "Many times in low-income communities, we feel unsafe around the police. I think police are too quick to resort to excessive force and they're not well trained in how to de-escalate situations."
"I think if we thoughtfully and purposefully looked at NYPD line-items, such as the public relations unit and the militarized equipment, we could reinvest that into critical social services programs," said Crespo. She supports defunding the NYPD by at least $1 billion from its nearly $6 billion annual operating budget, and said the recent city budget did not accomplish that.
"We absolutely have to defund the NYPD, which means taking away some of that budget and putting it toward social programs, and we also have to promote police accountability," said Feliz, who is supportive of a $1 billion cut to the NYPD budget, which he has said should specifically include reducing military-style trucks and other equipment. He later said he is against reducing police patrols in the district. He proposes mandating that police officers have an "affirmative duty" to stop misconduct they witness their coworkers committing.
"The word 'defund' means different things to different people," Sepúlveda told Gotham Gazette. "I support efforts to divest from the NYPD and put that money back into measures that invest in this city. The police department isn't the only thing we should think about when it comes to public safety," he said, noting he's had personal and familial experiences with police handling of mental health emergencies. "I think we should divest a true billion dollars, at least as a start."
Note: Feliz's comments about NYPD funding and policing have been updated.