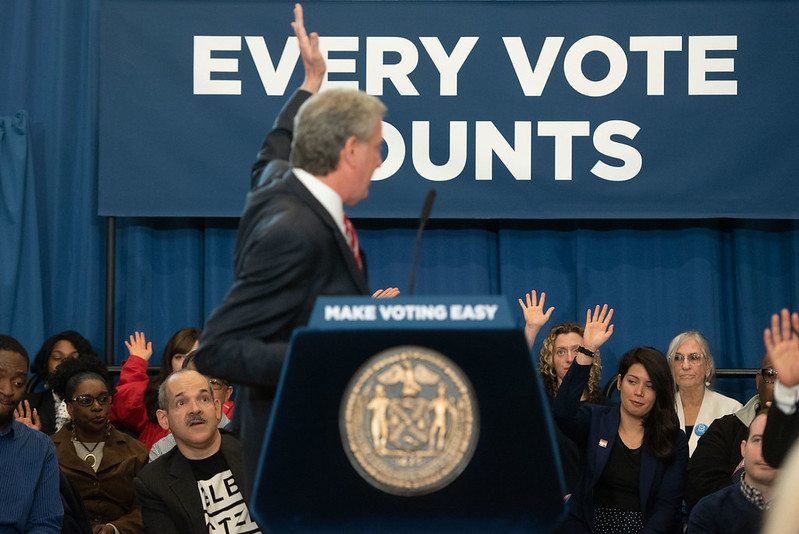 "Every Vote Counts" (photo: Michael Appleton/Mayoral Photography)
---
While New Yorkers have come to expect challenges in the voting process, they've also come to expect "unofficial election night results" rolling in in the hours after polls close -- a tradition that sometimes entails staying up late to find out the winner of a close race, or waking up the next day to a new leader-elect who had been only a hopeful when voters went to the polls.
But with the unprecedented volume of mail-in ballots for the June primary this year, some races took up to six weeks for clear winners to become apparent, during which time uncertainty about the results and fears of what the delay portends for the already-fraught general election reverberated across New York City. With the promise of skyrocketing turnout less than 80 days away, and Governor Andrew Cuomo and the State Legislature indicating New York will again greatly expand absentee voting, few of the challenges to the timely counting of ballots have been resolved and representatives of the New York City and New York State boards of elections have said little about what they are doing to improve the process.
In the June primaries, the New York City Board of Elections (BOE) sent 775,000 absentee ballots to voters -- twelve times the number mailed in 2016 -- and received over 400,000 back. In the fall general election, with races for President, Congress, the State Legislature, Queens Borough President, and other offices, the State Board of Elections is expecting as many as 5 million absentee ballots to be cast statewide -- a four-fold increase from the 1.2 million received in the primaries, which strained election infrastructure across the state. With the Electoral College set to formally select the president on December 14, the New York City Board will again have to certify the election results within six weeks of election day, this time contending with vastly more ballots. Even if they can meet the statutory requirements, as some administrators appear confident of, many want to see a tighter timeline.
Lawmakers have passed or proposed a series of bills that would again expand absentee eligibility for Covid concerns as well as others that aim to address problems that arose in the primaries. On August 11, the State Senate and Assembly held a joint oversight hearing where officials raised concerns about preparedness for the fall and mishaps with absentee requests, delivery, and counting in the primaries, which in New York City resulted in 80,000 mail-in ballots being rejected.
The New York City Board of Elections is taking some steps to scale up its absentee counting operations, like purchasing new technology and encouraging people to take advantage of in-person early voting, a nine-day period from October 24 through November 1. Election Day is November 3. But very little is public about what other measures are being taken to prepare for the onslaught of mailed ballots or what resources are available to the board.
To count all the ballots requires personnel, space, and machinery, and to do it quickly means more of everything. That all requires money and a pool of workers, both of which have become hard to come by in a pandemic.
Funding
A typical general election costs anywhere from $20 to 25 million, according to the State Board of Elections. For the 2020 general election, administrators expect they will need twice that.
"To do everything, we need $50 million, conservatively," State Board of Elections Co-Chair Douglas Kellner told state lawmakers at the August 11 oversight hearing.
In March, New York State received $20.5 million in federal CARES Act funding to cover election-related expenses that rose due to the pandemic, and counties received an additional $4.1 million in state funds. The State Board of Elections established a grant reimbursement program to distribute the federal funding to local boards, which have spent roughly half of it, according to testimony provided to the State Legislature. It is unclear how much of that has gone to New York City and how much the NYCBOE has spent. Neither the New York City nor State board of elections provided comment or information requested for this story, including about how much money is available to New York City for ballot-canvassing in the general election.
In Fiscal Year 2020, which ended at the end of June (after the primaries), the New York City Board of Elections was allocated $246 million in city funds and saved $31 million by only running one election between March and June, instead of two as had been planned but changed due to the pandemic, according to a spokesperson for the Mayor's Office of Management and Budget (OMB). That budget was nearly twice what was available in FY19, largely due to start-up costs associated with early voting.
In the current fiscal year's budget, which went into effect July 1 and was negotiated during the pandemic, the city allocated $136 million to the BOE. That money is meant to cover the general election this fall and the primaries for city offices set for next June.
"We are monitoring the BOE's needs, and will make sure that they are properly funded for this year's elections," a spokesperson for OMB wrote to Gotham Gazette.
The extent of the city's canvassing needs are obscure, in part because of uncertainties about potential changes to election rules, either via state legislation or gubernatorial order, and the state of the coronavirus outbreak -- and in part because of a lack of information coming from the city BOE.
One week after the August 11 oversight hearing, the board still has not submitted its written testimony to the Legislature's elections and governmental operations committees (or to Gotham Gazette after multiple inquiries). In his oral testimony and in response to questions from lawmakers, NYCBOE Executive Director Michael Ryan focused more on obstacles to mailing ballots to voters and the 80,000 ballots that were disqualified than on changes that could improve the ballot count and deliver speedier results.
Asked whether the BOE would be able to certify the election by the deadline for electors to choose the president, Ryan said "yes," without indicating whether any effort would be made to expedite the process.
"The City Board of Elections, long before I got here and since I've been here, has met many challenges and we have always found a way to get the job done, ultimately, despite what some others may think," he said.
Representatives for the State Board of Elections, a regulatory body, have not responded to requests for the information they have on the city board's canvassing efforts and challenges.
Earlier this month, the New York City Board of Elections approved the purchase of mail-sorting machines -- one for each county (borough) -- at a cost of $1.5 million. The machines are capable of opening, sorting, time- and date-stamping, and digitally scanning up to 15,000 ballots an hour, according to Sherwin Suss, the agency's chief contracting officer, in a presentation to commissioners on August 4.
Ryan said the agency was exploring whether it will need back-up machines from the supplier, Neopost USA.
"We will pursue those other avenues of process with the chiefs and deputies and with the vendor to determine what additional pieces of equipment we will need," Ryan said, referring to the leaders of the board's borough offices and Neopost. "We will treat this five as a floor."
The machines, which are set to arrive in October, will undoubtedly ease the BOE's logistical burdens, and their ability to scan ballots alone could save an immense amount of physical labor. In the primaries, "our borough offices copied over 443,000 individual absentee ballot envelopes, which required two pages, so that was almost a million pieces of paper that had to be photocopied for challenges and court cases," Ryan said at the oversight hearing.
Personnel
Even with the technological upgrades, personnel for the actual counting of ballots, which by law must be done by hand, is still an issue.
"Recruiting personnel to actually physically count ballots is probably the hardest part of our recruiting personnel," said Dustin Czarny, an elections commissioner in Onondaga County and chair of the Democratic Caucus of the New York State Elections Commissioners Association, in an interview. "They need more training and more expertise than, say, a normal election inspector that is at the polls."
"This is not something that can be trained easily -- you learn by doing," he added. There are a number of technical and statutory "quirks" to canvassing ballots, which require training and care, Czarny said. Canvassers have to know how to open and count ballots making sure each vote is properly reviewed, that anonymity is maintained, and that votes are not being disqualified without cause.
"A lot of that has to come through the experience of dealing with absentee ballots, which we've never dealt with on a scale like we have now," he said.
The pool of experienced canvassers is small -- a perennial challenge for administrators -- and shrinking.
Boards of elections often rely on retirees to make up the poll-worker and -inspector pool. With seniors among the most vulnerable to COVID-19, administrators around the state are scrambling to fill vacancies. Czarny hopes that the fact that canvassers generally don't interact with the public will make that specific recruitment easier: "the risk will be less, but whether we can convey that" is another story, he said.
Another obstacle is related to the BOE's bipartisan structure, a vestige of anti-corruption sentiments at the turn of the last century.
In New York State, for every ballot cast there must be a designated Democrat and Republican canvassing each vote. That means boards will need to hire two times the number of ballot canvassers than is physically necessary to tally up the votes, even with the historic surge in turnout expected in the presidential election.
More personnel also means more tables to sort and count ballots, and more space to house them. With the coronavirus pandemic requiring social distancing, the BOE's space needs are growing exponentially.
An executive order signed by Governor Cuomo on August 24 requires local election boards to submit staffing plans, including personnel needs, to the State Board of Elections by September 20, providing an opportunity for the state board to assist if possible.
Statutory Hurdles
Even without resource challenges, there are certain waiting periods built into state election law that, in conjunction with growing absentee voting, will likely delay general election results.
The statutory deadline for boards of elections to accept absentee ballots is seven days after an election, so the actual tally cannot begin until after that time (November 10 this year).
"That's sort of baked into the process," said Sarah Goff, deputy director of the good government group Common Cause New York.
Normally, with a few thousand absentee ballots cast statewide their impact on the final results is trivial, allowing local boards to publish "unofficial" results shortly after the polls close. But with potentially 40 percent of voters voting absentee statewide, the deadline poses a significant obstacle to getting the final outcome with any of the expediency New Yorkers are used to.
Once the seven-day period is up, administrators still can't simply start counting ballots. New York State law permits a voter to vote in-person even if they have cast an absentee ballot, with the in-person vote usurping the mailed ballot. Ensuring the right ballots are being counted takes time.
"Once they hit that seven-day cutoff point in terms of ballots received, they then have to go through this time-consuming, but obviously necessary, process in which they cross-check absentee ballots against folks who voted in person," Goff said, adding that New York is one of the few states that allows in-person voting to override an absentee ballot. "And then they will finally start to count the ballots."
The process could take days, meaning the actual canvassing of ballots may not begin until 10 to 14 days after Election Day, according to Goff.
"Obviously, looking ahead to November, they will be better prepared given that they've gone through this already once, they know what to expect in turns of increased volume, and can sort of roughly project the volume that they are going to see," she said. But the coronavirus pandemic is unpredictable and an uptick in cases could drive up the number of absentee ballots beyond the current estimates.
Cuomo's August 24 executive order will help boards expedite the counting by allowing them to start processing, though not necessarily opening, received ballots before Election Day. The change will speed up the process of settling contested ballots, but won't impact the seven-day post-Election Day period to receive mailed ballots.
Early voting "in the middle of a pandemic"
One thing advocates want to see is a better use of alternatives to absentee voting, particularly early voting, which first rolled out in 2019.
"Early Voting sites were not properly promoted, they promoted absentee ballots," said Sarah Steiner, a New York City-based elections lawyer, of the city's and state's approaches during the primaries. But doing so "would be the biggest thing that I think they should do," followed by establishing additional early voting locations, she said.
In his oral testimony to the State Legislature, Ryan said the BOE would be undertaking a public education campaign around early voting "through social media and other outlets." For the primaries, the Board of Elections expanded the number of early voting sites from 61 to 79 in New York City.
"The board increased -- increased -- the number of early voting sites by 30 percent in the middle of a pandemic," Ryan told lawmakers.
Nevertheless, only about 52,000 took advantage of the option, just 6 percent of the city's total turnout in the Democratic primaries.
Note: this story has been updated with two pieces of information about Governor Cuomo's August 24 executive order, issued after this story originally published.