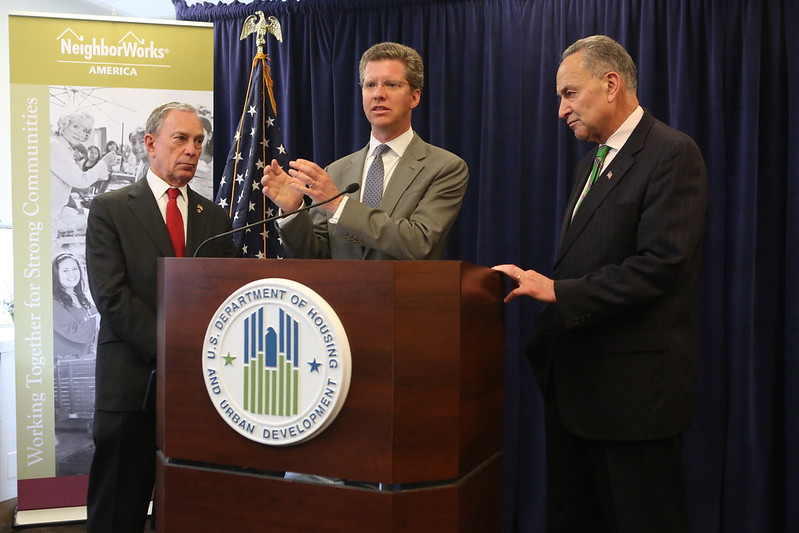 Then HUD-Secretary Shaun Donovan, center, with Mayor Bloomberg and Senator Schumer (photo: Spencer T Tucker/mayor's office)
---
While he has not officially announced a campaign for New York City Mayor, Shaun Donovan is certainly talking like a candidate, explaining his rationale for running, comparing himself to the rest of the Democratic field, and outlining some of his vision for the city. With just ten months until the all-important June 2021 primary, Donovan recently showed a large initial fundraising haul and is beginning to make public appearances, including as a recent guest on the Max & Murphy podcast from Gotham Gazette and City Limits, where he touted his experience in the Obama administration.
"I believe what I bring to this race is both a broad progressive vision that is more comprehensive, more far-reaching than any of the other candidates, but I also bring a track record that says I can actually get those progressive things done," Donovan told Max & Murphy. "I believe that I will be the candidate that can make the city work for everyone."
Donovan was the Secretary of Housing and Urban Development for over five years and then Director of the Office of Management and Budget in President Barack Obama's. Prior to that, Donovan served as Commissioner of Housing Preservation and Development in New York City for five years during Mayor Michael Bloomberg's administration. Given he's planning to run for mayor in a Demcratic primary with an increasing energy on the left, it is no surprise that Donovan is much quicker to discuss his work for Obama than for Bloomberg.
Donovan highlights his work as federal housing secretary, a job he was appointed to in 2009, when Obama took office and in which he oversaw the recovery from the national housing crisis and the federal response to 2012's Hurricane Sandy. As budget director, Donovan oversaw the $4 trillion federal budget and, during his tenure in that office, he was involved in the federal response to the 2014 Ebola scare. He told Max & Murphy that these experiences in particular would help in dealing with the "twin crises" currently facing New York City, the coronavirus pandemic and the economic crisis.
"In so many different ways, in so many different types of crises that are similar to what we're facing now, President Obama asked me to lead those responses for the country, and for New York City, as with Sandy, and that really is unique," Donovan said. "There's no one else in the race that has that depth of experience and vision that I do, to help lead the city back from this moment of peril."
In the most recent campaign finance filing period, which ended mid-July and was his first as someone officially exploring a campaign, Donovan raised more money than any other candidate in the 2021 mayoral race. He raised $662,003 during the January-July period and has $454,021 currently in his campaign account. Donovan still trails the three current elected officials in the race -- City Comptroller Scott Stringer, Brooklyn Borough President Eric Adams, and City Council Speaker Corey Johnson -- in cash-on-hand. The average contribution to Donovan's campaign was $1,171 and $314,312 (47.5%) came from outside New York City.
Also in the Democratic primary running are former nonprofit executive Dianne Morales, former city Veterans Affairs Commissioner Loree Sutton, and Maya Wiley, a former top aide to Mayor Bill de Blaiso and civil rights attorney, who recently announced she is exploring a campaign and is beginning to raise funds. Other candidates may also join the field.
Donovan has put together a campaign team that includes veterans of Bill de Blasio's two winning mayoral campaigns, among others, and is pitching potential supporters on his experience and chances of success based on the campaign team's analysis of the issues and other candidates.
When touting his record on Max & Murphy, Donovan said, "Barack Obama asked me in the moment of the worst housing crisis in our lifetimes to become his Housing Secretary. I worked aggressively with people in New York City and across the country to try to undo that damage and rebuild communities. But, he also asked me because of my work on Katrina and so many other natural disasters around the country to lead the federal rebuilding process after Sandy hit New York and the region."
While Donovan provided limited specifics for what exactly he would do as mayor of New York City, he repeatedly stressed the value of his experience. "[J]ust three weeks into the president asking me to lead the work on the federal budget, Ebola hit and I had to get deeply involved in everything from contract tracing to all those words that have become all too familiar to us now as well as thinking more broadly about how we build an infrastructure for global health security."
Donovan recalled training incoming Trump administration officials about the federal government's preparedness for a global health emergency during the transition period after the 2016 election but before the inauguration. "It's very clear [the Trump administration] hasn't learned those lessons," he said.
Asked about his work under Bloomberg and whether that could hurt him in the eyes of 2021 Democratic primary voters, Donovan was quick to note that "[Michael Bloomberg] and I didn't agree on everything, but I will say Mike was a very strong leader and a great manager." Donovan pointed in particular to Bloomberg's track record on public health, gun control, and climate change. "There were some very, very strong aspects of what Mike did as mayor."
Donovan did not say specifically where he disagreed with Bloomberg's approach or track record.
Throughout the interview, Donovan criticized Mayor de Blasio, a term-limited Democrat, and several of the city's current policies, in regards to gentrification, the city's preparedness for the pandemic, and school reopening plans, among other issues.
"I'm a progressive who has actually gotten progressive things done," Donovan said, pointing to his record on reducing homelessness across the country, particularly among military veterans, and being the first-ever cabinet secretary to endorse marriage equality. Additionally, he said "I put real teeth into the 1968 Fair Housing Act in a way no prior HUD Secretary had ever done and President Trump is attacking me for that work now."
"Housing is the central issue that decides so many other things about your life," Donovan stressed. "Unfortunately in this country, you can predict a child's life chances, even their life expectancy, by the zip code they grew up in. And, it really gets to this history of red-lining and government-sponosored segregation and discrimination."
Donovan said he wants to "make sure we're building more integrated neighborhoods where we can make sure Black and brown people can stay in New York. Gentrification has been a huge challenge over the last ten years under this mayor." (De Blasio has been mayor since 2014.)
Pushed on what changed during the Bloomberg administration and what he would do as mayor to address housing segregation in New York City, Donovan said, "We did make progress under Mayor Bloomberg. We had the most aggressive housing plan in the country, but I think we need to go significantly farther than that."
"We simply don't put enough resources into housing and homelessness. It's why we see record levels of homelessness in this city," said Donovan. Homelessness in the city began to skyrocket under Bloomberg, after Donovan had left the city for Washington, D.C.
"We need to rethink and reimagine land use," Donovan went on to say, "we have to make sure that affordable housing comes first and that comes with a much more specific, more aggressive way of using zoning in the city for affordability."
He did not specify what kind of land use and zoning changes he has in mind.
"There's a lot more we can be doing in this city to make sure that folks aren't being displaced and that we enforce the laws that we have," Donovan said. "We can be much more creative about how we preserve existing affordable housing."
Citing that one in 14 New Yorkers live in public housing, he said "it's a permanently affordable resource that we can never replace in this city and yet city leaders have done far too little to make sure that that precious resource is preserved."
When asked about his own record on public housing, particularly the New York City Housing Authority (NYCHA), Donovan cited the passage of the Recovery Act in 2009, which had a large investment in public housing. "The issue is that HUD can provide resources, [but] fixing NYCHA really has to be led by the mayor," he said. "This is the problem, really fixing NYCHA has to be led by the mayor, and for too long, New York's mayors have seen NYCHA as a federal problem and it's never been included in the city's housing plan. It's never been led in a way that is seen as integral."
On the COVID-19 pandemic, Donovan said "in the moment of crisis, if you're starting to design your plan, you're going to be too late. One fundamental problem we're seeing is that the city just wasn't prepared." He cited his experience with the Ebola epidemic as evidence that he would be prepared for such a crisis.
"As mayor, I would be making sure we're preparing while fighting the immediate crisis," he said. "The idea that we haven't been able to get ahead of the testing problem is a huge problem."
"Before we fully open the economy and reopen schools, we need to make sure that we have real safety, real plans, whether it be on the subways, which I'm on almost every day, and making sure that we're implementing all of the plans that will allow people, both native New Yorkers and those who come to New York, feel confident and comfortable going back to work and back to school," Donovan said.
Reflecting on the recent Democratic primaries, the changes in the party, and where he may fit, Donovan said, "I think there is a progressive surge in this country and we're seeing enormously exciting young talent rise to the surface, to win races nobody expected them to win and I think that's great. We need new voices in New York City, we need new voices in Congress."
"At the same time, we see deep frustration with the Mayor and with frankly, too many elected officials who put politics before people," Donovan said.
"I have the track record to show I've actually gotten those [progressive] things done in a way that nobody else will and I think what you'll see is that New Yorkers want a progressive mayor, but they're also tired of politics coming before people," Donovan said. "I'm going to show New Yorkers that I'm a public servant not a politician."
[Listen to the full conversation: Max & Murphy Podcast: Shaun Donovan Explores a Run for Mayor]